Looking for Nugget couch configuration ideas? Here are some of our favorite single Nugget couch builds!
Nuggets are a super popular toy for kids. These modular play couches can be mixed up and configured to play, hangout, build, and play rough and tumble with our two kids.
We actually have 4 Nuggets, but we do a lot of builds that are just one!
With more Nuggets, you can do more interesting things, but having just one Nugget still gives you lots of opportunities for imaginative play.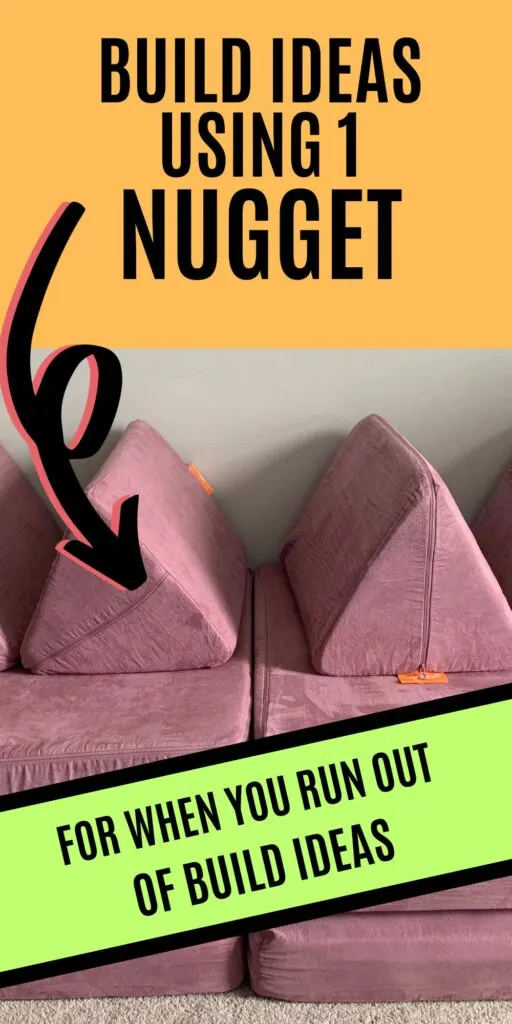 Here are our favorite Nugget configuration ideas!
Of course, with any configuration, safety is always key. It's important that all configurations are made safely.
With single Nugget configurations, there isn't as much opportunity for builds to be unsturdy, but still make sure you are always building with safety in mind.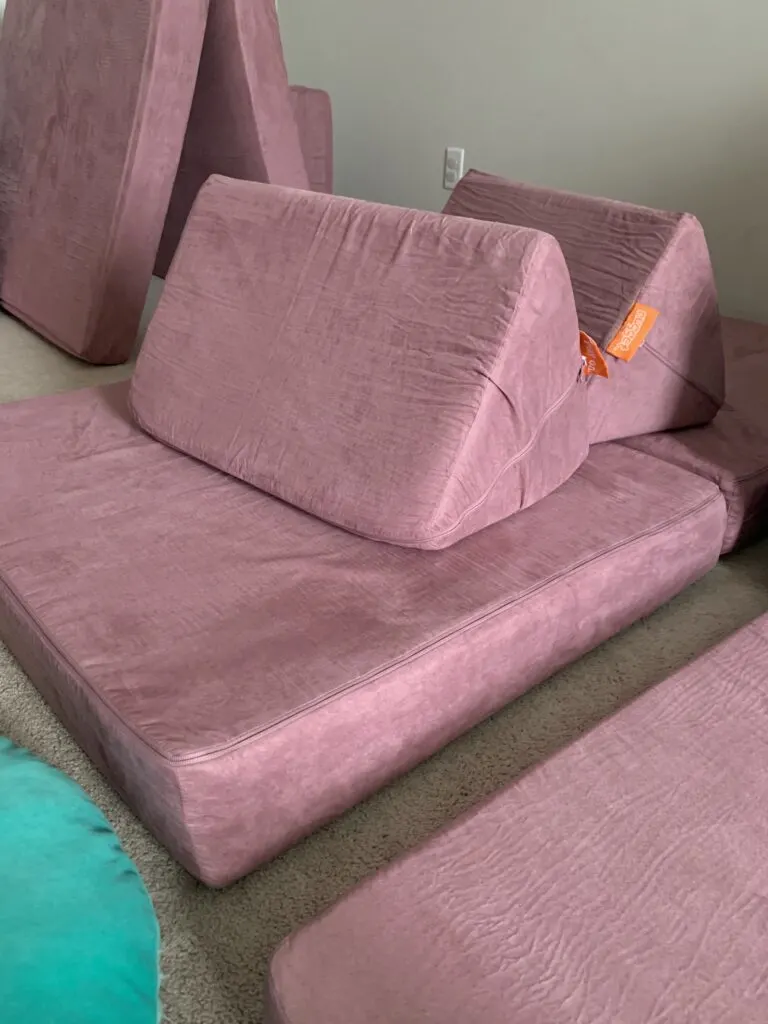 FREE Nugget configurations printable poster
Want inspiration for tons of single nugget couch builds?
Click here to get our free printable PDF poster of these Nugget build ideas!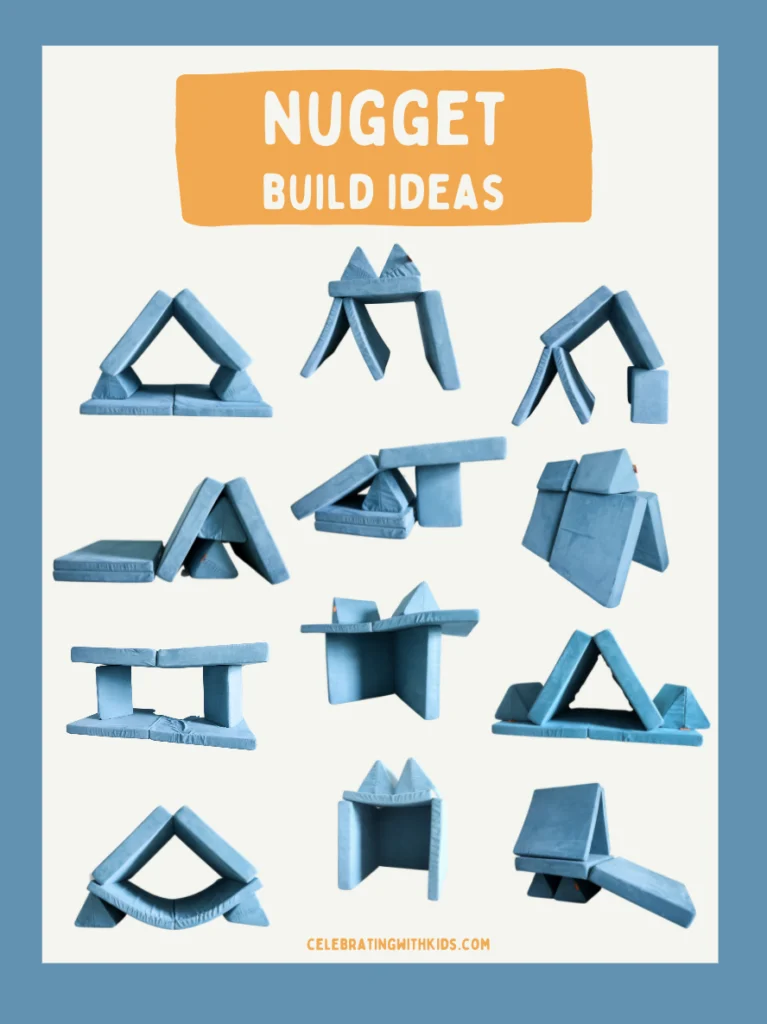 Nugget couch configuration ideas
Here are all of my favorite 1 Nugget build ideas!
The couch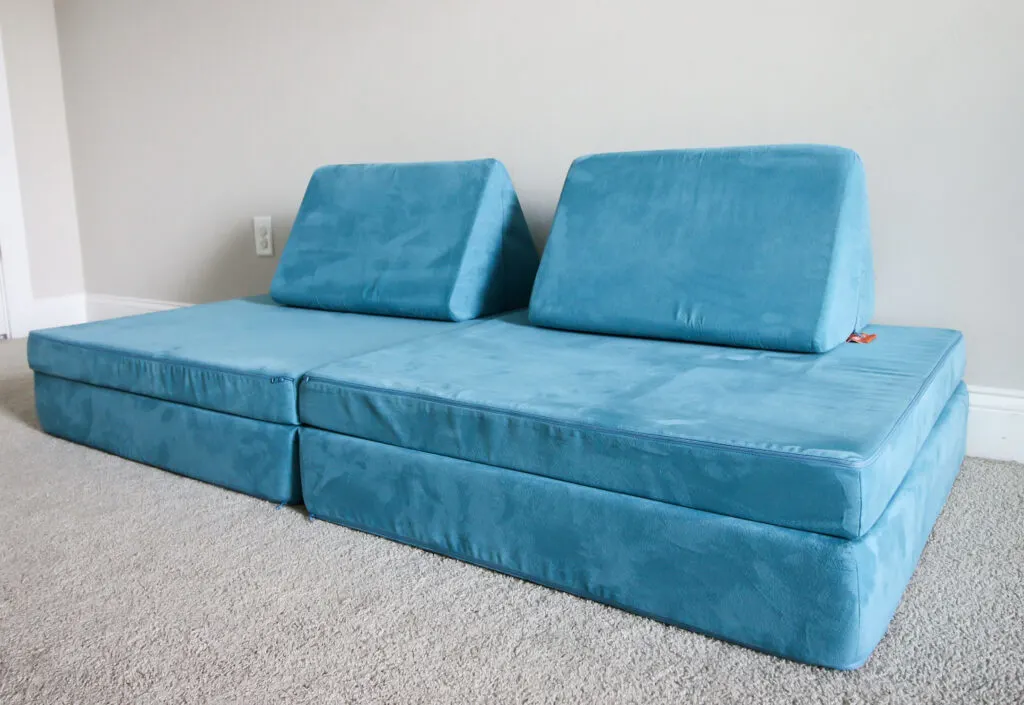 The classic couch – as seen on the box! To be fair, it's much more comfy with two nuggets, but this is a fine height for kids to sit on.
Remember that it is always more comfortable, and more sturdy, to have the thick foam piece on the base and the soft foam on top.
With the soft piece on the bottom, the entire couch feels like it moves around. With the soft piece on top, it conforms to your body and you don't notice movement.
Pair this set up with squishmallows for a cozy TV watching spot!
The stack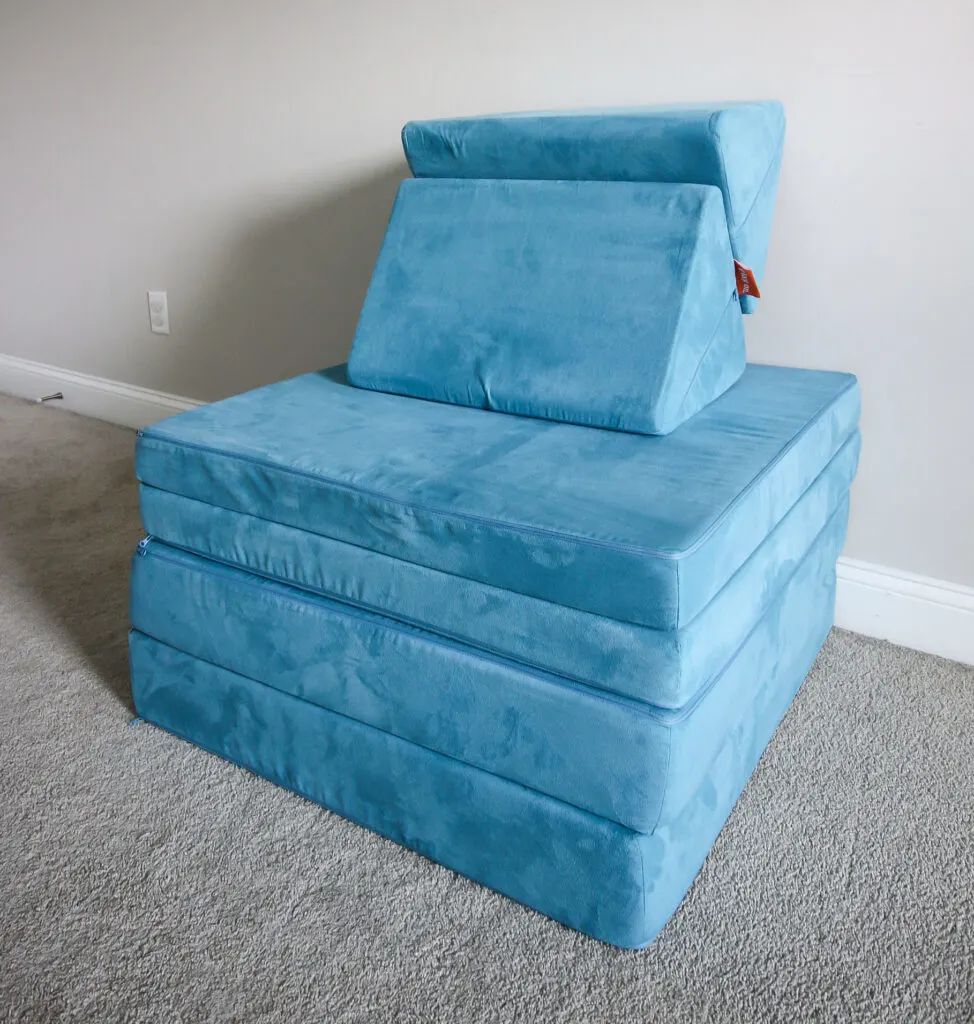 This is the easiest way to store a nugget when not in use!
This is a more comfortable height for an adult to sit on, and is cool for ideas that require climbing.
Some people set their Nuggets up like this as an ottoman with their couch when not in use. Genius!
The lounge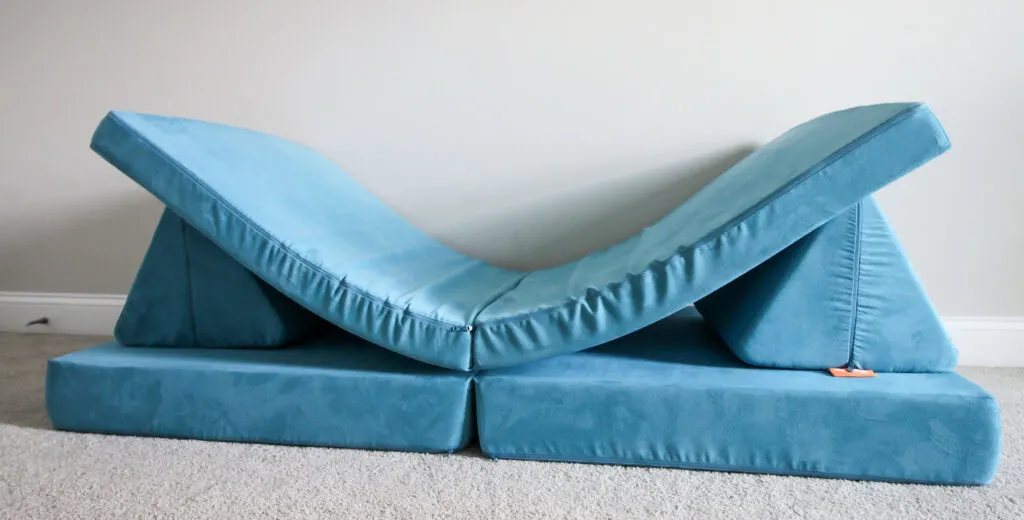 Head up, feet up, the perfect place to read a book!
We also love this for obstacle courses where you climb up, roll down, climb up, jump off!
Warning: you have to get the thin cushion the right way for this to set right. You want the seam side down. If it isn't sitting right, flip it!
This is also a great configuration for rolling down cars or balls or as a play space for dolls!
The house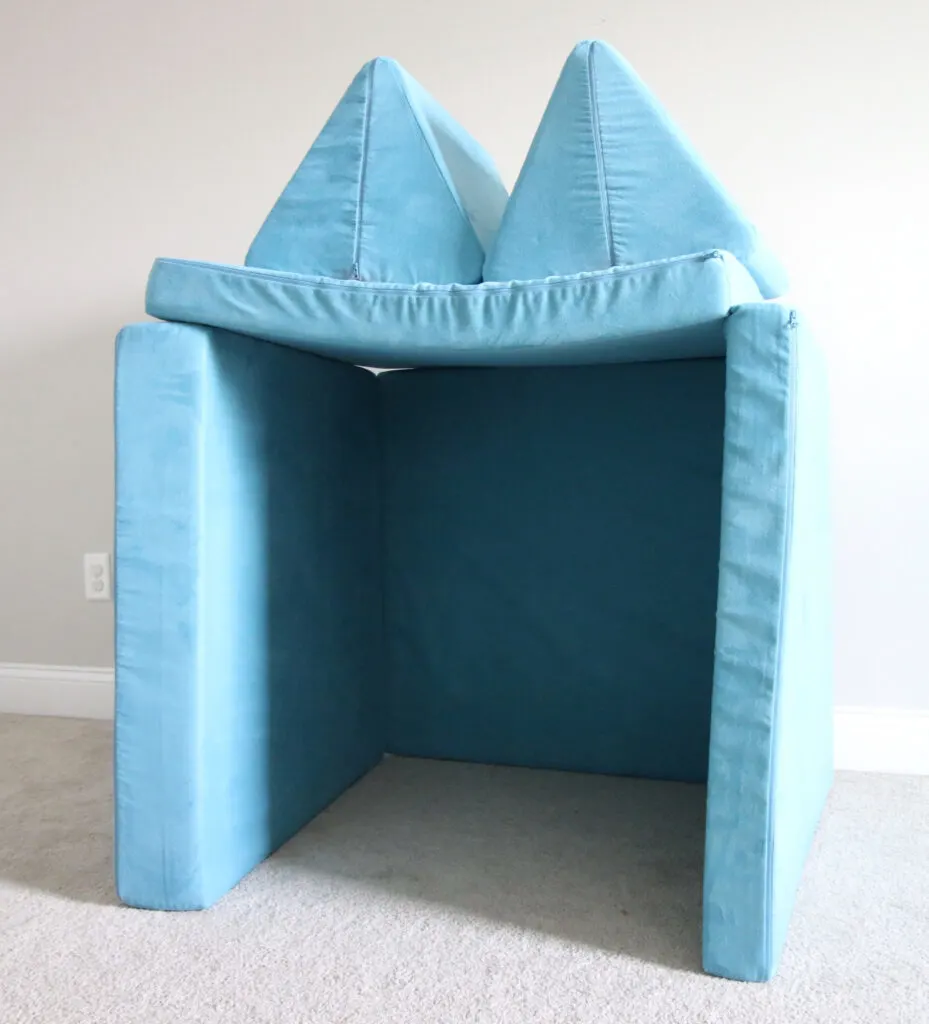 A simple but sweet little fort set up. Surprisingly sturdy!
Put the triangles wherever you like. You can make them look like chimneys!
Add eyeballs to make a simple Nugget monster! Or, throw a blanket over the front for a door.
The Christmas tree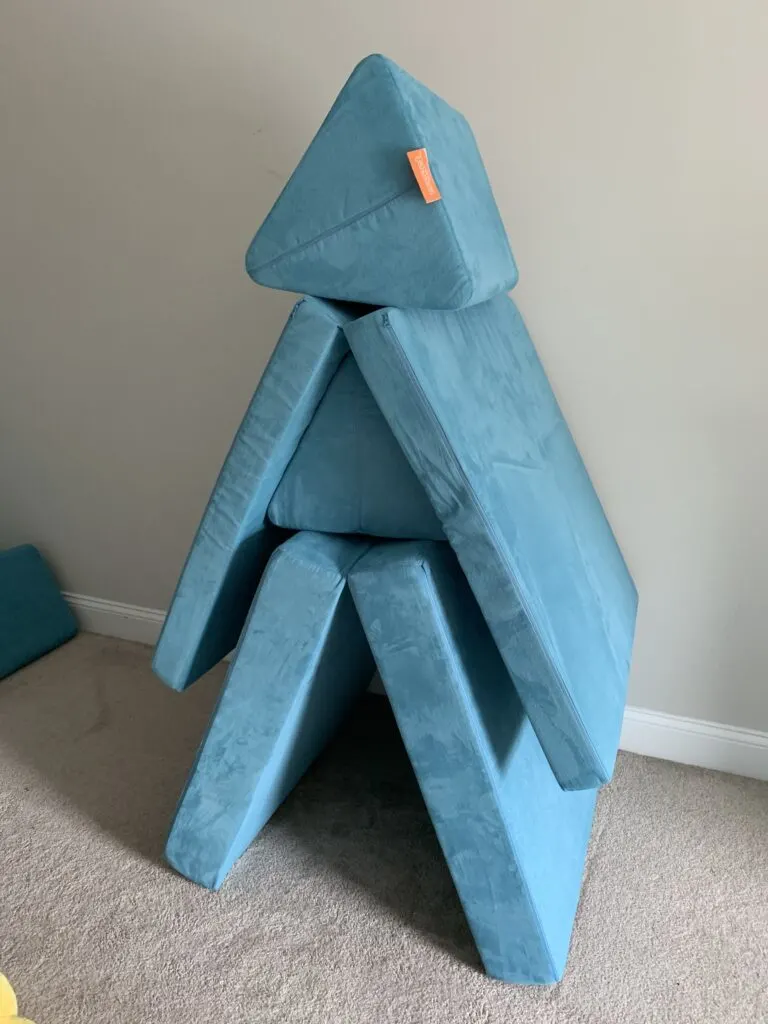 This is a popular build to decorate with felt cut outs or lights for Christmas card photos or with Elf on the Shelf!
Click here to get my favorite Elf on a Shelf name ideas!
Some people (ahem, my husband) also say this build looks like a person with a head arms and legs. You're welcome for that visual. Use that idea if you want "monsters" in the room.
The car port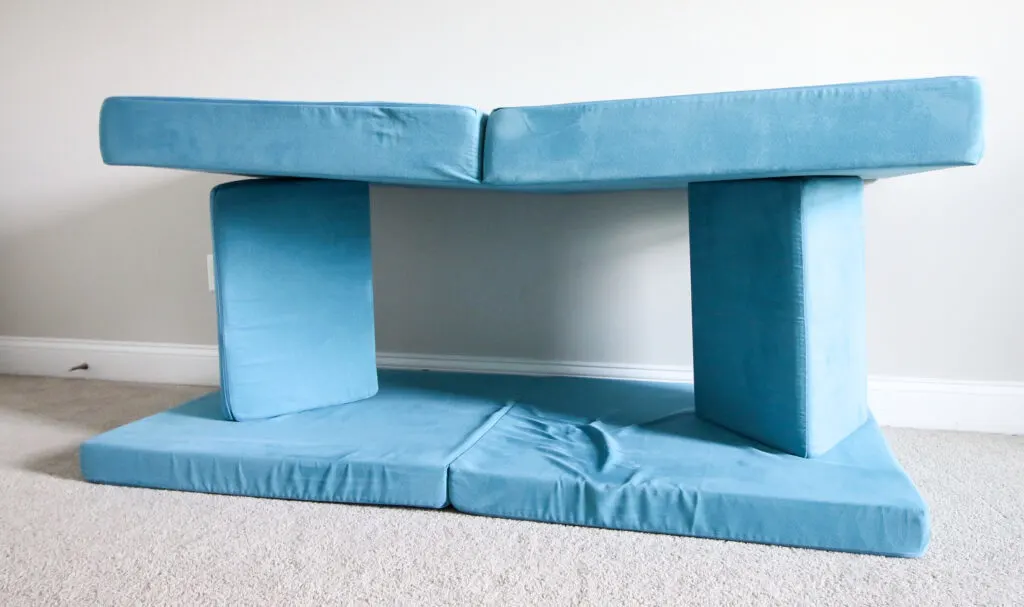 This is about as big of a fort that you can build with just one Nugget. Not bad!
If it keeps falling, prop one end on a couch and the other end with two triangles.
This one won't hold much weight on top, but it's fun for playing underneath!
This is one case where you need the soft piece on the bottom. If you have that on the top, it will look like it's drooping whereas the hard piece will stay flat.
The tent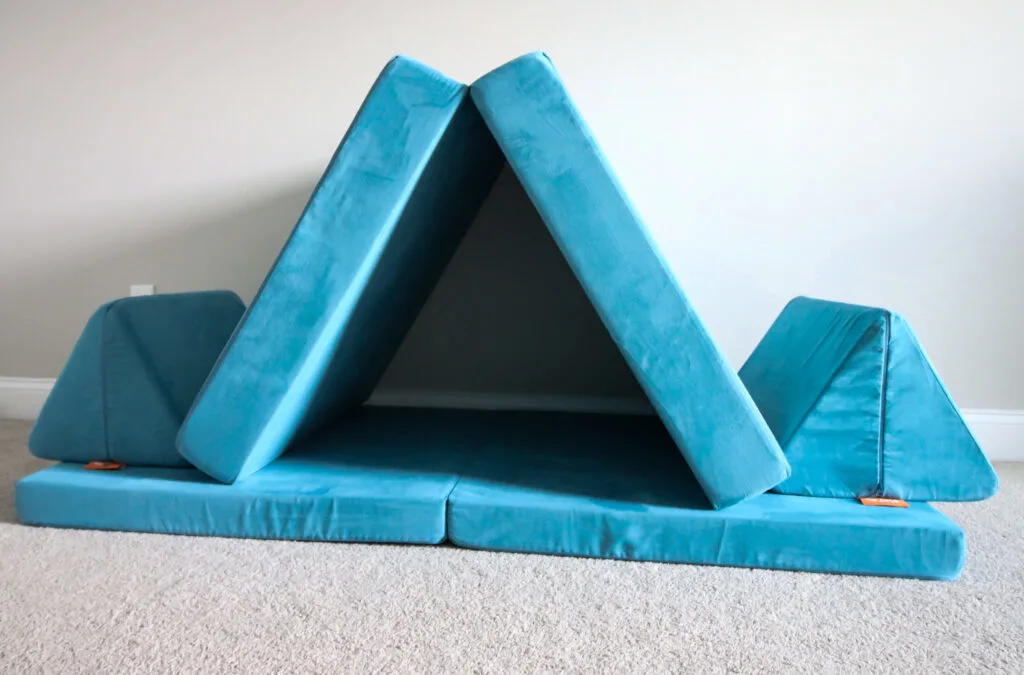 You can't beat the stability of this build, with the bottom mat making it extra cozy.
This is the perfect reading cave for your child, but don't expect to crawl in there with them!
The pyramid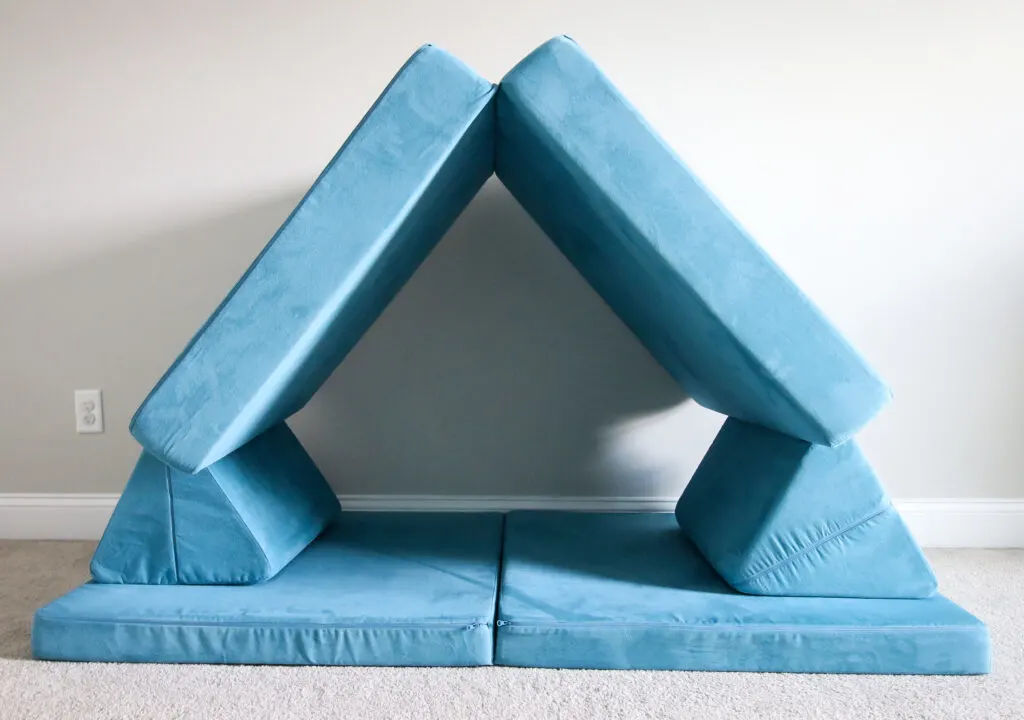 This build is great because it's raised for a bit more headroom inside the fort.
To be honest, it isn't super stable. It's easy to knock the hard foam piece off the tops of the triangles.
Let kids knock it down, that's half the fun!
The diamond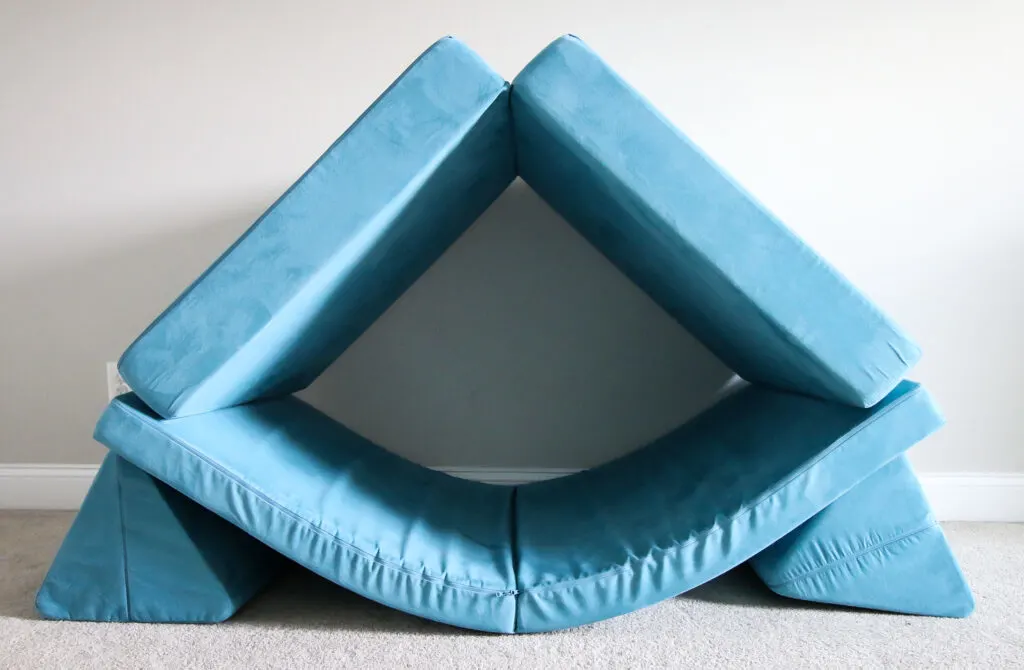 This lounge-fort combo is a great place to curl up and read a book!
This one also has a tendency to fall down. Building against a wall or piece of furniture helps with stability.
If you choose to set this one up in the middle of the room, you can use it as a goal to kick or throw balls through!
The ramp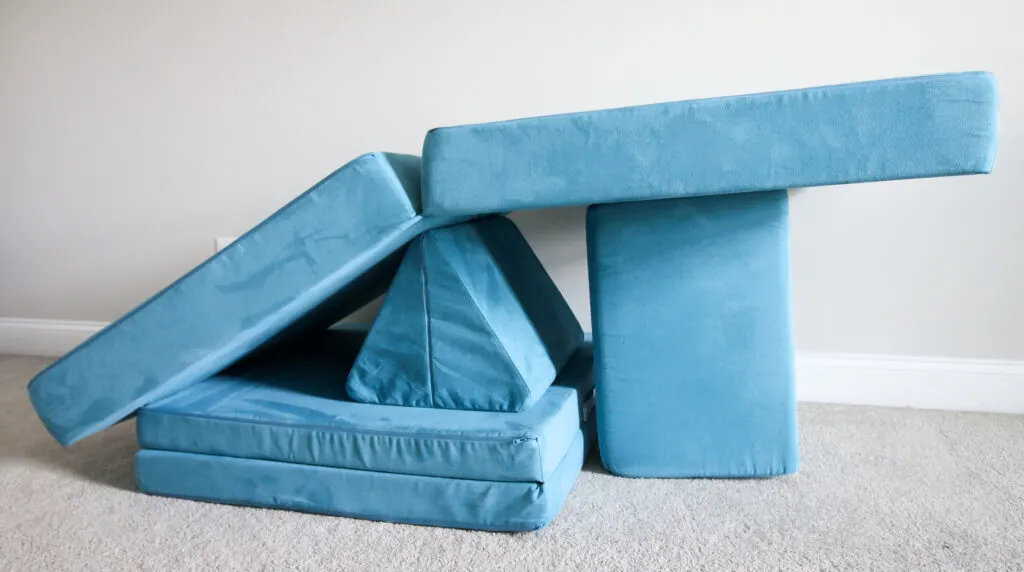 Climb on up! This isn't the sturdiest build but is made a lot better if it rests on the seat of a chair or couch, too.
This is also great for throwing balls or cars down the ramp!
The mountain
A sturdier climbing build, also great for including in obstacle courses!
This is a really good option for bigger kids – it's pretty stable for just one Nugget!
The tunnel
A favorite of our cat (lol), you can't beat a Nugget tunnel!
Perfect for obstacle courses and other active play.
There are so many things you can do with a tunnel that this is one of our favorites in general.
Use the tunnel with lots of your other builds or other toys and give the kids a place to move around.
Up and in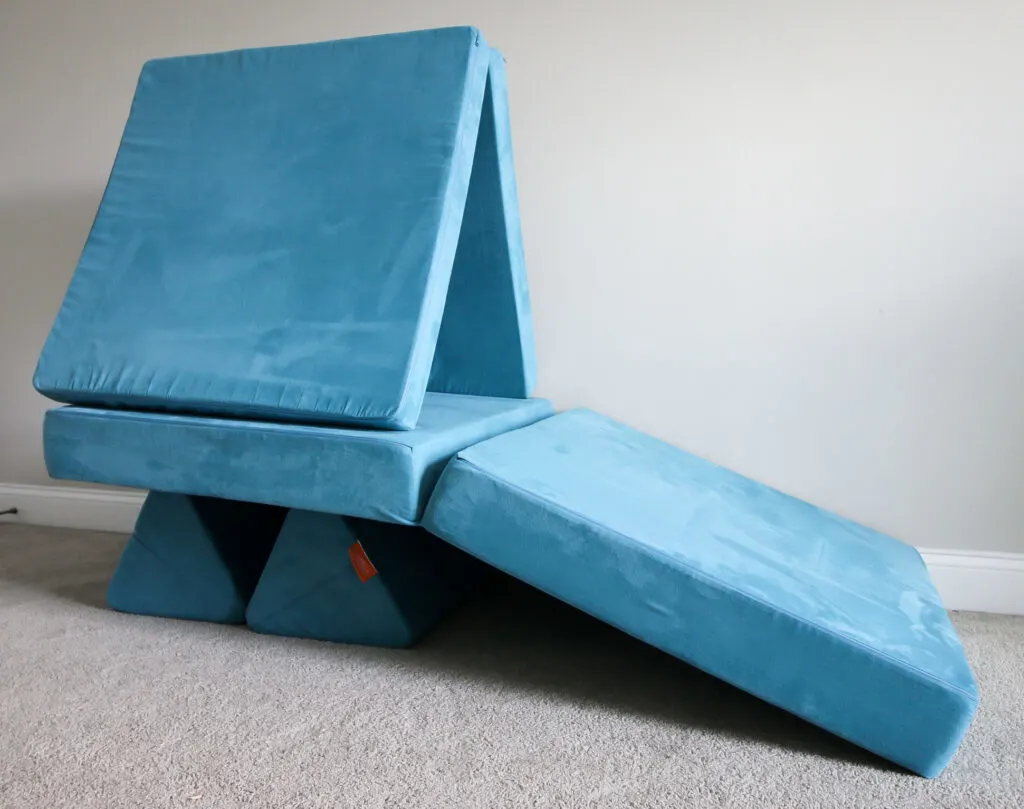 Kids love sitting on top and throwing balls down the ramp!
This build is fairly stable but add pillows underneath for bigger kids and building against a wall helps.
Just don't let them fall out the back side.
The double cave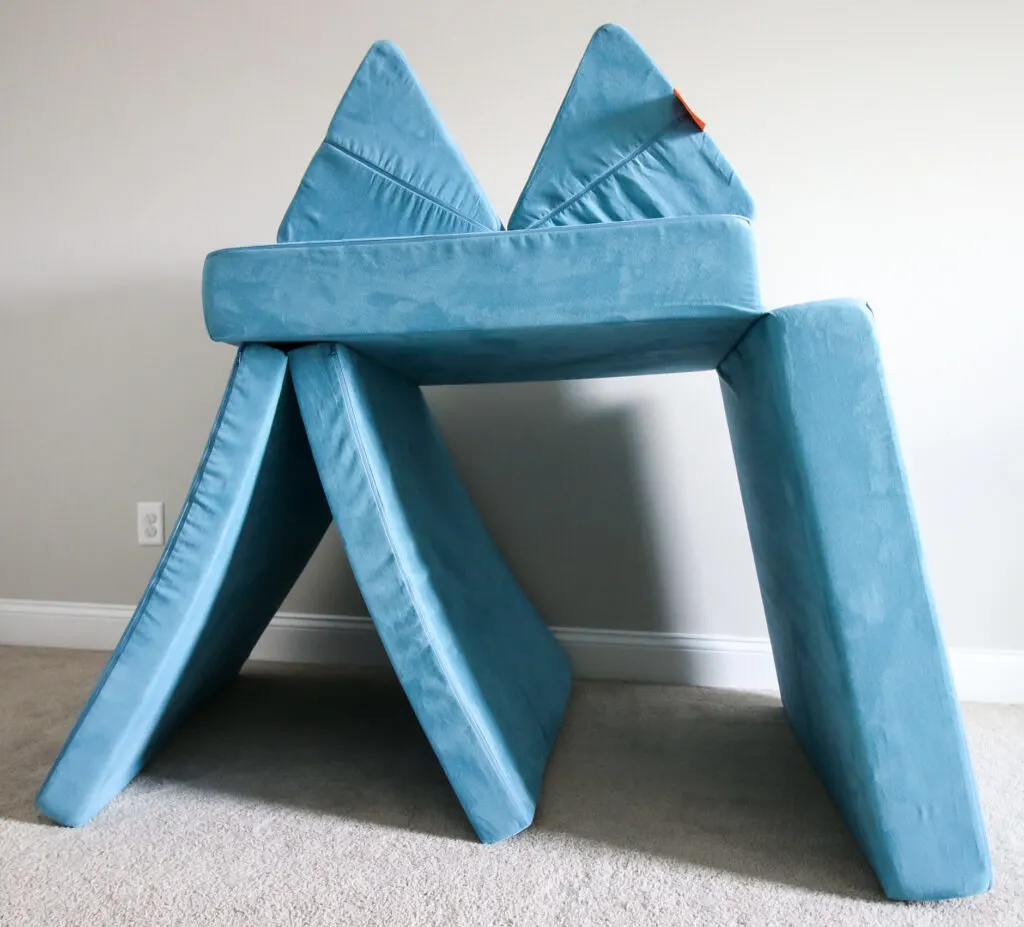 Two kids? No problem. With this build they each get their own room. Not bad for one Nugget!
If you have a second Nugget, doing this with the two thick foam pieces adds extra stability.
The lean to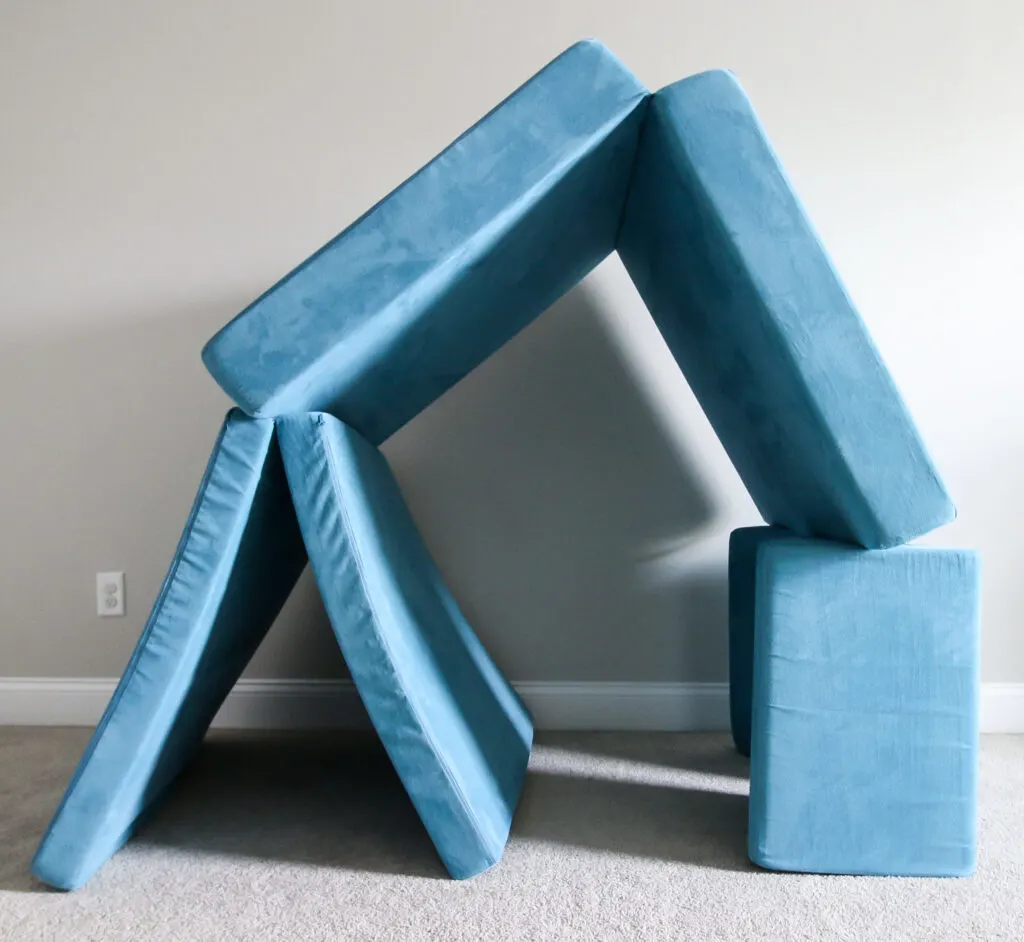 Another 2 room, 1 Nugget build. A little less stable, but a lot more headroom for kid #2!
This is a great build for the kids to crash and rebuild and crash and rebuild, my 3 year old's favorite game.
Want more Nugget-y content?
What's your favorite Nugget building ideas?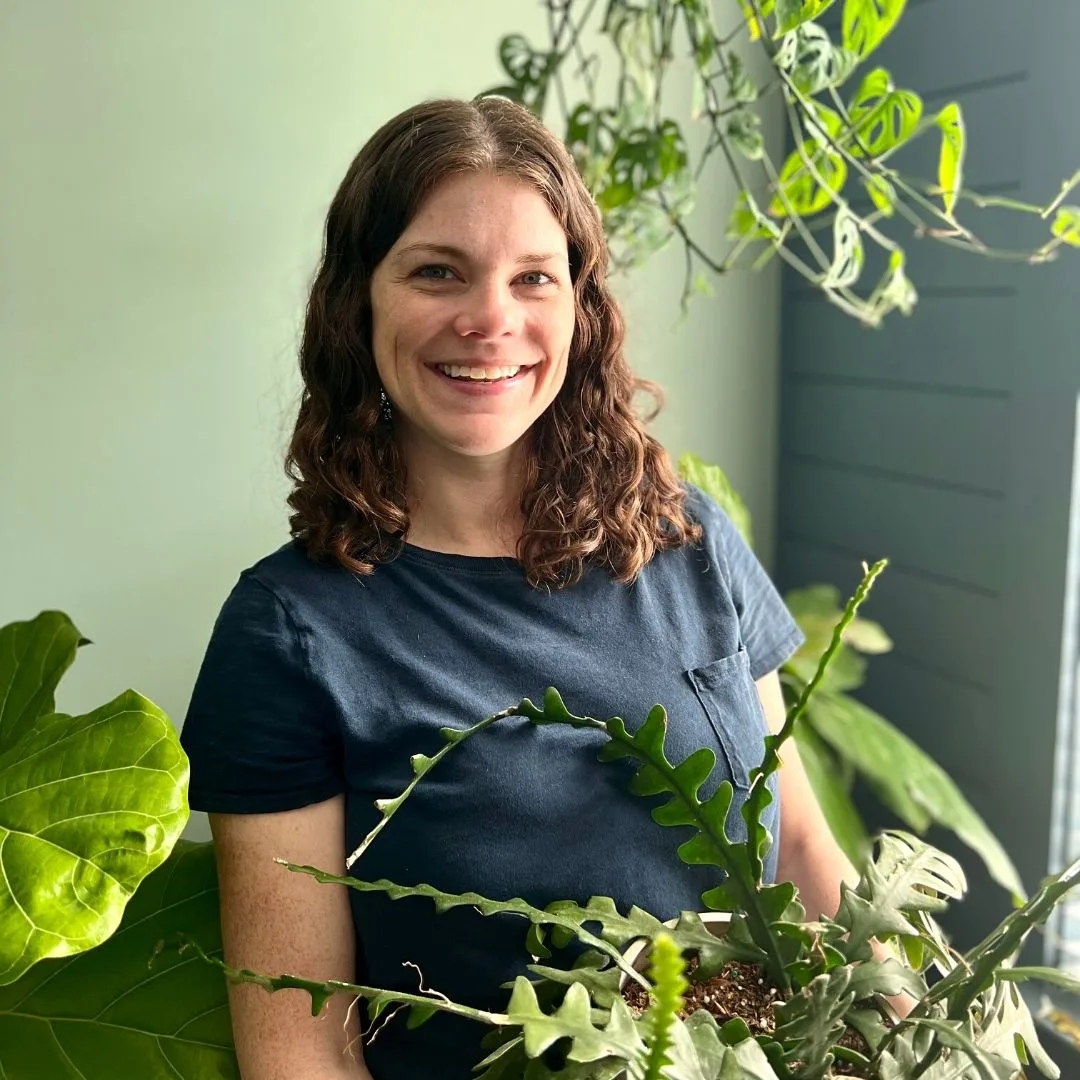 Hey there, I'm Morgan, the creative mind behind CelebratingWithKids.com! As a parent of two lively little ones, I've made it my mission to turn ordinary days into extraordinary adventures, sharing playful activities, thoughtful toy reviews, and delightful printables to help families celebrate every moment together. 🎉👨‍👩‍👧‍👦🎈