Considering a Nugget couch or a Go Coconut for your kids? Let's compare them side by side to see which is best for your family.
Everyone is always looking for a Nugget knock off! A new popular option is the Go Coconut.
Let's jump in and compare the two!
Here are my 12 favorite indoor climbing toys for toddlers!
Note: I own a Nugget but not a Go Coconut, but I have nothing against the Go Coconut! Click here for my full Nugget review.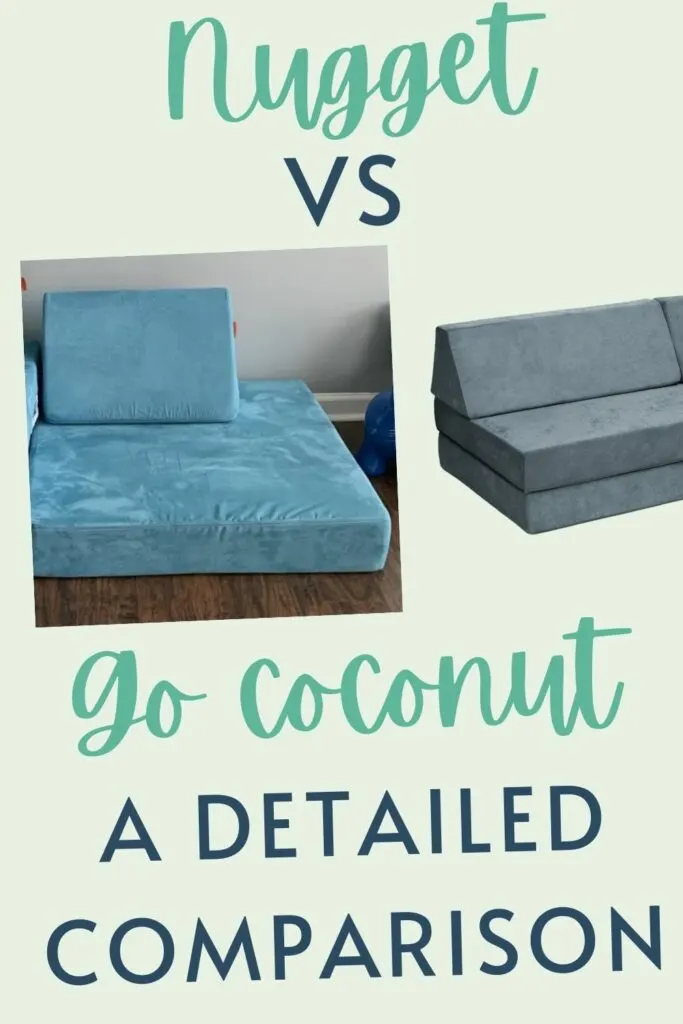 What are the differences between a Nugget and a Go Coconut?
Go Coconut is another popular Nugget alternative – it's especially great for Canadian shoppers!
The big differences between the Coconut and the Nugget is that the Coconut includes 2 thick foam base pieces, compared to the nugget having 1 thick and 1 thin.
Anyone with a Nugget knows that the thick pieces are MUCH more stable for building, though they are less soft for sitting on and lounging.
Also, the triangles have a flat top, making them really trapezoids.
You can also order a half coconut – a half-size piece, which is cool for small spaces.
Also, the Coconut is currently available in Canada only.
Cover Material
Nugget
The Nugget is made of microsuede that is soft and comfortable.
Go Coconut
The Coconut is a velveteen microsuede. You can order fabric swatches which is pretty cool!
This micro brushed Velveteen is commercial quality and extra durable. They selected it because it creates just enough friction for builds to stay in place, all while staying soft. It's also great for customers who have pets because hair doesn't show!
Washability
Nugget
Nugget covers are machine washable, hang to dry.
Go Coconut
The covers are removable and machine washable.
Colors
Nugget
Nugget comes in 3 permanent colors – black, gray, and navy – and a rotating slate of seasonal colors. There are currently 15 limited edition colors!
Go Coconut
Go Coconut offers 16 color choices!
Size
Nugget
Rectangular cushions are 33″ x 66″.
Go Coconut
The Coconut is 30″x60″.
Ease of purchase & delivery time
Nugget
Nuggets currently have a 2-3 week lead time on delivery.
Go Coconut
Coconuts take 1-2 weeks to ship, in Canada only.
Price
Nugget
Nugget sells for $229 with free shipping in the USA.
Go Coconut
The Coconut sells for $489, which is obviously WAY more than a Nugget. This includes free shipping within Canada.
Summary of differences
Here are all of the differences summarized in a handy table!
| | | |
| --- | --- | --- |
| | Nugget | Go Coconut |
| Cover Material | Micro suede | Micro brushed Velveteen |
| Washability | Machine washable | Machine washable |
| Colors | 18 colors | 16 colors |
| Size | 33″ x 66″ | 30″ x 60″ |
| Delivery Time | 2-3 weeks | 1-2 weeks |
| Price | $229 | $489 |
See my comparison of all of the Nugget knock offs here!