Want to add a play couch to your kids' toy collection? Here's our complete Barumba Play Couch Review – and discount code!
Play couches are one of my top suggestions for the best possible toy to get a kid who is preschool or elementary school aged. These couches just have so much possibility and room for imaginative and physical play.
I was so excited to get the chance to test out a Barumba Play kids play couch. This is a Canadian-made play couch that comes with 11 pieces – yes, including the ultra popular arch pieces – but it's still compact enough to be a great all in one toy, even for small play rooms.
Let's dive into the details of what makes the Barumba play couch so great!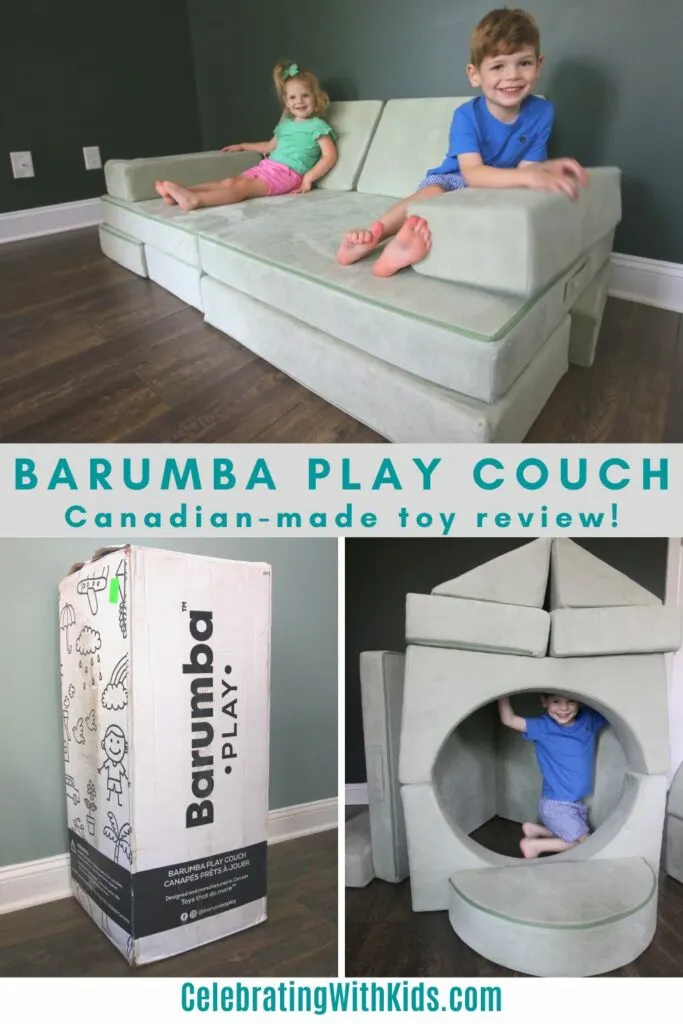 Barumba Play Couch Review
We were so excited to get our hands on a Barumba Play Kids' 11 Piece Play Couch and put it to the test with our 2 and 4 year olds!
What is the Barumba Play Couch?
Barumba Play is a Canadian brand that was created after founder Sara Feldstein was overwhelmed working from home during the pandemic. She wanted to create a brand of life-size foam blocks to help her kids play independently and imaginatively.
The Barumba Kids' 11 Piece Play Couch is a beautiful, high quality toy option for kids of all ages.
What do I love about the Barumba play couch?
Some of the things that I love about this play couch include:
It comes with 11 pieces that nest to form a couch shape. My kids really love the arches and wedges!
Having the couch break into so many small pieces makes it great for younger kids. They can move most of the pieces around by themselves and participate in the building.
Even with so many pieces, the couch still stacks into the traditional 33″x66″ couch or 33″ square, making it a great all-in-one play set for small spaces.
Includes waterproof covers standard.
Shipping is free to the US and Canada.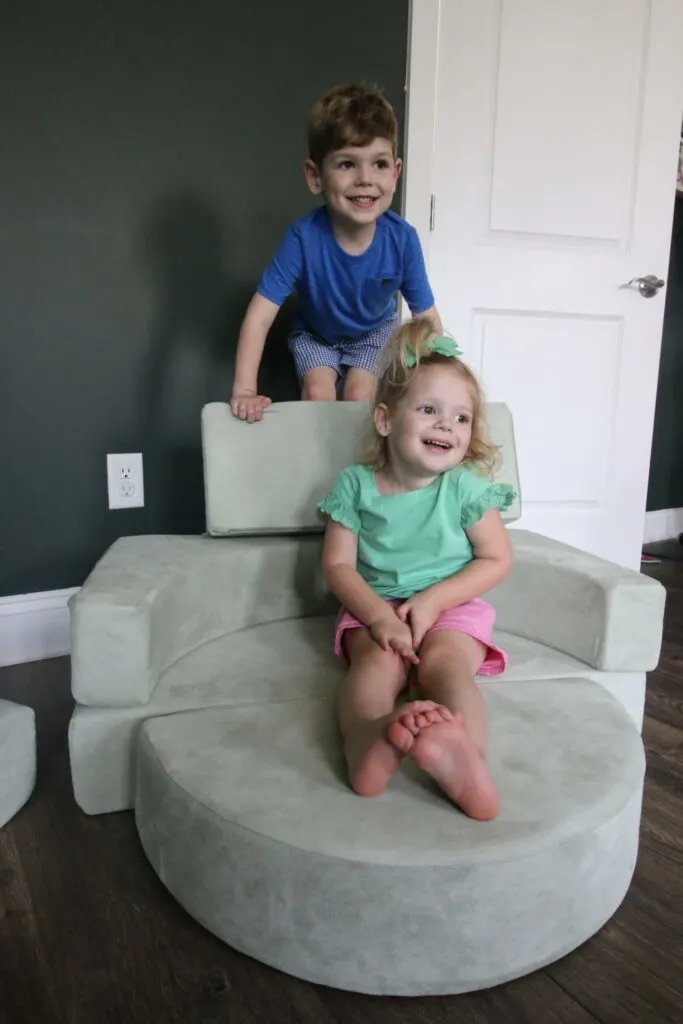 What are the parts of a Barumba play couch?
This play couch includes 11 pieces – 6 total shapes. They are:
two arches
two semi-circles
two large rectangles
one large foldable rectangle
two triangle backrests
two small rectangle arm rests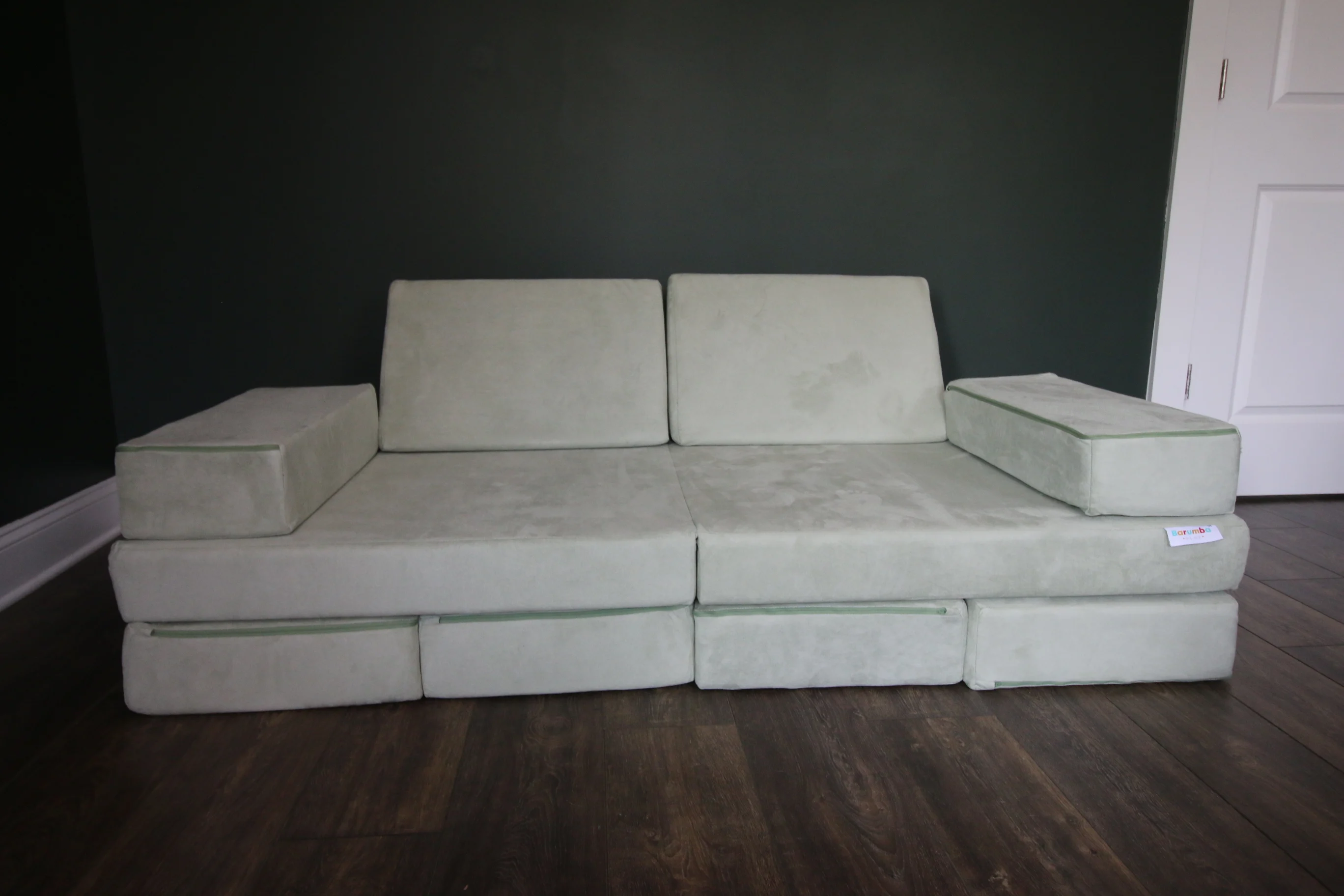 The extra pieces are really such a fun bonus with this play couch.
For a family who only has the room for a single play couch, this set has lots of pieces for siblings to share or to make many builds without compromising space. The different types of pieces also allow for your kids to use each piece in different ways versus only having a couple of large pieces.
My kids especially love the arch shapes – my son used them to make a "pond" and really thought it was hilarious!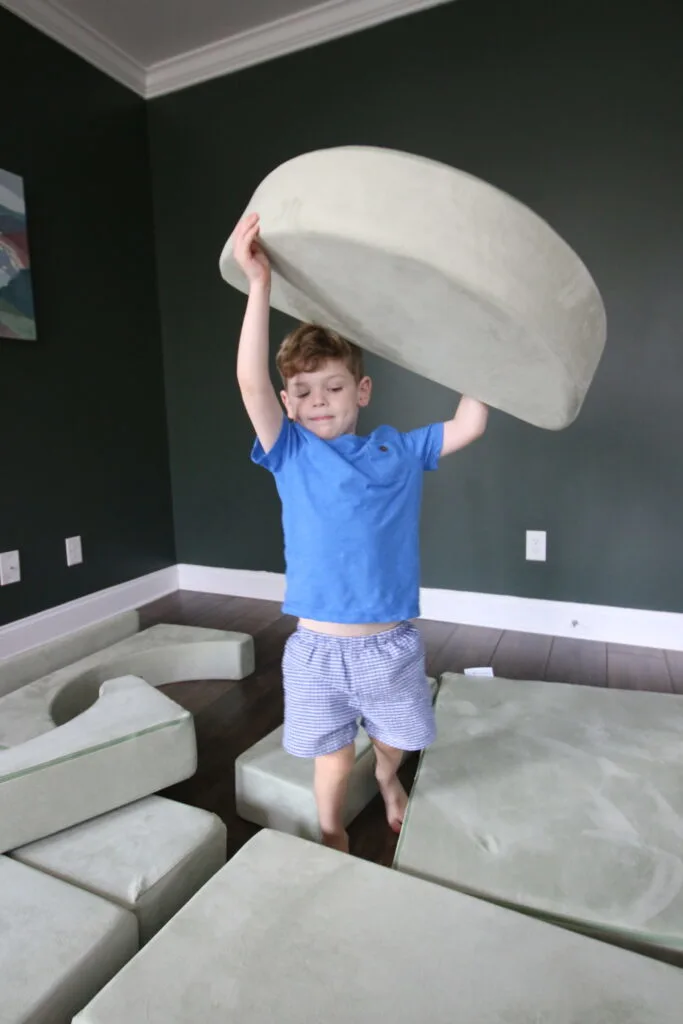 Cover Material
The covers of the Barumba play couch are an ultra-soft micro suede. They also include an inner waterproof (and spill-proof) liner that comes standard with every order.
The waterproof liners come already on the foam pieces, but the covers have to be washed and put on after you receive them.
Washability
The covers are fully removable and washable. Wash them in cold and let to hang dry. They dry in about 12 hours or overnight!
Foam
We have tried a few different play couches now, and one thing that I will say about this one is that the foam is a really nice firmness.
There are no "soft" pieces that some couches include – each piece is made from foam with a 1.8 density and a 50 ILD.
What does this mean in actuality? The cushions plumped up almost immediately out of the box – no waiting 2-4 days for it to be playable.
And, I think that the firmer foam makes builds much sturdier and easier to build with overall!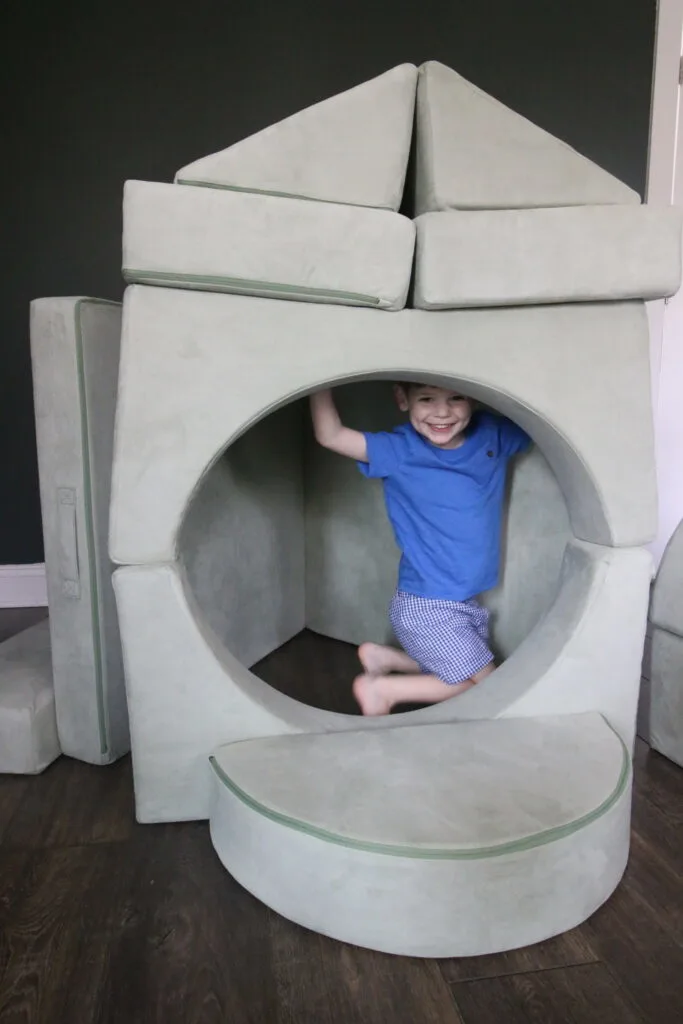 Colors
The Barumba Play couch currently comes in 5 colors:
light gray
navy
dusty rose
light sage
sand
Ours, pictured, is light sage green!
Size
When set up like a couch, this set has the standard footprint of 66″ x 33″.
With the backrest in place, it is 19.5″ tall. The 2 base pieces stack to be 10.5″ tall.
When put together, the Barumba play couch is comparable to others on the market, but the many different pieces means that it can be stacked and formed in a lot more different ways.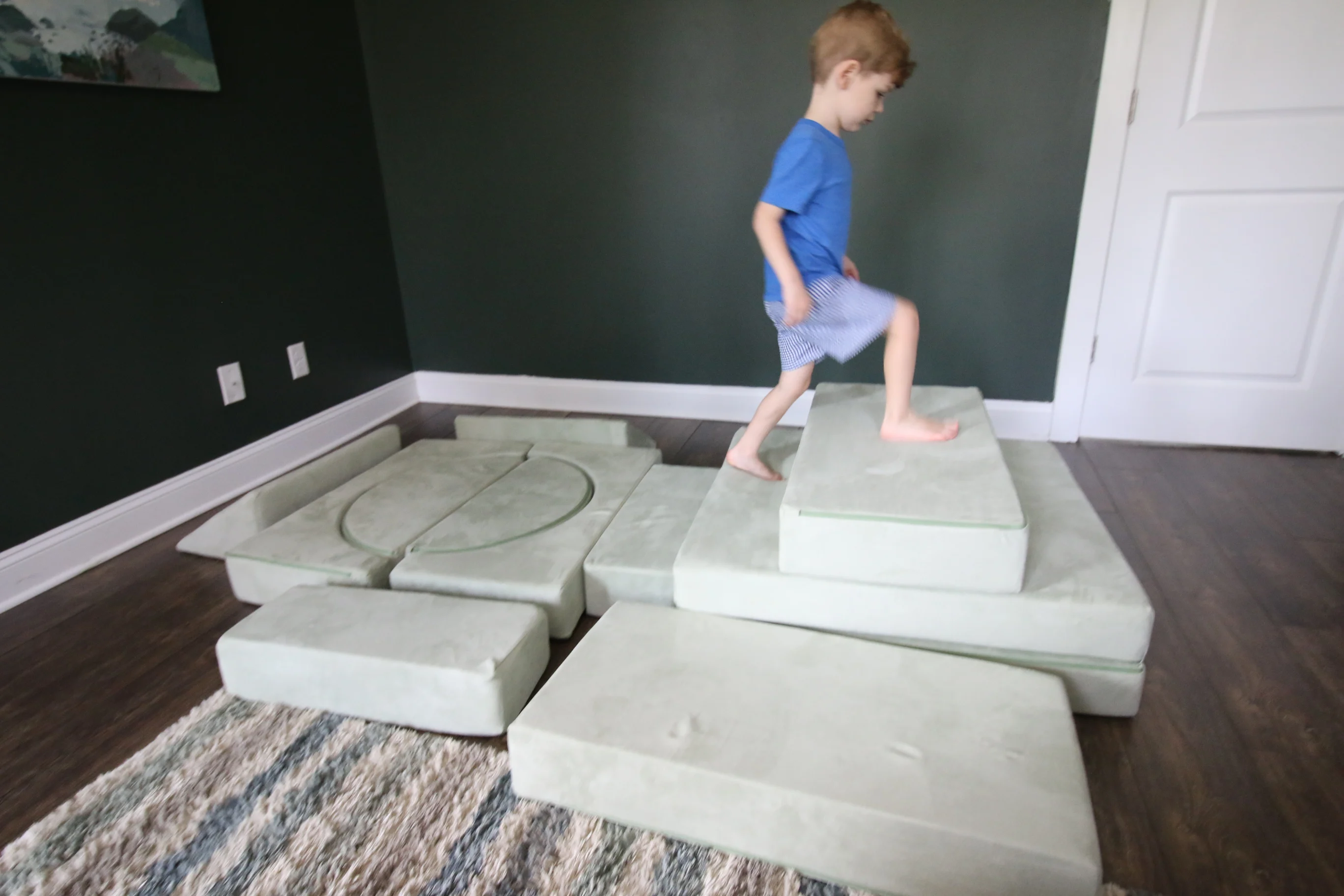 Ease of purchase & delivery time
The Barumba Play Couch is manufactured in and shipped from Canada. It took about one week for it to get through customs and to me in the southeast United States.
Price
The Barumba Play couch is priced at $499, which includes free shipping in Canada and the continental US.
This is a premium price, but if you are in Canada, it is not significantly more than the Nugget + waterproof liners + shipping to Canada.
In this case, you are paying for the liners and the addition of the fun extra piece shapes!
When considering the price comparison between the Barumba Play Couch and other alternatives, always remember to look at the potential setup you want and the space you have as this one may have the best options for you!
Barumba Play Couch Coupon Code
If you're looking to purchase a Barumba Play Couch, use coupon code CELEBRATE23 to save on your purchase!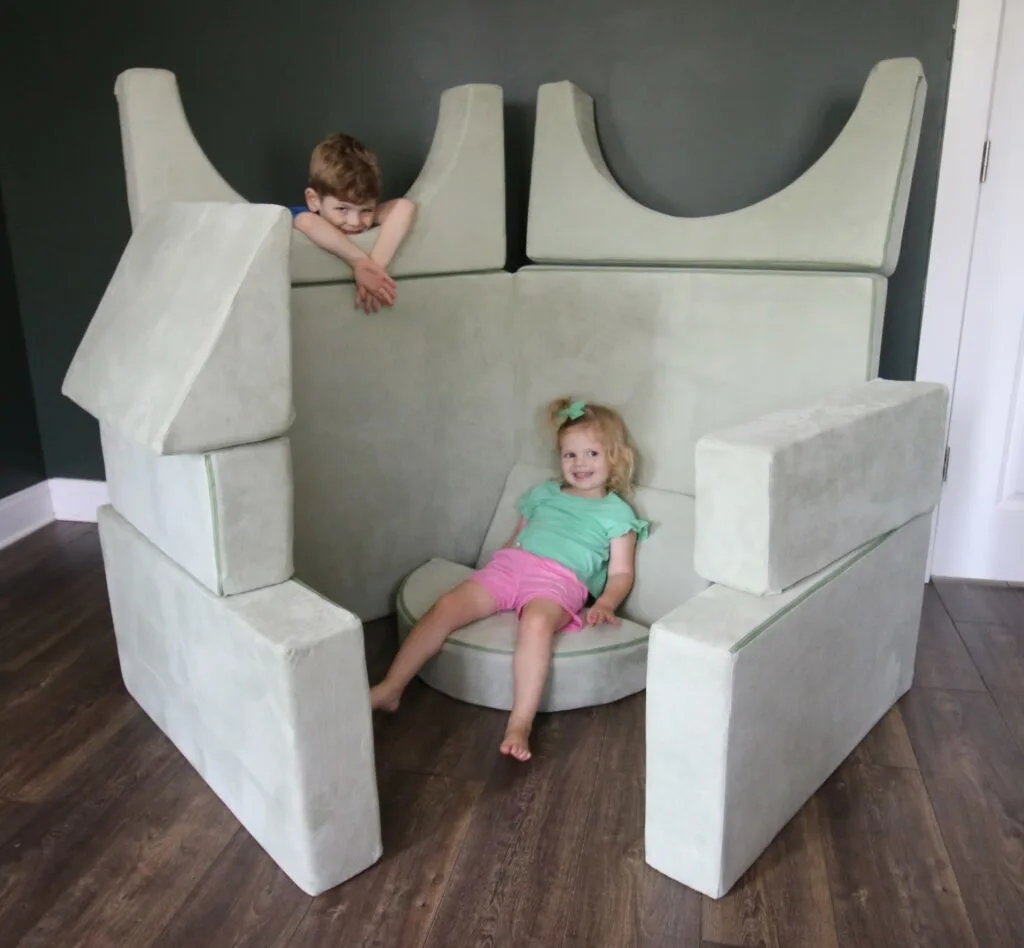 Barumba Play Couch vs Nugget
| | | |
| --- | --- | --- |
| | Barumba Play Couch | Nugget |
| Cover Material | Micro suede | Micro suede |
| Washability | Machine washable | Machine washable |
| Waterproof covers | Included | $99 extra |
| Colors | 5 colors | 18 colors |
| # of pieces | 11 pieces | 4 pieces |
| Size | 33″ x 66″ | 33″ x 66″ |
| Delivery Time | Immediate | Immediate |
| Price | $499 | $249 (+ $99 for liners) |
| Shipping to Canada | Free in Canada and the USA | $59 (free to USA) |
Any more questions about the Barumba Play Couch?