Considering a Nugget couch or a Tarube for your kids? Let's compare them side by side to see which is best for your family.
My kids have and love 2 Nugget couches, but in the last year as demand has increased, so many knock offs have popped up!
Today I am talking about the Tarube, another play couch, and comparing it to the Nugget!
Here are my 12 favorite indoor climbing toys for toddlers!
Note: I own a Nugget but not a Tarube, but I have nothing against Tarube! Click here for my full Nugget review.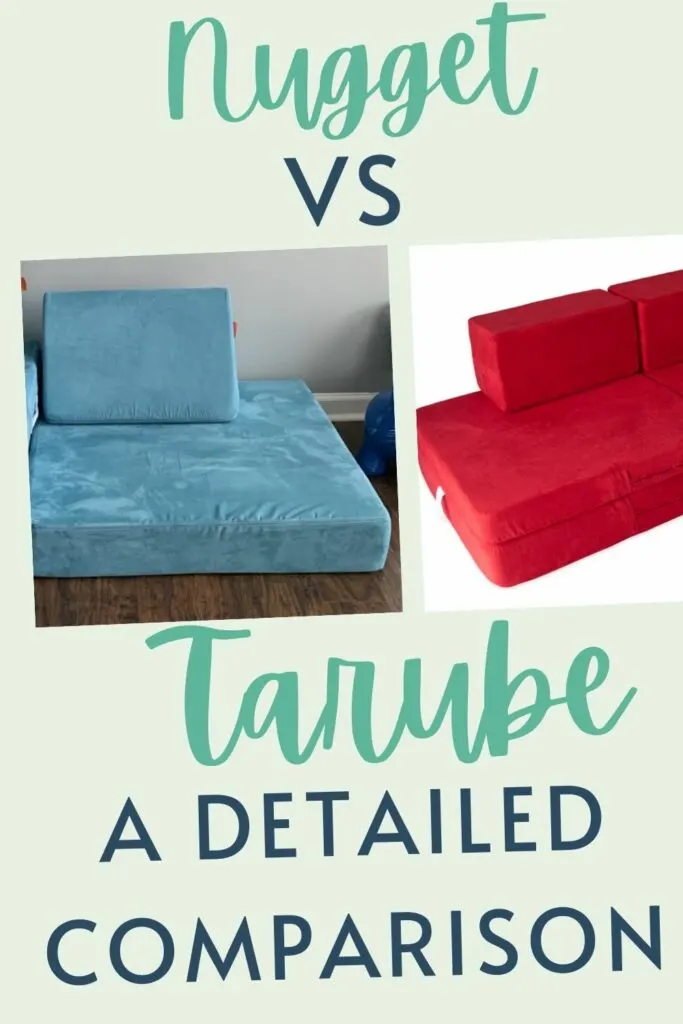 What are the differences between a Nugget and a Tarube?
The Tarube base pieces are squares instead of rectangles, and the 2 squares can zip together to form a rectangle.
The pillows are rectangular instead of the Nugget's triangles.
Finally, they have some add on pieces that are an additional cost but are cool for elaborate builds! This includes a ball pit, bridges, wedges, and "sticks and stones".
Cover Material
Nugget
The Nugget is made of microsuede that is soft and comfortable.
Tarube
Tarube is microfiber also but includes a waterproof liner.
Washability
Nugget
Nugget covers are machine washable, hang to dry.
Tarube
The microfiber cover is machine washable, too.
Colors
Nugget
Nugget comes in 3 permanent colors – black, gray, and navy – and a rotating slate of seasonal colors. There are currently 15 limited edition colors!
Tarube
There are currently 9 colors available for the Tarube in a variety of shades.
Size
Nugget
Rectangular cushions are 33″ x 66″.
Tarube
Square base is 33″ x 33″ (zip together to create 33″x66″)
Ease of purchase & delivery time
Nugget
Nuggets currently have a 6-8 week lead time on delivery.
Tarube
There is a 2 month lead time on shipping for Tarube.
Price
Nugget
Nugget sells for $229 with free shipping in the USA.
Tarube
The Tarube is $289 for the standard configuration.
Summary of differences
Here are all of the differences summarized in a handy table!
| | | |
| --- | --- | --- |
| | Nugget | Tarube |
| Cover Material | Micro suede | Micro suede + waterproof liner |
| Washability | Machine washable | Machine washable |
| Colors | 18 colors | 9 colors |
| Size | 33″ x 66″ | 33″x33″ |
| Delivery Time | 6-8 weeks | 2 months |
| Price | $229 | $289 |