Comparing a Nugget and a Foamnasium Blocksy? Let's put them side by side to see which is better for your family!
We love our Nuggets, but there are a lot of great alternatives. I'm not going to call Foamnasium Blocksy a knock off because it's really been around a while, but it is the most popular Nugget alternative.
They are very comparable but have a few key differences. Let's break it down!
Here are my 12 favorite indoor climbing toys for toddlers!
Note: I own a Nugget but not a Blocksy, but I have nothing against Blocksy! Click here for my full Nugget review.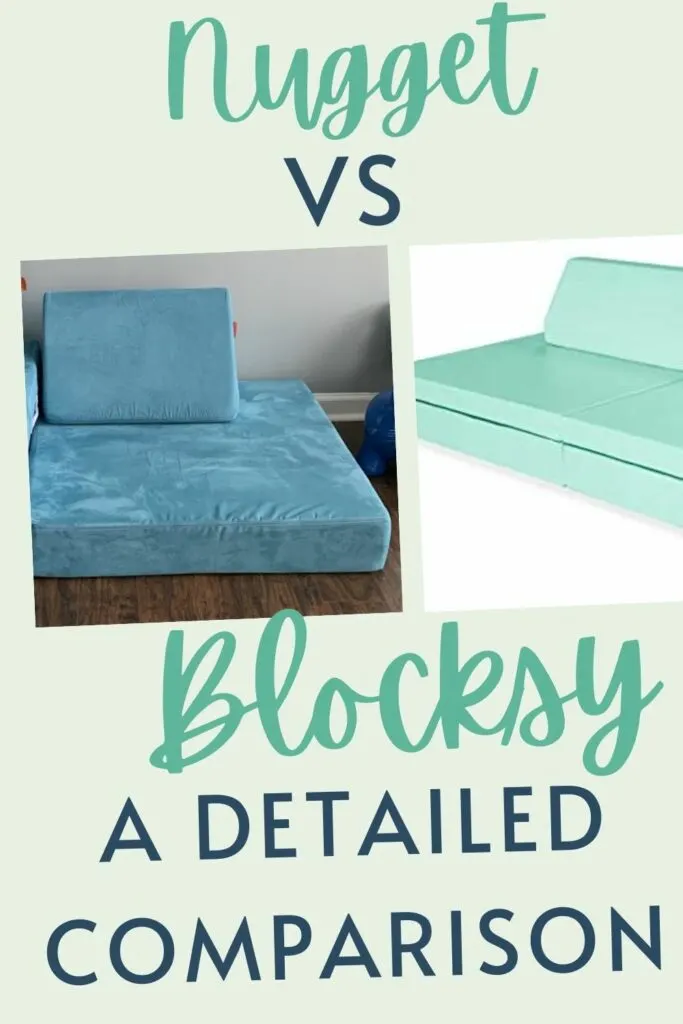 What are the differences between a Nugget and a Blocksy?
Cover Material
Nugget
The Nugget is made of microsuede which is soft to the touch.
Blocksy
Blocksy is made of a medical grade vinyl. So, it's more slick.
Some parents love that it wipes clean, others complain that it slips when building forts.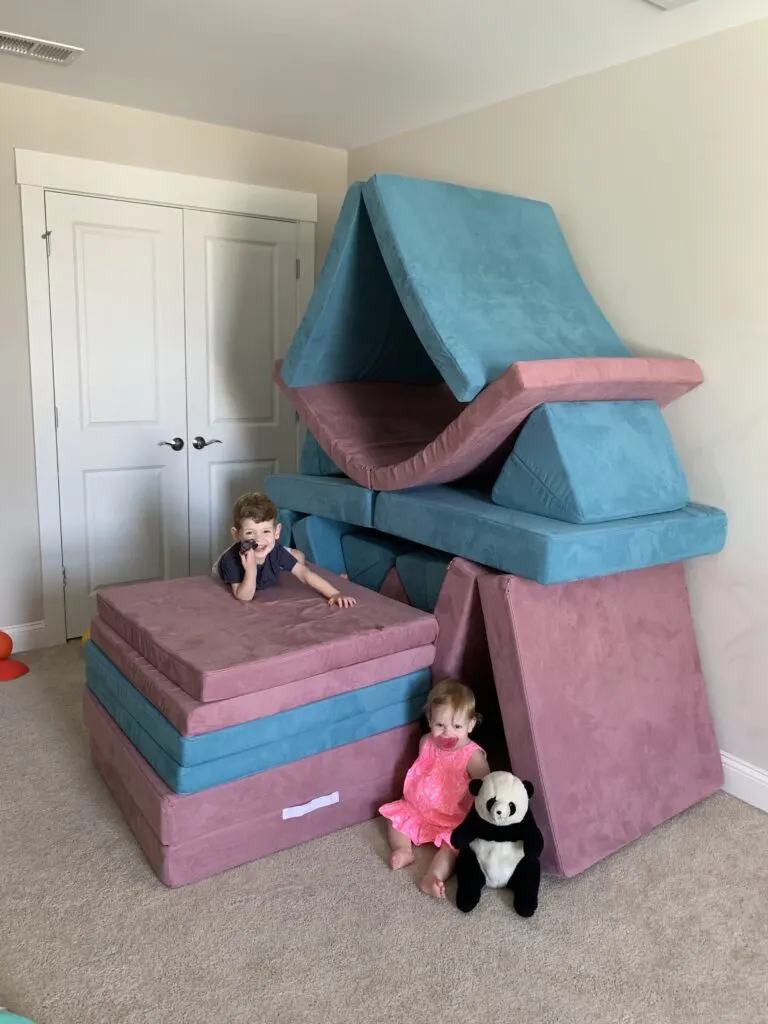 Washability
Nugget
The Nugget covers zip off and are machine washable. Don't put them in the dryer!
Blocksy
Blocksy covers don't come off but are wipe-clean.
Colors
Nugget
Nugget comes in 3 classic colors (black, navy, gray) and a rotation of limited edition colors – there are currently 15 options!
Blocksy
Blocksy comes in 9 different color options currently.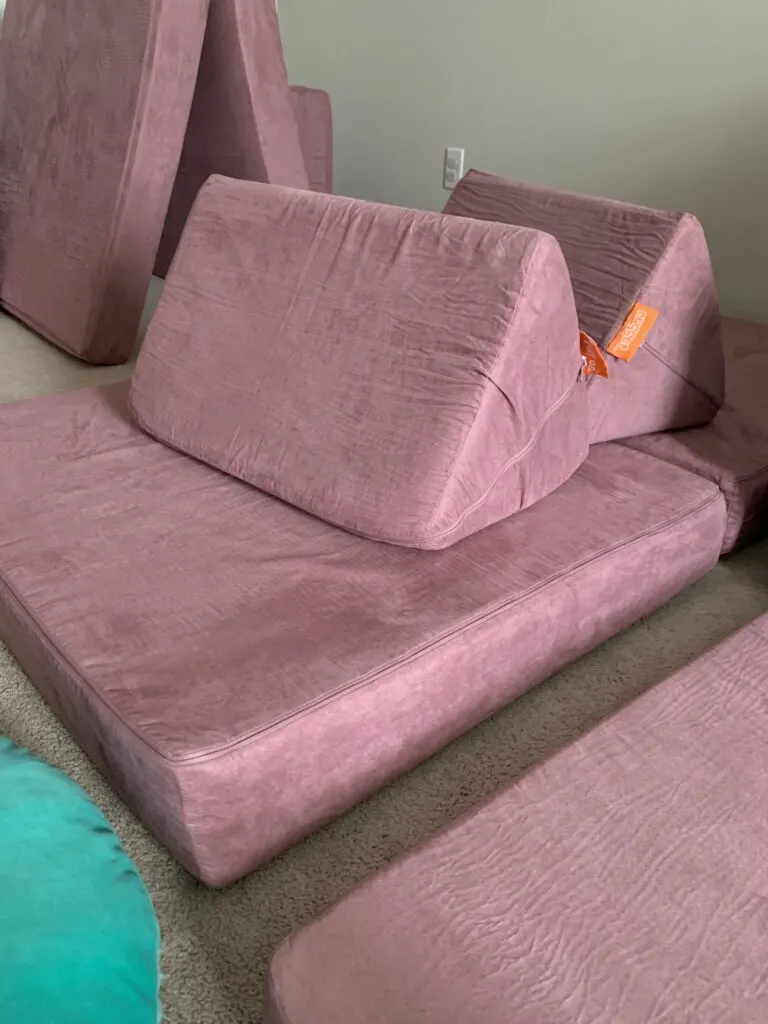 Size
Nugget
Rectangular cushions are 33″ x 66″.
Blocksy
Rectangular cushions are 25″ x 70″.
Ease of purchase & delivery time
Nugget
Nuggets can be ordered online and have a 6-8 week delivery time currently.
Blocksy
Blocksy is also available with a 2-4 week delivery timeline.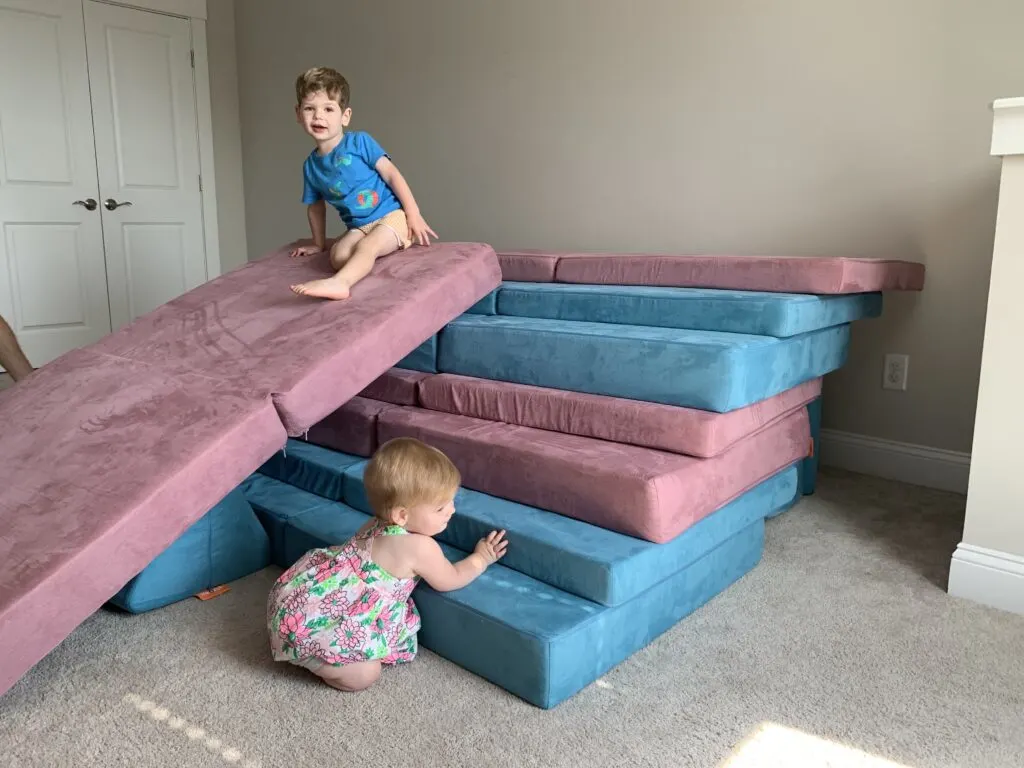 Price
Nugget
Nugget sells for $229 with free shipping in the USA.
Blocksy
Blocksy is also $229!
Summary of differences
Here are all of the differences summarized in a handy table!
| | | |
| --- | --- | --- |
| | Nugget | Blocksy |
| Cover Material | Micro suede | Medical grade vinyl |
| Washability | Machine washable | Wipe clean |
| Colors | 18 colors | 9 colors |
| Size | 33″ x 66″ | 25″ x 70″ |
| Delivery Time | 6-8 weeks | 2-4 weeks |
| Price | $229 | $229 |
See all of my favorite Nugget knock offs compared to each other!