Looking for the perfect climbing toy for your active child? Check out these tried and true favorites for the best indoor climbing toys for kids!
If you have an active child, you know what it means to want to wear them out.
My kids are wild, but they can nap hard – if they play hard, too!
One of my favorite ways to wear them out is with climbing. They have always been climbers and since we moved into a home with a playroom, I have really tried to provide them with a variety of climbing toys!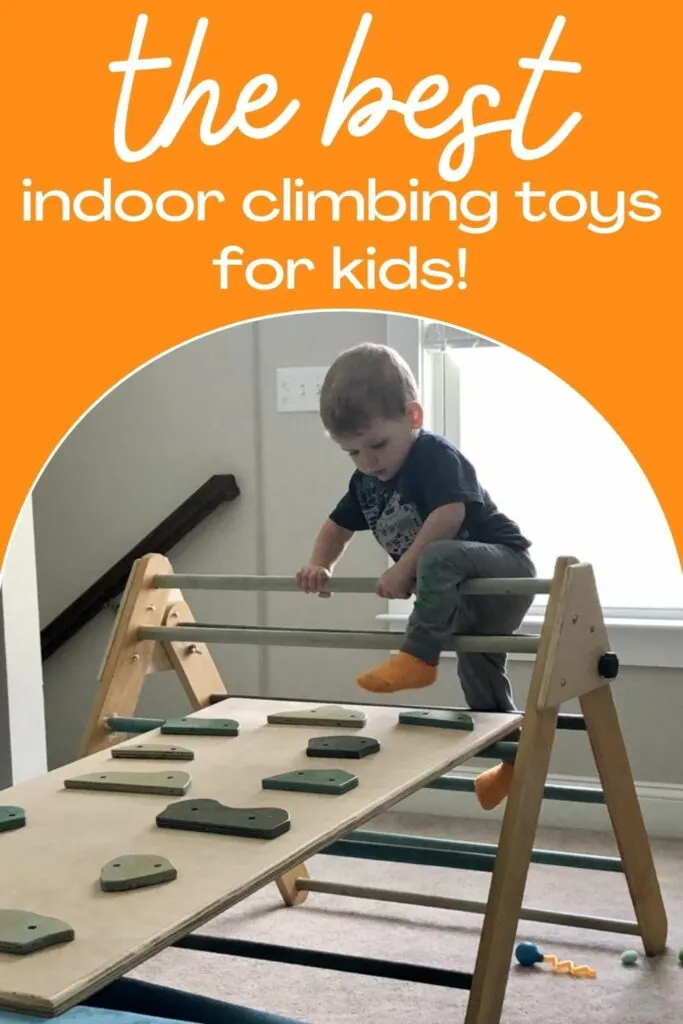 Are climbing toys good for kids?
Climbing toys are GREAT for kids. First of all, they help your kiddo get their energy out.
Secondly, if your kid is going to climb, having designated climbing toys gives them a safe place to do that climbing – while supervised, of course.
Finally, climbers build physical strength as well as confidence in themselves that will translate to other areas of physical play!
What to do with kids that like to climb?
Kids that like to climb should be given a safe place to do so. That means equipment designed for climbing with a safe weight limit, a safe play area to land if they fall, and proper adult supervision.
Why is climbing good for kids?
Climbing helps your child to develop physical strength and gross motor skills as well as independence and bravery! Plus, it helps to keep them busy and entertained!
Can 1 year olds climb?
Yes! Our son started using a pikler triangle at his first birthday. We had to show him what to do, but he was definitely interested. He didn't start independently climbing until he was about 18 months old. A lot of these ideas make great baby climbing toys!
DIY kids climbing toys
If you are a DIY-lover, you can definitely DIY your own kid's climbing toys. The easiest to build is the pikler climbing arch – here's a great tutorial!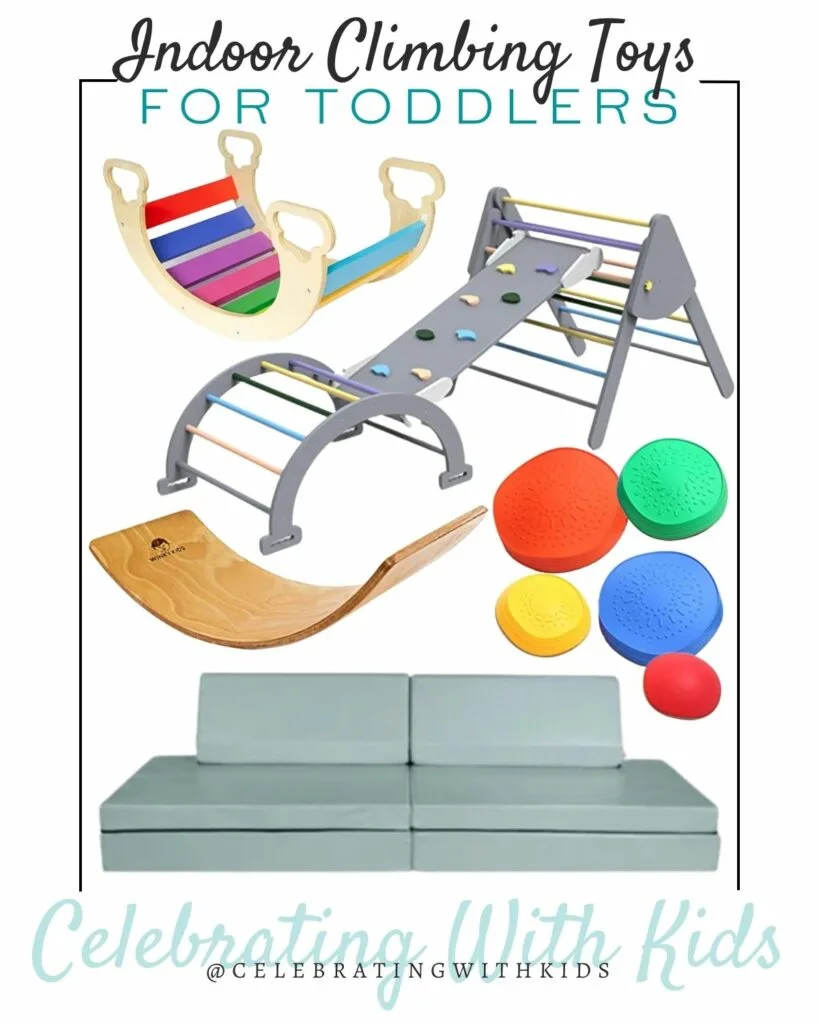 Click here to shop this collage!
The best indoor climbing toys for kids
Here are some of the very best children's climbers – that I have tried or that I have friends that love!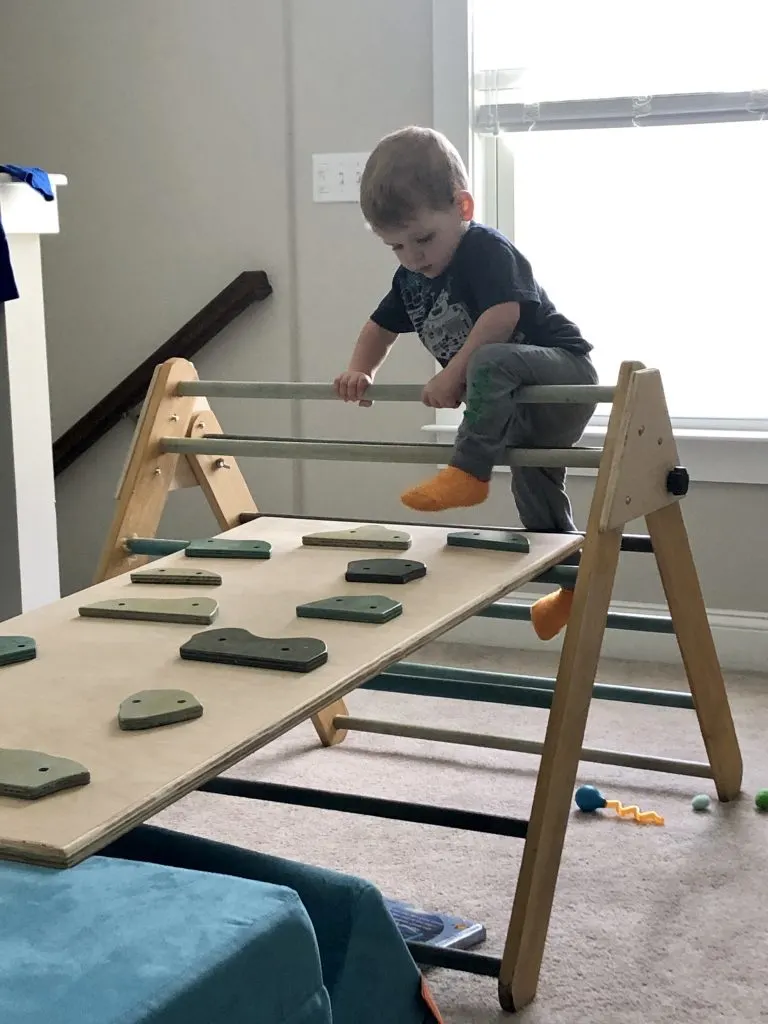 Pikler triangles are wooden climbing structures. They are triangular shaped and have dowel-style rungs for toddlers to climb like a ladder.
Kids love climbing to the top, over, and down the other side.
Be sure to look for a triangle that is foldable if storage space is an issue!
We have had a pikler triangle since my son's first birthday. I love the wooden aesthetic and it's great in obstacle courses, too!
Pikler triangles are designed for ages 6 months to 6 years. There are versions that are taller that are great for older kids. Be sure to check the weight limit on yours before using with older kids.
You can read all about the benefits of a Pikler Triangle here!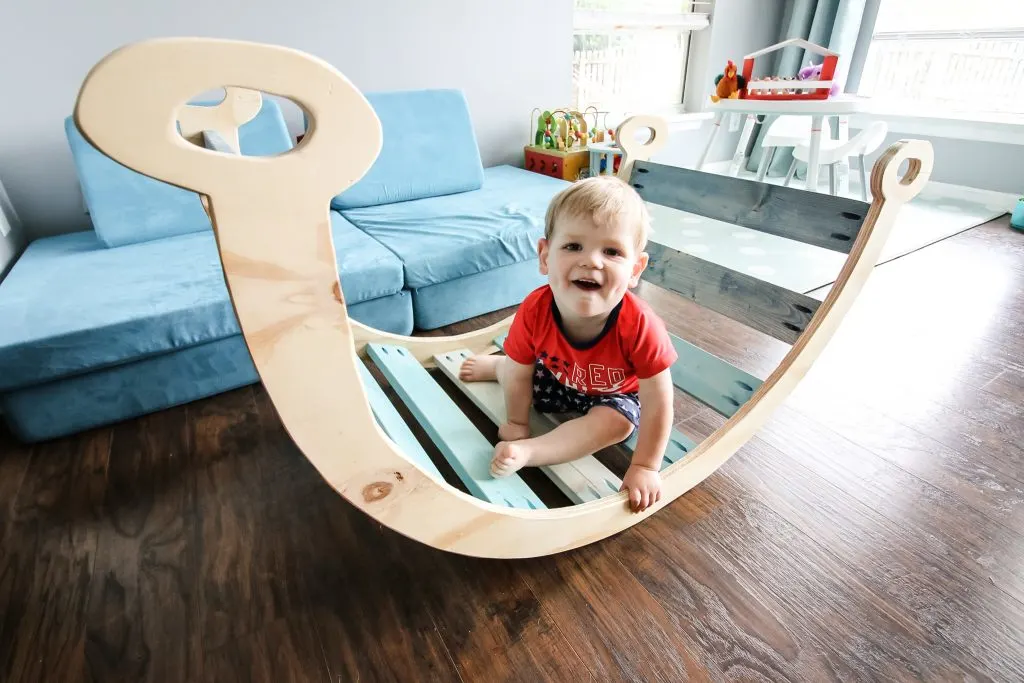 A common item to pair with a climbing triangle is a climbing arch. These are arch-shaped climbers, usually with slats instead of dowel rungs.
Arches are cool because they can be flipped over and used as rockers.
The big negative to a climbing arch is that they are large and do not fold to store. You need a big space to store them!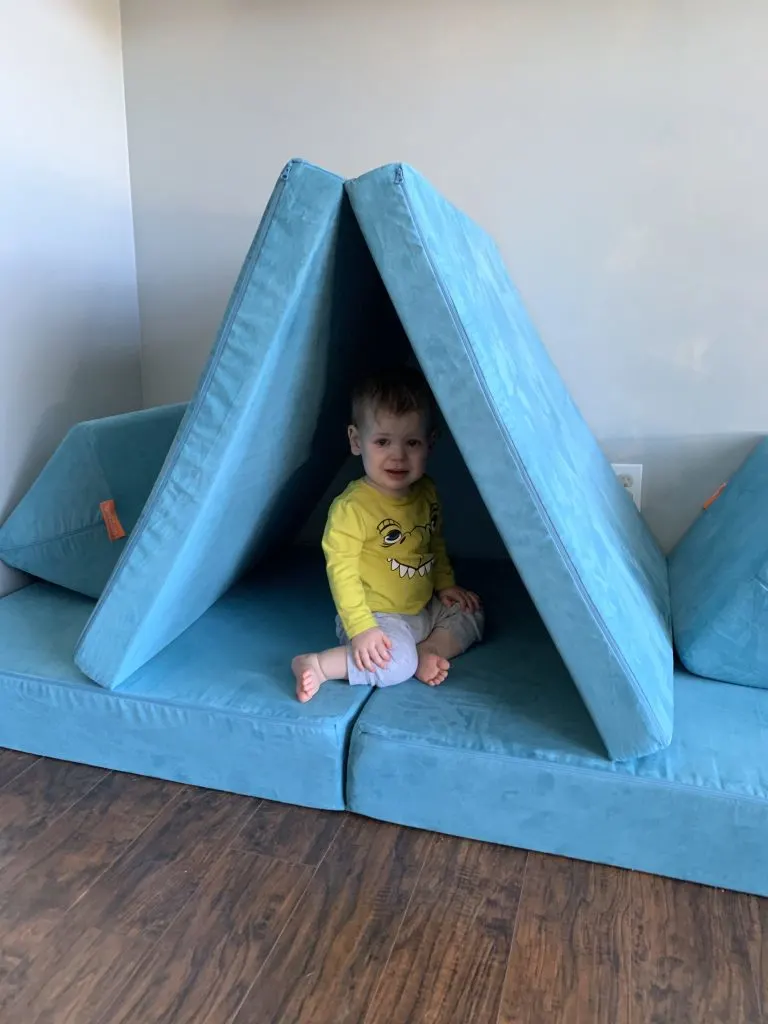 The nugget is a popular kid's play couch that comes with 4 pieces – a thick foam rectangle, a thin, soft foam rectangle, and two foam triangles.
The Nugget is great for building, lounging, and playing. If you have two, they can serve as a small sofa in your play space.
Our son loves his nugget, though he didn't really start actively playing with it until he was around 2 years old. Now, at almost 3, it is his very favorite toy!
This is my favorite take on climbing blocks for kids because it is so multi-purpose and will really grow with your child.
Want more Nugget-y content?
The blocksy is an alternative to the nugget. It is slightly smaller and wider and has a slick cover that is wipe-clean, which makes it very popular with parents! It is a great baby climbing gym.
This toddler climbing gym is super popular because it can incorporate a lot of aspects of play!
There are versions with climbing nets, slides, monkey bars, and even hanging swings and rings!
You will need a larger space for one of these climbing frames, but if you have the space, this is a great option especially for days when the weather does not suit playing outdoors.
Check out all of the best indoor home gyms for kids here!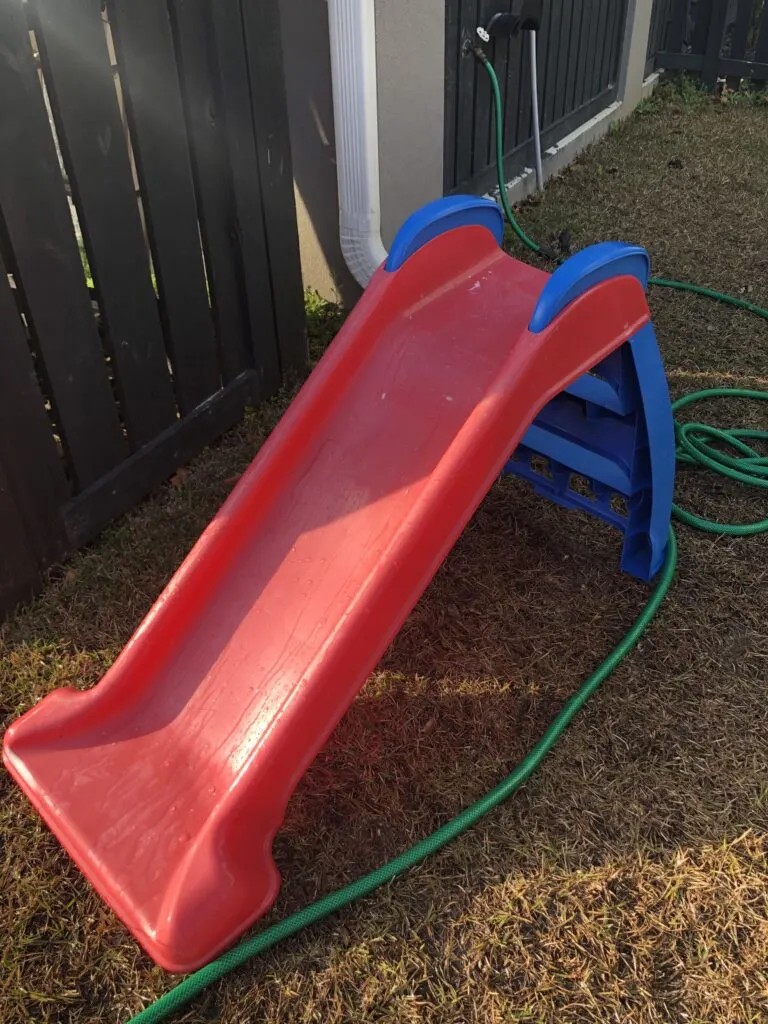 This plastic slide is super easy to assemble – it's just two pieces that you snap together – and it's instant fun.
We actually keep ours outdoors but I have a friend who uses it as an indoor slide in her playroom.
Our son could climb and slide around 18 months. I will say that the slide is a bit short and not a huge hit with anyone 3 or older. It's definitely a toddler slide.
Our local children's museaum has this caterpillar tunnel and it is a big hit! It's a tunnel with peek a boo holes all along the inside. It comes in two sizes depending on your space and number of kids.
While this is fun, it is huge. If you have a smaller space, I recommend a folding tunnel instead.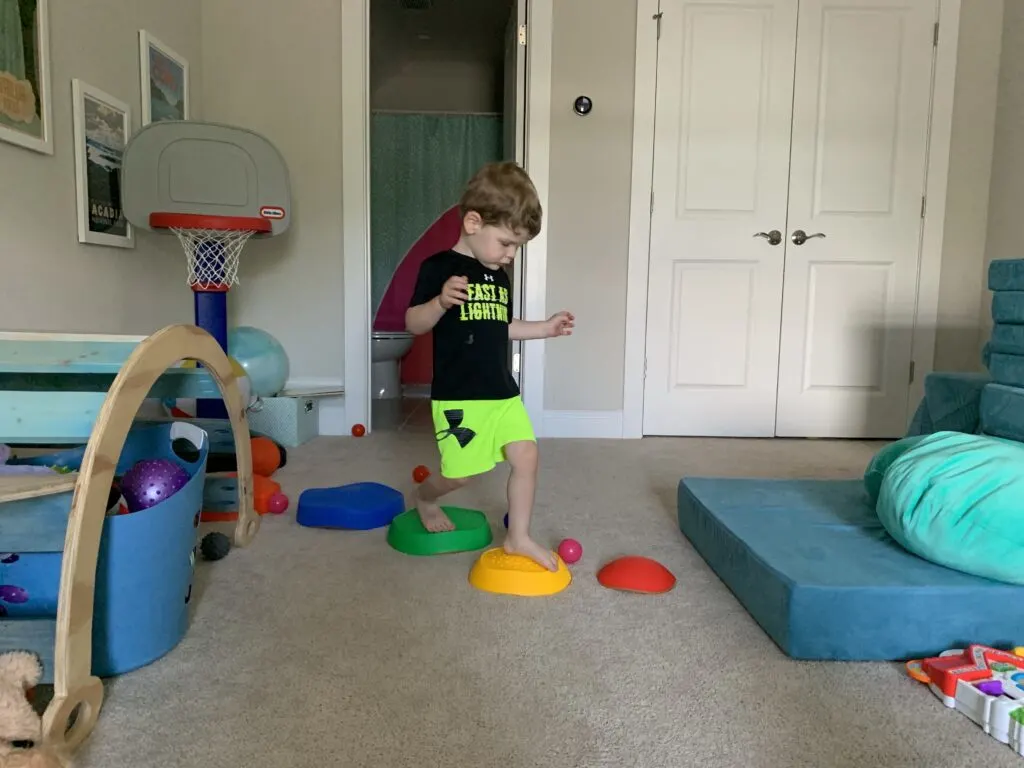 If you are tight on space, consider getting stepping stones! These are great for older kids, too.
They are plastic and can be picked up and moved around.
Kids love stepping or jumping from stone to stone. These are great for obstacle courses, too!
Here's my guide on ways to use balance stepping stones for kids.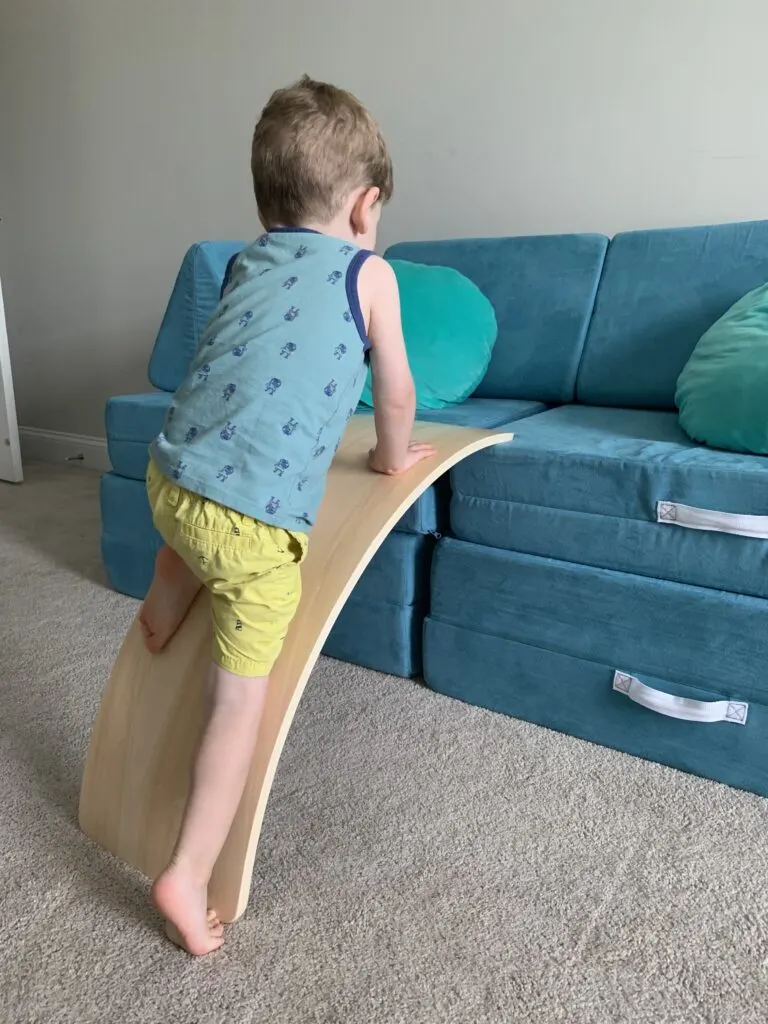 Wobble boards can be used as a ramp, a slide, or a rocker. They are slim plywood bent into an arc shape.
We like to use ours as a slide in conjunction with our Nugget, or as a bridge for cars to go over and under!
Here are our favorite ways to use a balance board with kids!
Climbing domes usually go outdoors, but they are great if you have a big basement or playroom.
These dome climbers are great for older kids – usually age 3 and up. I've even seen some people hang hammocks or swings in the middle! They are a great, modern jungle gym option for indoors and out!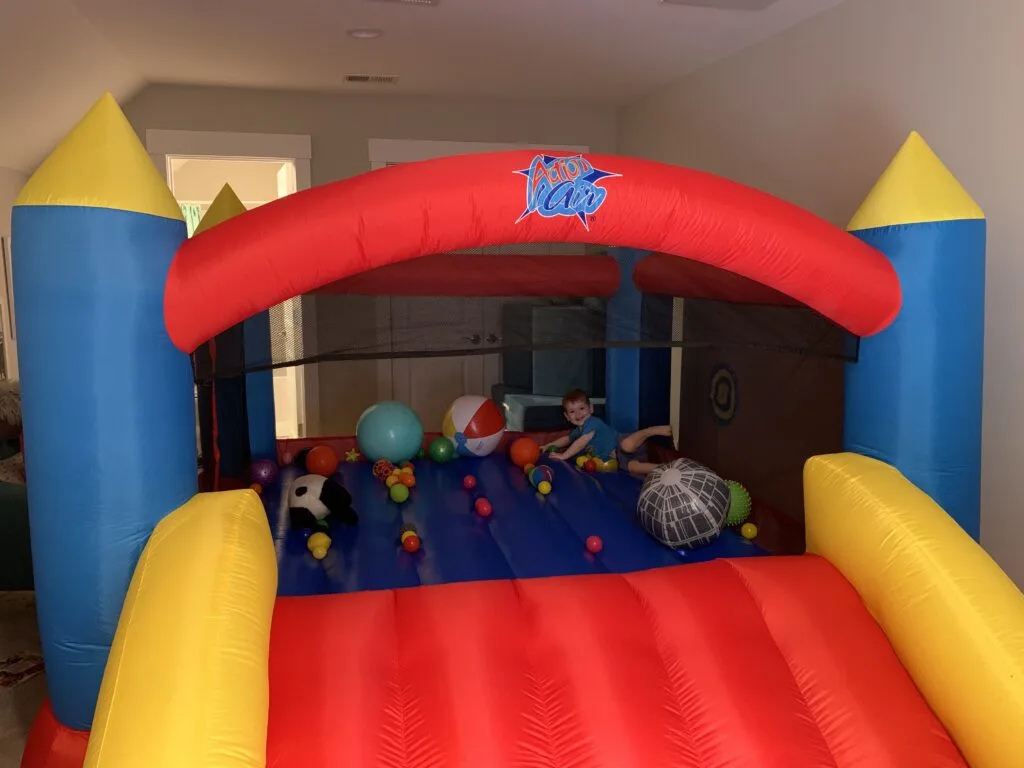 Our bounce house is our #1 requested kids toy. Our son literally gets in bed at night asking to do it the next day!
This toddler play stricture is perfect for parties, having friends over, or every day play.
We can fit our bounce house in our playroom, but they also go great in garages. It's nice because they deflate and store in about a 2 foot by 1 foot bag.
Our daughter has been in the bounce house since she was an infant, just held in our lap, and treated gently obviously. This one is really great for all ages!
If you really want the coolest house on the block, install a climbing wall!
Be sure to consult an expert if you aren't confident in your DIY skills – but this is something that can really take a playroom to the next level!
Looking for a larger climbing structure for kids? Check out my favorite indoor play gyms!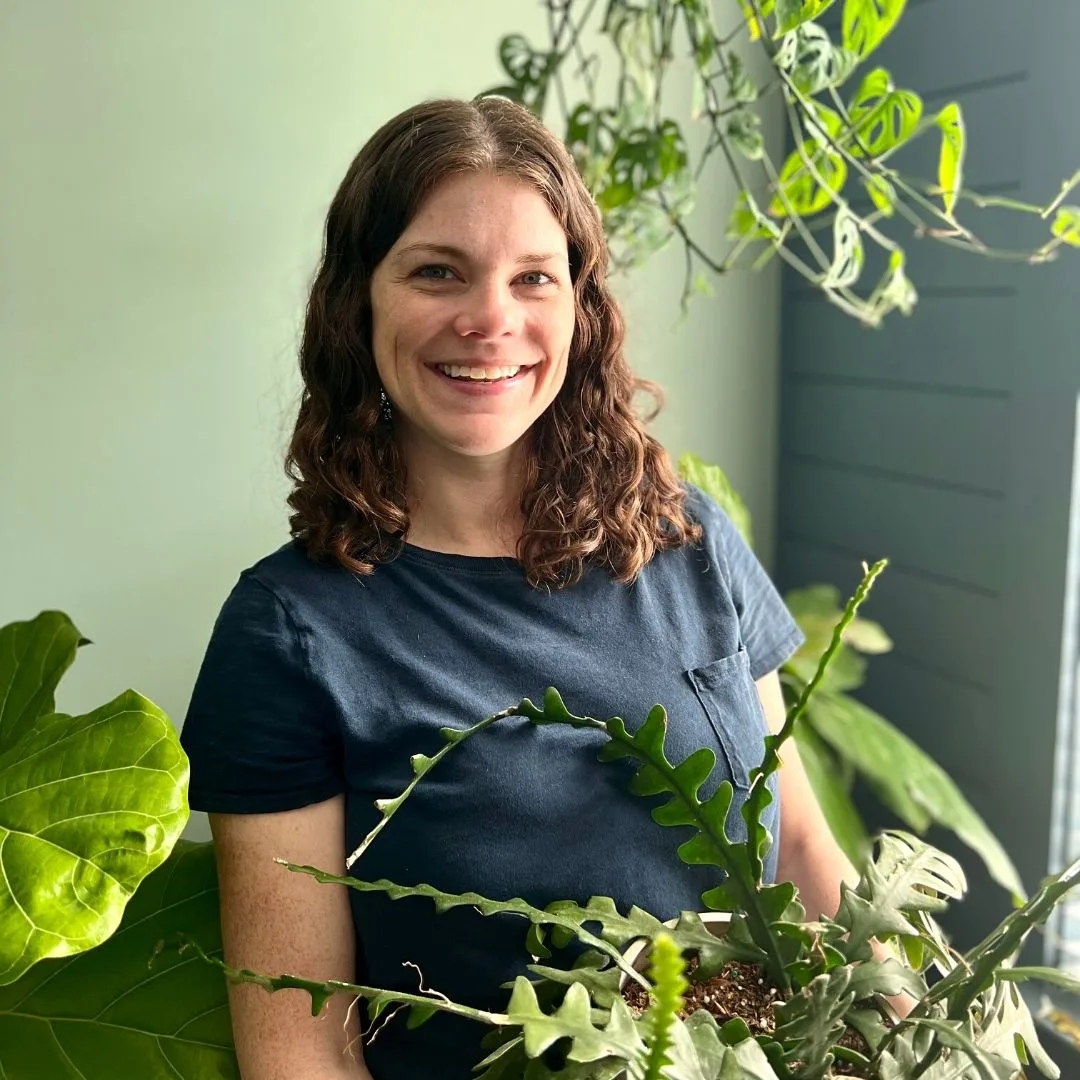 Hey there, I'm Morgan, the creative mind behind CelebratingWithKids.com! As a parent of two lively little ones, I've made it my mission to turn ordinary days into extraordinary adventures, sharing playful activities, thoughtful toy reviews, and delightful printables to help families celebrate every moment together. 🎉👨‍👩‍👧‍👦🎈