Want to set up an indoor gym for your kids? Here are the most popular home gyms for kids to help you find the perfect one for your home!
If you have wild kids, you know that they need to run around and burn off energy.
My first choice is to always let the kids run off their energy outdoors.
But, sometimes it's raining, or too hot or too cold. We have to play indoors!
We are big fans of our Nugget couches for wild play, but you know what's even better? Turning your playroom into an indoor playground for kids!
Indoor jungle gyms have become super popular for an easy way for young kids to get in physical activity without leaving home.
Here are some of the most popular indoor jungle gyms for home!
Looking for something smaller or for younger kids? I suggest a pikler triangle or any of these toddler climbing toys!
Best Indoor Home Gyms for Kids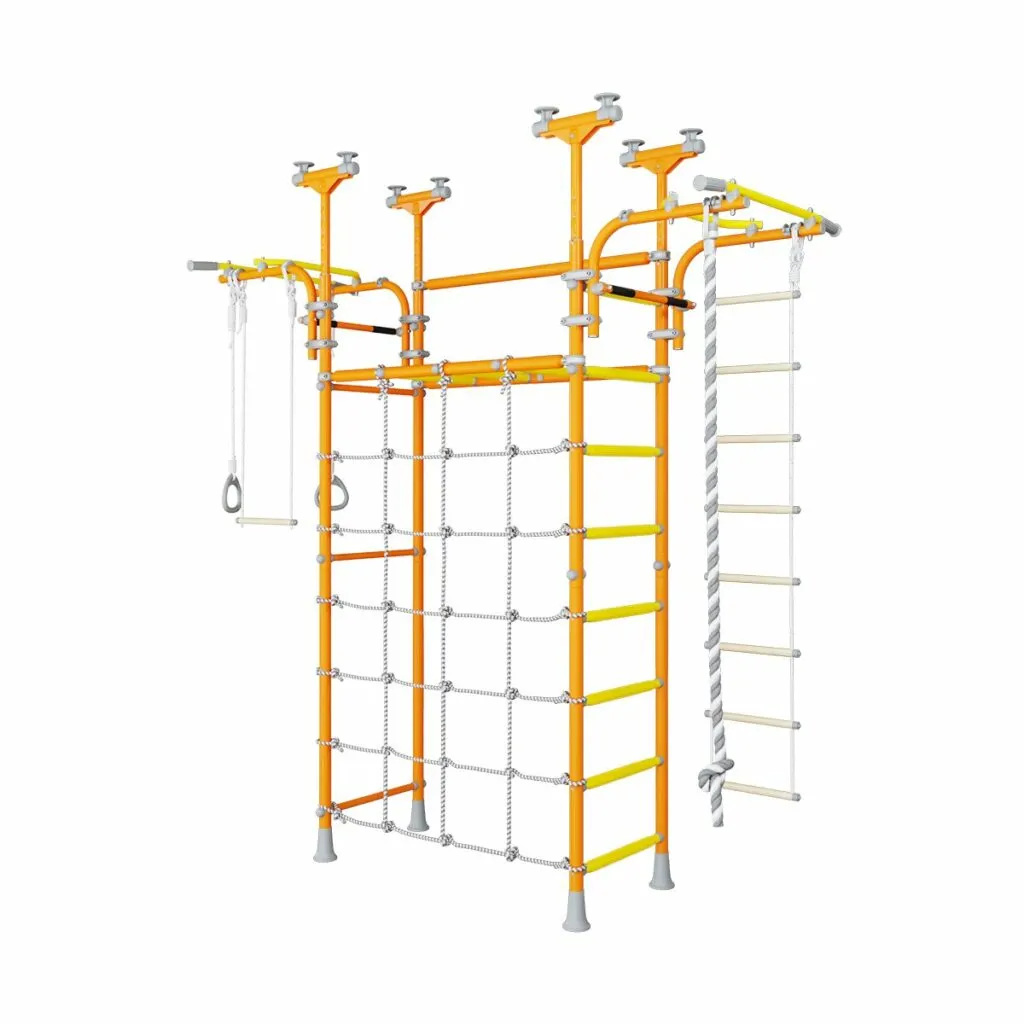 Brainrich is actually a brand of indoor jungle gyms. They offer several wall mounted and tension ceiling mounted climbing structures.
The most popular option is the Spider V2 or V2 Max.
These feature climbing rope ladders, regular ladders, monkey bars, climbing ropes, and hanging gymnastics rings.
You can even add a hammock or rope swing for extra sensory fun.
The weight limit is 220 pounds per person.
They designed it for ages k-12, so it's definitely a bit advanced for small toddlers.
These are EXTREMELY popular and if we had the space for one, I'd have one right now!
EZ Play is another brand of indoor jungle gyms.
They climbers are wooden and designed in more of a triangular shape for climbing. The more deluxe options also have monkey bars and climbing nets.
I love the wooden look of these play sets – they look like beautiful furniture.
I also love that a lot of them include slides and swings.
The weight limit is 70 pounds per kid, 120 pounds total.
Their smaller "panda" design is for kids ages 18 months to 4 years, making this my pick for indoor jungle gyms for toddlers. The larger play sets are for ages 4 and up!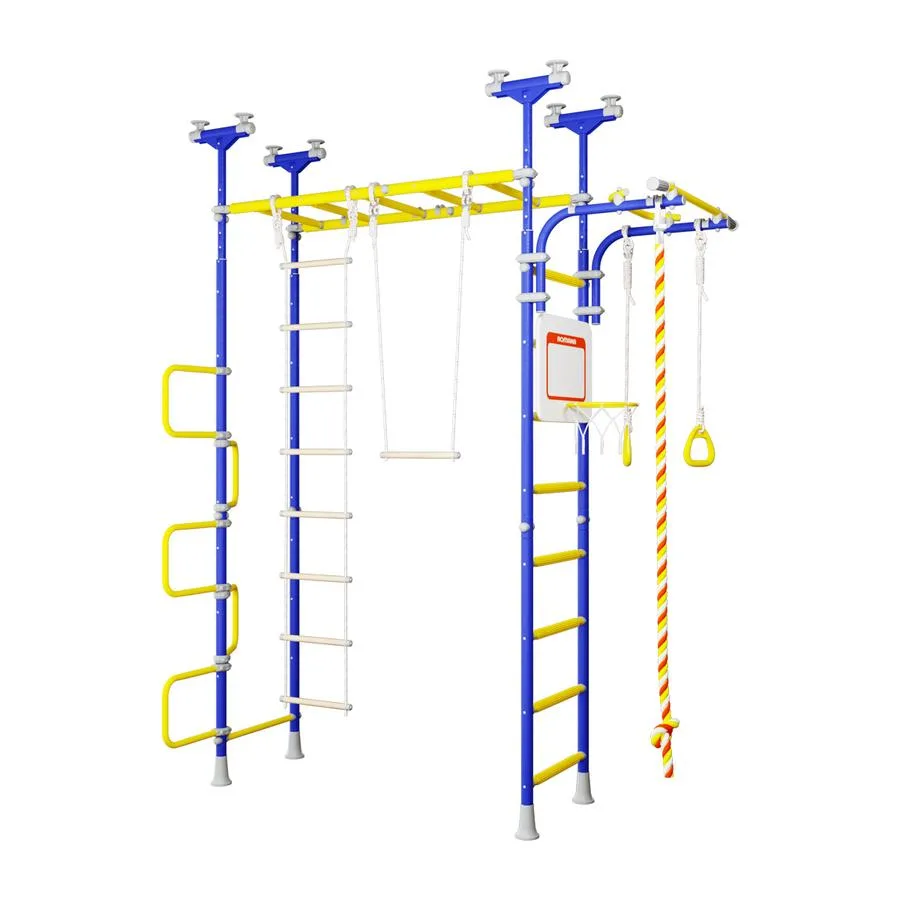 Fitness Kid is another great option for indoor kids gyms, including their popular Pegasus design.
The weight limit is also 220 pounds.
This is an awesome play gym that is tension mounted between the ceiling and the floors.
This model includes
Horizontal bar
Trapeze attachments
Climbing rope
Metal-based or plastic-covered rings (for better grip)
Basketball ring
Gymnastics rings
Ladder
Curved ladder
Rope ladder
Monkey bars
This model is definitely designed for kids ages 4 and up.
This is another great set for bigger kids. I really love the add on basketball hoop!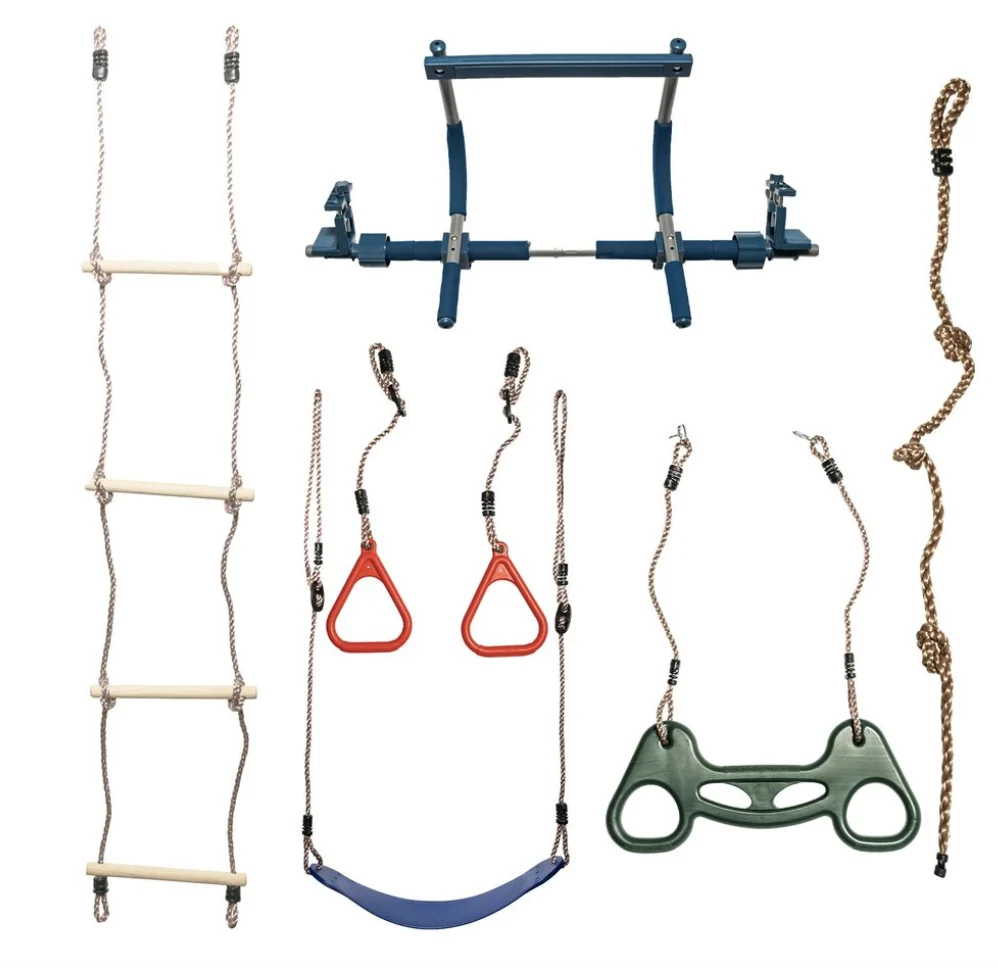 Gym1 is my pick if you want a play gym but don't have much space.
It's basically a doorway pull up bar (haha my husband had one of those when we met!) But, you can swap in a climbing ladder, swing, or trapeze rings!
This is awesome for people who want to get in on the fun but don't have a huge playroom or don't want their playroom dominated by a play gym.
What's your favorite indoor play gym for home?