Planning a taco dinner? Here are my favorite taco toppings for your taco bar – whether it's for yourself, your family, or a taco party!
Is there anything better than a taco bar? Maybe a nacho bar…
Tacos are a staple in our house – we have tacos for dinner at least once a week and breakfast tacos a few times a week.
I love that tacos can easily feed a crowd – and can be a pretty cheap way to do so, too.
But, you can also get a bit adventurous with a lot of different or unique taco toppings.
I love using a family taco dinner as a way to use up random leftovers in the fridge. Look at what you already have on hand and try to put it to work!
Let's talk about some of the most popular taco toppings that you might want to feature on your taco bar ASAP.
Taco bar essentials
Every taco bar needs tortillas as a base of your taco (unless you are doing nachos or taco bowls which are GREAT too!)
Consider grabbing:
corn tortillas
flour tortillas
crunchy tortilla shells
The best way to keep taco shells warm is to warm them in the oven – on warm or around 300 degrees. Wrap them in foil to keep warm while serving!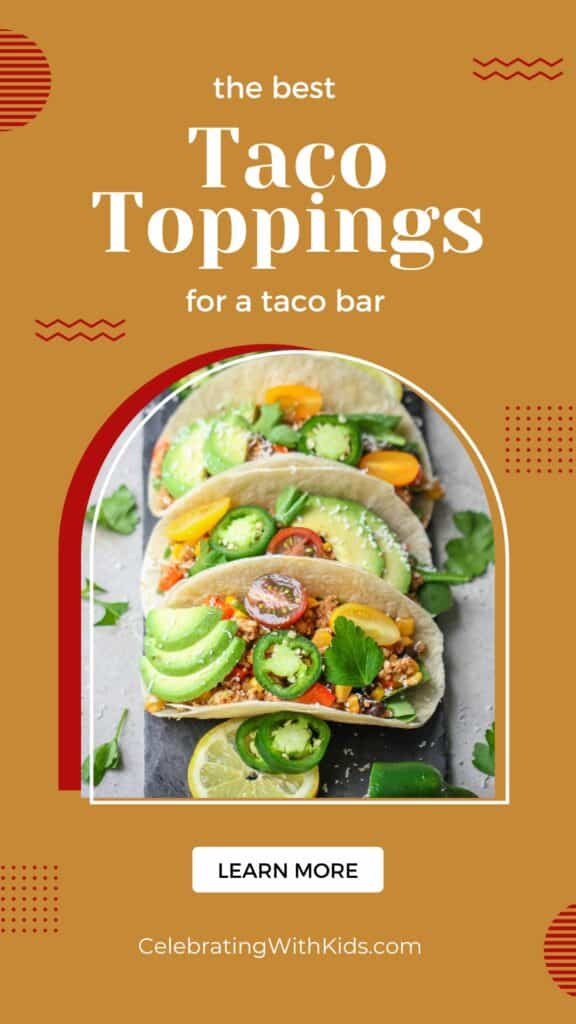 The best taco toppings list
Wondering what to put on tacos? I like to break down our taco bar ingredients to include: fillings, toppings, condiments, and garnishes. Stick to easy taco toppings or go a little wild if you have a more adventurous crowd!
Be sure to check out my favorite taco bar side dishes for kids!
Fillings for tacos
Taco meats
Ground meat – ground beef, pork, chicken, turkey
Shredded chicken
Steak
Fish – typically white fish, fried or baked
Shrimp
Chorizo
Carne asada
Adobada/Al Pastor pork
Vegetarian taco fillings
Black beans or pinto beans
Refried beans (check for veg versions – some use meat broth)

Roasted root vegetables such as potatoes, onions, parsnips, beets

Jackfruit
Roasted cauliflower
Tofu
Portobella mushroom
Eggs – scrambled or fried
Taco toppings ideas
Fajita veggies – sautéed onions and peppers
Shredded cheese – pepper jack, monterey jack, cheddar, colby Jack, cotija
Queso cheese
Cilantro lime rice
Cauliflower rice
Sliced cucumber
Onions – red or white, diced finely
Corn – plain or street corn
Cowboy caviar
Guacamole or sliced avocado
Pickled red onion
Jalapeños – fresh or pickled
Shredded lettuce, cabbage, or broccoli slaw
Tomatoes
Cole slaw (love this with fish tacos especially)
Bell peppers or any peppers sliced thinly
Condiments for tacos
Pico de gallo
Salsa, Mango salsa, Pineapple salsa, Salsa Verde
Sour cream OR plain greek yogurt
Hot sauce or sriracha
Chipotle sauce or chipotle ranch
Cilantro lime crema
Bean dip
Chimichurri
Taco garnishes
Cilantro
Chives
Green onions
Thinly sliced radishes
Black olives
Lime wedges
What are your favorite taco fixings?!