Shopping for a modular couch for your kids? Here are the best ones in each category!
If you have a playroom, you might want a couch for it.
But if you have small kids, you might not want a traditional couch.
Modular couches are couches that the cushions come apart for lots of play and fun.
Modular couches are especially great for preschool and elementary aged kids.
We have modular couches in our playroom and LOVE it. It gives us the flexibility to lounge like a sofa, but also use our imaginations and build unlimited options of play!
Here's the best modular couches for kids in each category!
Be sure to check out my favorite indoor climbing toys for toddlers!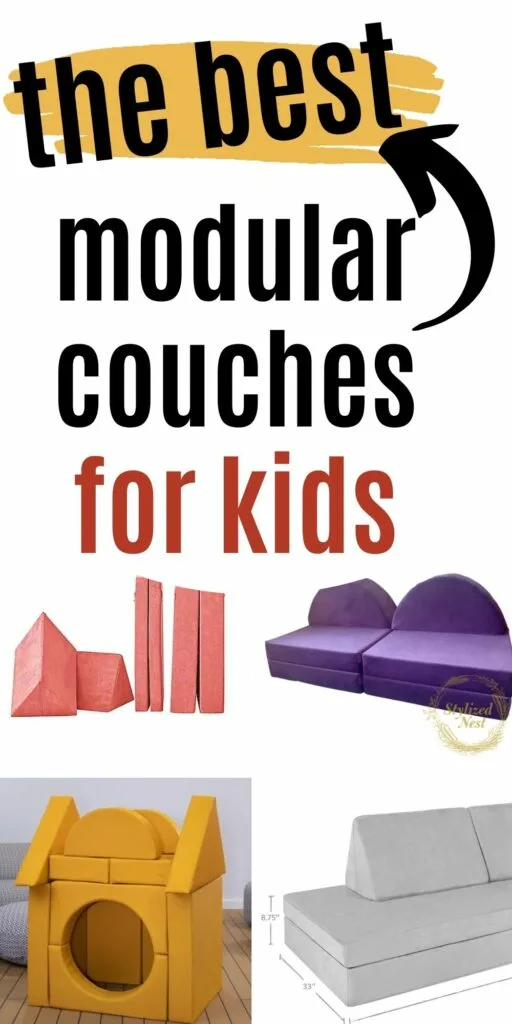 The Best Modular Couches for Kids
Best overall: The Nugget
The Nugget is the original play couch and it's a classic for a reason. It includes two folding rectangular pieces and two triangles.
The Nugget is great as a lounging couch and for building. The price is fair and the reviews are phenomenal. I own four and really vouch for them!
Best for building: The Fort
The Fort is a very cool kid's toy that includes cushions in a lot of different shapes that have hidden magnets to help them join together and build elaborate builds.
It doesn't make a great couch – but that's not what it was designed to be. If you want to focus on the modular more than the couch, check out the Fort!
Best ramps: Foamnasium
Foamnasium is another modular couch alternative. The actual Blocksy couch is just OK but what I love is the add on shapes.
They offer mega wedges that are super popular for really getting wild, tumbling, and building at home!
Definitely check out Foamnasium!
Most luxurious: Stylized Nest
The Stylized Nest is an up and coming modular couch for kids. It's pricey, but made of luxurious, high end upholstery materials.
The reviews are phenomenal. I love that they come with two half-moon cushions, which are gorgeous as a seat back and really fun for rocking or building!
Best bang for your buck: The Explorer
Looking for a deal? Check out the Sam's Club Explorer!
It's basically a complete Nugget knock off, but it has good (not perfect) reviews and costs a good chunk less than the Nugget.
Most of the Nugget alternatives actually cost more, so this is a great deal for sure!
What's your favorite modular kid's couch?!