Looking for healthy smash cake ideas? Here are a tone of baby's first birthday cake ideas – without all the added sugar!
A baby's first birthday is SO FUN! I mean, seriously, all one year olds are adorable and it's so exciting to gather around and celebrate them.
Plus, at one, they have very few opinions. I won't say none – because my daughter has been opinionated since birth. But, you won't be pushed towards spiderman or peppa pig. You can plan the birthday party of your dreams.
And a big part of any first birthday party is the 1st birthday cake!
We actually had 3 cakes for my daughter (I know, I know). 1 for her smash cake photos (my neighbor is a photographer and she did a photo session for us), 1 for our family on her actual birthday, and one big one for her party a few days later.
Anyways, you can't really go wrong with any cake, but let's talk from my experience – with 2 kids and 5 first birthday cakes between them!
Can baby eat cake for their first birthday?
I have heard that official dietary recommendations say that children under age 2 shouldn't have cake.
I think that a little cake for their birthday won't hurt them, but consult your pediatrician if you are concerned and certainly follow any diet or medical plan if your child is one one.
Check out my list of 101 foods for babies without teeth!
What is a smash cake for?
Smash cakes are usually small cakes – 6″ or so – made for a baby to tear into.
The general idea is that a baby hasn't tasted sugar before they turn one, you present them with a cake, and they go wild.
What is the point of a smash cake?
The point of a smash cake is to entertain the parents and other various onlookers. Babies are presented with a cake for the first time.
Some babies stare at it blankly, some dive in face first.
There's almost guaranteed good photo ops and it's a form of entertainment for a first birthday party.
What is the difference between a smash cake and a regular cake?
A smash cake is just a cake. Usually it's smaller than a full sheet cake, but you could use a small cake, a cupcake, a slice of cake – anything.
What are smash cakes made of?
Smash cakes are cakes – made of cake. You can use any recipe you prefer!
What cake is best for cake smash?
This entirely depends on what you are going for. If you want a clean experience, go with non-died cake. White with white icing will stain the least.
If you want drama, go for a brightly colored cake with lots and lots of frosting!
What flavor cake is best for 1st birthday?
Fruit flavored cakes are popular, because one year olds often love fruit! Otherwise, go with whatever flavor you prefer!
Is a smash cake safe?
If your baby has allergies or dietary needs, definitely respect those with their birthday cake.
Otherwise, you don't need to necessarily stress about sugar or other things. Most babies don't actually end up eating very much of their cake. It's on their faces and hands and the floor, mostly!
However, if you are looking for healthy smash cake recipes, I have rounded up some ideas for you today!
What can I use instead of a smash cake?
Here are some alternative 1st birthday cake ideas:
Pudding
Fruit
Applesauce
Mini muffins
Watermelon
Popsicles
Yogurt
Pie
Bread such as banana bread
A giant meatball (we did this with our son haha)
What cake can 1 year old eat?
Technically, one year olds shouldn't eat a bunch of cake, but most cakes are safe for kids (with no allergies) on occasion as a special treat.
Does Walmart do free smash cakes?
Walmart, Publix, and Harris Teeter all offer free smash cakes with the purchase of a first birthday cake. Call ahead to see what the requirements are at your local store!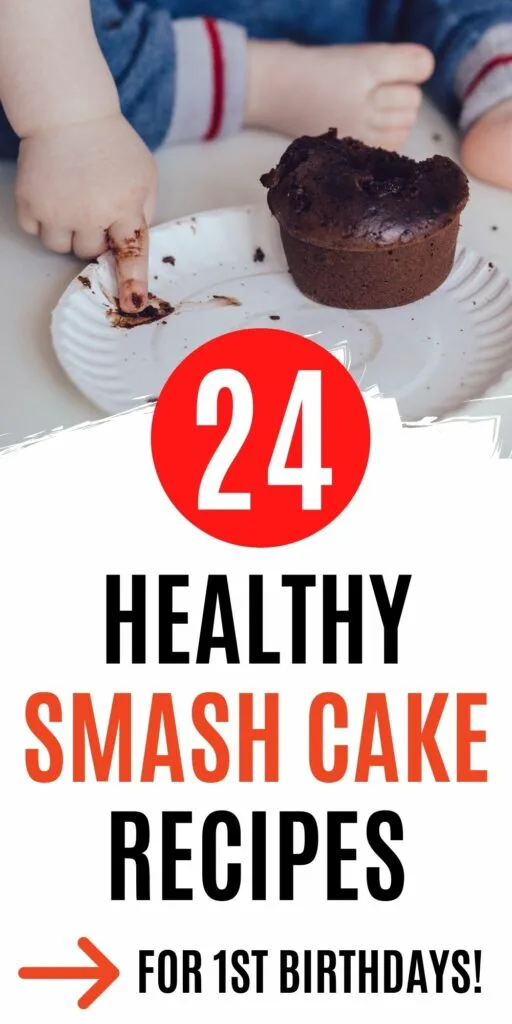 Healthy Smash Cake Ideas
Here are some recipes that you can use to make a healthy smash cake for your child's first birthday!