Wondering what finger foods for your baby with no teeth? Here are some of the foods that they can safely manage to eat!
I did Baby Led Weaning with both of my kids. That means that at the age of 6 months (assuming they can sit very well in a high chair) they started getting whole foods.
No baby food, no mush, no purees. Actual normal human food.
I know this is scary for a lot of parents and caregivers and I'm not here to pressure you to feed your baby any way or another!
But I specifically remember being at the library's mommy and me class with Luke and a mom asking what he eats. I told her he ate a hamburger for lunch. He was probably 7 or 8 months old at the time.
The other mom scoffed at me and said well her baby didn't have any teeth.
I remember looking at Luke drooling on the rug with his one sad little bottom middle tooth and laughing to myself if she thought that tooth was really tearing into the burger meat!
I don't mean that to laugh at the other mom at all. Just to say that babies don't really need teeth to eat.
There are a lot of finger foods for 6 month old babies with no teeth. There are a lot of snacks for babies with no teeth!
Their gums are great at smashing and chewing solid food, teeth or not!
That being said, I steered clear of anything overly sharp or crunchy. Though, my daugther is currently 9 months old with only 2 bottom teeth and eats a LOT of goldfish.
We offer our kids 3-5 things at each meal. Go with small amounts of each and give seconds if needed!
Regardless, starting solids is a personal choice for the parents. If you are introducing finger foods – usually 6 to 10 months of age – here are some ideas to get you started!
A note about choking
I'm not going to lie. Choking is TERRIFYING. It's horrific to imagine and as babies start eating, they are going to gag and choke a little bit. Here are some things that made me feel better.
Watch YouTube videos showing choking vs. gagging. It will make you feel more comfortable and know what to look out for.
Familiarize yourself with the best and safest way to cut foods. It's actually easier for small babies to eat long sticks than food cut into small pieces (until they develop the pincher grip). We have this Baby Led Feeding book and it has great diagrams on how to cut foods.
Make an OK sign with your thumb and pointer finger. Never serve anything round smaller than that circle. Smush blueberries, and quarter anything else.
Get CPR and heimlich maneuver certified for children and adults.
If it makes you feel better, keep a Dechoker on hand and know how to use it.
**Always consult with a doctor if you are concerned about your child's diet. I am not a doctor, just a mom!*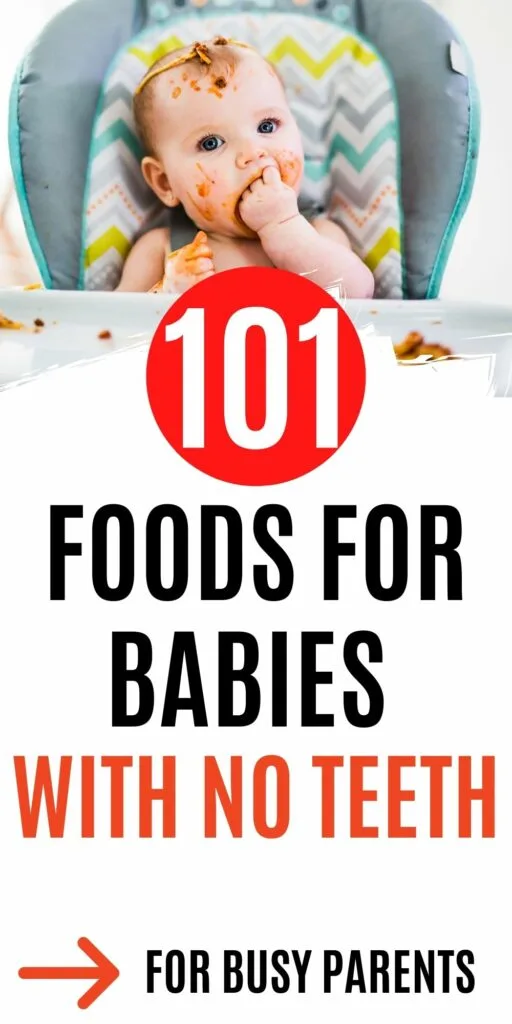 The best food for babies with no teeth
Here are some of my kids' favorite foods before they got teeth! I organized this list by food type, so find exactly the thing you need to complete you next meal!
Banana- cut in half moons
Smooshed blueberries
Sliced strawberries
Mandarin oranges
Diced canned/pop top peaches, drained
Wedges of watermelon (for sucking)
Blackberries – cut in half or quartered lengthwise
Diced mango (an absolute favorite for both my kids!)
Pineapple tidbits – canned or fresh
Diced apples, sautéed with butter and tossed with cinnamon
Diced pears – fresh, they go brown quickly
Sliced prunes (great for constipation)
Raisins – beware, they can rehydrate inside their bellies and come out… large
Kiwi – peeled and sliced
Grapes – quartered
Slices of lemon or lime – people do this to be mean but our son LOVED them at restaurants
Applesauce – in a pouch or on a spoon
Fresh peaches – diced (you can leave the peel on small pieces!
Raspberries – cut or torn in half
Smoothie (cup with a straw)
Roasted sweet potatoes – peeled wedges or sticks, with skin removed
Baked or sautéed carrots (cut in half moons)
Mashed potatoes (pre-loaded spoon)
Mashed sweet potatoes (pre-loaded spoon)
Roasted squash – sticks or half moons
Mashed avocado or mild guacamole preloaded on a spoon
Zucchini noodles with sauce
Diced tomatoes
Green peas – by the handful
Chick peas – roasted and smashed so they are no longer round
Avocado chunks – toss with breadcrumbs or coconut to make less slippery
Cucumber – peeled and cut into sticks
Cooked corn – I use canned
Broccoli – roasted, cut into very small pieces
Pickles – quartered lengthwise or sliced into half moons
Plain full fat yogurt (pre-load a spoon)
Shredded cheese
Sliced cheese – torn into fingernail sized pieces
Block cheese – cut into small sticks
Fresh mozzarella, torn
Cheese sticks – cut in half moons or quartered in sticks
Babybel cheese, whole or broken up
Shredded chicken
Meatballs (both our kids' first foods was a meatball!)
Meatloaf – cut into bite sized pieces
Chicken nuggets – cut into small bites
Fish sticks – but into small bites
Pepperoni – diced or torn
Deli meat – torn into bite sized pieces
Bacon – thin cut, don't cook it too crispy, cut into 1/2″ wide slices
Sausage – quartered lengthwise
Hamburger – broken into bite sized pieces
Corn dogs – quartered lengthwise
Ground turkey
Ground beef
Ground chicken
Ground pork
Sausage or hotdogs – quartered lengthwise and sliced
Shredded/flaked fish
Shredded pork
Black beans
Veggie burger – cut in sticks or squares
Scrambled egg chunks
Hardboiled egg – diced
Omelet cut into strips or diced
Fruit and Veggie Melts
Baby puff cereal
Goldfish crackers
Cheerios
Animal crackers
Vanilla wafers – broken in half or mini size
Teddy grahams or Annies bunnies – broken in half
Belvita breakfast crackers
Veggie straws – whole
Peanut butter bambas
Dehydrated carrots – broken up
Round crackers (like you'd use for cheese and crackers)
Toasted bread with butter, peanut butter, or jelly
Hash browns – whole or broken up
Rice cakes – minis broken in half or large ones quartered
Mini pancakes – halved
Toast strips with mashed avocado (a fave for millennial parents)
Waffles – cut into strips
Biscuits – torn into bite sized pieces
Muffins – torn into bite sized pieces
English muffins – toasted, torn into strips
Bagels – sliced into 1/2″ thick slices
French fries whole or torn up
Sweet potato fries – whole or torn up
Pizza – cut into squares
Spaghetti with sauce of choice
Lo mein noodles (our daughter slurps them up!)
Lasagna, cut into bite sized pieces
Macaroni and cheese (tubes are easier than shells for little babies)
Microwave cheese quesadilla on taco shells – cut into strips
Corn cakes, cut into bite sized pieces
Couscous (we like the pearl) on a spoon or messily by hand
Pasta – we love penne, cut in half lengthwise for small babies
Taco shell pizzas (taco shell with sauce + cheese, baked) cut into strips or bites
Pita, torn into bites, with dip
Hummus, pre-loaded on a spoon
What are your favorite foods for babies without teeth?