Considering a Nugget couch or a Stylized Nest for your kids? Let's compare them side by side to see which is best for your family.
Everyone is always looking for a Nugget knock off! A new popular option is the Nest.
Let's jump in and compare the two!
Here are my 12 favorite indoor climbing toys for toddlers!
Note: I own a Nugget but not a Stylized Nest, but I have nothing against the Nest! Click here for my full Nugget review.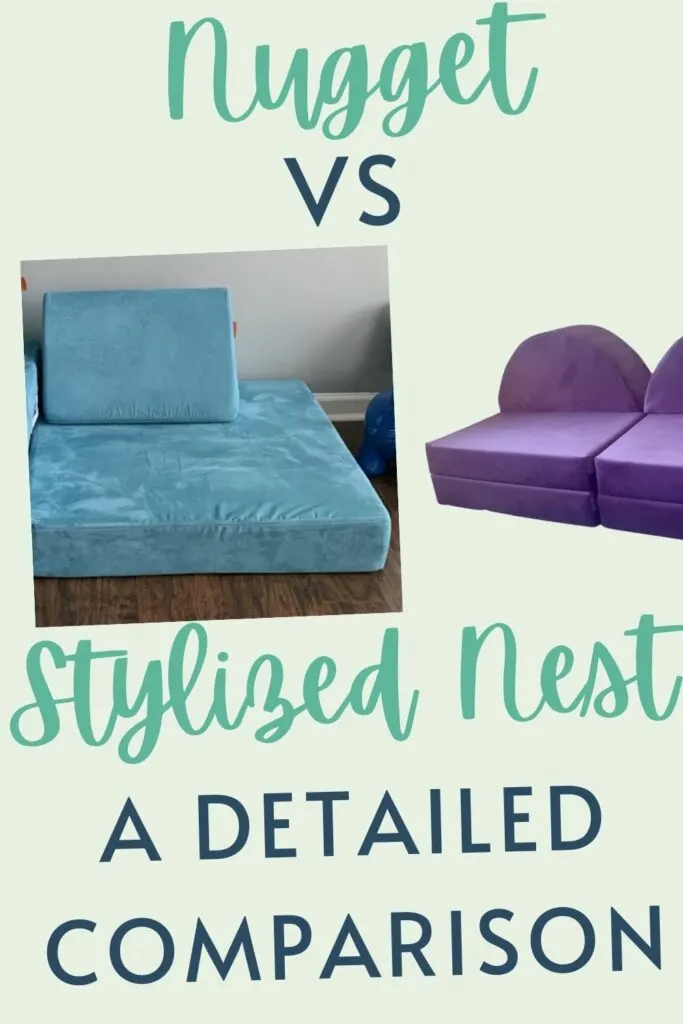 What are the differences between a Nugget and a Stylized Nest?
Stylized Nest is another popular Nugget alternative. They have the classic play couch, but what I like about Stylized Nest is all of the add on or additional shapes available!
They also offer a cover to turn a stack of rectangle cushions into a beautiful ottoman which I think is genius!
The Nest does NOT have handles like the Nugget does.
The biggest difference you will notice is that the Next comes with rainbow bolsters instead of triangle pillows. These are large half circle pillows that are gorgeous as a sofa back and seem fun to build with!
They also have 3 buying options:
The Nest Includes: 1 Thick Base, 1 Thin Topper, 2 Rainbow Bolsters
The Nest Deluxe Includes: 2 Thick Bases, 2 Rainbow Bolsters
The Nestling Includes: 1 Thick Base, 1 Rainbow Bolster
Cover Material
Nugget
The Nugget is made of microsuede that is soft and comfortable.
Nest
Covers come in 100% cotton OR brushed velvet, which is cool that you get a choice.
Washability
Nugget
Nugget covers are machine washable, hang to dry.
Nest
The covers are removable and machine washable.
Colors
Nugget
Nugget comes in 3 permanent colors – black, gray, and navy – and a rotating slate of seasonal colors. There are currently 15 limited edition colors!
Nest
4 cotton colors and 9 velvet colors!
Size
Nugget
Rectangular cushions are 33″ x 66″.
Nest
Rectangular cushions are 33″ x 66″.
Ease of purchase & delivery time
Nugget
Nuggets currently have a 2-3 week lead time on delivery.
Nest
Orders ship 3-6 weeks from order date.
Price
Nugget
Nugget sells for $229 with free shipping in the USA.
Nest
The basic Nest (most comparable to Nugget) is $467 + $55 shipping in Canada and $75 shipping in the USA
Summary of differences
Here are all of the differences summarized in a handy table!
| | | |
| --- | --- | --- |
| | Nugget | Stylized Nest |
| Cover Material | Micro suede | 100% cotton OR velvet |
| Washability | Machine washable | Machine washable |
| Colors | 18 colors | 13 colors |
| Size | 33″ x 66″ | 33″ x 66″ |
| Delivery Time | 2-3 weeks | 3-6 weeks |
| Price | $229 | $467 + shipping |
See my comparison of all of the Nugget knock offs here!