Considering a Nugget couch or a My NooK for your kids? Let's compare them side by side to see which is best for your family.
Everyone is always looking for a Nugget knock off! A new popular option is the NooK.
Let's jump in and compare the two!
Here are my 12 favorite indoor climbing toys for toddlers!
Note: I own a Nugget but not a NooK, but I have nothing against the NooK! Click here for my full Nugget review.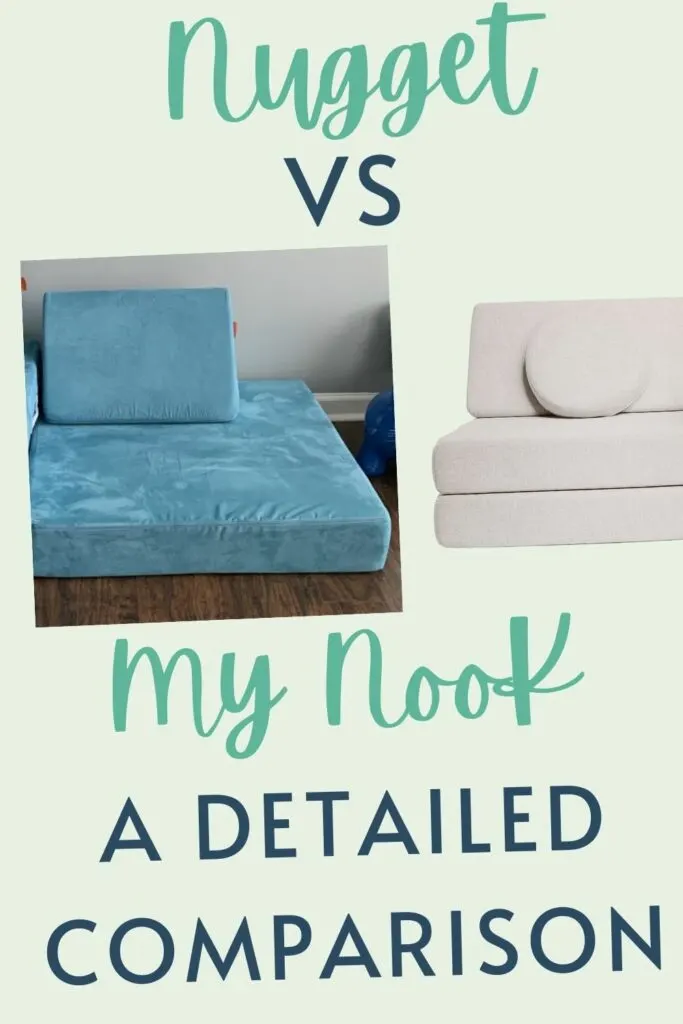 What are the differences between a Nugget and a NooK?
NooK is another popular Nugget alternative – it's especially great for Australian shoppers! They currently are only available in Australia.
At a first glance you will see that the nook looks different than the Nugget. I love that it's go it's own unique features.
The MyNooK includes:
– 4 Large Base Cushions which Zip-Together in Pairs
– 2 Back Triangles
– 2 Long Rectangular Bolsters
– 2 Circular Round Cushions
– a My NooK Build Poster
Cover Material
Nugget
The Nugget is made of microsuede that is soft and comfortable.
NooK
The NooK comes in your choice of microsuede, velvet, or outdoor fabric. I love the outdoor option!!
Washability
Nugget
Nugget covers are machine washable, hang to dry.
NooK
The covers are all machine washable.
Colors
Nugget
Nugget comes in 3 permanent colors – black, gray, and navy – and a rotating slate of seasonal colors. There are currently 15 limited edition colors!
NooK
They have 30 colors to choose from between the 3 material options!
Size
Nugget
Rectangular cushions are 33″ x 66″.
NooK
Rectangular cushions are 160cm x 80cm which is about 31.5″ x 63″
Ease of purchase & delivery time
Nugget
Nuggets currently have a 2-3 week lead time on delivery.
NooK
Nooks ship in 4-6 weeks. Shipping is $80 within Australia. They are NOT shipped compressed.
Price
Nugget
Nugget sells for $229 with free shipping in the USA.
NooK
The NooK sells for $595
Summary of differences
Here are all of the differences summarized in a handy table!
| | | |
| --- | --- | --- |
| | Nugget | NooK |
| Cover Material | Micro suede | Microsuede, velvet, OR outdoor fabric |
| Washability | Machine washable | Machine washable |
| Colors | 18 colors | 30 colors |
| Size | 33″ x 66″ | 160cm x 80cm which is about 31.5″ x 63″ |
| Delivery Time | 2-3 weeks | 4-6 weeks |
| Price | $229 | $595+$80 shipping |
See my comparison of all of the Nugget knock offs here!