Considering a Nugget couch or a Wild Kids Dream Couch for your kids? Let's compare them side by side to see which is best for your family.
Everyone is always looking for a Nugget knock off! A new popular option is the Wild Kids Dream Couch.
Let's jump in and compare the two!
Here are my 12 favorite indoor climbing toys for toddlers!
Note: I own a Nugget but not a Wild Kids Dream Couch, but I have nothing against the Wild Kids Dream Couch! Click here for my full Nugget review.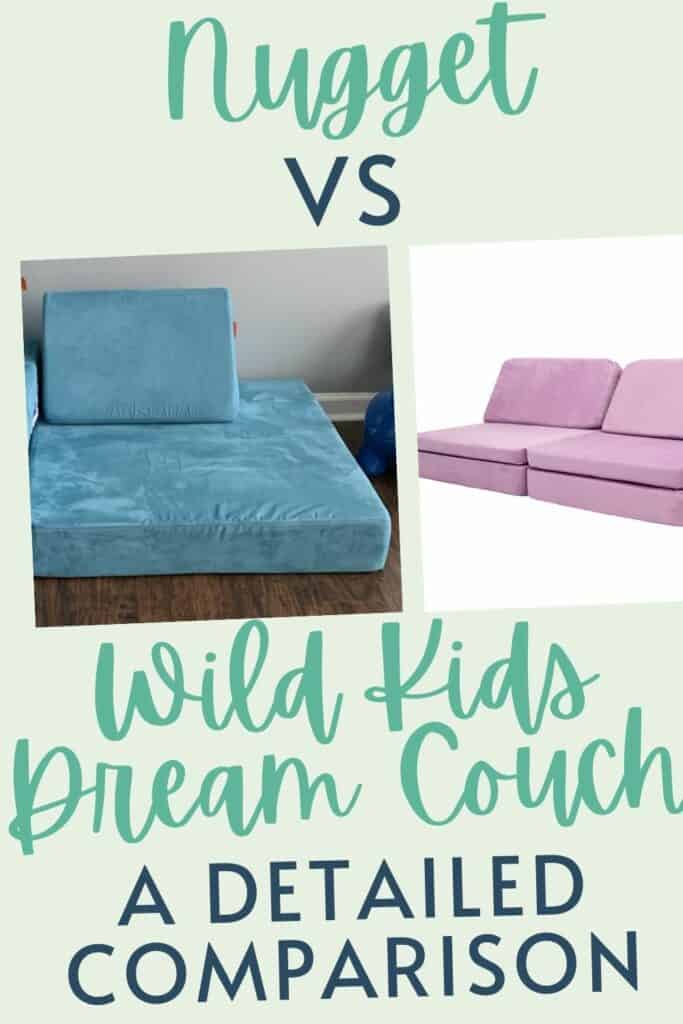 What are the differences between a Nugget and a Wild Kids Dream Couch?
A Dream Couch, at a glance, looks just like a Nugget. There are a few differences.
Most notably, the triangles are much longer/taller and span the full width of the couch, which honestly makes a lot of sense!
I will also say that the Wild Kids couch has very positive reviews on Facebook and it is said that their customer service is very very good.
Cover Material
Nugget
The Nugget is made of microsuede that is soft and comfortable.
Wild Kids Dream Couch
They describe their couch material as suede-like.
Washability
Nugget
Nugget covers are machine washable, hang to dry.
Wild Kids Dream Couch
Covers are removable and washable.
Colors
Nugget
Nugget comes in 3 permanent colors – black, gray, and navy – and a rotating slate of seasonal colors. There are currently 15 limited edition colors!
Wild Kids Dream Couch
The Dream Couch currently comes in 4 colors but they rotate new colors in seasonally!
Size
Nugget
Rectangular cushions are 33″ x 66″.
Wild Kids Dream Couch
Rectangular cushions are 32″ x 64″, so just slightly shorter. BUT the triangles are longer!
Ease of purchase & delivery time
Nugget
Nuggets currently have a 2-3 week lead time on delivery.
Wild Kids Dream Couch
All orders ship next business day!
Price
Nugget
Nugget sells for $229 with free shipping in the USA.
Wild Kids Dream Couch
The Dream Couch costs $229 (though they do run sales and coupons!)
Summary of differences
Here are all of the differences summarized in a handy table!
| | | |
| --- | --- | --- |
| | Nugget | Wild Kids Dream Couch |
| Cover Material | Micro suede | Suede-like |
| Washability | Machine washable | Machine washable |
| Colors | 18 colors | 4 colors, rotate seasonally |
| Size | 33″ x 66″ | 32″ x 64″ |
| Delivery Time | 2-3 weeks | Immediate |
| Price | $229 | $229 |