Considering a Nugget couch or a Huddle for your kids? Let's compare them side by side to see which is best for your family.
Everyone is always looking for a Nugget knock off! A new popular option is the Huddle Customizable Kids Couch.
Let's jump in and compare the two!
Here are my 12 favorite indoor climbing toys for toddlers!
Note: I own a Nugget but not a Huddle, but I have nothing against the Huddle! Click here for my full Nugget review.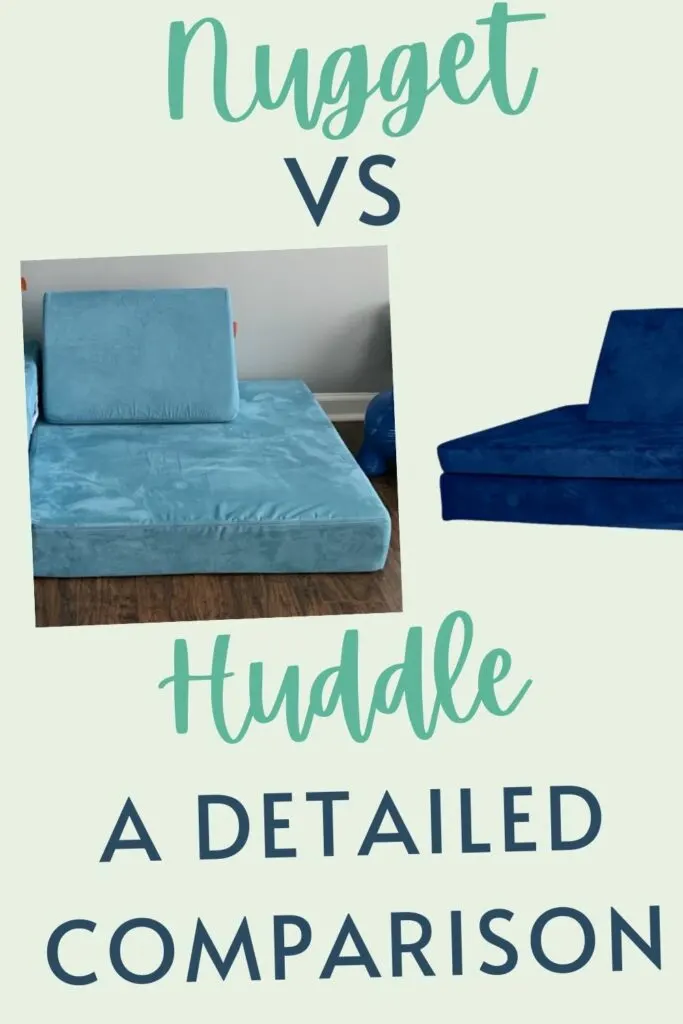 What are the differences between a Nugget and a Huddle?
The Huddle is another Nugget knock off, and it is sold at Walmart and Toys R Us (Canada).
The reviews that I have seen say that this couch is very small and only 4.5 pounds, making it not thick or sturdy.
It is also significantly smaller than a Nugget.
Combine these factors with the fact that it costs more than a Nugget and Nuggets are now shipping immediately and I see NO REASON to buy one of these. But here are the facts!
Cover Material
Nugget
The Nugget is made of microsuede that is soft and comfortable.
Huddle
The covers are microsuede.
Washability
Nugget
Nugget covers are machine washable, hang to dry.
Huddle
The covers unzip and are machine washable.
Colors
Nugget
Nugget comes in 3 permanent colors – black, gray, and navy – and a rotating slate of seasonal colors. There are currently 15 limited edition colors!
Huddle
Huddle comes in 2 colors – gray or navy.
Size
Nugget
Rectangular cushions are 33″ x 66″.
Huddle
Bases are 28″ x 28″ making the rectangle 28″ x 56″.
Ease of purchase & delivery time
Nugget
Nuggets currently have a 2-3 week lead time on delivery.
Huddle
The Huddle is available immediately on the Walmart website and says it will arrive in 4 days.
Price
Nugget
Nugget sells for $229 with free shipping in the USA.
Huddle
Huddle sells for $249 at Walmart.
Summary of differences
Here are all of the differences summarized in a handy table!
| | | |
| --- | --- | --- |
| | Nugget | Huddle |
| Cover Material | Micro suede | Micro suede |
| Washability | Machine washable | Machine washable |
| Colors | 18 colors | 2 colors |
| Size | 33″ x 66″ | 28″ x 56″ |
| Delivery Time | 2-3 weeks | Immediate |
| Price | $229 | $249 |
See my comparison of all of the Nugget knock offs here!