Want to buy magnetic tiles for a child in your life? They are a super popular gift! Let's compare the best brands of magnetic tiles!
Magnetic tiles are super popular for toddlers, preschoolers, and elementary school aged kids. And, for a good reason.
They promote fine motor skills, color recognition, shape recognition, critical thinking, and even basic engineering skills.
These open ended toys are super popular with daycares and preschools, too, since they are easy to clean and such a big hit with the kids.
Are magnetic tiles safe?
There are always inherent risks when playing with toys that involve magnets. Magnets are extremely dangerous if eaten – even 2 tiny magnets can stick together in different parts of the intestines and require extensive surgery to remove.
However, magnetic toys are safe as long as the magnet is secure and doesn't come out. So, high quality, non-damaged magnetic tiles are perfectly safe. Just inspect them for damage – especially after being thrown or dropped – and discard anything cracked or broken.
Always supervise your kids with magnetic toys, especially kids who are young enough to put everything in their mouths!
Other than that, just check your brand's packaging for BPA or BPA free, lead magnets, or any other elements you prefer to avoid in kids toys.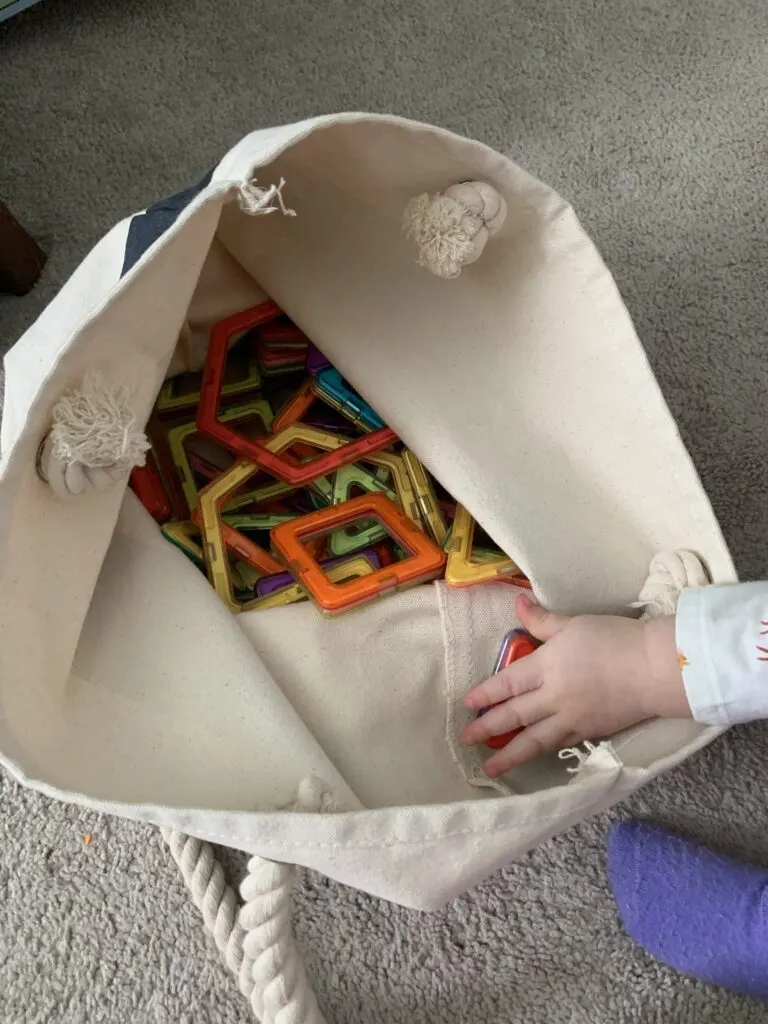 How many magnetic tiles do you need?
A lot of people who are asked how many magnetic tiles they need will say as many as possible! And it's true, more tiles means larger builds.
However, when it comes to kids toys, I always say buy 1 standard size pack – often in the 25 to 50 piece range – first. See if your kids play with them and enjoy them.
Magnetic tiles are awesome, but they can get pricey. You don't want to invest hundreds of dollars in something that your kids won't use (though they do seem to resell pretty well on facebook!)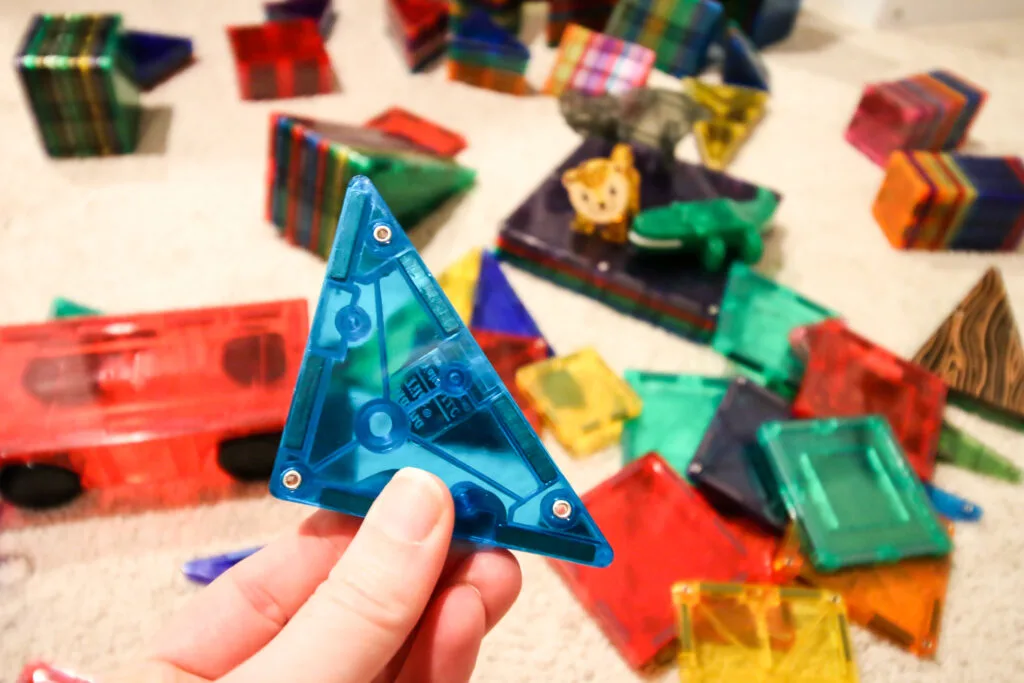 Are all magnetic tiles the same?
No, there are differences between many brands of magnetic play tiles. They come in different shapes and styles, different sizes, and different strengths.
Compare Magnatiles vs Picasso tiles here!
Which brand of magnetic blocks are best?
Magna tiles, Picasso tiles, and Connetix tiles are the most popular brands that are most often mentioned by parents!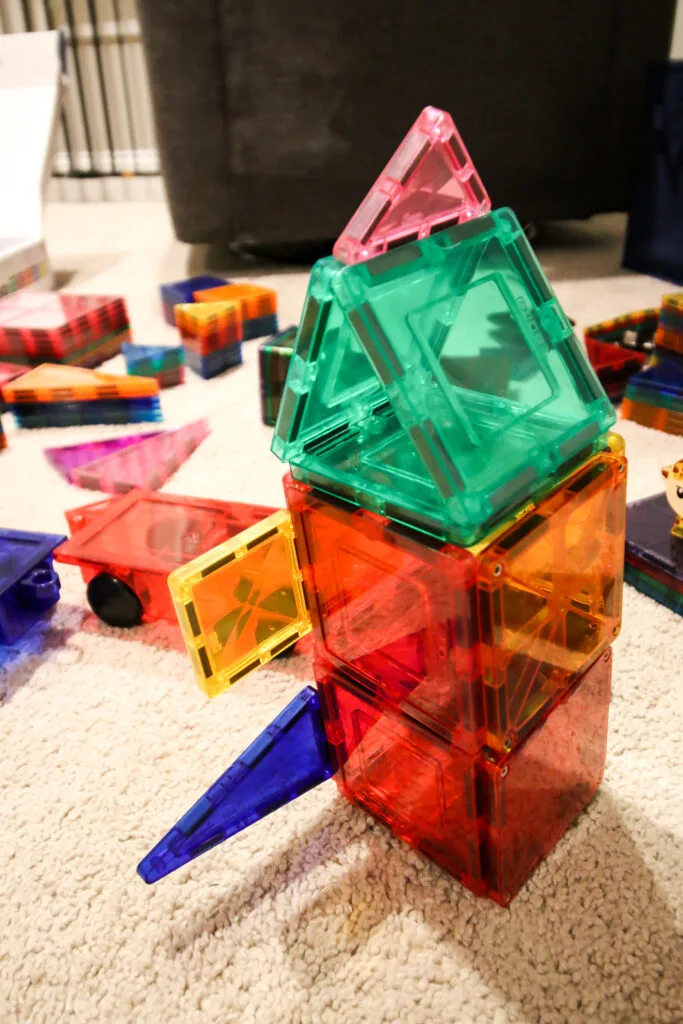 Which magnetic tiles are strongest?
It is widely agreed in a huge kids chat facebook group that I am in (lol) that Connetix have the strongest magnets of any magnetic tile brand! They are super popular for large builds for this reason.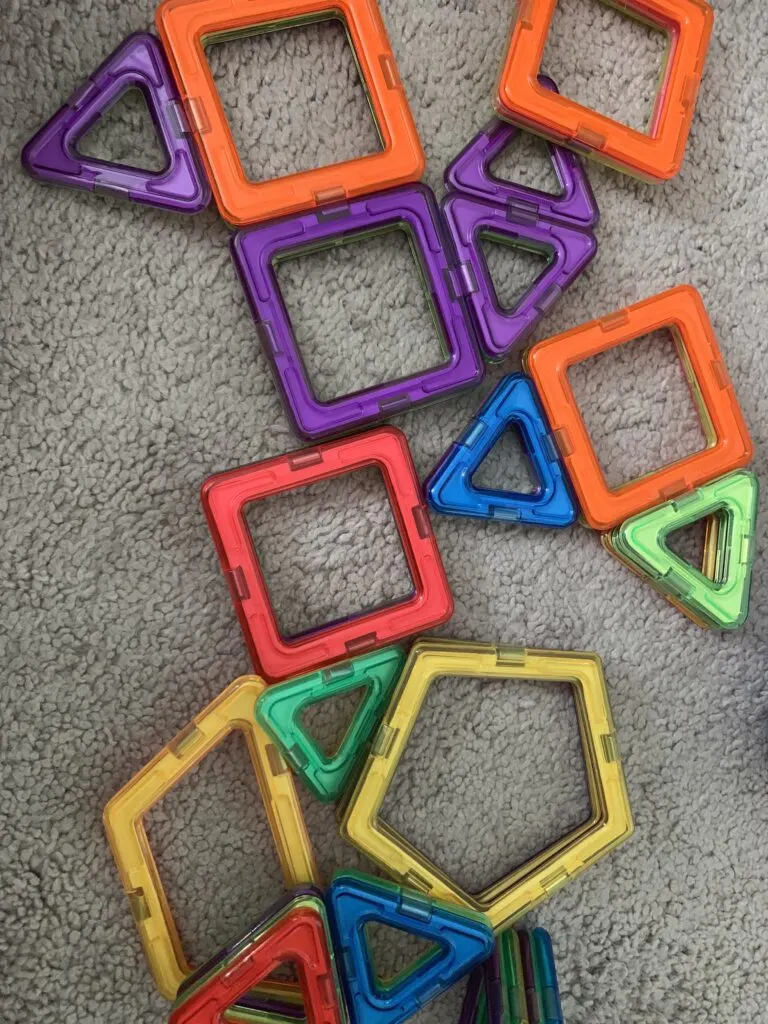 Why are MagnaTiles so expensive?
Magnetic tile toys are expensive in general because they usually include lots of pieces, made with high quality materials to ensure safety. MagnaTiles brand specifically is more expensive because of the brand name – they are just a higher end brand and have priced themselves accordingly.
Do MagnaTiles go on sale?
Yes, they definitely go on sale! Be sure to watch around black friday, cyber monday, and prime day. Also, when Target does a 25% off one toy sale – they are eligible!
Do Picasso Tiles go on sale?
Picasso Tiles often have sales, especially in big sale times like Prime Day or Black Friday. You can use coupon code "AFF20%OFF" to get 20% off your order on PicassoTiles.com!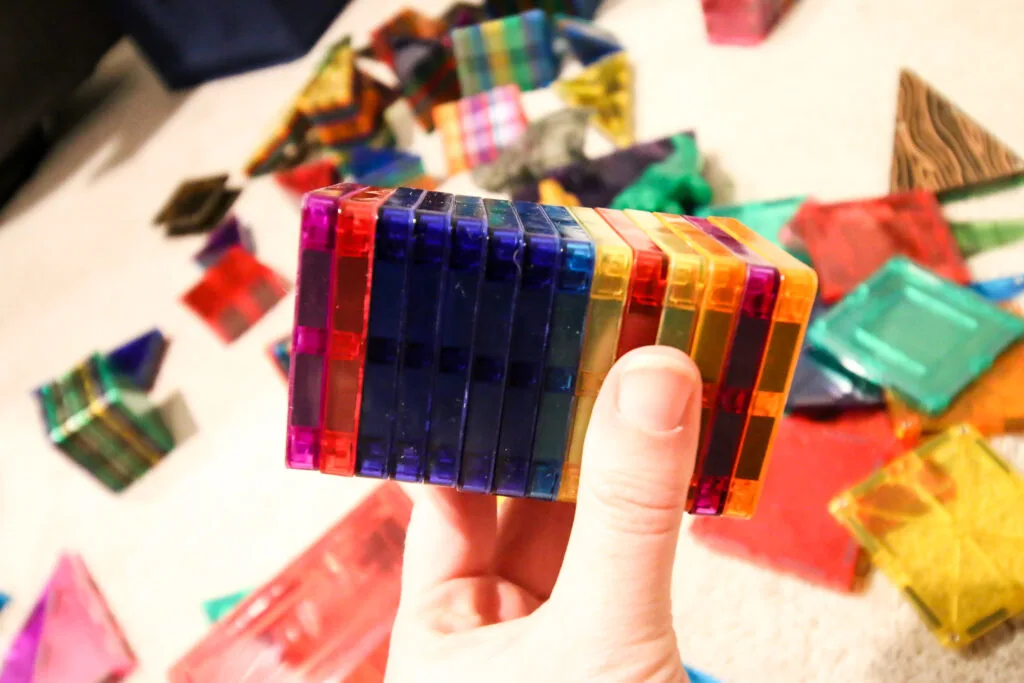 Are magnetic tiles worth it?
If your kid is independent enough to play alone, creative and likes to build things, I think that magnetic tiles are definitely worth it. I think they are not worth it for kids under 1 (though they will grow into them).
What to Consider When Buying Magnetic Tiles
There are a few things to consider when you are shopping for magnetic tiles and selecting a brand to go with.
Compatibility
If you plan to mix sets of tiles between different brands, you will want to be sure that they are compatible. Some are not size compatible and some the magnets don't work together!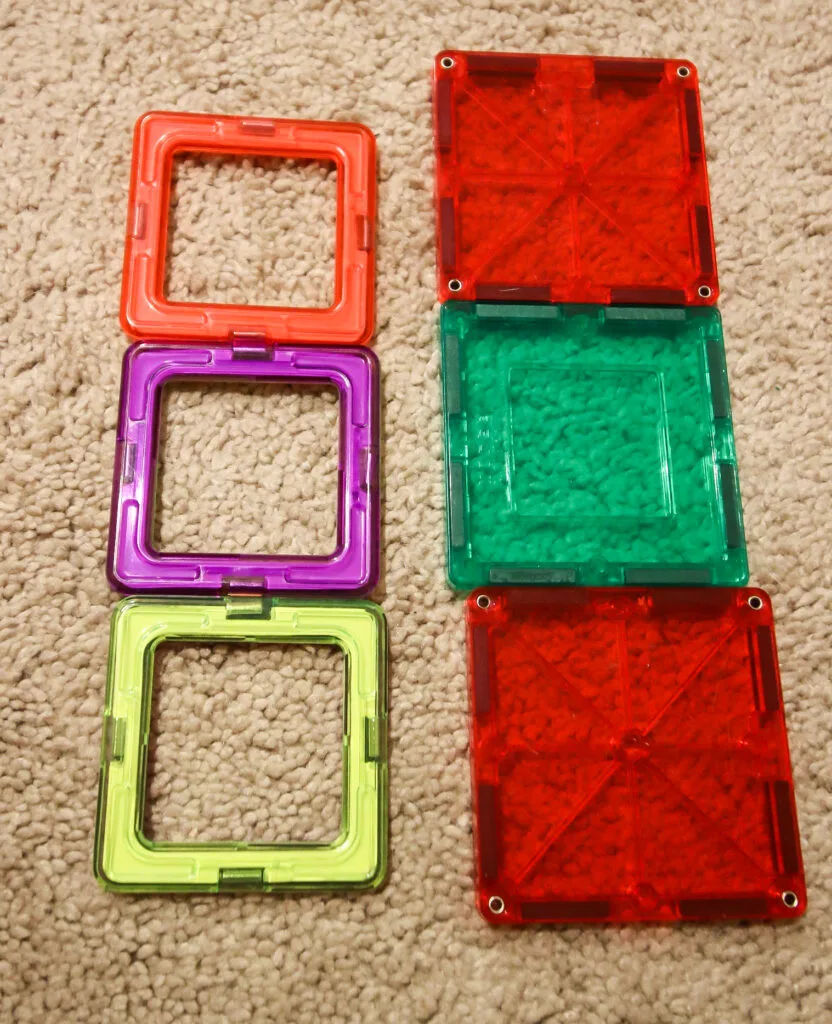 Magnet Strength
Stronger magnets will be able to build stronger builds that stand up by themselves. Strong builds can be thrown onto the floor and not break apart!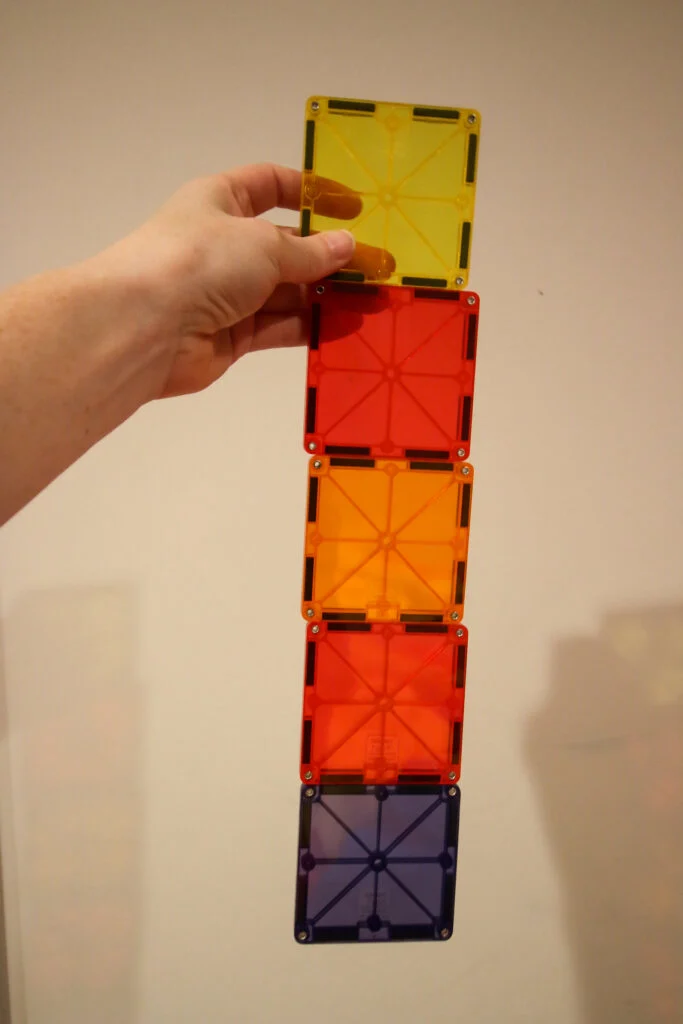 Durability
You want to be sure that your plastic tiles will not crack or break and that the materials are up to your quality standards.
Add-on Accessories
If you are interested, certain brands have add ons like animal shapes, wheels or tires, doors, and windows. If that's what you are looking for – search to find a brand that offers it!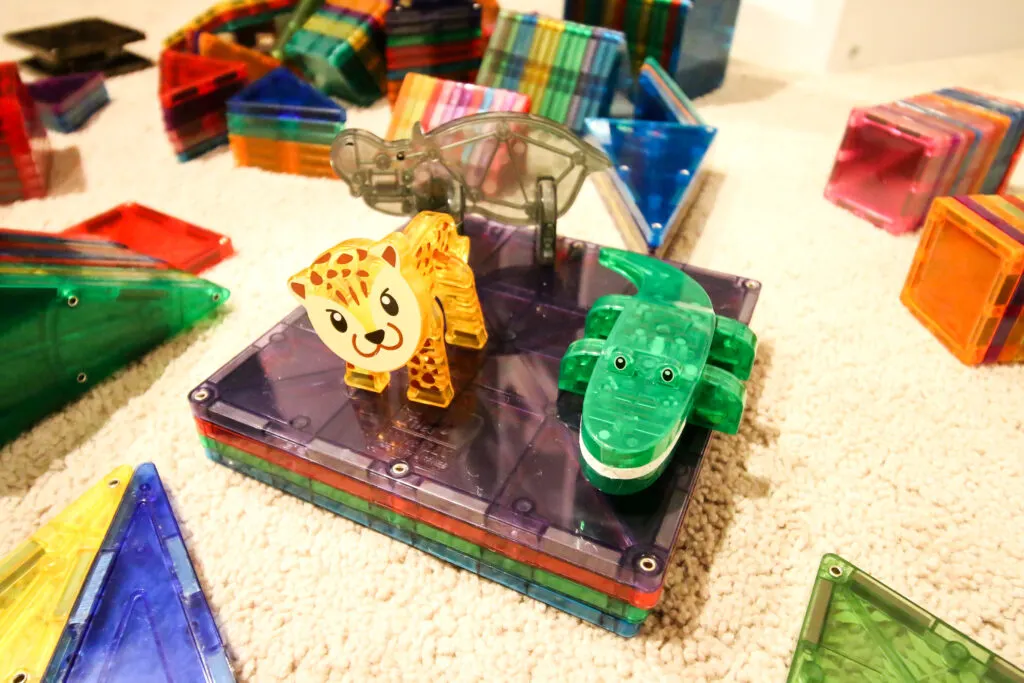 A note about "off brands"
I am reviewing and comparing some of the most popular magnetic toy brands. However, there are countless others and I couldn't possible list them all!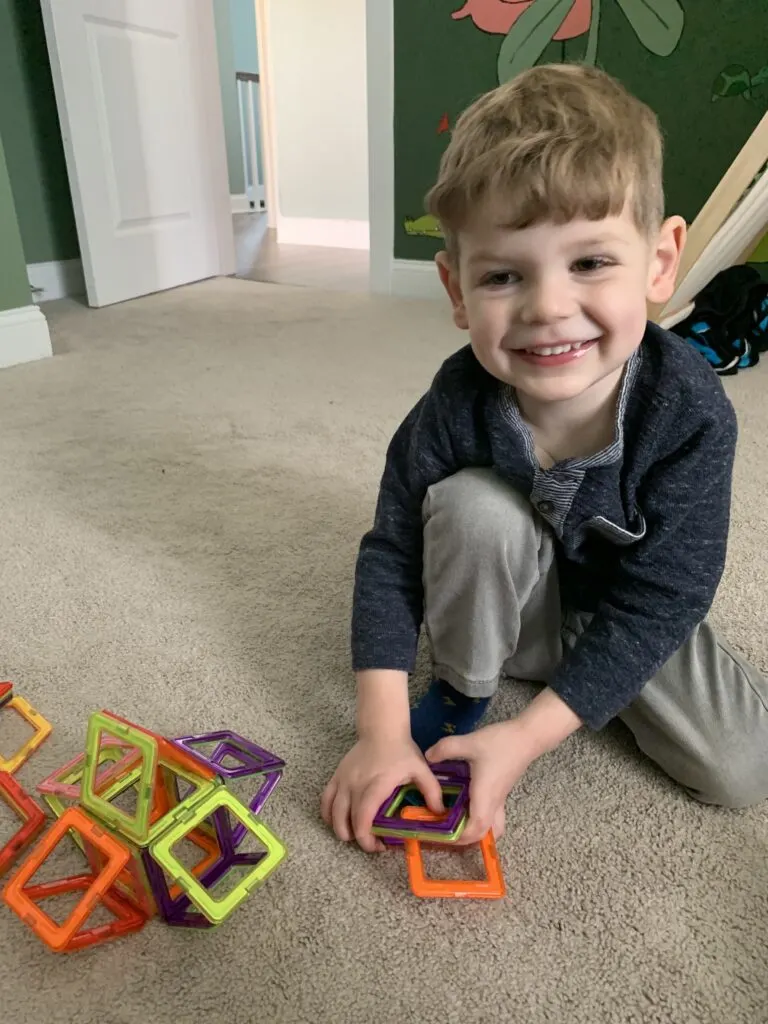 However, be sure to read reviews carefully for any magnetic building tiles you want to buy. Cheaper plastic can break more easily compared to some of the high quality brands. Broken plastic can lead to loose strong magnets which can be deadly – or require extensive surgery to remove from a childs digestive system. Don't mess around with anything with mixed reviews and always throw away cracked or broken toys with magnets.
More about magnetic tiles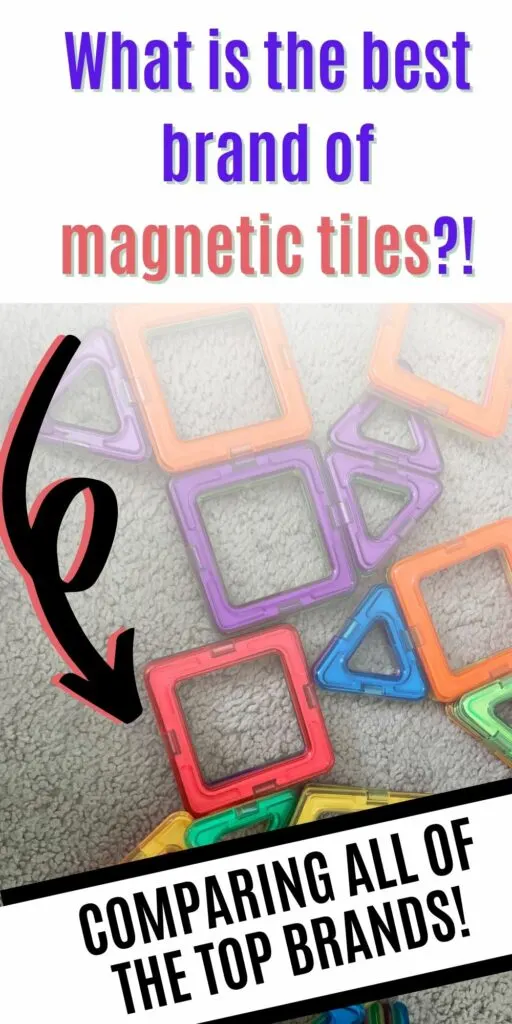 The best brands of magnetic tiles
Magna tiles are one of the most well-known brands of magnetic tiles for kids. They are the original magnetic tile brand and most other brands were created to mimic them.
They have strong magnets and the shapes are completely filled in, making them satisfying to build with.
These are very durable tiles. They have metal rivets in each corner to help hold them together, too. These tiles are made with ceramic magnets and BPA free plastic. They are heavy in your hand and feel very high quality.
People who own multiple brands of magnetic tiles tend to say that Magnatiles actually have the weakest magnets and are not great for building. The pieces also are larger and that may make them heavier or harder to build with.
Picasso Tiles are the second most common or well known magnetic tile brand – and they are often half the price of magna tiles!
Picasso Tiles are lighter weight than Magnatiles, but still high quality. And at this price, you can afford way more tiles for the same budget.
They are very comparable to Magnatiles and a great option if you want something high quality for a lower price.
Picasso Tiles Coupon Code
You can use coupon code "AFF20%OFF" to get 20% off your order on PicassoTiles.com!
Connetix are said to have the strongest magnets of any magnetic tile. I have seen people build some TALL towers that there's no way other magnetic tile sets could do.
Tegu are actually very unique compared to most magnetic tiles. That's because they are not in fact tiles but a wooden block set.
A lot of kids – especially kids into building – prefer these magnetic building blocks to more traditional wooden blocks.
Some people report frustration due to their single polarity – only working in one direction – and the fact that only the ends are magnetic. Younger kids might be especially frustrated by certain magnets repelling each other.
However, if you are looking for a wooden magnetic tile option, this is definitely the most popular brand!
Cossy Tiles are a pretty close knock off of Magna Tiles at a lower price.
Their magnets are even larger than magnatiles so they can seem even stronger. They also have rivets holding them secure in the corners.
There are some complaints of Cossy tiles getting surface scratches more easily than the other brands, but that doesn't impact their functionality.
Playmags is another popular option for magnetic tiles.
I love that their sets include "click ins" add ons as well. They are letters and window shapes to add some variety to your builds.
The magnets are not quite as strong as some of the competitors, but they are still plenty strong for most builds.
Shapemags are another budget friendly magnetic tile option. They have strong magnets and they come with lots of unique shapes including ramps, arches, and domes!
Magformers are a slightly different looking option. Instead of having a filled in face, they are more like the outline of shapes. This makes them lighter weight and easy for smaller kids to grip.
These tiles are not compatible with other brands because the magnets work a little differently!
Tytan is another great low cost brand option for magnetic tiles. Their magnets are not as strong as some of the other brands, but they are still strong enough for most builds.
What are your favorite magnetic tiles for kids?!