My kids have been playing with magnetic tiles since they were babies. Here's my take on the best magnetic tiles for toddlers.
Magnetic tiles are a super popular toy for preschool aged kids. They help kids to learn fine motor skills, building and engineering, colors and shapes, and they are a lot of fun.
While I have found that my 4 year old is really great at making builds, my 2 year old loves magnetic tiles, too.
Of course, these kiddos have been playing with magnetic tiles since they were babies!
I have tons of experience with magnetic tiles and today I want to chat about which brand of magnetic tiles that I think is best for toddlers!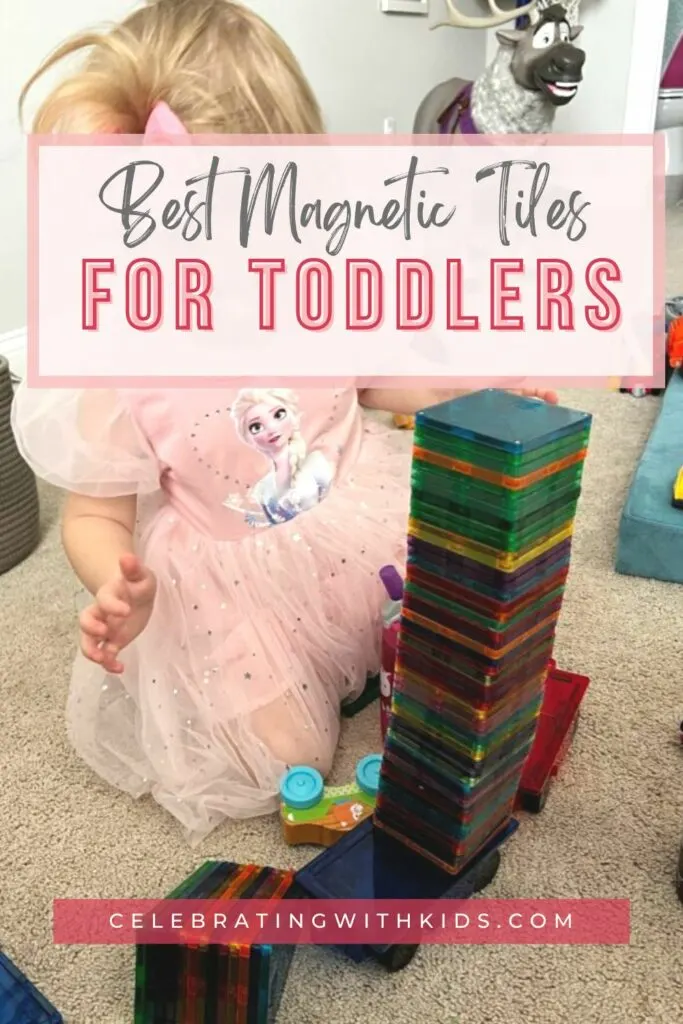 More about magnetic tiles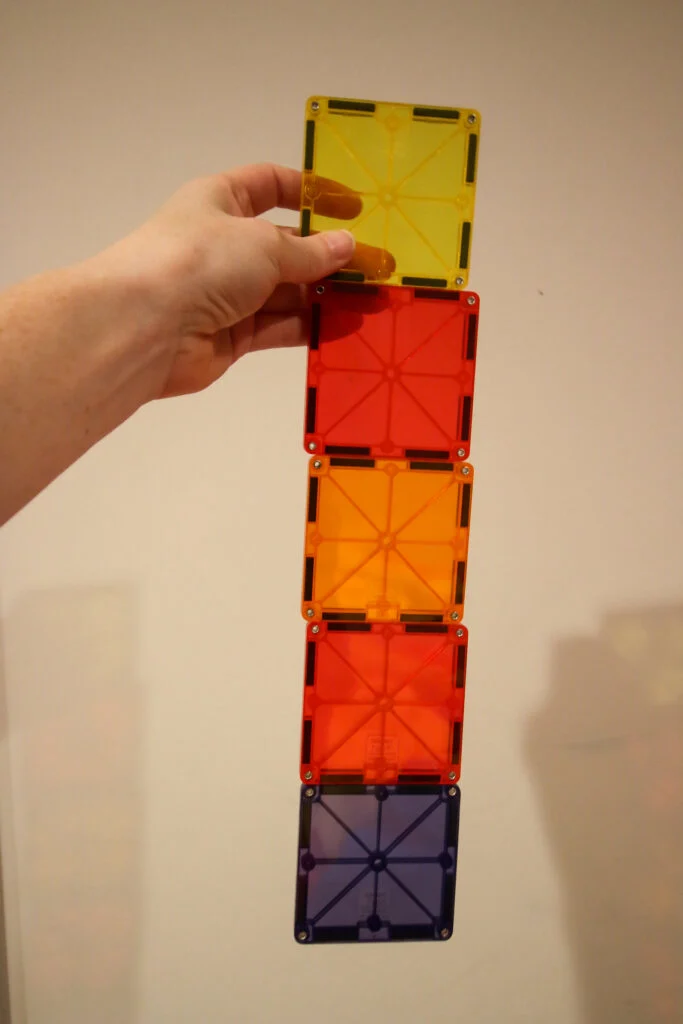 Are magnetic tiles safe?
There are always inherent risks when playing with toys that involve magnets. Magnets are extremely dangerous if eaten – even 2 tiny magnets can stick together in different parts of the intestines and require extensive surgery to remove.
However, magnetic toys are safe as long as the magnet is secure and doesn't come out. So, high quality, non-damaged magnetic tiles are perfectly safe. Just inspect them for damage – especially after being thrown or dropped – and discard anything cracked or broken.
Always supervise your kids with magnetic toys, especially kids who are young enough to put everything in their mouths!
Other than that, just check your brand's packaging for BPA or BPA free, lead magnets, or any other elements you prefer to avoid in kids toys.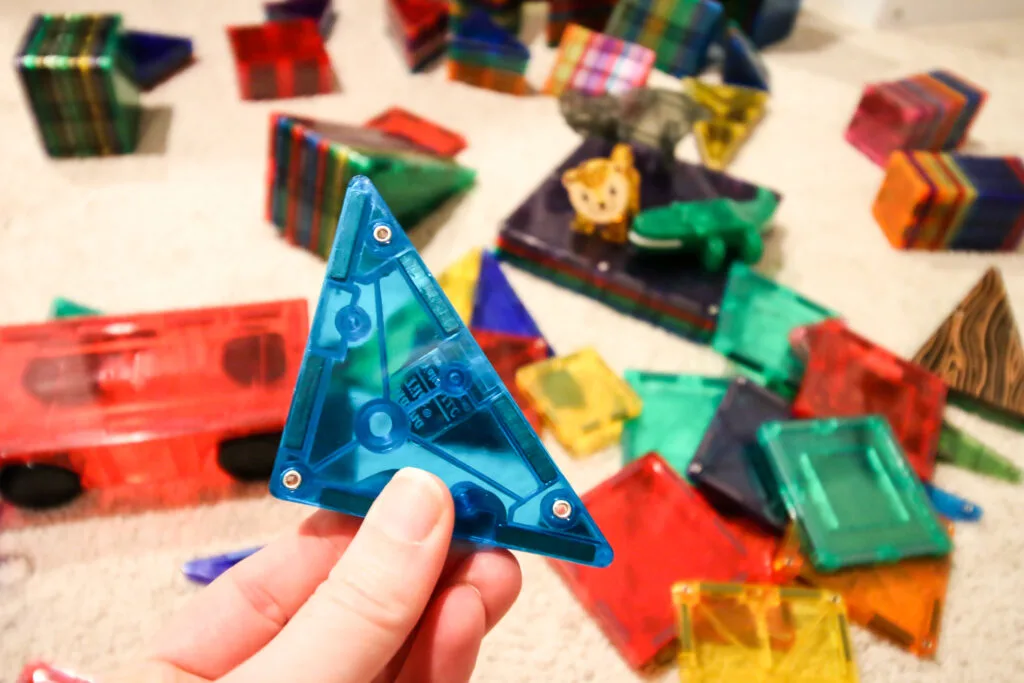 How many magnetic tiles do you need?
The more magnetic tiles you have, the bigger builds you can make. Many of the suggested builds that come with the pack of tiles need more tiles or different shaped tiles than come in a standard pack.
However, when it comes to kids toys, I always say buy 1 standard size pack – often in the 25 to 50 piece range – first. See if your kids play with them and enjoy them.
Magnetic tiles are awesome, but they can get pricey. You don't want to invest hundreds of dollars in something that your kids won't use (though they do seem to resell pretty well on facebook!)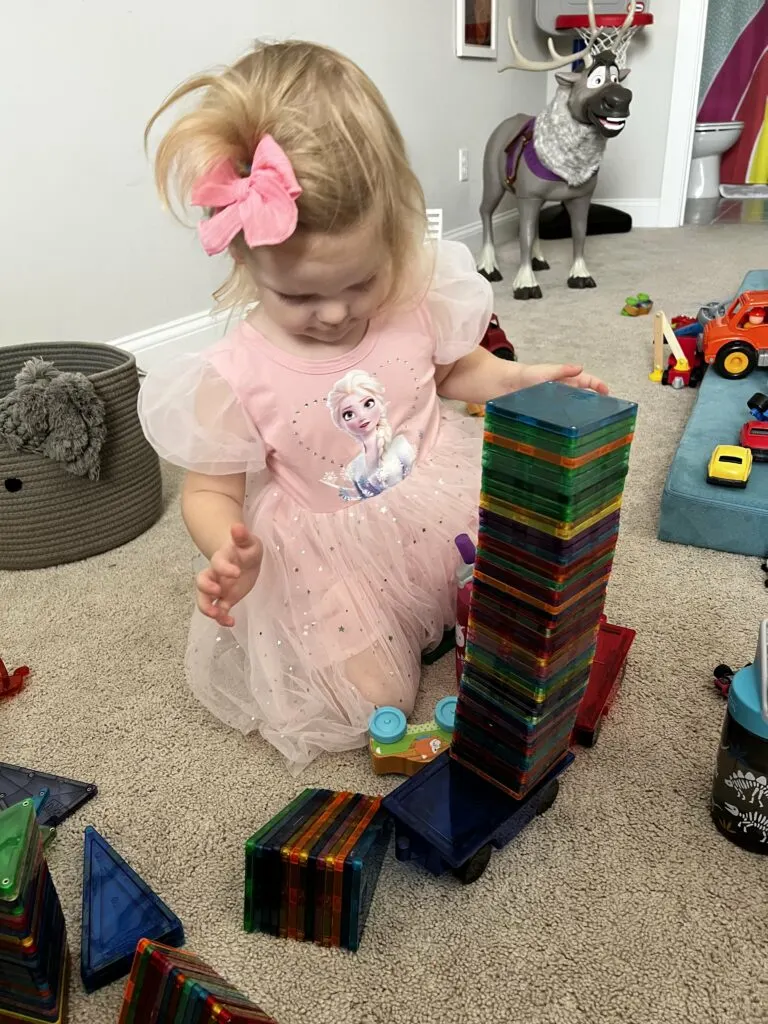 Are all magnetic tiles the same?
No, there are differences between many brands of magnetic play tiles. They come in different shapes and styles, different sizes, and different strengths.
Compare Magnatiles vs Picasso tiles here!
Some magnetic tiles have the magnets on the sides while others have them on the face. These small differences can cause problems with connectivity between mixed sets.
Which brand of magnetic blocks are best?
Magna tiles, Picasso tiles, and Connetix tiles are the most popular brands that are most loved by parents!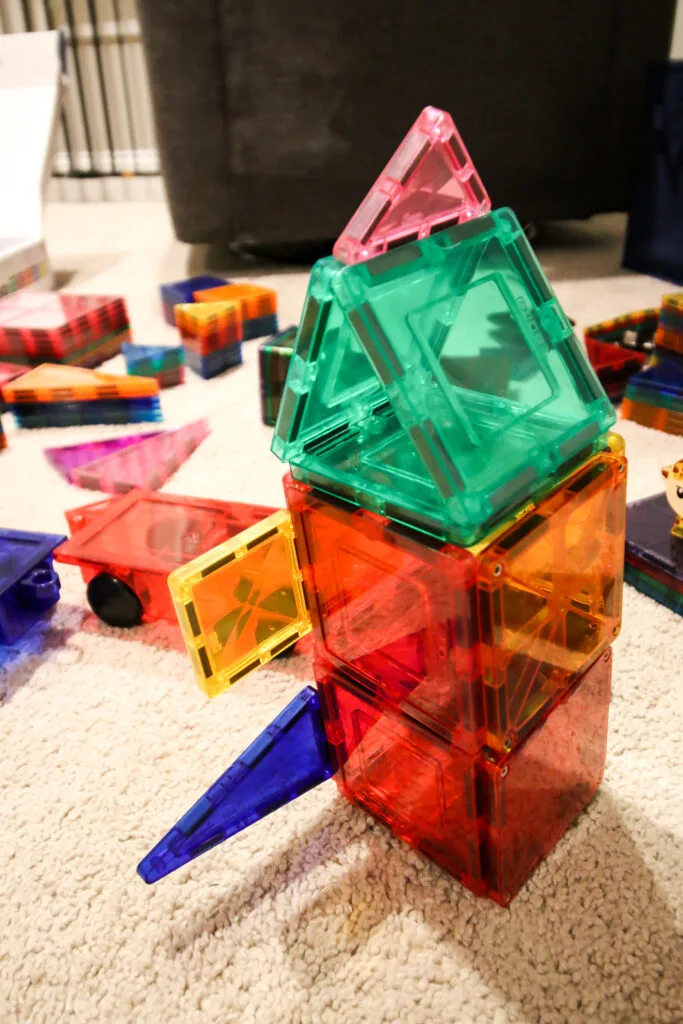 The best magnetic tiles for toddlers
With toddlers, my top concern is safety, especially since so many toddlers still put things in their mouth constantly. For this reason, I will say that Magna tiles are the best magnetic tiles for toddlers.
Magna tiles are glued together along the seams but also have additional rivets in each corner. These rivets are metal hardware that works almost like a screw to hold the two sides together.
So, even if the glue failed or the plastic cracked, the rivets should hold the tile together.
It is because of these rivets that I think that Magna Tiles are the safest magnetic tiles for mouthing toddlers.
That being said, they are very pricey. If Picasso Tiles are more along your budget, that is completely fine. Just supervise your kids and regularly inspect the tiles for cracks or damage (especially if they are thrown across the room or anything similar). Throw out any damaged tiles immediately.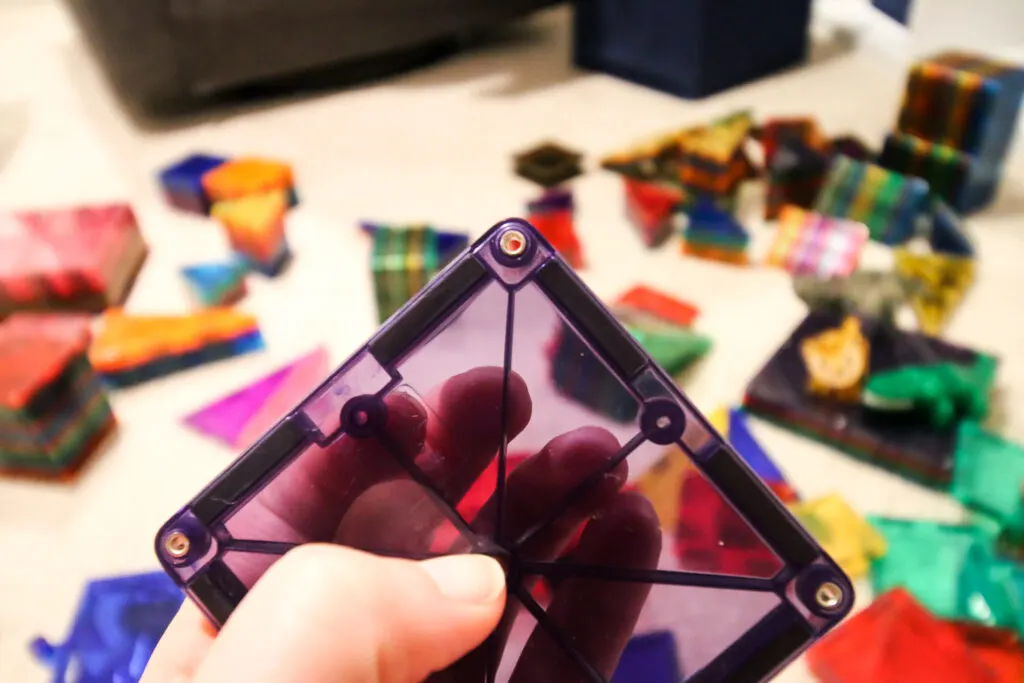 Can 1 year olds use Magna-Tiles?
My kids both started playing with magnetic tiles before they turned one. At that age, they love for you to build small builds and let them crash it! My kids especially loved using a stuffed animal or car to crash my builds.
Can 2 year olds use Magna-Tiles?
2 is the perfect age to use magnetic tiles to help reinforce learning around colors and shapes. For example "can you find a red square?" When we are mastering a skill, I like to repeat it in casual ways throughout the day, and magnatiles make it seem more like fun than learning!
2 years olds can also start building with magnetic tiles. Nothing major – but they can place a tile if you tell them which where, or they can do small builds themselves. My kids at 2 mostly like to make big stacks of tiles. And, of course, they LOVE to crash things!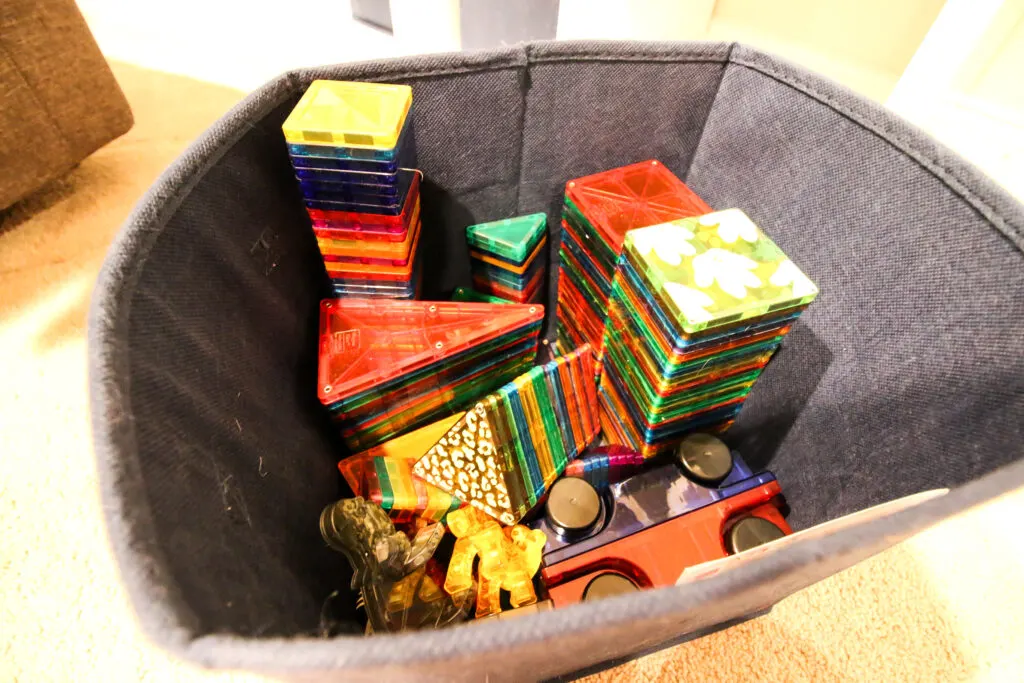 Shop Magna Tiles
Magna tiles are sold at many stores and can be bought in person or online. Here are some of my favorite places to buy them:
What are your favorite magnetic tiles?!