Trying to pick the perfect building toy for your toddler or preschooler? Let's compare magna-tile magnetic tiles and legos to see which is right for your family!
Looking for the perfect building toys for your kids? There are a few super popular options!
Why are building toys great for kids?
Let's compare magnetic tiles, specifically magna-tiles, and legos!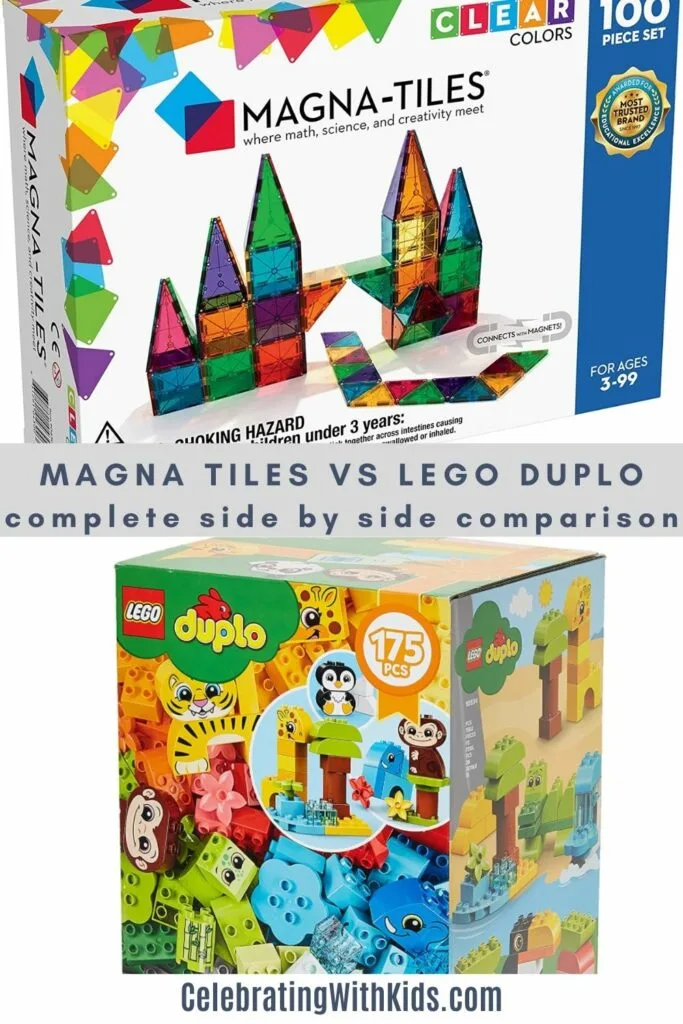 Magnetic tiles vs Legos
Magna tiles and legos are both great building toys fo developing fine motor skills and engineering skills! Let's compare legos & magnetic tiles!
What are Magnetic tiles good for?
Magnetic tiles are plastic tiles with magnets around the sides. They allow for magnetic building – they just stick together by setting them together, which makes them easier for younger kids.
Magnetic tiles are great for building HUGE, tall, sprawling builds!
What are legos good for?
Legos are building blocks that click in place to stick together. They come in standard lego sizes for older kids as well as lego duplo (for 2-4 years old), and mega bloks (for babies).
A great thing about legos is there are so many sets and kits, and if your kids like building specific things, like Star Wars – there's lego sets for that.
Legos are usually used to build smaller, more intricate designs compared to Magnetic Tiles.
Which is better for toddlers?
Magnetic tiles are easier for babies and young toddlers to figure out compared to legos.
My kids had both Mega Bloks legos and magnetic tiles as toddlers and babies. I will say that my son didn't figure out how to put 2 legos together consistently until he was 2 years old. On the other hand, he could connect magna tiles at 1 year old.
Magnetic tiles are also much faster for kids to build something big quickly! This makes them good for small kids without much patience for long tasks.
How do the prices compare on magnetic tiles vs legos?
In general, Magnetic tiles are more expensive than legos on a piece-by-piece basis. You can buy off-brand magnetic tiles that are cheaper – just be careful to read up on the brand for safety reasons. Picasso Tiles is my pick for a lower cost magnetic tile!
Should I get legos or magnetic tiles for my kids?
You know my answer is going to be to get both! But, I understand that budgets are limited and both of these block sets are more fun if you have a lot of pieces to build with.
I think that for kids under age 4, magnetic tiles are more fun. If your child is over 4 and really interested in building things, doing kits, or following instructions, I'd go with Legos!
If you have a baby in your house at all – consider sticking with magnetic tiles (that are high quality and not prone to breaking). Small legos can be VERY chokey for mouthing babies. Definitely keep them out of reach!
How to play with Magna tiles + Legos together
If you have both legos and magnetic tiles, you can combine them! Consider building:
Build magnetic tile houses for lego figures
Magnetic tile ramps and tracks for lego cars
Magnetic tiles as a base or roof for lego walled buildings
More about magnetic tiles