Need to clean some magnetic tiles?! Here is the best way to clean them – without messing them up!
Magnetic tiles (Magna-tiles and other brands) are a super popular open-ended toy that encourages creative thinking and learning STEM skills!
However, they can get dirty! Kids are germy, and whether you run a pre-school or just want to wash your own kid's snot off of them, you might need to clean your magnetic tiles.
Before you go submerging them in water, let's talk about the best way to clean these toys!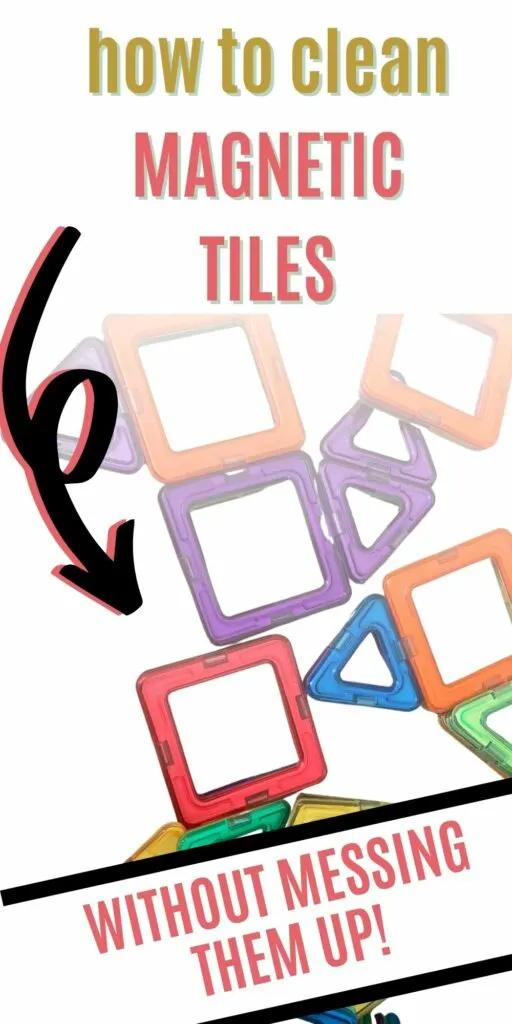 How to clean magnetic tiles
To clean magnetic tiles, you are simply going to want to wipe them down!
You can use clorox wipes or a cloth dipped in soapy water – whatever you are comfortable with.
If you just use a clorox-type wipe, they will air dry. If you use a damp cloth, you may need to dry them with a soft towel. Don't put them away dripping wet!
I know that wiping each tile by hand could be daunting, especially if you have a large set or run a daycare and they get used by a ton of kids.
If you have a lot of kids using them, letting them sit for 72 hours untouched will usually allow for any sickness-related germs to die off.
Are magnetic tiles waterproof?
NO! You should never submerge your magnetic tiles! They can fill with water and good luck ever getting that out.
Have you ever had a rubber squirter type bath toy that got black mold in it? You do NOT want that happening to your nice, expensive magnetic tiles!!
If left wet, they can grow mold, mildew, or even rust, so always wipe your tiles dry, especially ones with metal rivets!
Can magnetic tiles go in the washing machine?
A lot of small plastic toys can be cleaned in a lingerie bag in the washing machine. Don't do your magnetic tiles like this! While it may be OK, they may also fill with water and be ruined.
If you really want to try it, test it on one or two before doing your whole collection. These tiles are expensive and I don't want you to have regrets!
What if I get water inside a magnetic tile?
If a magnetic tile fills with water, sit it up flat (so it is parallel to the wall) and hope that the water will leak out the small seam on the side.
Even the high quality tiles have small gaps in the edges. You want gravity to do the work here, since you can't suck the water out.
Any more questions about how to clean magna tiles?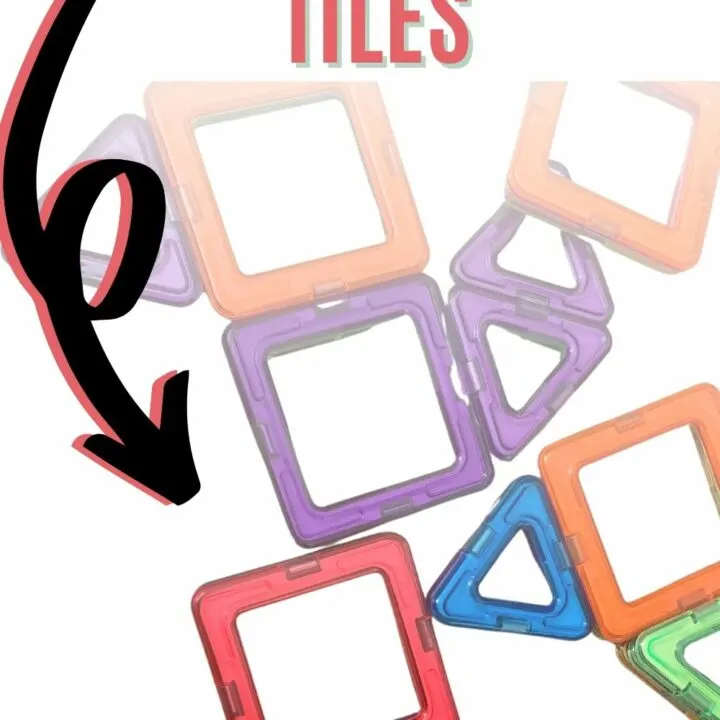 How to clean magnetic tiles
Here's how easy it is to clean magnetic tiles!
Materials
magnetic tiles
clorox wipe or damp cloth
Tools
surface or towel to lay them out on
Instructions
Sort your tiles and inspect them for any cracks. Always throw away damaged tiles - loose magnets can be deadly if swallowed.
Wipe each tile with a wipe or damp cloth.
Lay out flat to air dry.
Return to your storage container once dry.
More about magnetic tiles