Considering buying magnetic tiles for your child? Here's my complete Magnatile review!
There are so many toys for preschool aged kids, it's hard to know what lives up to the hype and what does not.
One of the more popular toys that you might see is magnetic tiles. They are often referred to as "magna-tiles", but that is actually just one brand.
We have purchased Magna Tiles, Picasso Tiles, and off-brand magnetic tiles. My kids get a TON of play out of these toys and I am excited to share a detailed review with you today!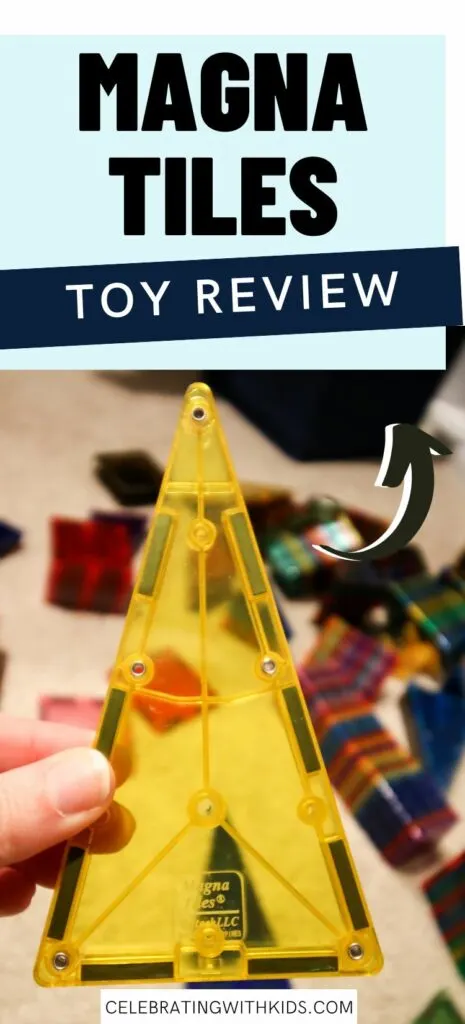 More about magnetic tiles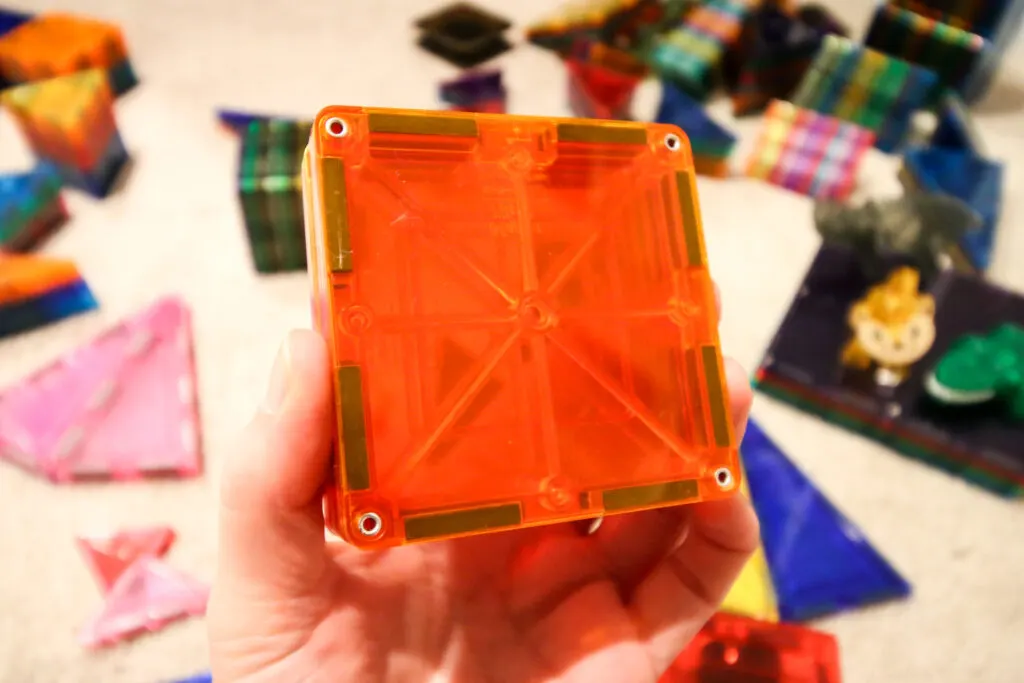 Magna tiles review
Let's talk about Magnatiles and if they might be right for your kids!
What are Magnatiles?
Magna tiles are geometric shaped plastic tiles with magnets around the edges. They stick to each other – in any direction – and are perfect for open ended play.
Magnetic tiles sets are great for STEM learning, including shapes, geometry, colors, and basic engineering.
They are one of my very favorite open ended toys for independent play in toddlers and preschoolers!
What age is best for Magna-Tiles?
The best age for magna tiles will depend on your comfort level of your kids playing with these toys. Most magnetic tiles are advertised as being for ages 3 and up. This is the age where kids generally stop mouthing things and can play with a little less supervision.
I have personally had my kids play with magnetic tiles starting at the age of 6 months. I just supervise them very carefully and frequently check to be sure the tiles are not cracked or damaged. Broken tiles can be a major choking hazard.
You can read about magnetic tile safety here.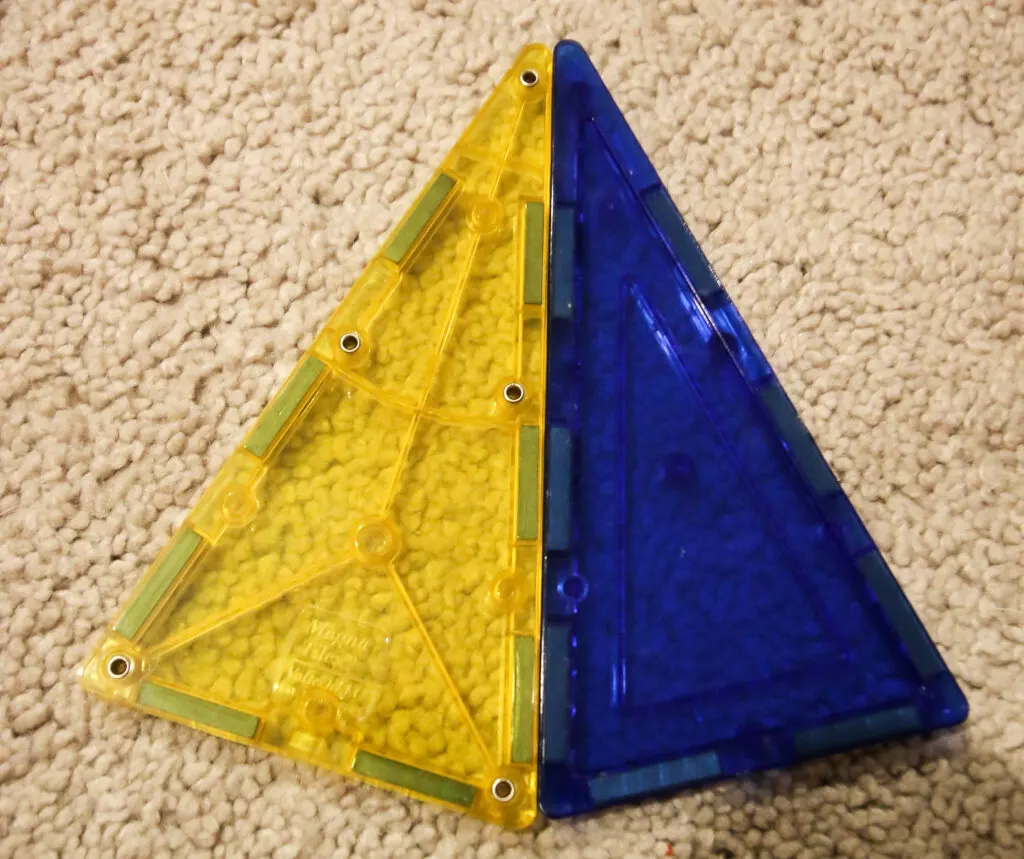 Are Magna-Tiles better than other brands?
The biggest thing that makes Magna Tiles so great is that they have metal rivets in each corner. This is an extra safety feature.
If the tile were to ever crack or the glue come loose, the rivet holds it together and prevents the small magnets from falling out and becoming a danger.
It's worth noting that we play with our tiles hard (my 4 year old is a known toy thrower) and have never had either Magna tiles or Picasso Tiles crack or break. But, this added safety feature gives a lot of caregivers peace of mind.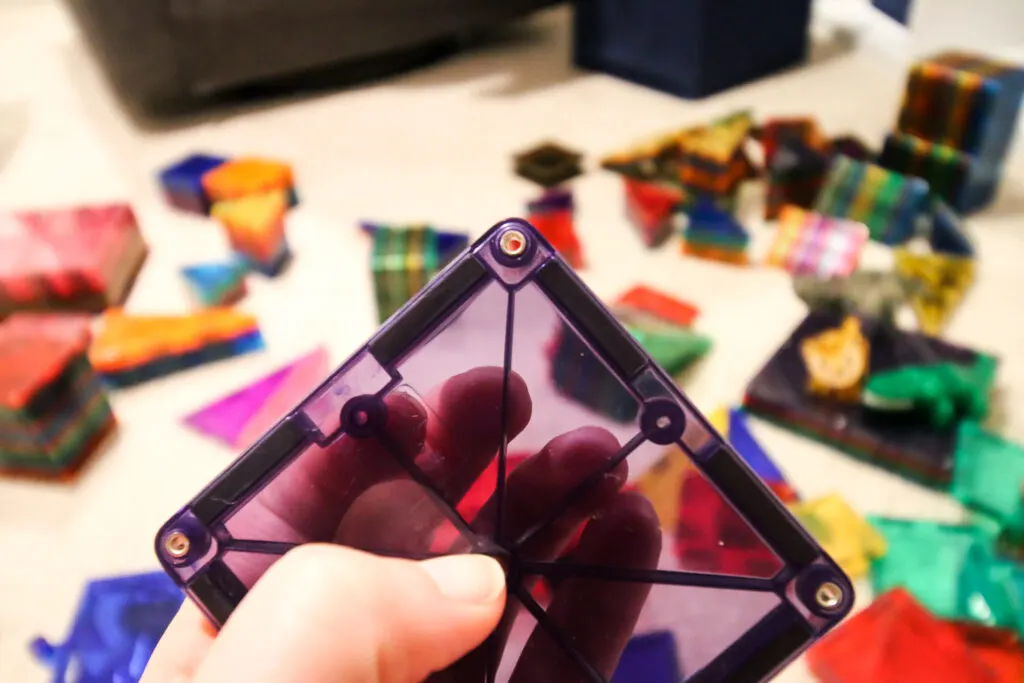 Are Picasso tiles the same as Magna-tiles?
These two tile brands are extremely similar but not identical. However, they are both very high quality.
The most obvious visual difference is that Magna-tiles have metal rivets in each corner, while picasso tiles do not.
Picasso Tiles are also slightly heavier than Magna-Tiles, which can be bad for larger, taller builds. However, the difference is hardly significant.
It is also said that Picasso tiles have slightly stronger magnets than Magna-tiles, which might cancel out the weight for big builds!
Are Picasso Tiles compatible with Magna-Tiles?
Yes! These tiles are not identical, but the size and magnet placement line up so that they work together perfectly. We mix Picasso Tiles and Magnatiles seamlessly.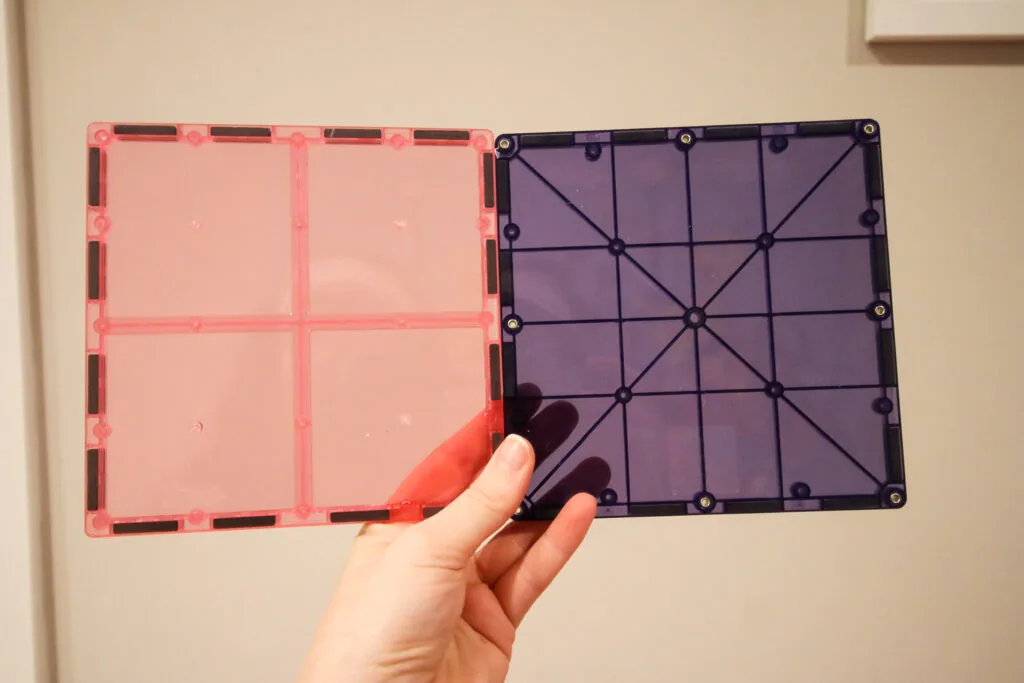 Are Magnatiles durable?
Magna tiles are extremely durable. They don't scratch easily and I have never had one crack or break.
Are Magnatiles high quality?
Magna tiles are very high quality. If you compare them to random, cheap off-brand magnetic tiles, you will immediately notice the difference in quality.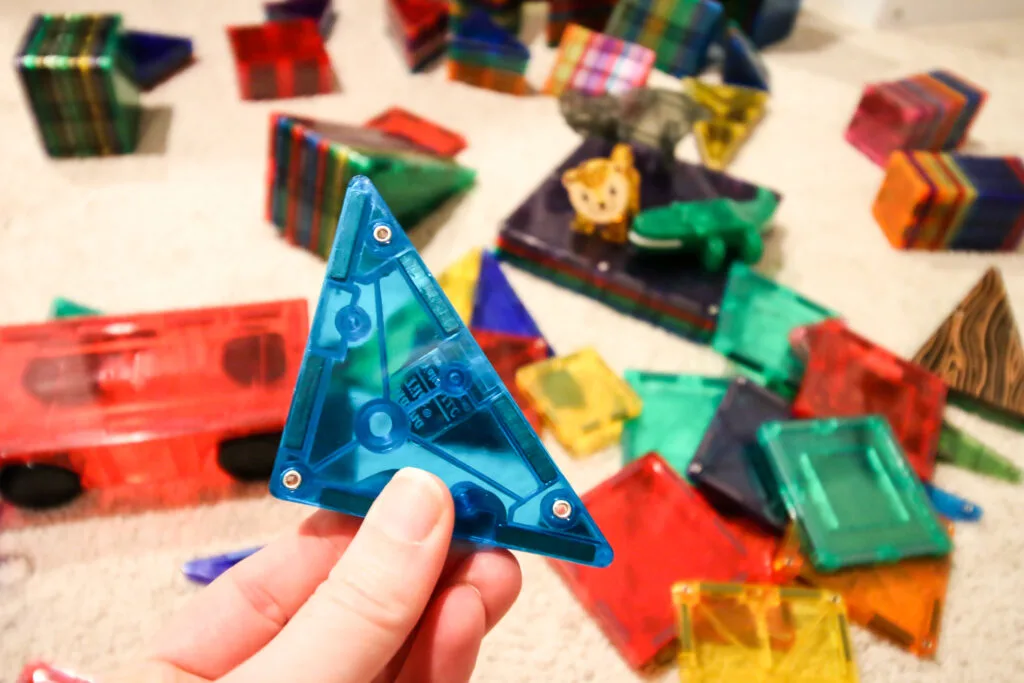 Are Magnatiles strong?
I have found that Picasso Tiles are slightly stronger/can hold more compared to Magna Tiles. You can see in the images below that I can consistently get 6 Picasso tiles to hang, while Magna Tiles give out after 5.
That being said, the difference is not significant when building and playing. We love our magnatiles!
These tiles are great for building towers, castles, and houses. We really enjoy them!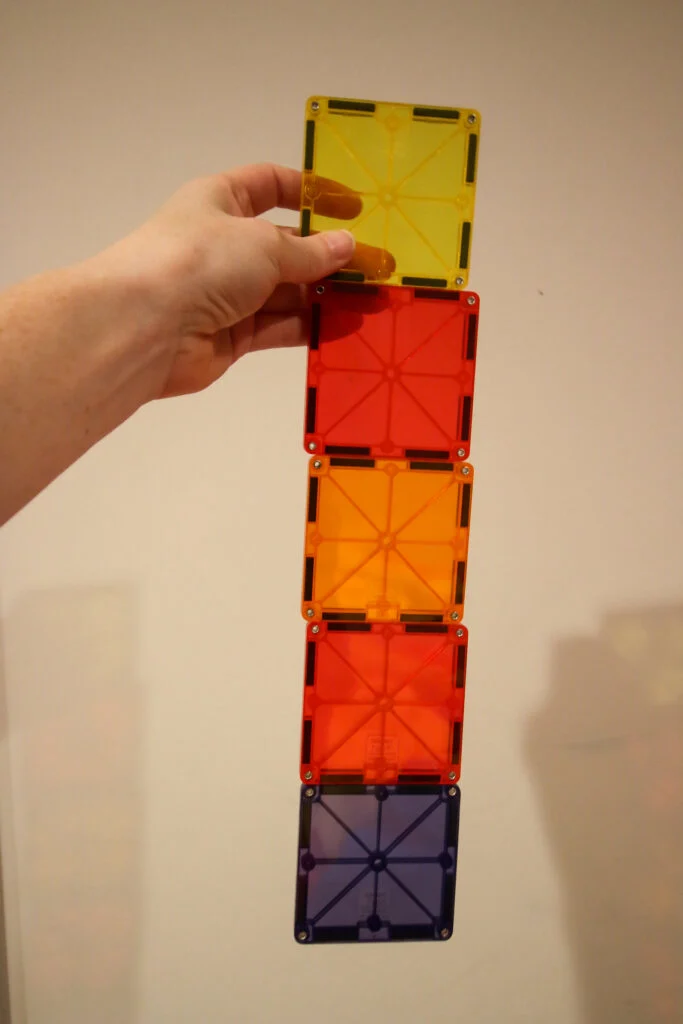 What accessories does Magnatiles offer?
Magnatiles offers a few accessory packs. Know that any accessories for Picasso Tiles will work as well.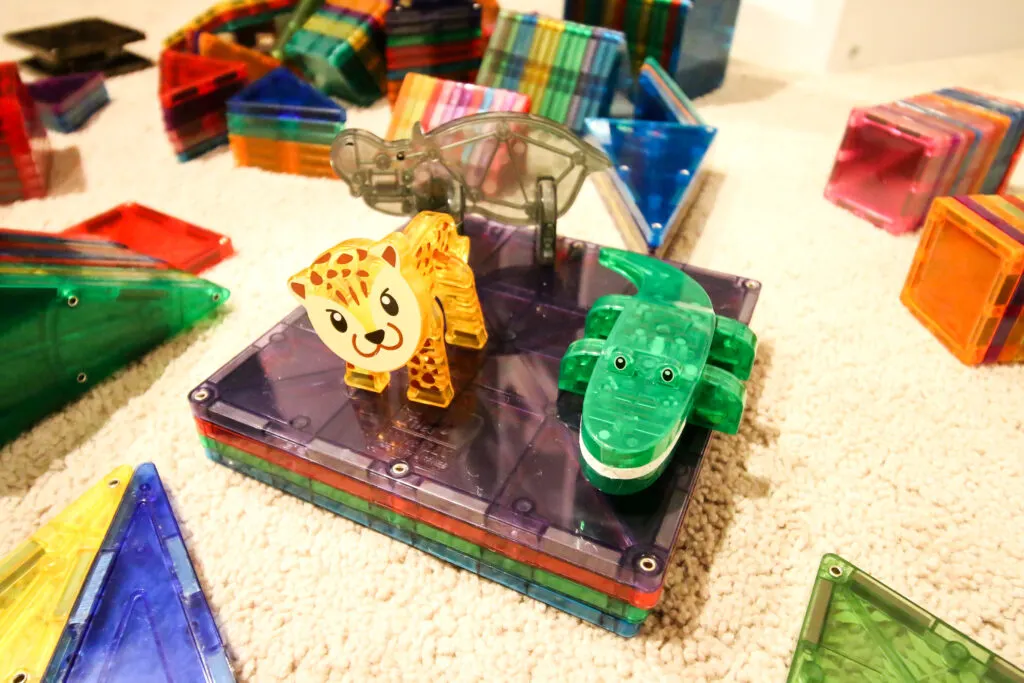 How many magnetic tiles do you need?
The more magnetic tiles, the better for bigger builds. I suggest starting with a 100 piece set, which sets your kids up to see if they will really enjoy them and want more!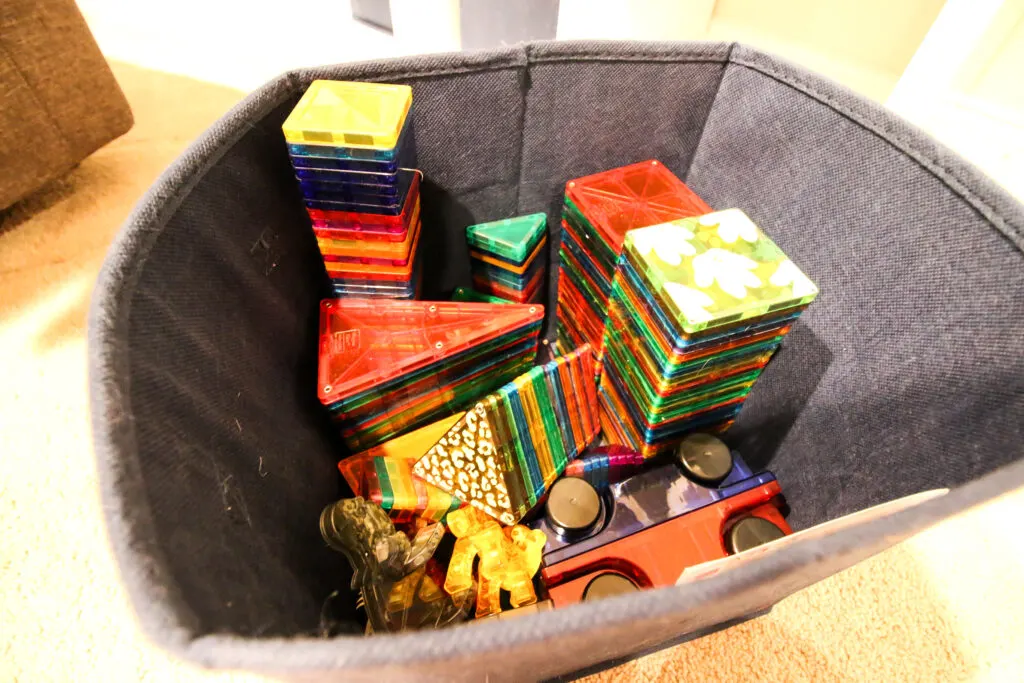 Where can you buy Magna Tiles?
You can find Magna Tiles at many stores including:
What is the price of Magnatiles?
Magnatiles vary between $1 to $1.50 per tile. If you can find them for less than $1 per tile, that is usually considered a good price.
Do Magnatiles go on sale?
Yes – Magna-tiles go on sale. For example, Target includes them in their toy sales leading up to Christmas and they are frequently on Prime Day type sales. If you can shop in advance, you can get some decent deals.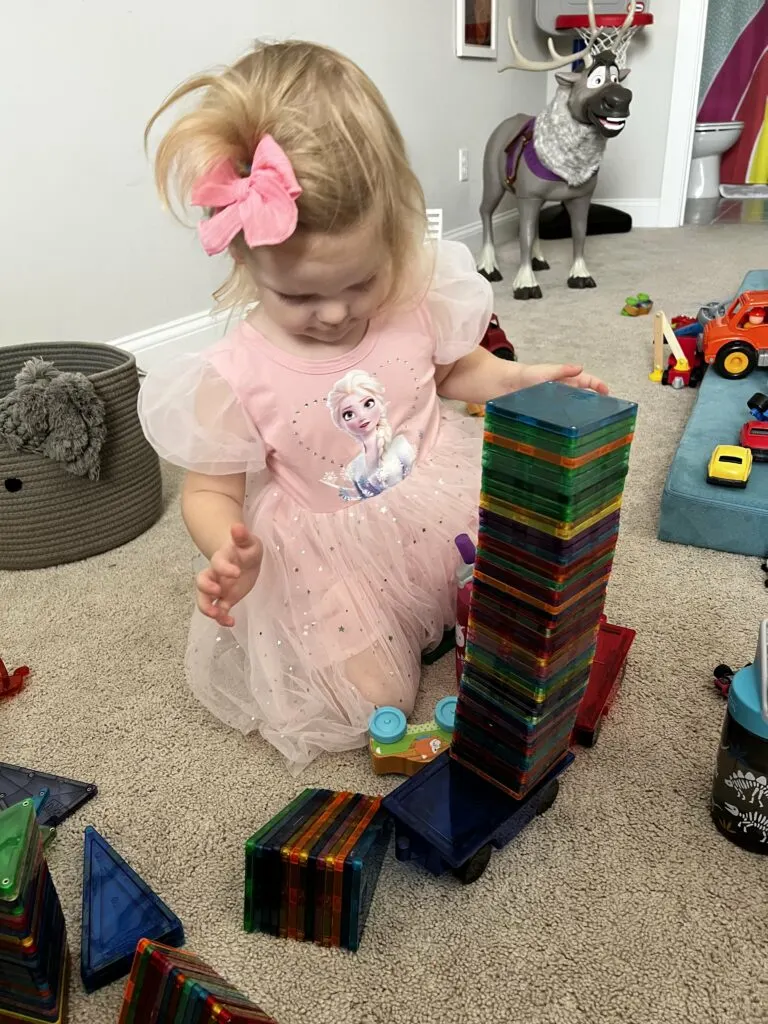 Are Magna tiles worth it?
I think that Magnetic Tiles are an amazing toy for toddlers, preschoolers, and elementary aged kids. They teach fine motor skills, problem solving, engineering, and basic independent play.
Magna tiles are widely accepted as the best of the brands of magnetic building tiles and are priced accordingly.
If they are in your budget, then they are absolutely worth it.
If you are on a budget, however, and they are a little pricey for you, I suggest looking at Picasso Tiles. They are fantastic as well and often are half the price of Magna Tiles.
Any more questions about Magna Tiles magnetic tiles for kids?