Deciding between Magna-tiles or Magformers tiles for your kids? Let's compare these magnetic tiles side by side!
Magnetic tiles are a really great open ended toy for kids. They let them explore building and creativity and are honestly just fun to play with!
These are a great STEM toy to introduce to young kids to get them interested in engineering, too!
There are a lot of popular magnetic tile brands (compare them all here!) but Magna Tiles and Magformers are two popular options.
So, let's compare these magnetic tile brands to see which might be right for your family!
Are Magformers tiles the same as Magna-tiles?
Most magnetic tiles are pretty similar, but Magformers are one brand that's a bit different.
Magna-tiles (and most other brands) are solid plastic tiles with magnets along each face to connect together.
On the other hand, Magformers are just the outline of shapes. They are not "filled in". This has pros and cons.
The pros of the Magformer design is that they are easy for little hands to grasp, and you can build some cool hollow-3D shapes.
However, it means that the magnet placement is different from solid tiles and therefore they won't work together.
Are Magformers tiles compatible with Magna-Tiles?
NO! It is important to know that due to their hollow design magnet placement, Magformers are NOT compatible with Magnatiles, Picasso tiles, Connetix, or Playmags.
Magformers has the magnets on the outer edge (the lip of each tile) while other tiles have them more on the face. They just don't line up.
Are Magformers tiles worth the money?
Magformers tiles are pricey. However, they are high quality and great for building.
Do Magformers tiles break easily?
No, Magformers tiles are very strong and secure! They are not prone to breaking.
Are Magformers tiles safe?
Magformers are a safe toy. However, they do contain magnets which can be very dangerous if ingested. While tiles don't break often, it can happen. Definitely throw away any broken or cracked tiles to protect your kiddos!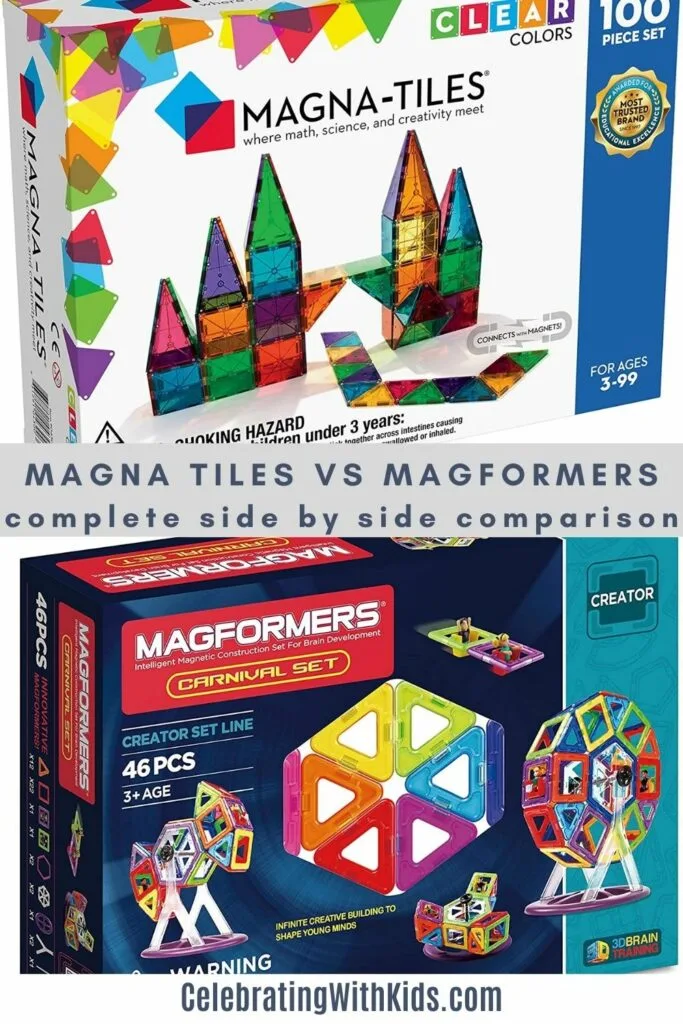 Magna tiles vs Magformer tiles
Tile size
These two sets of tiles are about the same size.
Shapes include:
equilateral triangles
isosceles triangles
right triangles
small squares
large squares
It's also worth noting that Magnatiles have flat edges, while Magformers have rounded off edges. Rounded edges can make it harder for young children to balance them.
Magnet size and strength
Magna tiles have 2-3 rectangular magnets on each side.
Magformers have 1 rounded magnet on each edge.
This difference is what makes them incompatible. However, the magnets are of similar strengths.
Safety
Both of these brands of tiles are very well made and safe. Of course, dispose of any cracked tiles regardless of brand.
That being said, Magnatiles are sealed AND have rivets in each corner to ensure they don't come apart. Magformers are sealed but do not have rivets.
Quality
These tiles are both very high quality. However, since Magformers don't have a flat face, they are less likely to show scratches.
Weight
Magformers in general are lighter than Magnatiles – they have less plastic and often less magnets!
Price
These are both high quality magnetic tiles and have high price tags to match.
The price difference between Magnatiles and Magformers is not significant – they both are around $1 a tile. Magformers do go on sale around black friday some, but not as much as some other brands. Magnatiles are rare to find on sale!
Conclusion
Some people really love and prefer Magformers. However, I am going to suggest Magnatiles here. Buying Magformers limits you to their brand due to their incompatibility. I'd stick with Magnatiles, or Picasso tiles for a lower cost option!
More about magnetic tiles