Deciding between Magna-tiles or Tytan Magnetic tiles for your kids? Let's compare these magnetic tiles side by side!
Magnetic tiles are a really great open ended toy for kids. They let them explore building and creativity and are honestly just fun to play with!
These are a great STEM toy to introduce to young kids to get them interested in engineering, too!
There are a lot of popular magnetic tile brands (compare them all here!) but Magna Tiles and Tytan Magnetic Tiles are two popular options.
So, let's compare these magnetic tile brands to see which might be right for your family!
Are Tytan Magnetic tiles the same as Magna-tiles?
Tytan Magnetic Tiles and Magna Tiles have the same purpose. They are magnetic tile sets designed for kids to learn to build! They are not exactly the same in appearances, but function completely the same.
Tytan Tiles have an engraved gear shape on the face of each tile, while Magna tiles are more smooth.
Magna tiles have grommets in each corner that hold them together in case of the tile or glue cracking. Tytan tiles are only held together with glue.
So while they have their own unique differences, they are the same type of toy and you may need to just decide which you like better.
Are Tytan tiles compatible with Magna-Tiles?
Yes! Tytan and Magna Tiles are compatible and can be used to build together.
While you may want to stick to one brand or the other just for simplicity sake of storing or buying sets, if you happen to have both or someone gives them as gifts, they will work together.
Are Tytan tiles worth the money?
Asking if something is "worth the money" is always highly subjective. Price matters differently to different people.
Tytan tiles are significantly less expensive compared to Magna Tiles. Tytan Tiles sell for about 50 cents each – I've seen them as low as 25 cents each on sale.
To compare, Magna tiles are usually $1.25-1.50 per tile.
Where to buy Tytan Tiles
You can buy Tytan tiles at:
Do Tytan tiles break easily?
There are not a ton of reports of Tytan tiles breaking easily. They might scratch on the flat surface a bit more than name brand magna tiles do.
Again, this is subjective to what your child does with toys. However, if you use them as directed and with normal play, they will hold up great.
Are Tytan tiles safe?
Tytan tiles are sealed using ultrasonic welding. They are very unlikely to crack and break. However, they do not have the rivets that Magnatiles have as a fail-safe in case of cracks.
Read all about magnetic tile safety here!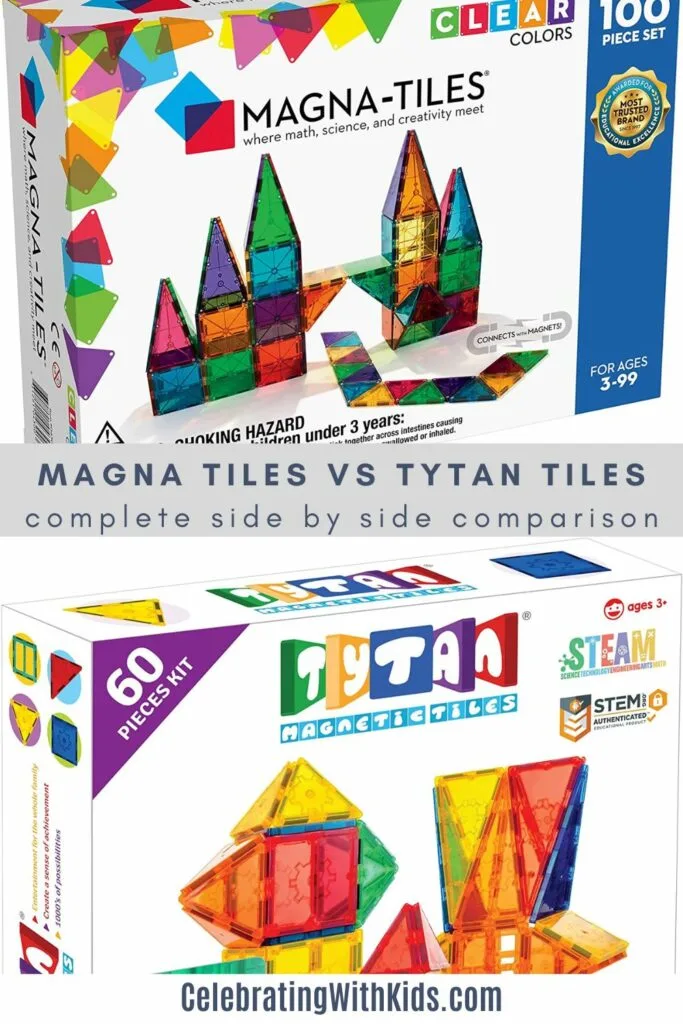 Magna tiles vs Tytan tiles
Tile size
These two sets of tiles are about the same size and work well together.
However, it's always easier to have all in one set for simplicity. But if you have both, they will work together.
Shapes include:
equilateral triangles
isosceles triangles
right triangles
small squares
large squares
Magnet size and strength
The magnets on these two tile sets appear to be about the same size. Magna tiles are a bit stronger and hold together more tiles compared to Tytan tiles.
For the record, Connetix are considered the strongest magnetic tile!
Safety
Magna-Tiles are held together with metal rivets in each corner. This keeps them very securely tight and keeps the magnets safe inside the plastic.
Tytan tiles are just attached on the edge with no glue. It is unlikely that the glue will crack or break, but if it does, there is no backup.
Read all about magnetic tile safety here.
Quality
Both of the products are high quality. Magna Tiles are considered to be a higher quality product that is less likely to scratch on the surface, and more likely to hold together with rough play.
Weight
The weight between these two tile sets is very comperable.
Neither tile set is heavy enough to cause any sort of issue with holding.
Price
The biggest difference that many parents will notice between Magna Tiles and Tytan tiles is price!
Tytan says that they designed their tiles to make an affordable magnetic tile option. They run around 50 cents a tile full price.
Magnatile is considered a premium product and their tiles are over 2x the price – often $1.25-1.50 per tile.
Conclusion
You can't go wrong with Tytan or Magna-Tiles. Magna-Tiles are the original and the classic tile and there are lots of sets to choose from.
If you are on a budget, Tytan tiles are a safe and awesome way to get more tiles for your money!
Want more magnetic tiles?
Check out all of our fabulous and free magnetic tile resources!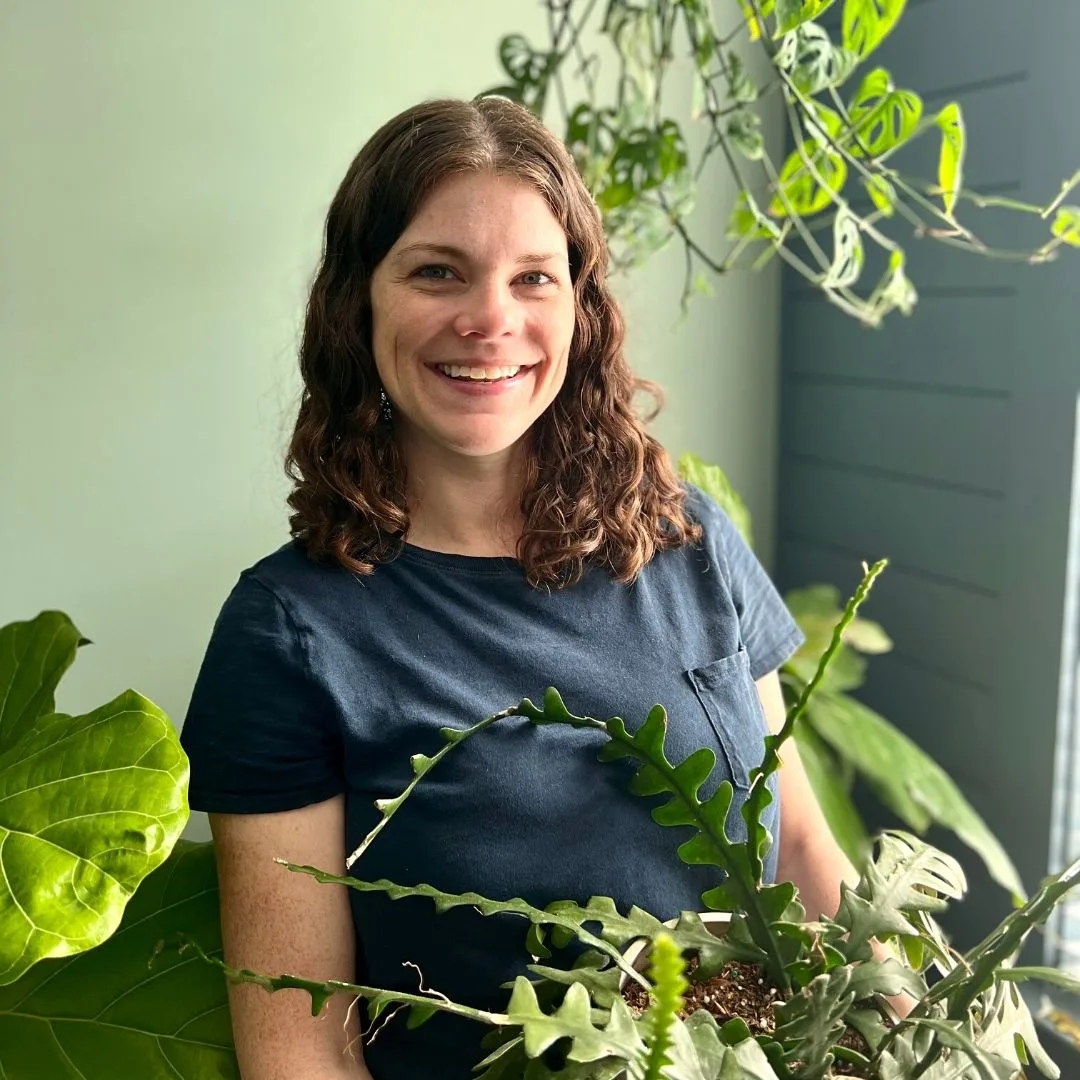 Hey there, I'm Morgan, the creative mind behind CelebratingWithKids.com! As a parent of two lively little ones, I've made it my mission to turn ordinary days into extraordinary adventures, sharing playful activities, thoughtful toy reviews, and delightful printables to help families celebrate every moment together. 🎉👨‍👩‍👧‍👦🎈