Deciding between Magna-tiles or Playmags tiles for your kids? Let's compare these magnetic tiles side by side!
Magnetic tiles are a really great open ended toy for kids. They let them explore building and creativity and are honestly just fun to play with!
These are a great STEM toy to introduce to young kids to get them interested in engineering, too!
There are a lot of popular magnetic tile brands (compare them all here!) but Magna Tiles and Playmags are two very popular options.
So, let's compare these magnetic tile brands to see which might be right for your family!
Are Playmags tiles the same as Magna-tiles?
Playmags tiles and Magna Tiles have the same purpose. They are magnetic tile sets designed for kids to learn to build! They are not exactly the same in appearances, but function exactly the same.
Are Playmag tiles compatible with Magna-Tiles?
Playmags, Magna-tiles, Picasso tiles, and Connetix tiles are all compatible!
Are Playmag tiles worth the money?
Playmag tiles are not super cheap, but they are significantly less expensive than Magna-tiles! So, if you are looking for a more budget friendly magnetic tile brand, they are a great option.
Do Playmag tiles break easily?
Playmags are super strong plastic. They might scratch a bit, but they do not break easily!
Are Playmag tiles safe?
Playmags are safe as long as they are not cracked or damaged. Cracked tiles are very rare but it can happen. Loose magnets can be deadly if swallowed, so be careful and dispose of any cracked tiles.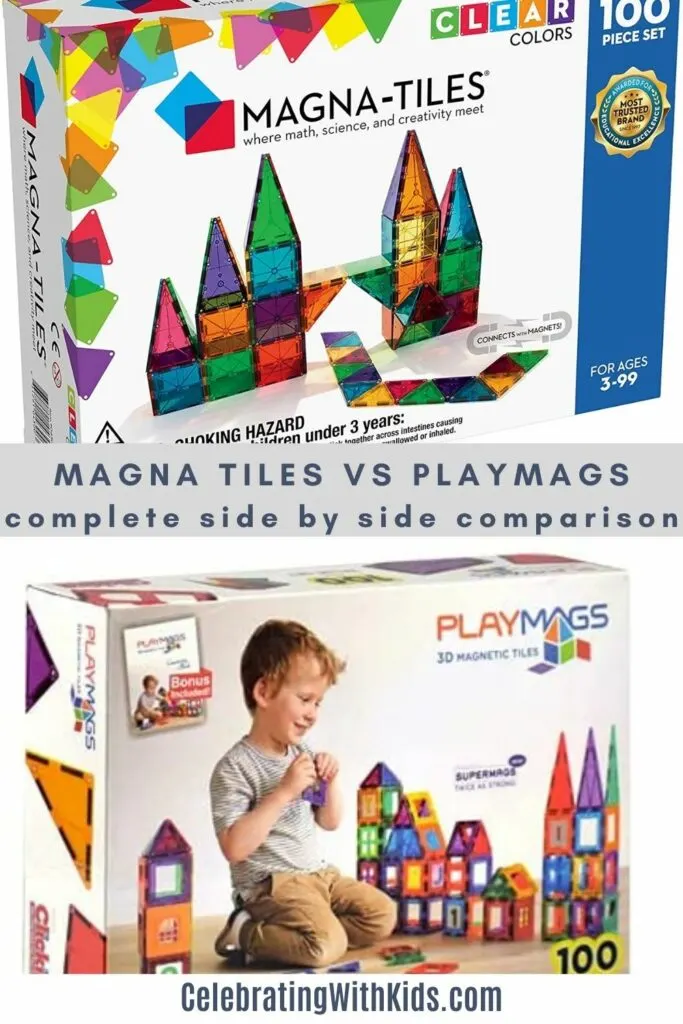 Magna tiles vs Playmags tiles
Tile size
These two sets of tiles are about the same size and work well together.
Shapes include:
equilateral triangles
isosceles triangles
right triangles
small squares
large squares
Playmags have a LOT of add on sets including a really cool dome set!
Playmags also offers "click ins" which are little tiles that click into the magnetic tiles with letters, shapes, animals, or other designs on them. These seem to appeal to some kids but not others.
Magnet size and strength
It is said that Playmags magnets are actually much stronger than Magna-tiles magnets, making them hold together better. One mom says her kids regularly throw their Playmag builds and they don't come apart!
Safety
Both of these tile brands are sealed tightly with rivets in the corners to help prevent breakage. They are super strong and neither is prone to breakage.
However, it's worth reminding that loose magnets are very dangerous if eaten – it can lead to life-threatening situations and emergency surgery. If any magnetic tile ever cracks or breaks, immediately throw it away.
Quality
These are both high quality brands of magnetic tiles!
Playmags tile colors are slightly more vibrant, while Magna-Tiles tend to be more muted.
Weight
Magnatiles have smaller magnets when compared to Playmags, which makes them ever so slightly lighter weight. This weight difference could make them easier to build tall towers with – though it is not significant at all.
Price
In general, Playmags run about half the price of comparable Magnatile sets. Occasionally either brand will go on sale, but in general, Playmags are much less expensive!
Conclusion
Playmags and Magnatiles are both great options for magnetic tiles for your kids to play with. Since they are so comparable, it makes sense to buy the Playmags which are cheaper.
But, what is great is you can mix and match these compatible sets and play with both as your magnetic tile collection grows!
More about magnetic tiles