Ho, ho, ho! Getting your Christmas shopping done?! Here are some ideas for the best Christmas gift hiding places to keep your presents a secret!
Christmas is a fun time of year. If you like shopping, it can be especially fun and addicting!
However, if you have a lot of presents, you might be looking for a lot of gift hiding ideas!
You might be wondering how to sneak Christmas presents into the house, how to disguise Christmas presents, or where to store Christmas presents if you tend to shop super early.
Or maybe you are naughty and wondering the best places to look for Christmas presents that have been hidden from you!
Even if you have a small home or just one room to store presents, there are tons of holiday gift hiding places.
Let's dive in and talk about my favorite places to store gifts before they go under the Christmas tree!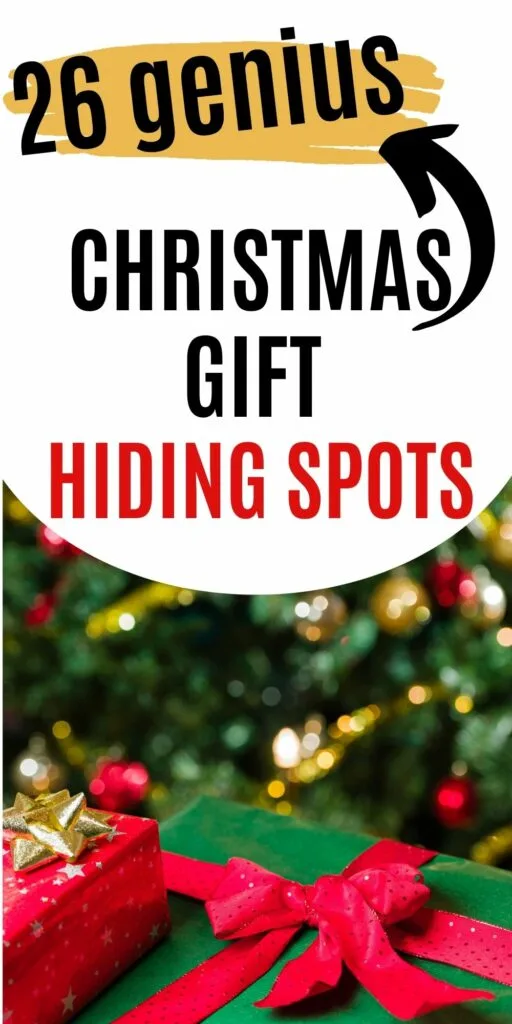 Where to hide Christmas presents
Here are some of the best Christmas present hiding spots!
Closet under the stairs
Top of a bedroom closet
On the floor of a bedroom closet, behind clothes
Linen closet, under towels or sheets that are never used
Hidden inside unused empty suitcases
In a plain cardboard box (or an old amazon box)
In the attic or crawlspace that is unused
In your underwear drawer
Empty a drawer – empty a drawer that's usually full and move that stuff for the season
In Christmas decor storage bins (once you take out the decor and display it)
Inside socks in your sock drawer
With summer clothes that have been stored away for the season
Under the sink
Trunk of the car
Spare tire well inside the trunk of your car (very hidden!)
Under the bed
In storage boxes labeled for something else
With cleaning supplies, in the laundry room, or another place your kid would never go 🙂
Rent a storage unit (for a big gift!)
In a neighbor's garage or house
At your workplace
Backyard shed
Inside an unused cooler
Rarely used kitchen cabinet or top of the pantry
Above upper kitchen cabinets
Behind books in a bookshelf
Where are your favorite places to hide presents?!