Want to make Easter extra fun for your kids? Download this free printable Easter scavenger hunt for kids!
There are a lot of fun ways to celebrate Easter with kids – trust me, I've tried most of them.
Whether you spend the day at church or celebrating at home, there are many ways to make the day special for your family.
One of my favorite things to do is get our kids up and moving. A scavenger hunt is a great way to get them running around and a way to sort of stretch out the process if you are giving them gifts.
My kids started doing scavenger hunts at the age of 2. Obviously, you have to read the clues and make them easier for young kids. But this can definitely be scaled up or down for any age group!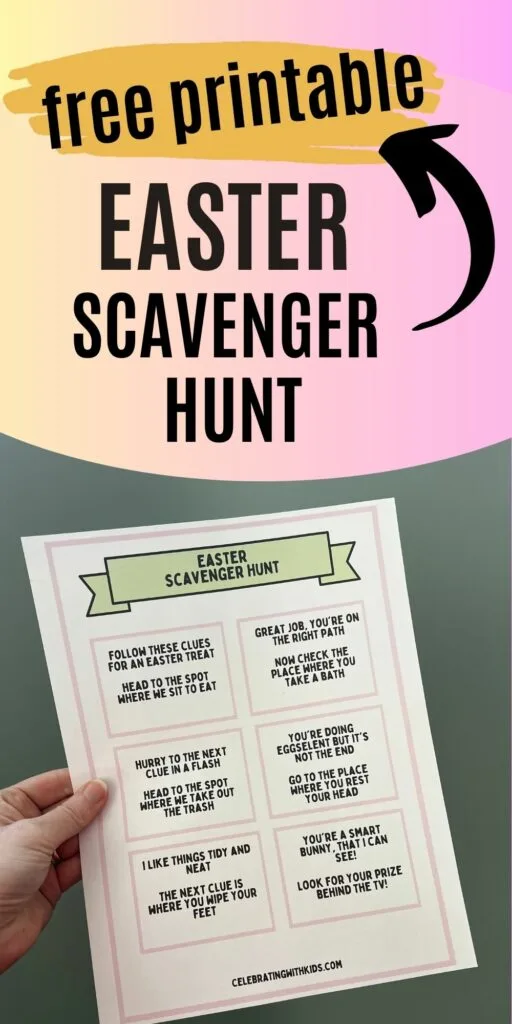 How to do an Easter Scavenger Hunt
An Easter scavenger hunt is a fun way to celebrate the holiday.
The most obvious choice is to have your first clue in their Easter baskets.
I also love the idea of having the clue in an egg or even in the big golden egg at the end of the hunt – they think they found the prize BUT WAIT THERE IS MORE!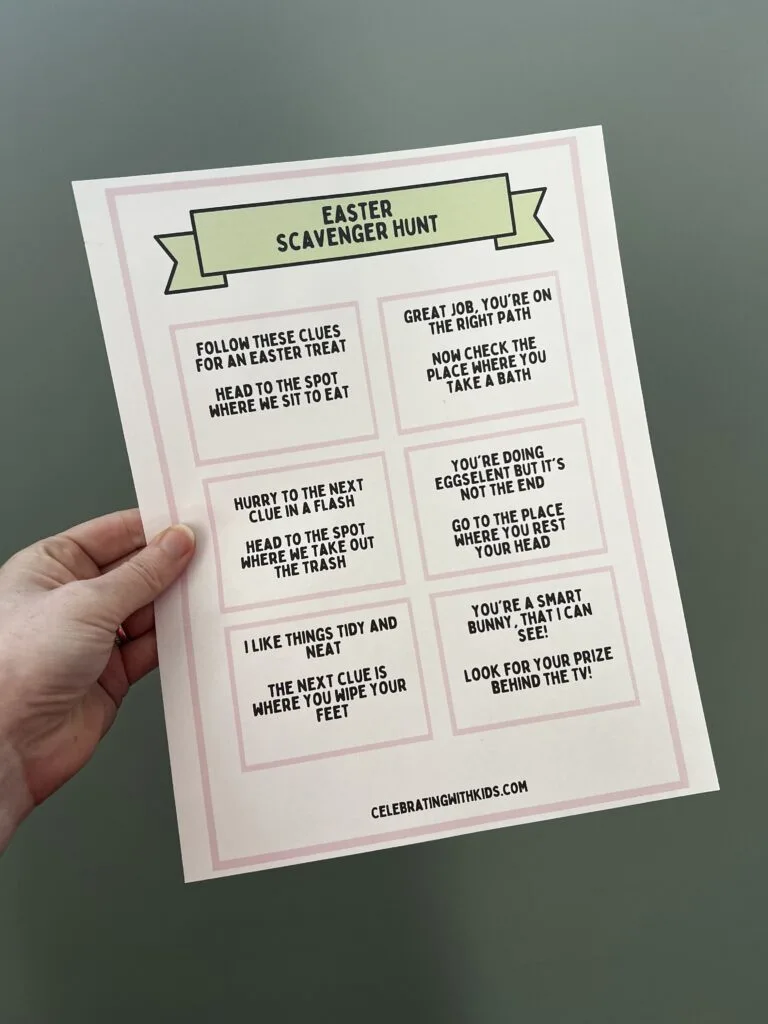 How to set up your Easter scavenger hunt
Print the free printable scavenger hunt clues or write your own. If printing, cut them apart or use the blank cards to create your own!
Place the first clue (starting "follow these clues for an Easter treat") somewhere they will obviously see it first thing in the morning or inside an egg.
Hide each clue. Remember to hide it not where the clue leads to but where the clue prior to it leads to!
Place the final clue somewhere fairly well hidden (age appropriate of course) and put a few treats next to it as the grand prize!
One thing we did last year is have a blank puzzle we drew a treasure map on that led to a prize. So if you wanted to really stretch out the egg hunt, you could have:
Regular eggs hidden, some with bank puzzle pieces inside
Assemble the puzzle to make the map
Follow the map to the golden egg
Inside the golden egg is the first scavenger hunt clue
Follow the scavenger hunt to the Grand Prize
Whew, I'm tired just thinking about it!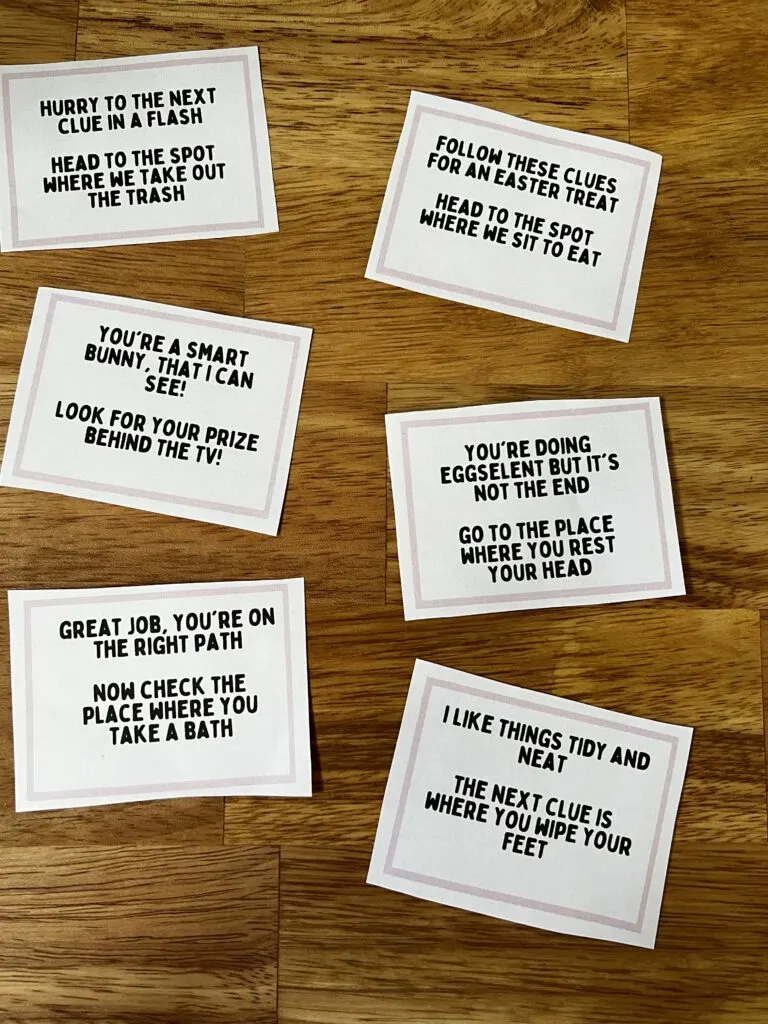 What should be at the end of your Easter scavenger hunt?
It's always good to have some treasure at the end of a scavenger hunt. Easter themed ideas include:
Big chocolate bunnies or other sweet treat
Stuffed bunnies
T-shirt or pajamas with an Easter theme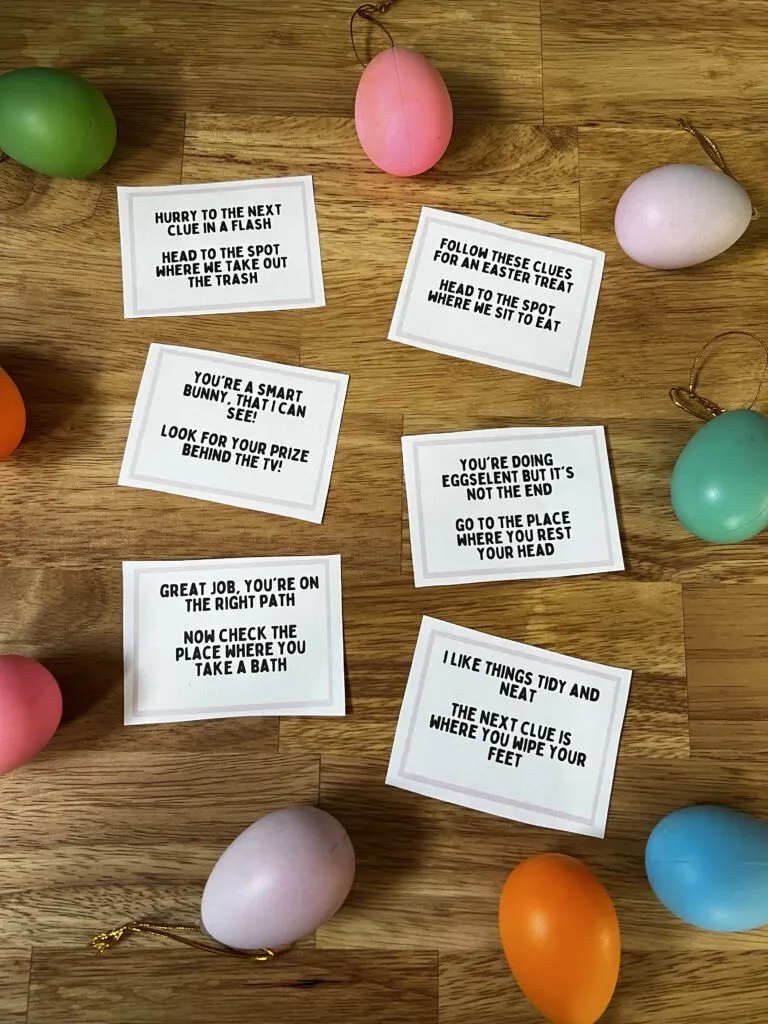 Easter Scavenger Hunt – Free Printable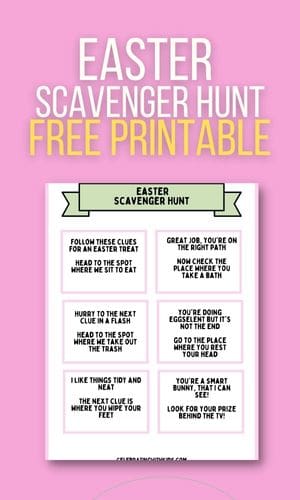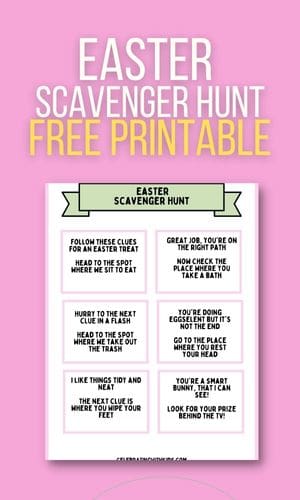 Download our free printable Easter scavenger hunt clues to get started! It includes a page of clues and a page of blank cards. Click here to download it or use the widget below!
What are you doing for Easter this year?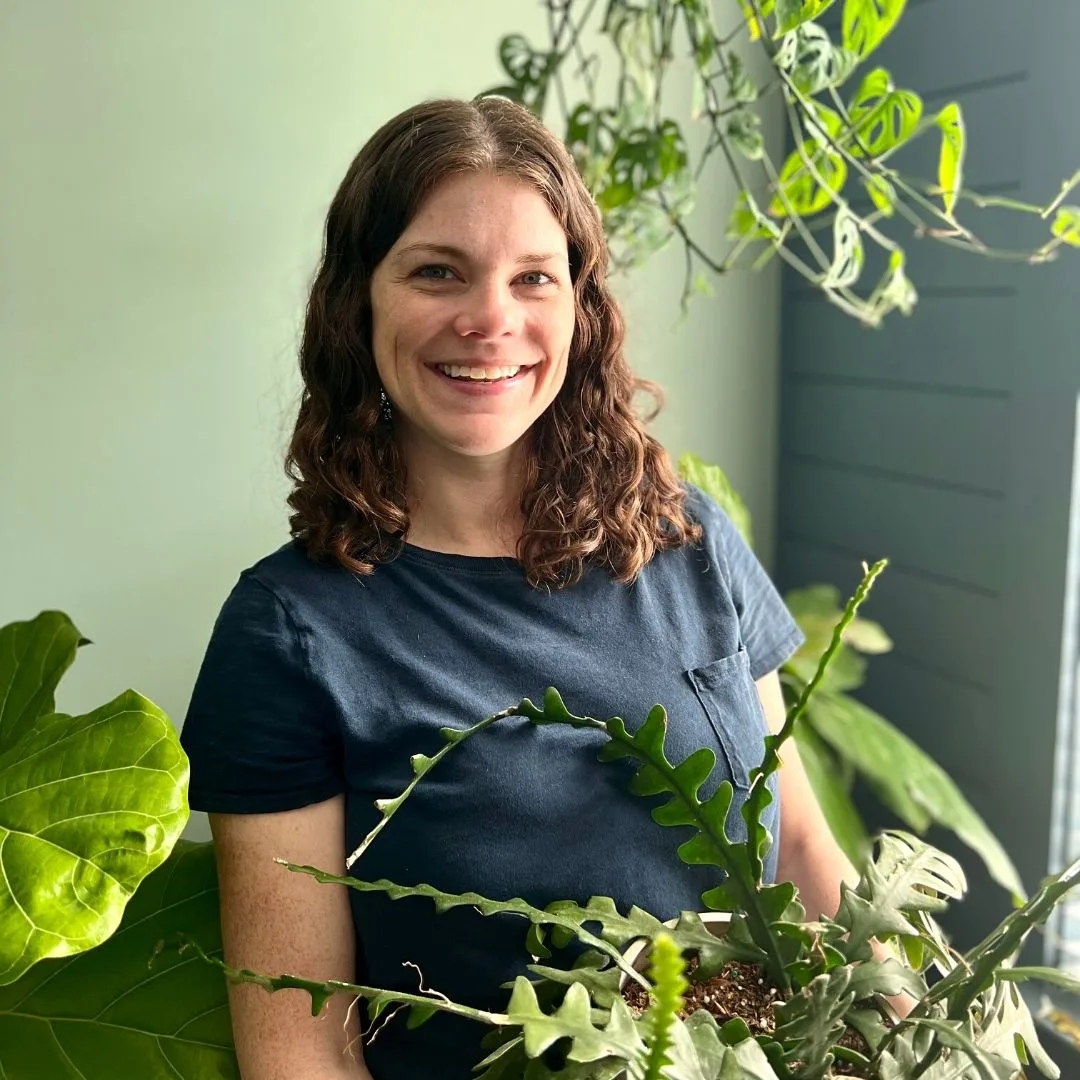 Hey there, I'm Morgan, the creative mind behind CelebratingWithKids.com! As a parent of two lively little ones, I've made it my mission to turn ordinary days into extraordinary adventures, sharing playful activities, thoughtful toy reviews, and delightful printables to help families celebrate every moment together. 🎉👨‍👩‍👧‍👦🎈