Wondering what the heck to put into Easter eggs for your infant or toddler? Here are my favorite Easter egg fillers for babies + toddlers.
Easter egg hunts are something that I really looked forward to doing with small kids.
An eight year old doing an easter egg hunt? Not that cute.
A eighteen month old toddling towards eggs? Precious!
But, traditional easter egg fillers are things like jelly beans and other small, chokey, candy type items.
This stuff is usually choking hazards and almost always age inappropriate for infants.
So, whether you are planning for the easter bunny to bring your own kids or forced to send a plastic easter egg for each kid in the daycare class (facepalm), here are some easter egg fillers for toddlers to inspire you.
Be very mindful of choking at this age. Anything that can fit in an easter egg is a choking hazard and should only be handled with extreme supervision.
Be sure to check out my list of non-candy easter egg fillers!
Looking for Easter basket ideas? I have a list for boys and girls!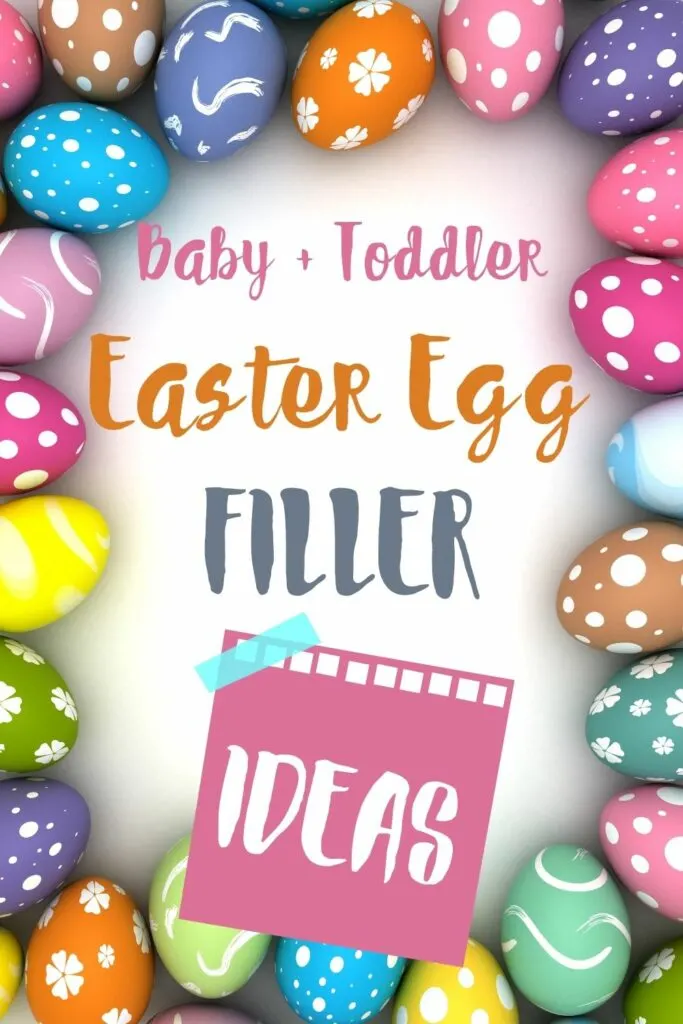 Easter egg fillers for babies + toddlers
Finger puppets
Temporary tattoos
Stickers
Mini playdoh (or make homemade playdough!)
Fruit snacks (for toddlers, not babies)
Hair bows/hair ties/headbands
Play food
Hair bows
Hair clips
Mardi gras style beads
Pacifier
Crayons (consider making bunny crayons)
Socks
Small stamps
Bath squirt toys
Duplo
Play scarf (small ones, balled up)
Small dinosaur figurines
Magnet letters or resin letters
Bandaids
More easter egg fillers specifically for small babies
If you have a baby and are just doing eggs at home with older siblings, here are some ideas to help them feel included.
pour in some puffs, cheerios, or melties to fill eggs
If babies are so small that they don't eat food, consider putting some dried beans (or similar) in a couple of eggs and gluing them closed. Ta-da, easter egg shaker.
Pacifier in an egg
Baby socks
Baby cotton fitted hat, rolled up inside an egg