Looking for a free and easy way to fill Easter eggs and baskets this year? Check out this free printable Easter Bunny Bucks!
Easter is a time for family gatherings, Easter egg hunts, and indulging in sweet treats.
Whether you spend the morning at church or celebrate in a more casual way, Easter can be a lot of fun for kids.
One way to make the holiday even more exciting for kids is by incorporating Easter Bunny Bucks or Easter Bunny Money.
Bunny Bucks are fun and colorful "coupons" that kids can use to "buy" Easter treats, toys, or other goodies.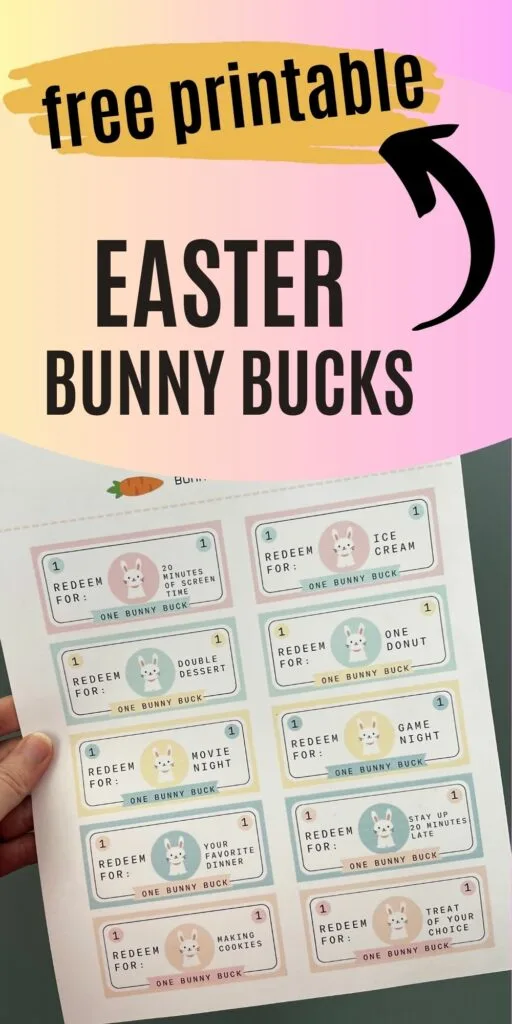 I love Bunny Bucks because they are free to parents (depending on what you put on them, of course) and are an easy, last minute egg-filler idea.
You can customize the Bunny Bucks to match whatever would be exciting for your kid. It's a clutter-free gift of service or experience and NOT more plastic junk to clog up your home – and the landfill!
With the help of our free printable template, you can easily create your own Easter Bunny Bucks at home.
What are Easter Bunny Bucks?
Easter Bunny Bucks are a great alternative to traditional Easter baskets filled with candy and toys.
Of course, you can still put candy and toys in your kids eater baskets. Reeses eggs for life!
But, Easter Bunny Money allows kids to participate in a fun and interactive activity while also teaching them the value of money.
By giving them Easter Bunny Bucks, you can encourage them to make their own choices about what treats they want to buy and how much they want to spend.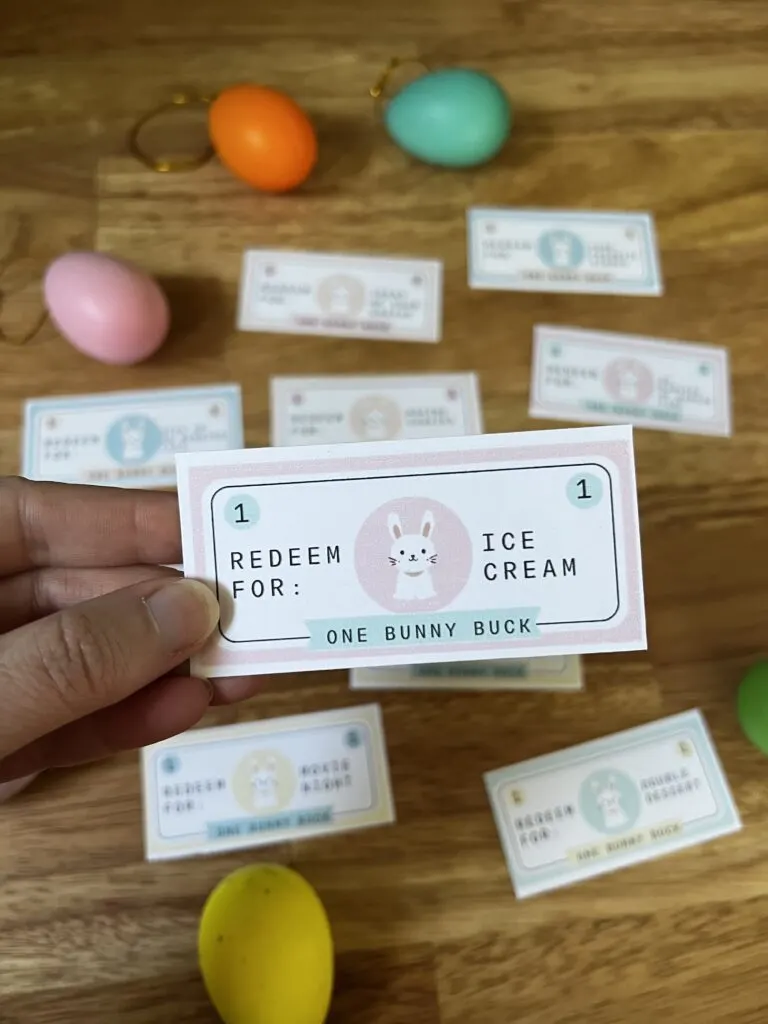 How to make Easter Bunny Money
To get started, you'll need to find a printable Easter Bunny Bucks template. I suggest downloading ours, of course!
Once you have your template, print out as many Easter Bunny Bucks as you need on high-quality paper or cardstock.
Our Easter Bunny Money printable comes with 2 pages – 1 page with pre-written rewards and the other blank.
This allows you to customize the Bunny Money to have rewards that would get your kids excited! Or use them as blank "money" they can use to "shop somewhere.
You could also add a space for your child's name or a cute Easter saying to make them even more personal.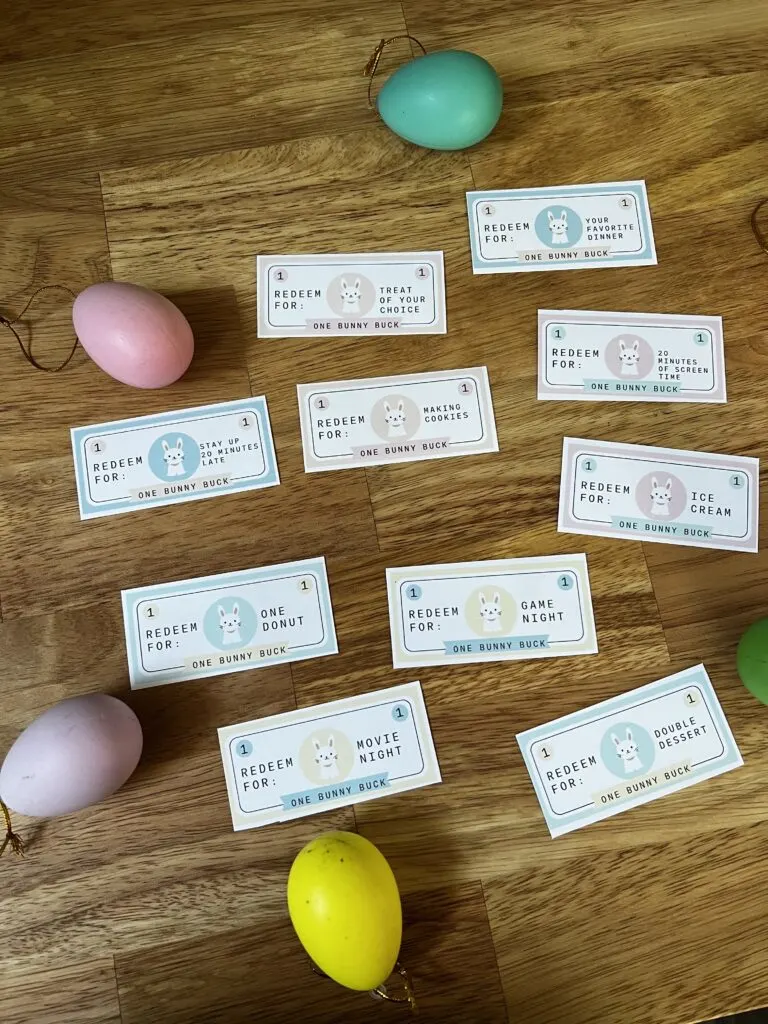 After you've customized your Easter Bunny Bucks, cut them out with scissors or a paper cutter.
Make sure that they are all the same size and that the edges are clean and straight. You can even laminate them if you want to make them more durable and long-lasting.
Finally, give the Easter Bunny Bucks to your child and let them go on a fun Easter shopping spree.
If you want to fit them inside easter eggs, I suggest rolling them up!
You could create a small Easter store with treats and toys that your child can "purchase" using their Easter Bunny Bucks. You could even set up a little market stall or Easter Bunny store to make it even more fun.
Easter Bunny Bucks are a fun and interactive way to make this Easter even more exciting for kids.
With the help of free printable templates, you can easily create your own Easter Bunny Bucks at home.
So go ahead and add a little Easter magic to your child's celebration this year with some fun Easter Bunny Money!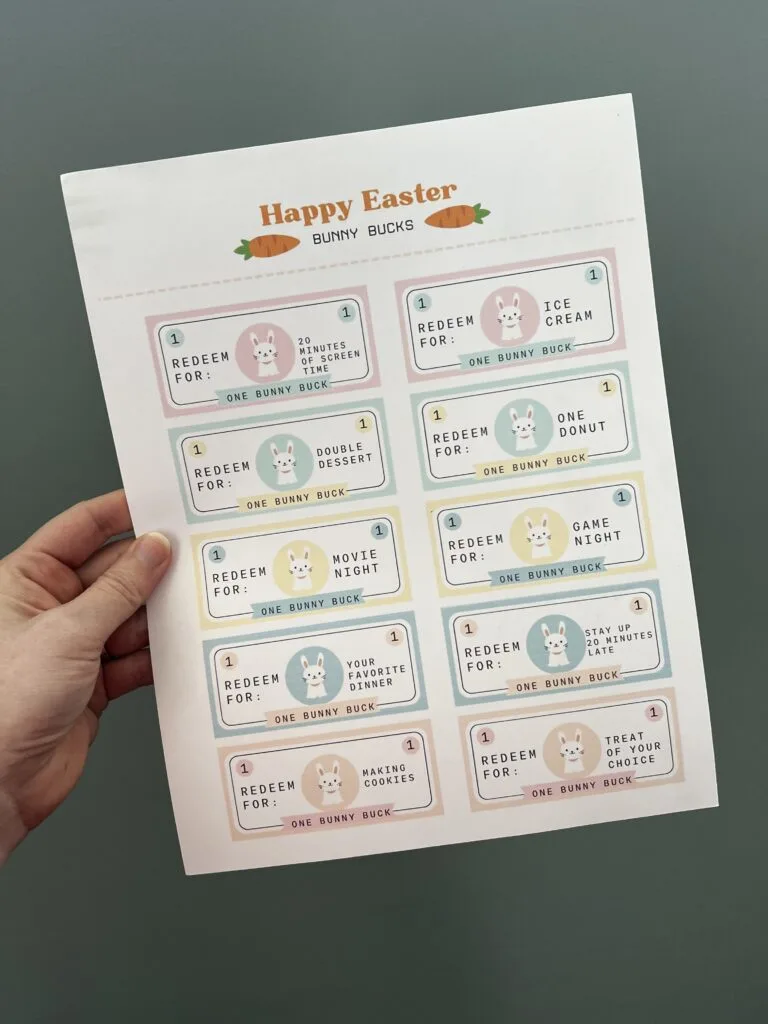 Free printable Easter Bunny Bucks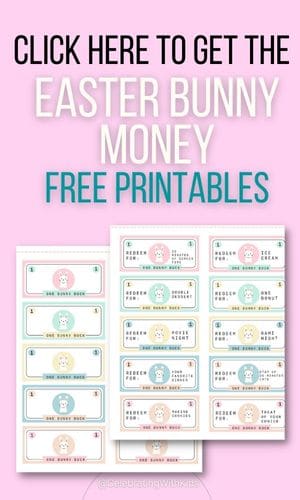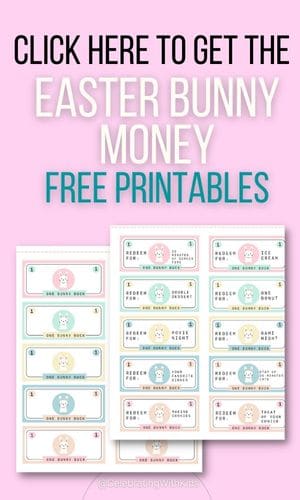 Check out our free printable Easter Bunny Money template! You can click here to get it or sign up using the widget below and it will be sent to your email inbox!
What are you putting in your Easter baskets this year?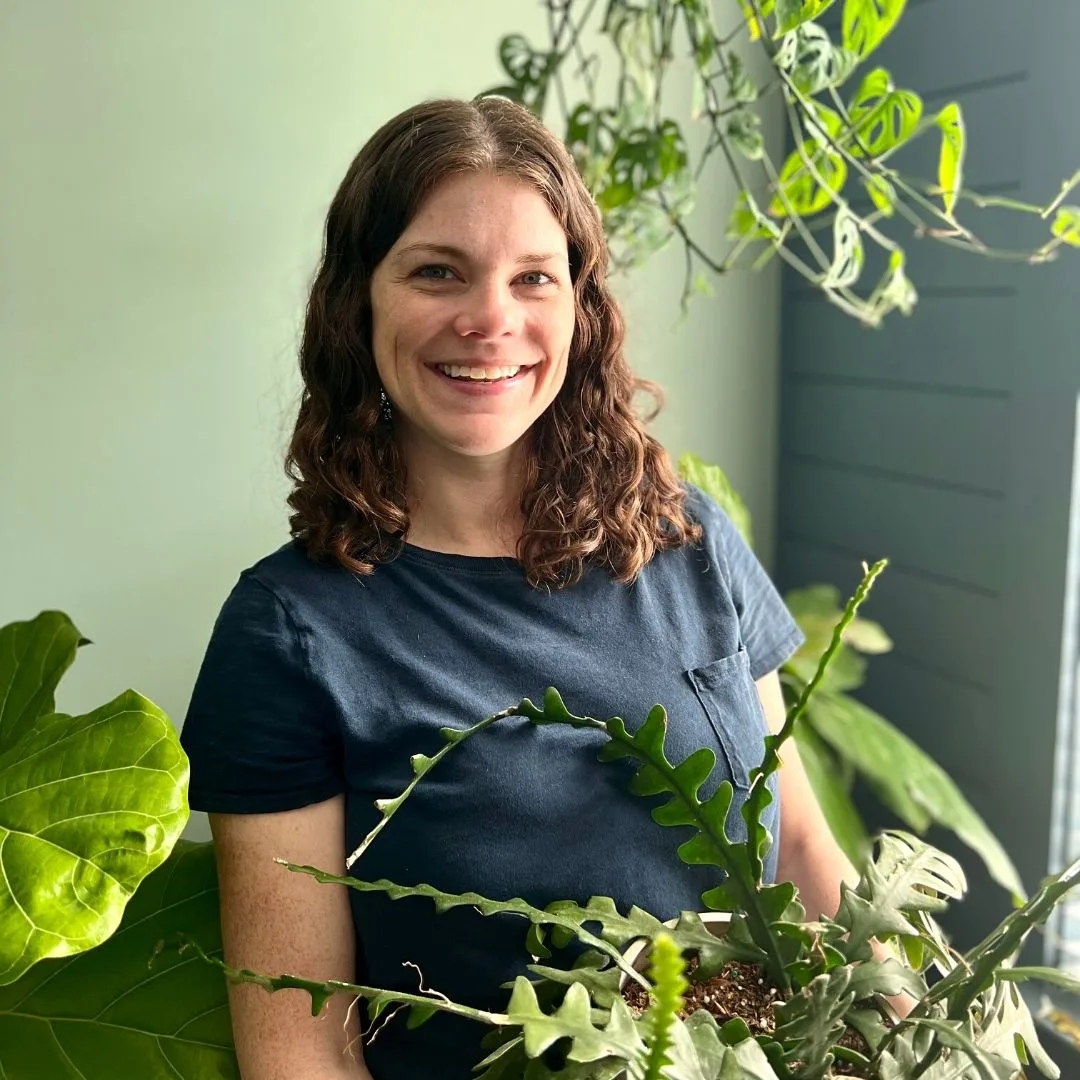 Hey there, I'm Morgan, the creative mind behind CelebratingWithKids.com! As a parent of two lively little ones, I've made it my mission to turn ordinary days into extraordinary adventures, sharing playful activities, thoughtful toy reviews, and delightful printables to help families celebrate every moment together. 🎉👨‍👩‍👧‍👦🎈