Looking for the perfect gift for the toddler in your life? Here are the best gifts for 2 year old boys to inspire your shopping!
Shopping for a two year old can be super fun, but it can also be overwhelming and frustrating if you have no clue what you are really shopping for.
Obviously, a lot of kids these days have everything that they need. So, it can be hard to find a unique birthday gift for two-year-old.
First of all, I want to say that ideally you will know what your two year-old boy is interested in. This could be a character, show, or hobby or activity.
The gifts that are going to go over best are going to be personalized to their interests, and that is what's going to be most likely to make their eyes light up when they unwrap it.
But, luckily, two-year-olds can be pretty similar to each other.
Today I want to share some of my favorite gifts for two-year-old boy. I currently have a four-year-old boy and a two year old girl, so all the stuff is fresh and actively used in my home.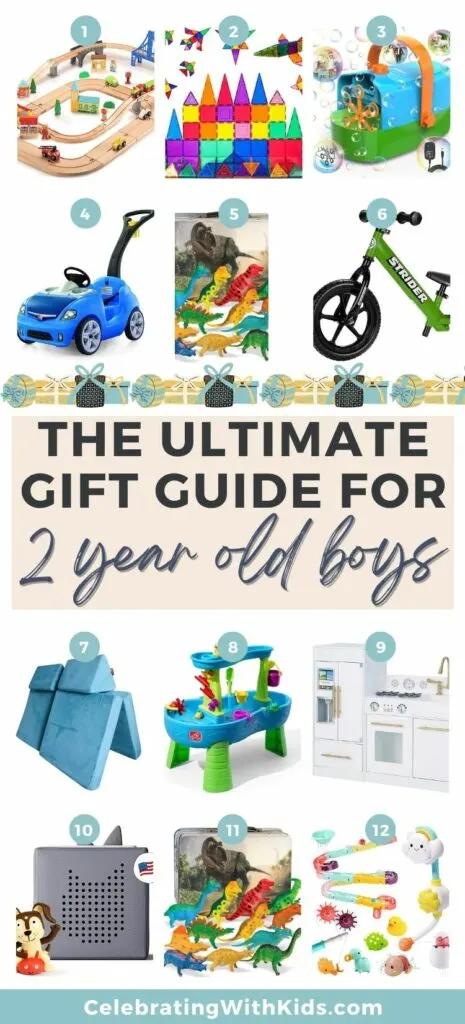 The best gifts for a 2 year old boy
Here are my favorite 2 year old birthday gifts and holiday gift ideas!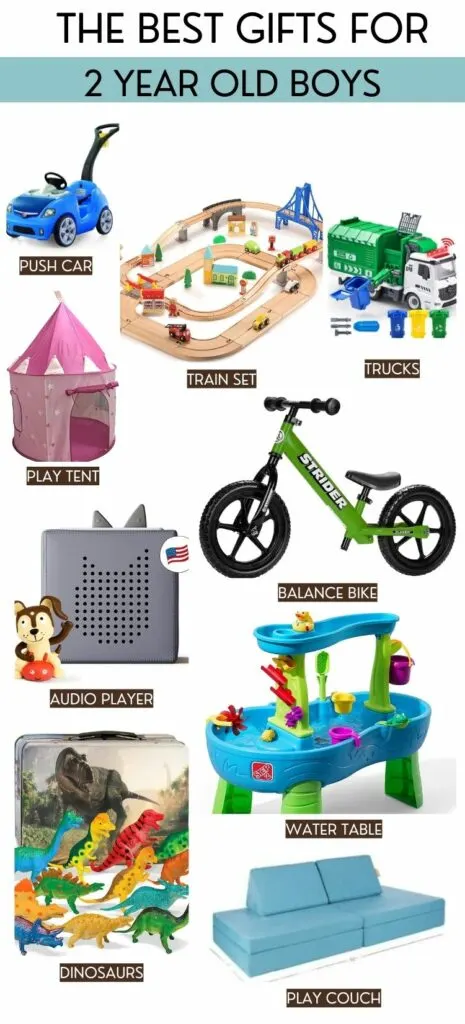 Experience gifts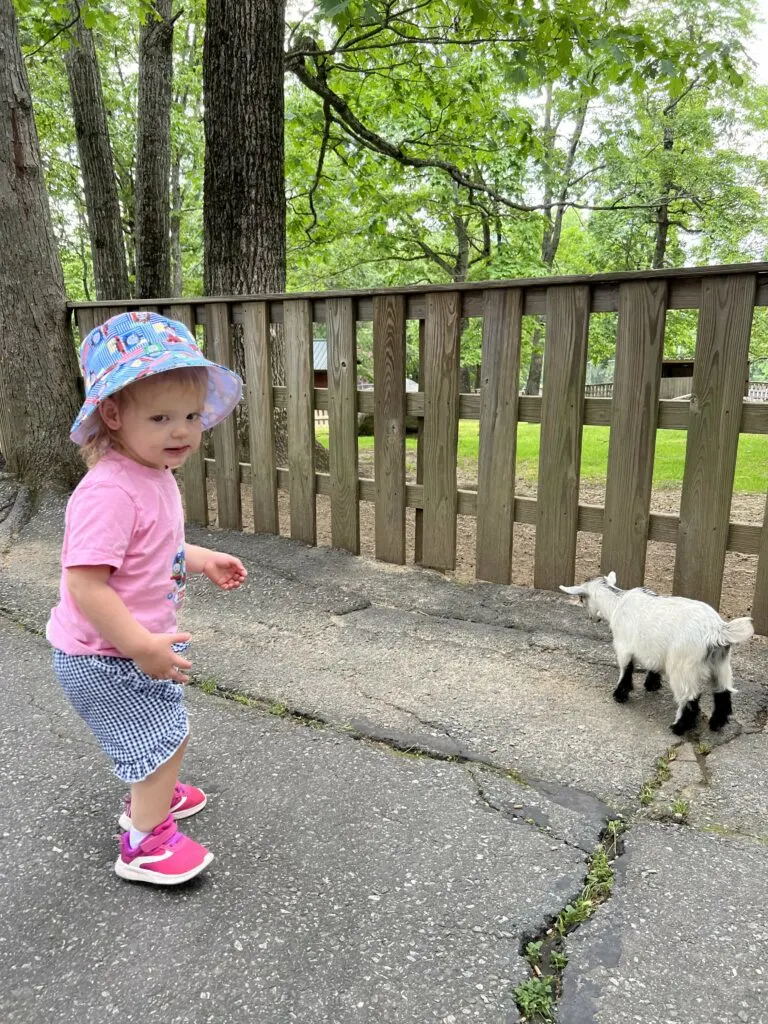 OK I'm gonna go ahead and start it with a gift idea that is not a toy. It's not even anything you can really rap. It's an experience! I have a whole article about the best experience gifts to give kids, but think of these kinds of ideas:
Trip or membership to a zoo, aquarium, or museum
Meal at a favorite restaurant
Tickets to the movies
Sleepover (such as a night at grandmas)
Fun activity like slide place, water park, putt putt, petting zoo
An experience gift is great if your two year old boy has too many toys, minimalist, parents, a full house, or just doesn't need anything physical. Create memories instead!
Subscription box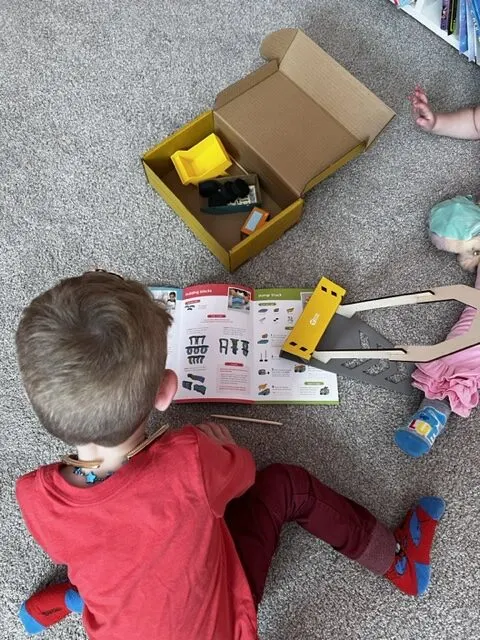 My kids have gotten a few different subscriptions in their lives and loved them all. One of them is highlights Hi Five magazine. It has stories, activities, and craft ideas. It is a perfect magazine subscription for a 2-4 year old.
My pick for a kids subscription box is Kiwi Crate. At this age, it's the Koala Crate box. We have subscribed for over 2 years and you can see our full review here. We love the fun crafts and activities and convenience of the subscription.
Balance Bike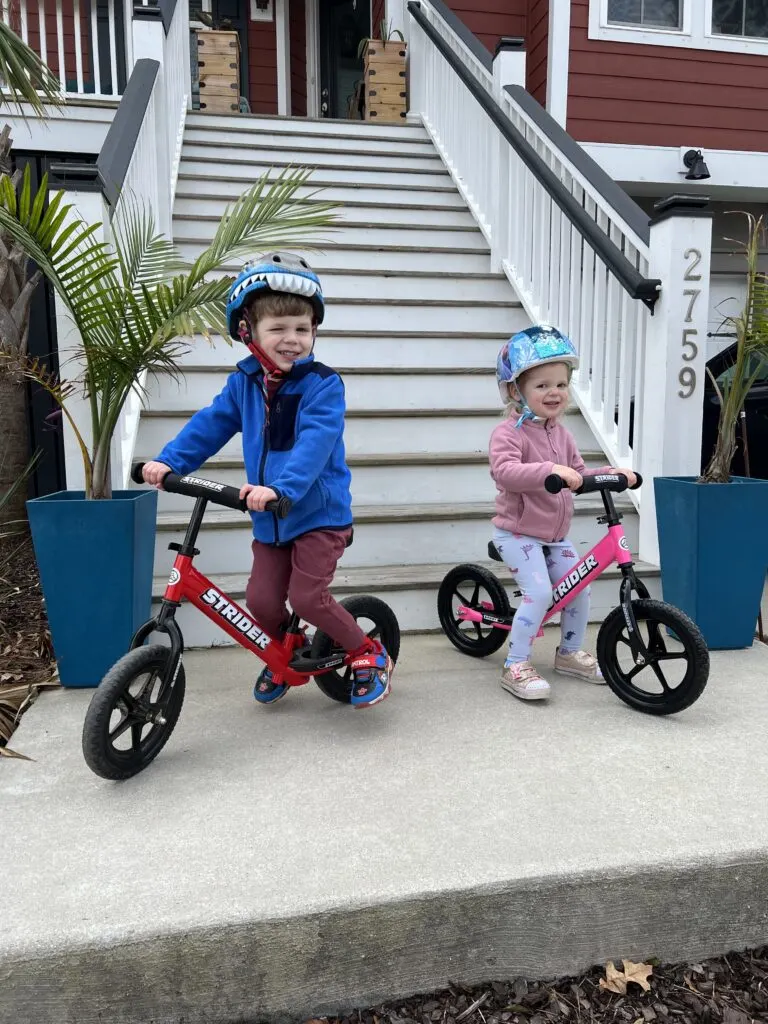 Both of my kids got a balance bike at the age of two. They're not gonna ride it super well until they are 2 1/2 or three unless your kid is just a lot more athletic than mine.
But the sooner they can get on it, the more comfortable they will get with it.
I am hearing that this whole generation of kids that grows up on balance bikes doesn't even need training wheels when it's time to move up to a big kid bike. Pretty cool!
Play Kitchen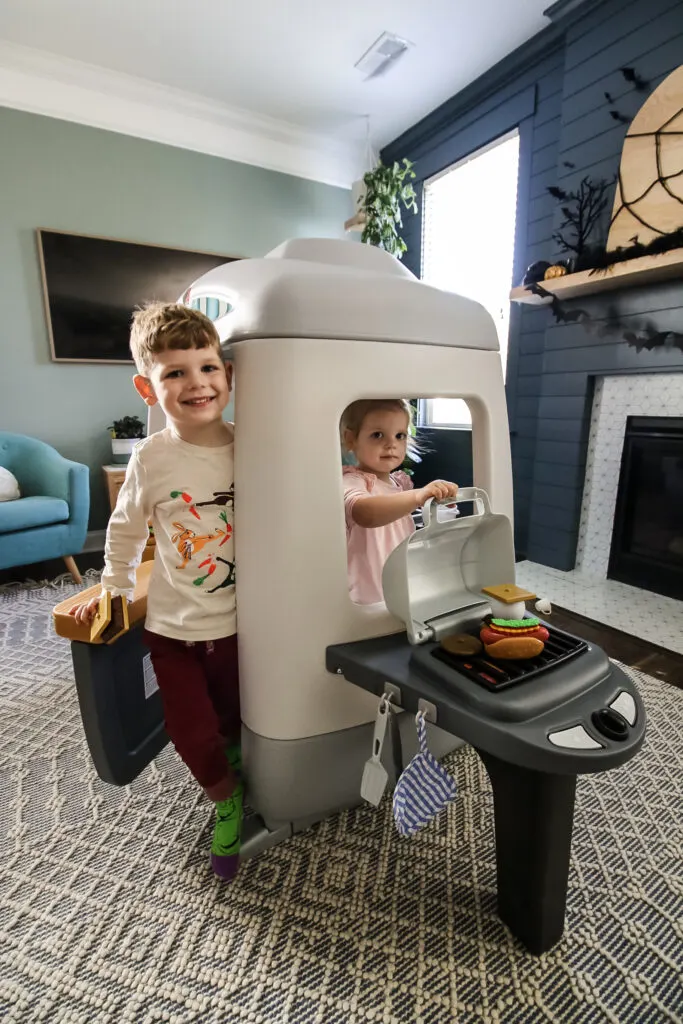 A play kitchen is really fun for kids this age. They are really starting to get into pretend play, and can play independently or with siblings and friends with a play kitchen.
We got this food truck from Step2 that had a play kitchen on the inside. This is a very large toy, and it's best suited to be kept outside, unless you have a huge playroom, but it is great for kids this age.
If you are not the person who are the two-year-old boy lives with, I would be sure to ask the parent or guardian before you purchase a large play kitchen.
This thing, no matter which kitchen you choose, is going to take up a lot of space. This is a very generous gift for a two year old boy, but just make sure that they can accommodate it.
I love this beautiful, traditional play kitchen.
Water Table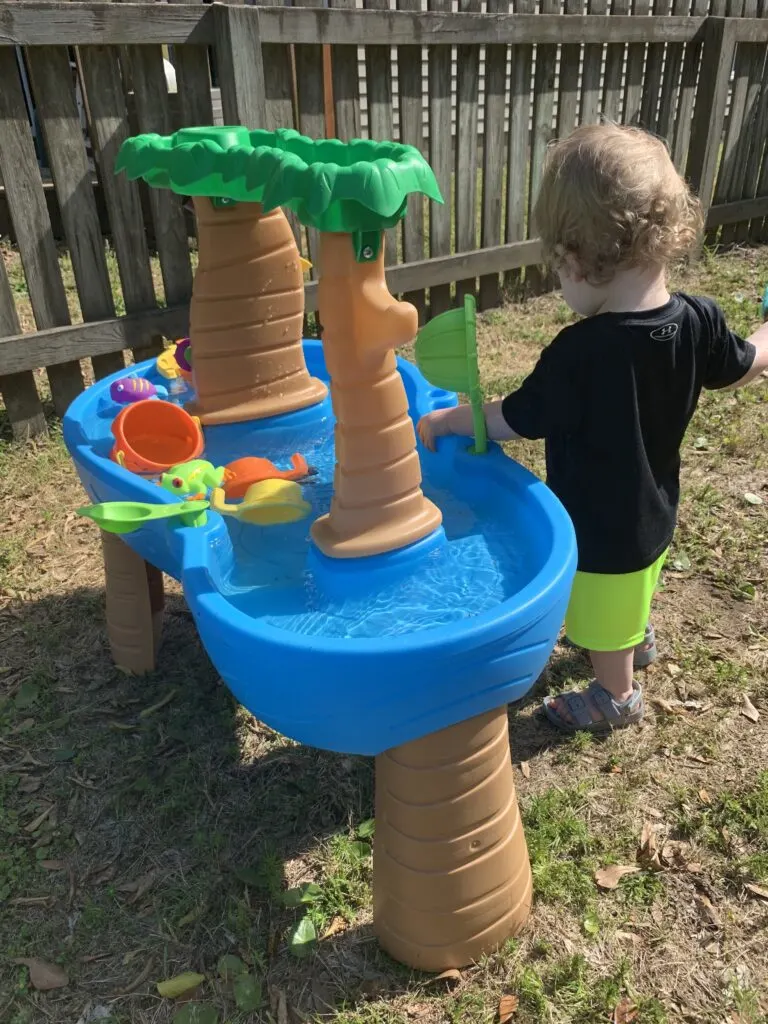 I highly recommend a water table for a 2-year old boy or girl, especially if you were shopping for a birthday gift in the warmer months.
My kids loved splashing in their water table, especially at the age of two and three. This is a toy that will get a ton of use, and is great at encouraging them to play outdoors, which is always good.
Trucks or Trains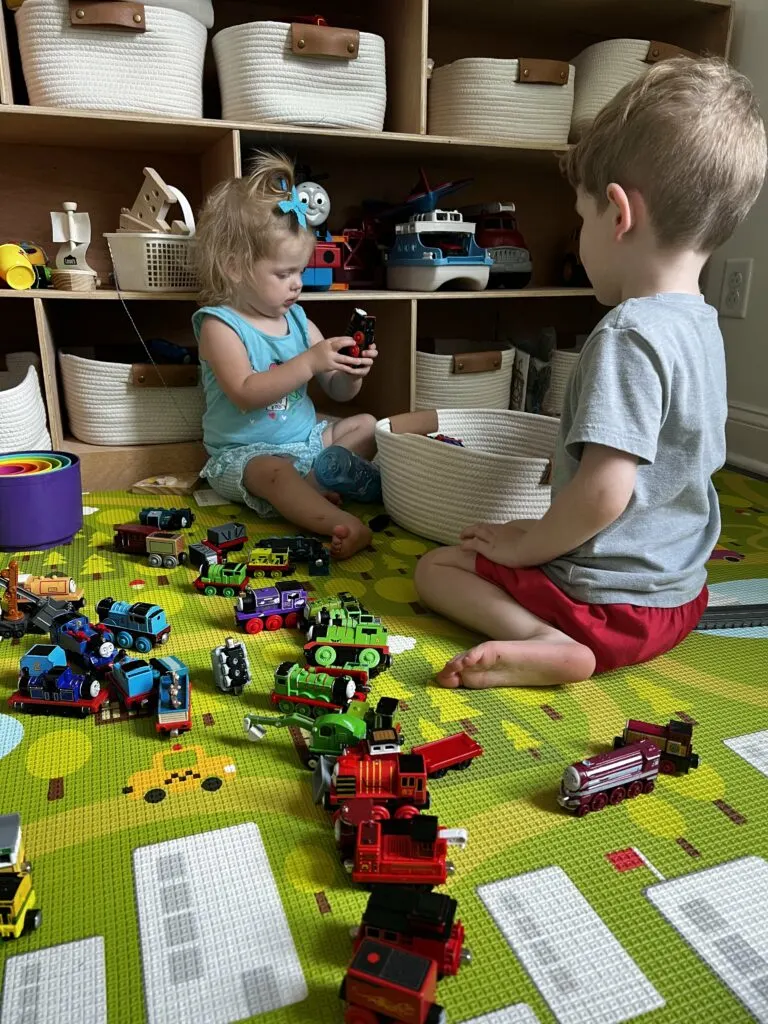 I tried very hard not to push any sort of gender stereotype toys on our kids. Having a boy and girls so close in age, they mostly play with the same things.
However, one thing that or son was obsessed with that our daughter never cared about was trucks and trains.
For him, it was particularly Thomas the train when he was two. No matter what your kid is into, there are trucks and trains for every two year old boy.
Green toys trucks – my brand pick for high quality trucks with no lights/sounds
Recycling truck – makes a ton of noise but the absolute HIT of Christmas the year my son turned 2
Play couch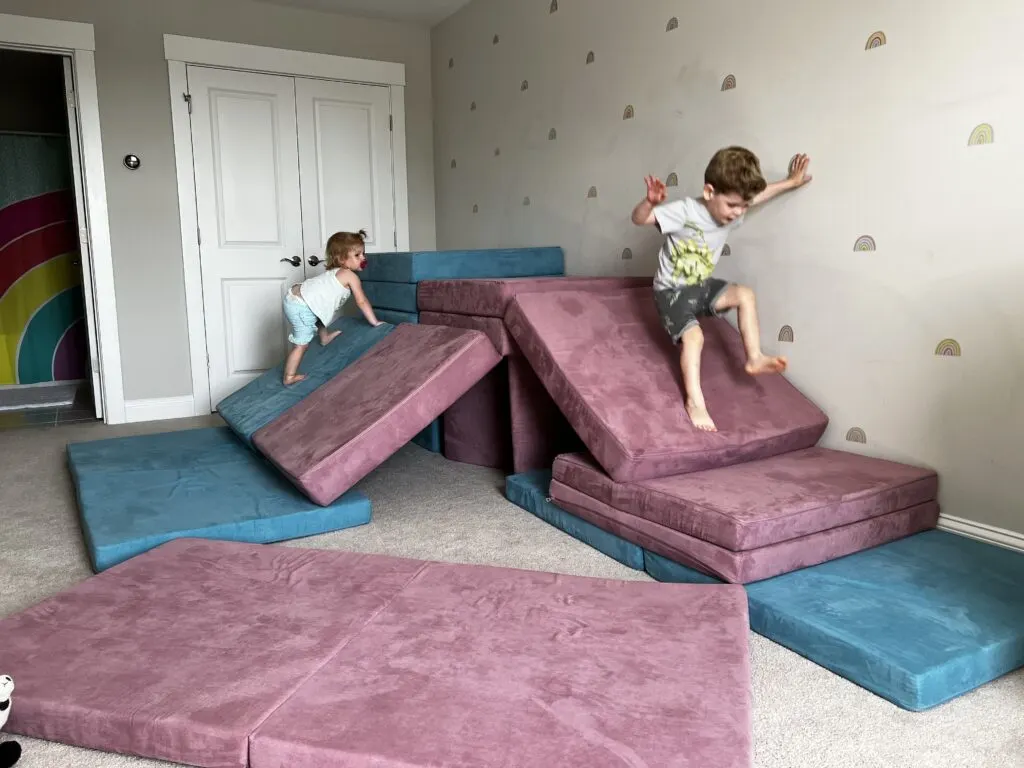 My very favorite toy that my kids own is their play couches. This is another big toy – big price tag and physically big – but it is awesome and will last years and years.
Modular play couches can be moved around to build forts, ramps, castles, and so many more things. They are amazing for imaginative play, physical play, and a great place to sit down in the playroom!
You can read all of my Nugget content here!
Screen free audio player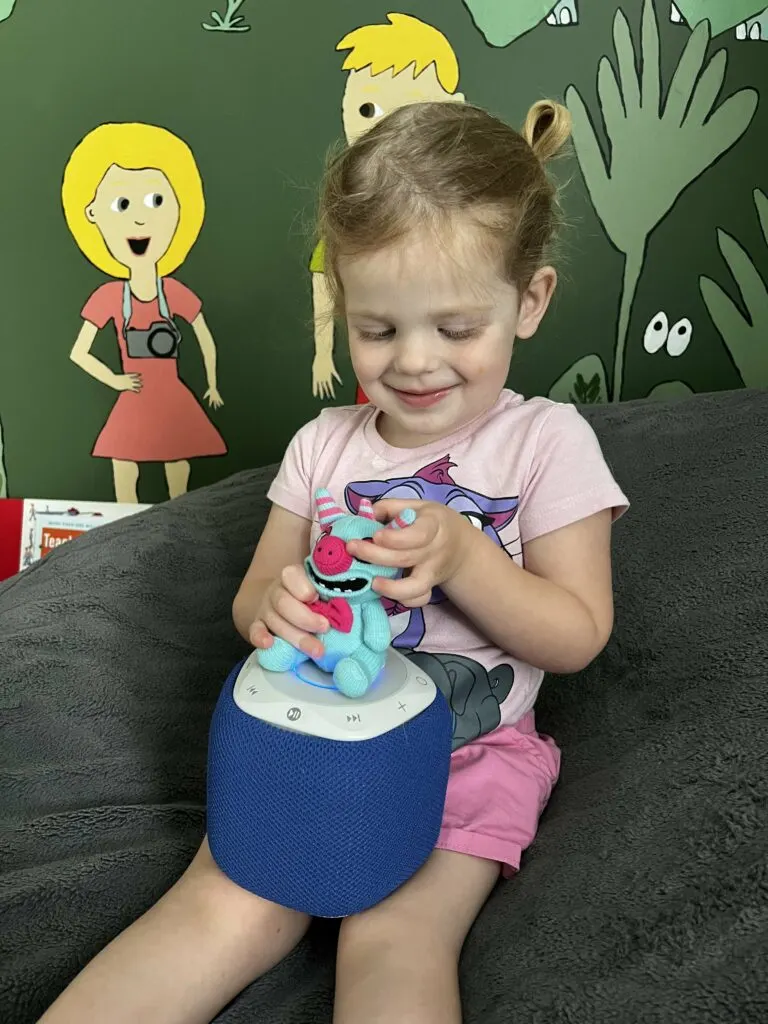 Another gift my kids LOVE is a screen free audio player. We personally have StoryPods but Tonies and Yoto are two other popular brands.
My kids both use their StoryPod during quiet time in their room. It is basically a speaker box with figures that stick magnetically on top and automatically play different music, stories, and games.
These are GREAT for preschool aged kids and are a wonderful educational, screen-free gift for 2 year old boys.
Dinosaurs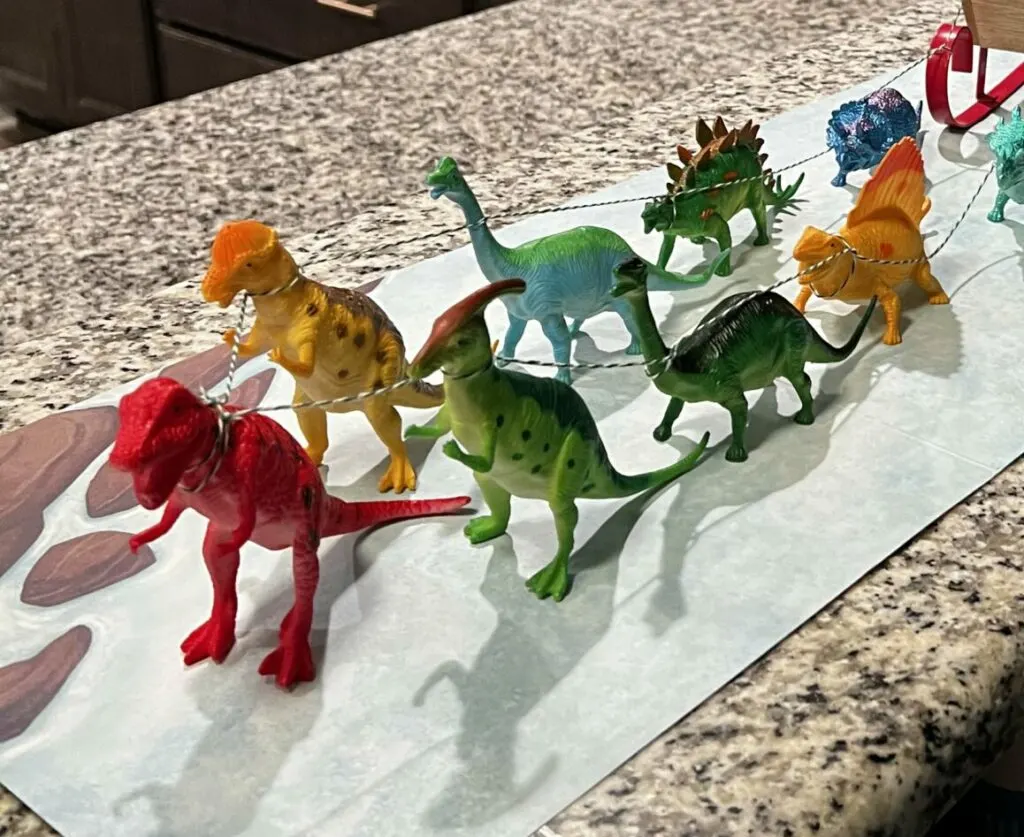 The other thing that my son was obsessed with when he was two was dinosaurs. And he got a ton of dinosaur toys for his birthday that year. There are so many dinosaurs to choose from but we really love this little set.
Bath toys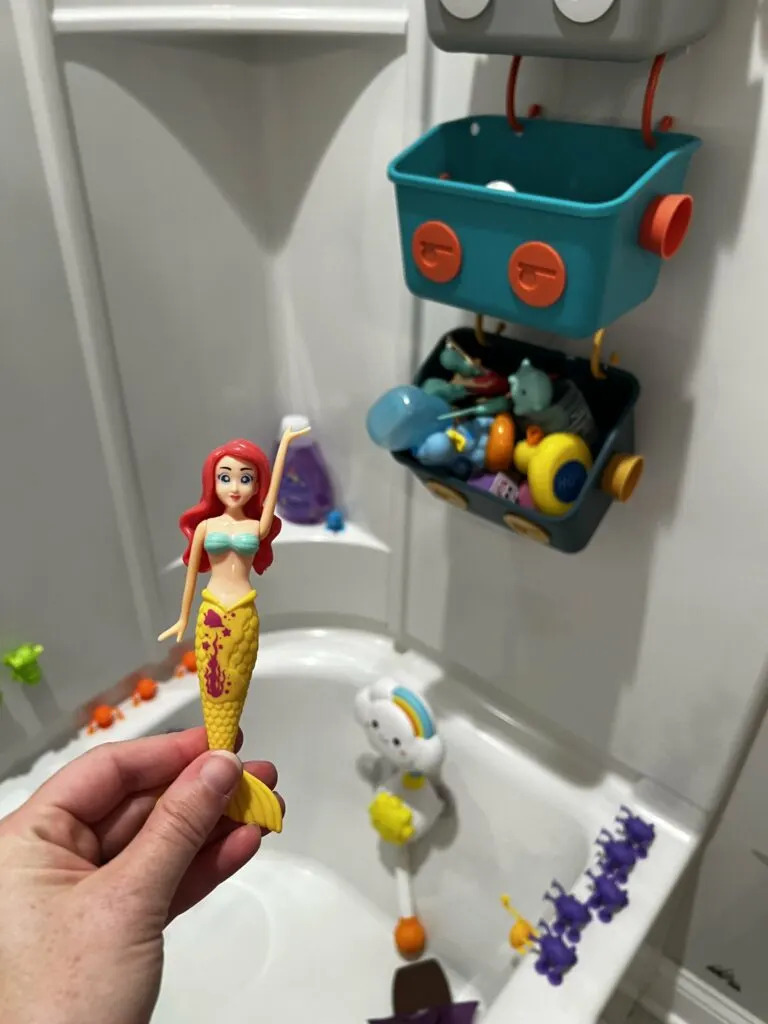 Bath toys are another great toy for 2 year olds! My kids LOVE a bubble bath, so any kind of bubble bath or bath bomb is a hit.
They also love these bath toys:
Digital Camera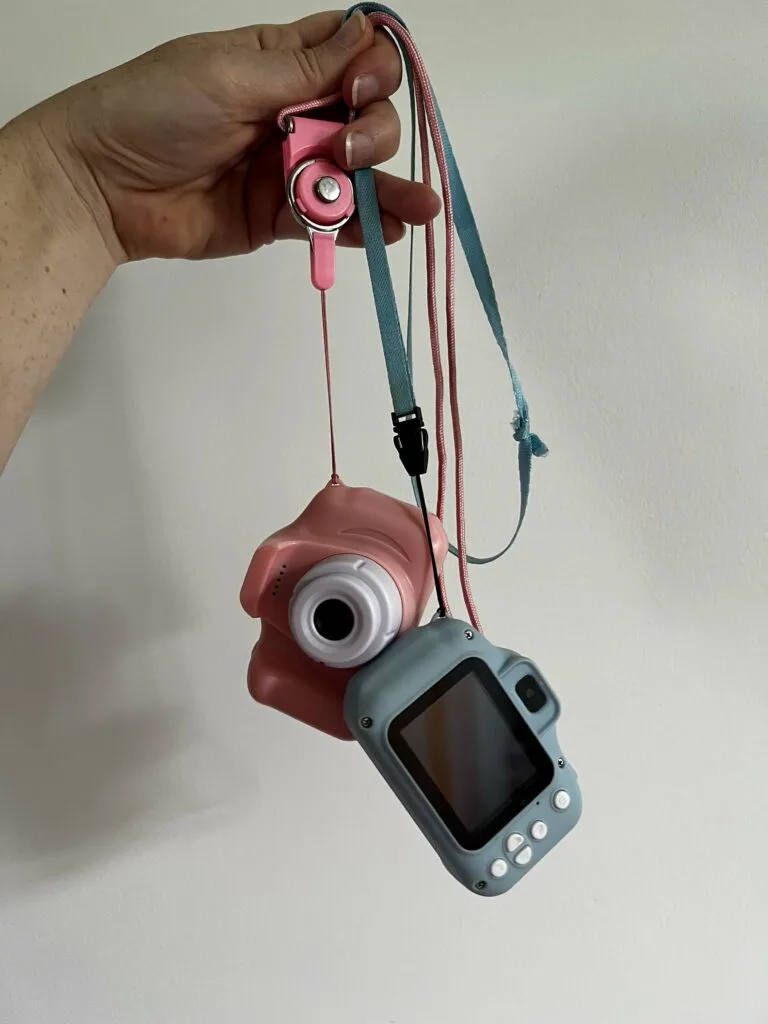 My kids both LOVE their digital cameras. They go wild running around taking pictures of each other, their toys, even the walls.
These kids cameras are shockingly cheap and actual working cameras. It's a great toy for 2-year olds!
Play tent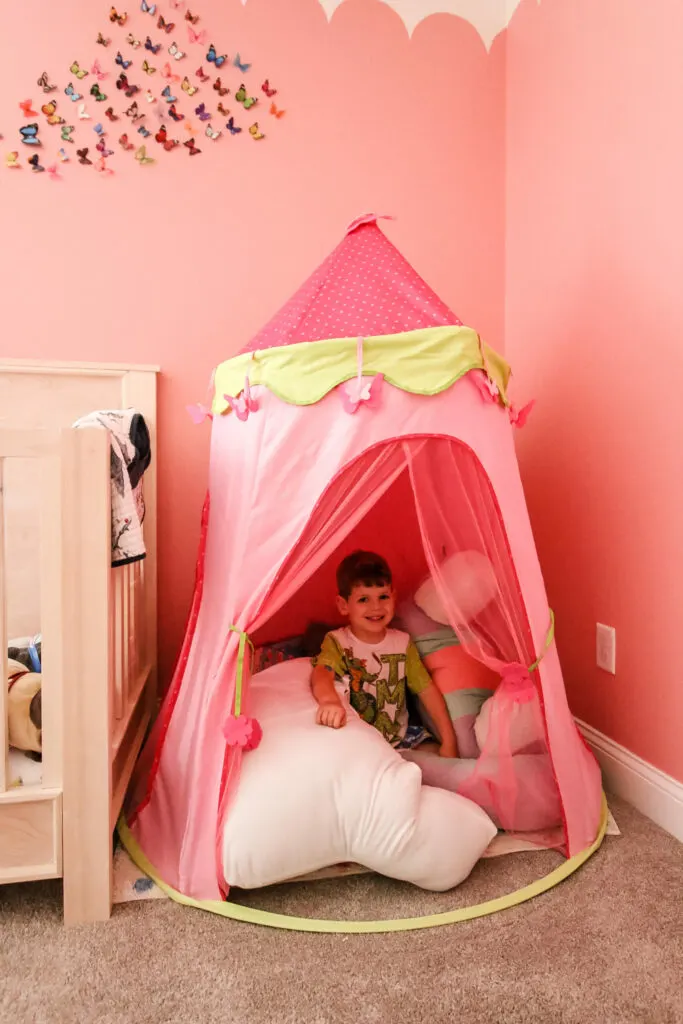 A play tent is a great option for a physically large gift to give a 2 year old that isn't that expensive. My kids each have a tent in their rooms and love using them for imaginative play, reading, and some alone time.
"Get out of my tent!" is a common refrain around here.
These come in pop up form, meaning they can store away flat when not in use. So, if you want a big gift and parents say "nothing big!" this is a good gray area idea.
Push car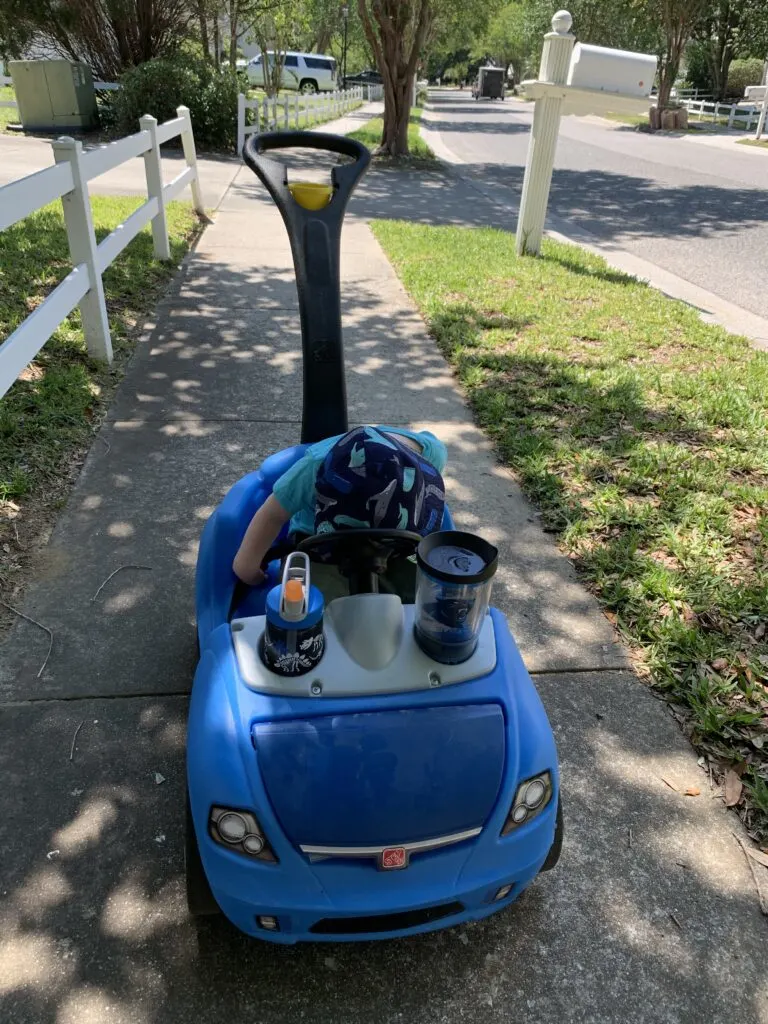 If you go on a lot of walks, I highly recommend a push car for your 2 year olds!
We had both the single and the two seater, and they are so much more fun than a stroller and perfect for walks around the neighborhood.
We also took ours to parks and even the zoo! It's light enough to lift into the trunk and kids love honking the horn and driving the steering wheel!
Magnetic Tiles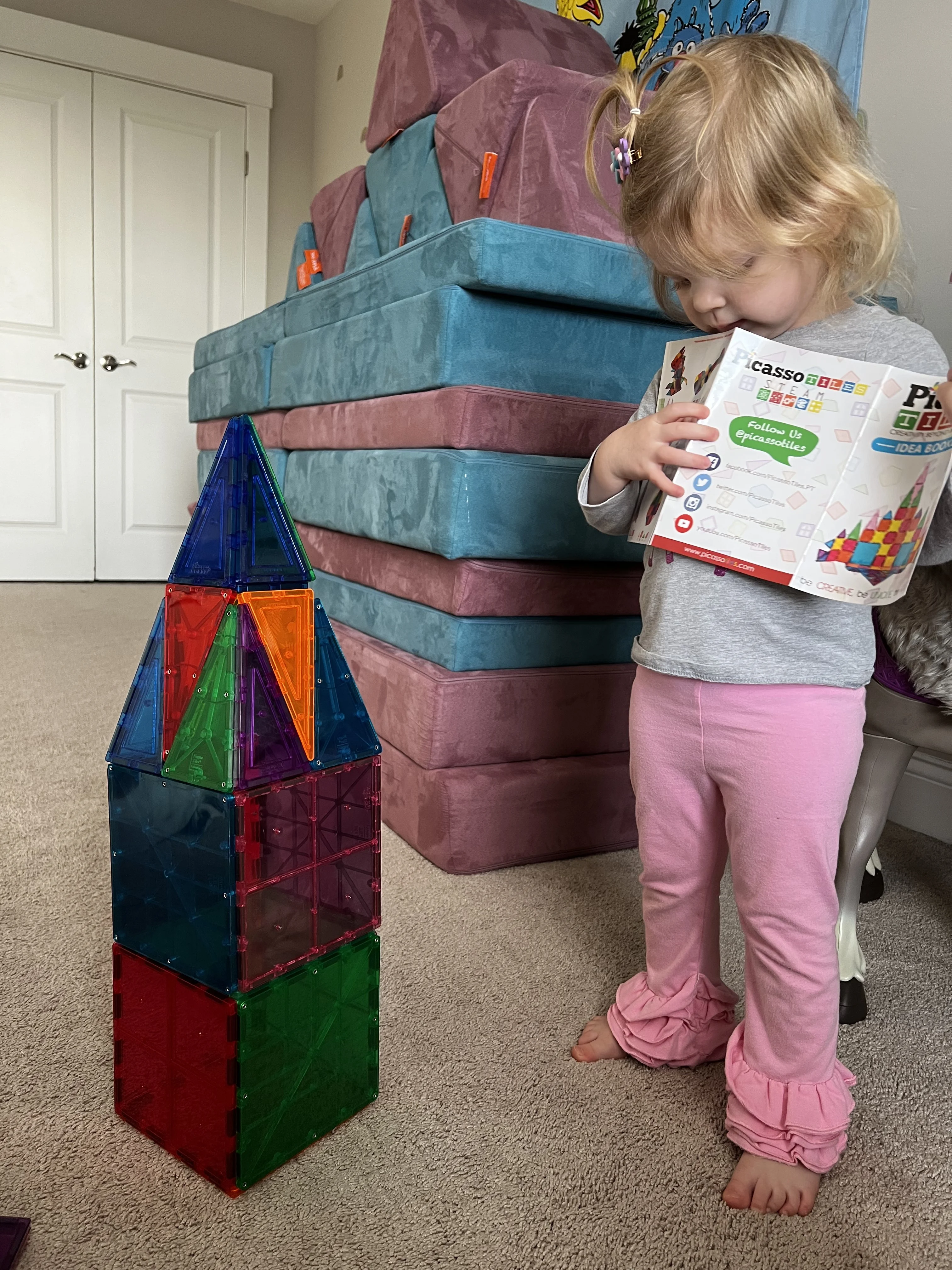 Magnetic tiles are a go to on any gift guide I make for kids aged 2-6. Magna-tiles are the classic brand, but I suggest Picasso Tiles for their quality and value.
Magnetic tiles are like magnetic building blocks and can be used to build towers, castles, and so many things. At 2 years old, kids will need help building, but they love participating (and love crashing builds!)
Bubble Machine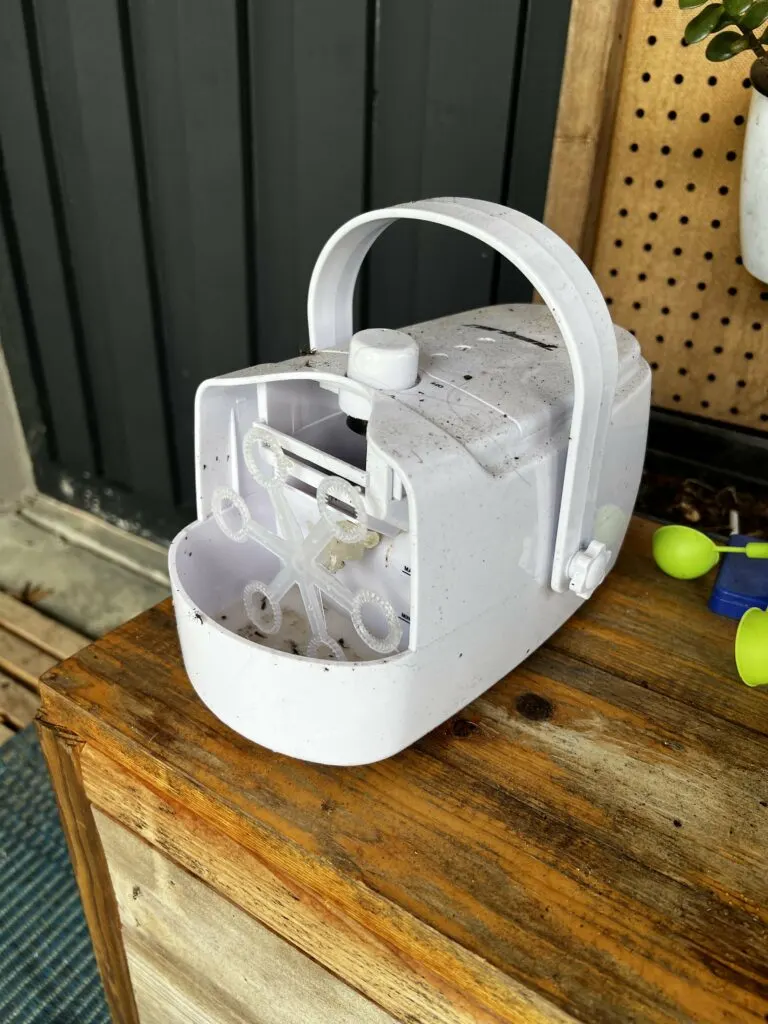 A bubble machine is always a good idea. Skip some of the cheapest ones and get this one – the smaller ones burn out quickly. Go ahead and get the jug of bubble juice now, you'll need it!
Play food/Grocery cart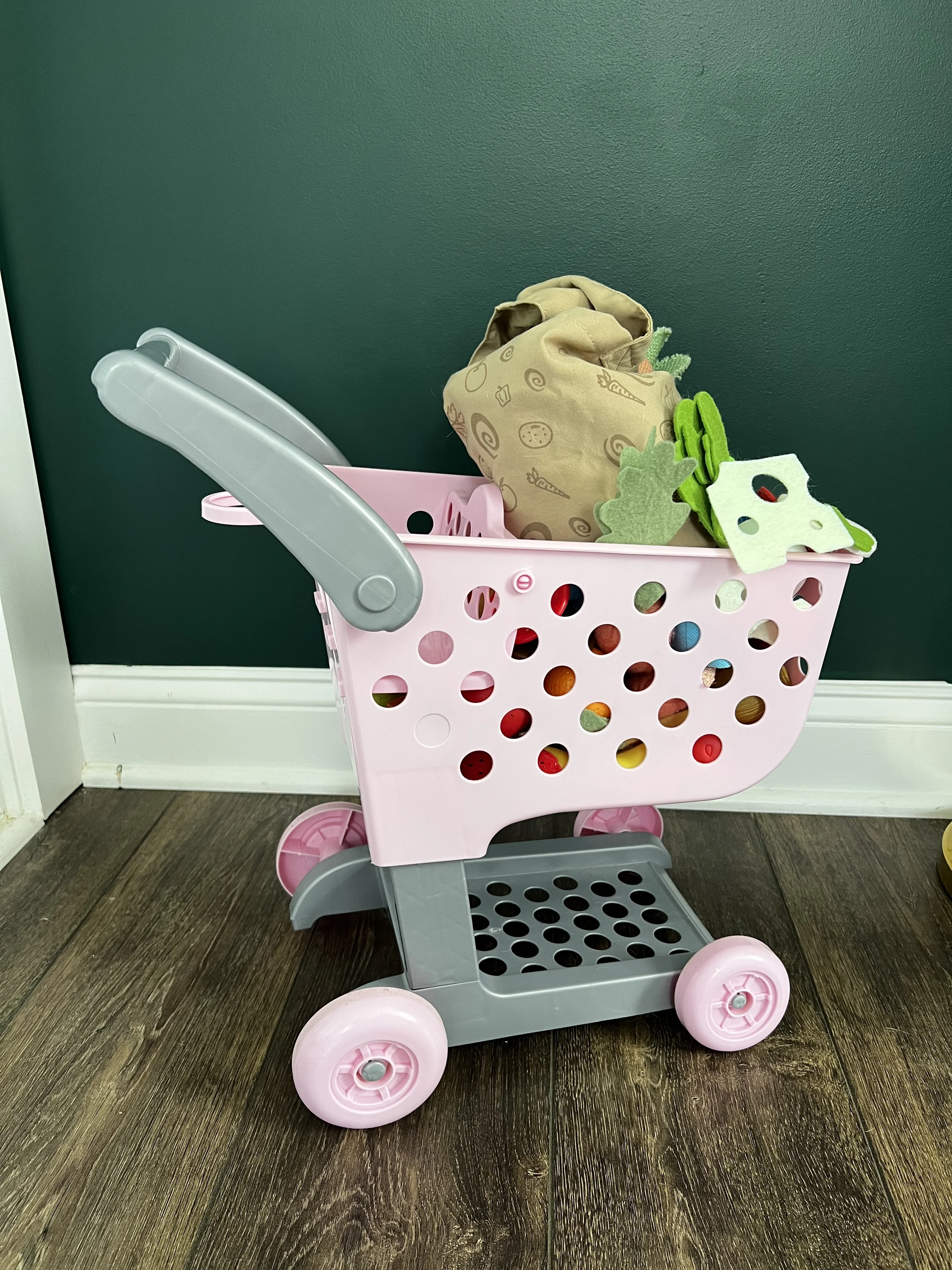 My final suggestion for a gift for a 2 year old is play food. I feel like play food/grocery carts are often marketed as "girl" things which is ridiculous. My husband shops and my son LOVES play food.
I love play food paired with a play grocery cart. My kids love playing "hide the food" (like an Easter egg hunt) and it also of course pairs well with a play kitchen.
They make tons of sets including plastic, wood, and felt. Pick whatever fits your budget and your aesthetics!
What's your favorite gift to give a 2 year old?