Looking for the perfect Thomas the Train gift idea for your toddler? Here are my favorites – beyond just the trains themselves!
My 3 year old is OBSESSED with Thomas the Train.
It's funny because a few months ago, he didn't even know who Thomas was and it was all Puppy Dog Pals 24/7.
But then we went to the Train Depot in Hendersonville, North Carolina and he fell in love.
Now it's all Thomas the Train (and some Dinosaur Train) around here.
Toot toot.
Anyways, they're two they're four they're six they're eight, they're looking for more Thomas stuff for Christmas and their birthdays.
People – grandparents, relatives, friends – might be asking for gift ideas.
And sure, they could grab some trains. But probably your kid already has a lot of the trains if they are as obsessed as Luke is.
So, I rounded up some Thomas the Tank Engine gift ideas for three year olds and all kids that might go a little bit outside of that box!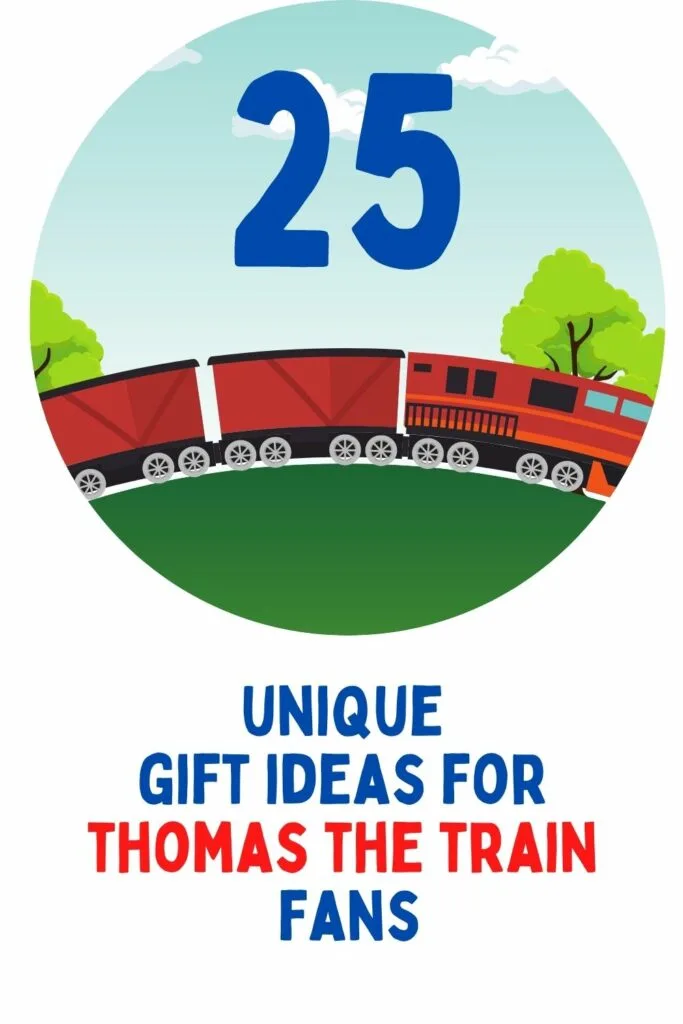 Thomas the Train Gift Guide
Shop all of my Thomas the Tank Engine Gift ideas on Amazon!
Large Thomas the Train gift ideas
These gifts are large, and usually a bit pricier, but could make a great big gift for wow factor!
The Super Station is the mother of all Thomas track set ups.
It includes a crane, the shed, and tons of track. It can hold 100 trains. It's huge but awesome!
Pop up tents are large and impressive, but they do fold up for storage. Great for reading, a ball pit, or imaginative play.
If you have the space for it, this will thrill a Thomas lover.
These trikes are good for indoor and outdoor play. Fisher Price makes nice solid tricycles and they will love this version with all the Thomas insignia!
This Ride on Thomas is best for 1-2 year olds or small 3 year olds. If your kid falls into that category, consider this awesome huge Thomas that they can sit on and roll around!
If you have a large space, this ride on coaster makes the Ride on Thomas even more exciting.
Another big gift to give a Thomas lover is Thomas the train bedding! This is an easy way to give them a thomas themed room without much effort, and it's really exciting for kids to pick their own bedding!
Smaller Thomas the Train gift ideas
Here are some smaller Thomas the Train gifts – they are lower in cost, too!
Whether they like to take their trains out and about or just need a way to store them, a carrying case is a great option! Just make sure to pick a case that's compatible with the size trains they have and use.
These hard cover books include corresponding trains to make them more of an activity than just a book! They are always a big hit!
Kids get so excited about flash lights! This is a fun Thomas themed one!
If your kid loves Mega Bloks, you'll be thrilled to know they make a whole slew of Thomas and Friends mega bloks, too!
Skip the full line of Thomas the Train bedding and go for just a pillow case instead! Still exciting for bedtime, but on a much smaller scale.
Thomas books
There are an infinite number of Thomas books but I recommend the 5 minute stories – it has about a dozen short stories in there!
If you have a slightly older Thomas fan, consider getting walkie talkies! They can pretend to be drivers on the trains communicating with each other to avoid "confusion and delay!"
This Thomas pillow is basically a train stuffed animal. Perfect for kids who love cuddly soft toys since most train stuff is hard.
Thomas the Train clothing + gear gift ideas
If you are looking for clothing that has a Thomas theme, there are tons available. Here are some favorites!
You can never have enough Thomas T shirts! I know they are the first ones my son picks each week!
This hooded towel is perfect for beach and pool days!
Socks are one of my favorite places to hide character clothing. Thomas socks are perfect for this!
Potty training is a lot more fun with your favorite character on the underwear!
My son loves picking out really fun pajamas, so Thomas ones are obviously a must!
This conductor hat is not really Thomas themed, but it's on brand for train fans everywhere!
If you need a bag for school or travel, this thomas one is perfect!
Thomas the train stocking stuffer ideas
If you are looking for stocking stuffers, friend gifts, school class gifts, or anything similar, these are all perfect for that!
These mini trains come in 20 packs and are the perfect party favor or stocking stuffer!
Thomas Socks or Underwear
Socks or underwear (both linked above) are kind of the classic stocking stuffer in my book. Go with a Thomas theme!
Everybody's got to eat. Lunchtime is a lot cooler with this set of utensils.
This train whistle might be too annoying to give to your own kid, but it's great for a train loving kid who doesn't live in your house.
Stickers are always a HUGE hit around here! Cut them up or leave them in big sheets!
Any other favorite Thomas and Friends gift ideas?!