Planning a trip to Hendersonville, North Carolina? Here are some of our favorite things to do there with kids!
We just got back from a week and a half in Hendersonville North Carolina. We had such a fantastic time, I felt compelled to round up all of the great activities that we did with our kids.
Hendersonville is located about 45 minutes from Asheville. We've been to Asheville a lot but this was our first time in Hendersonville.
We stayed in an Air BnB which was a great way to have a cabin to ourselves, bring our dog, and have a great outdoor space to enjoy.
We were very impressed with how kid friendly Hendersonville was and how much the area had to offer our family.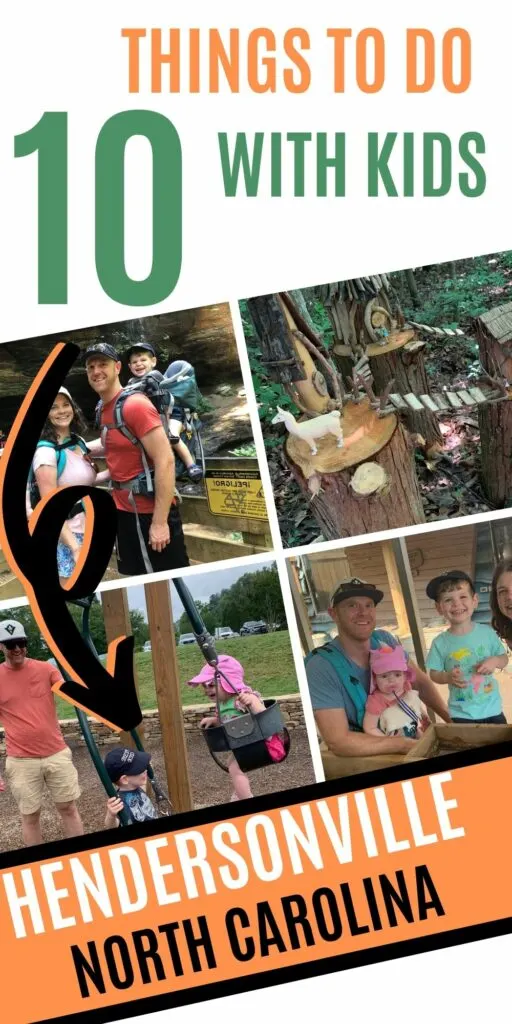 Things to do in Hendersonville, North Carolina with kids
Here are our favorite things that we did with our kids in and around Hendersonville!
Fairy Garden at Bullington Gardens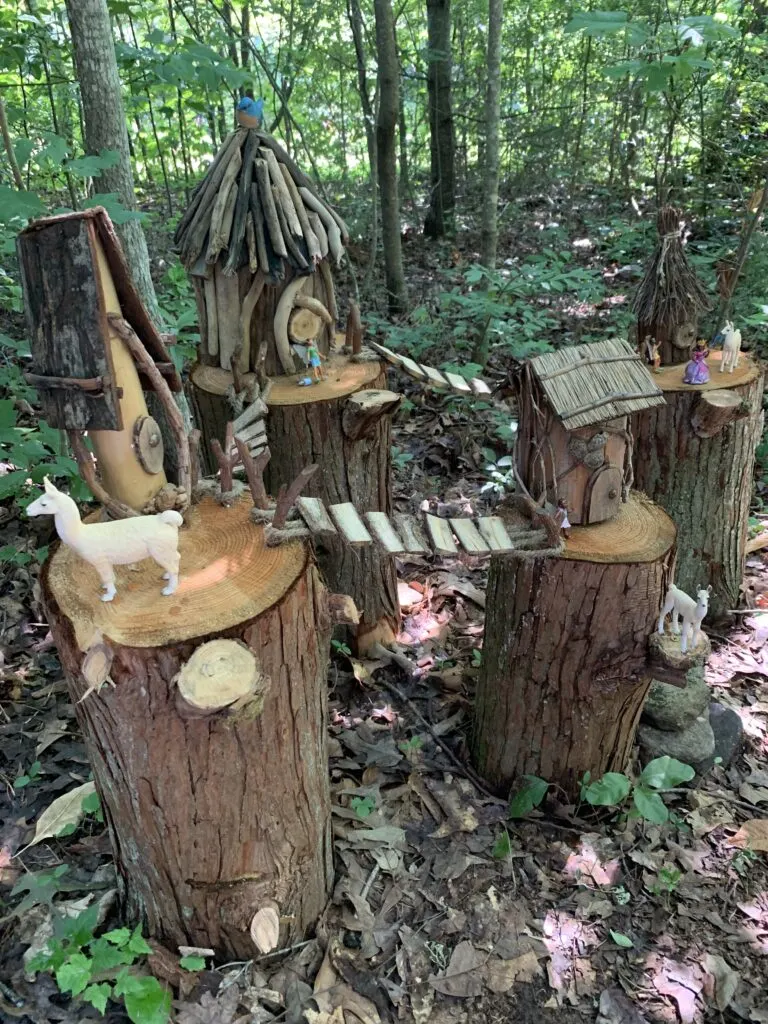 Bullington Gardens is a beautiful botanical garden. It's free to go and has some nice walking trails amongst a butterfly garden, dahlia garden, and lots of other gorgeous flowers.
However, the highlight by far was the Fairy garden. Like, our two year old liked it so much he requested we returned – so we did it twice!
The fairy garden is a wooded trail in the back of the garden (behind the building with the bathroom). The trail loops into the woods and back.
All along the trail are little fairy displays. Someone spent a LOT of time setting these up.
In addition to the little miniature displays, there are trees with wooden doors on them. The doors are on hinges and kids are encouraged to open them up and find fairies inside.
Luke went absolutely wild for the doors. I think we need to put some in at home!
Like I said, this was completely free, though we were compelled to throw a few bucks in the donation bin since Luke loved it so much!
Painted Bears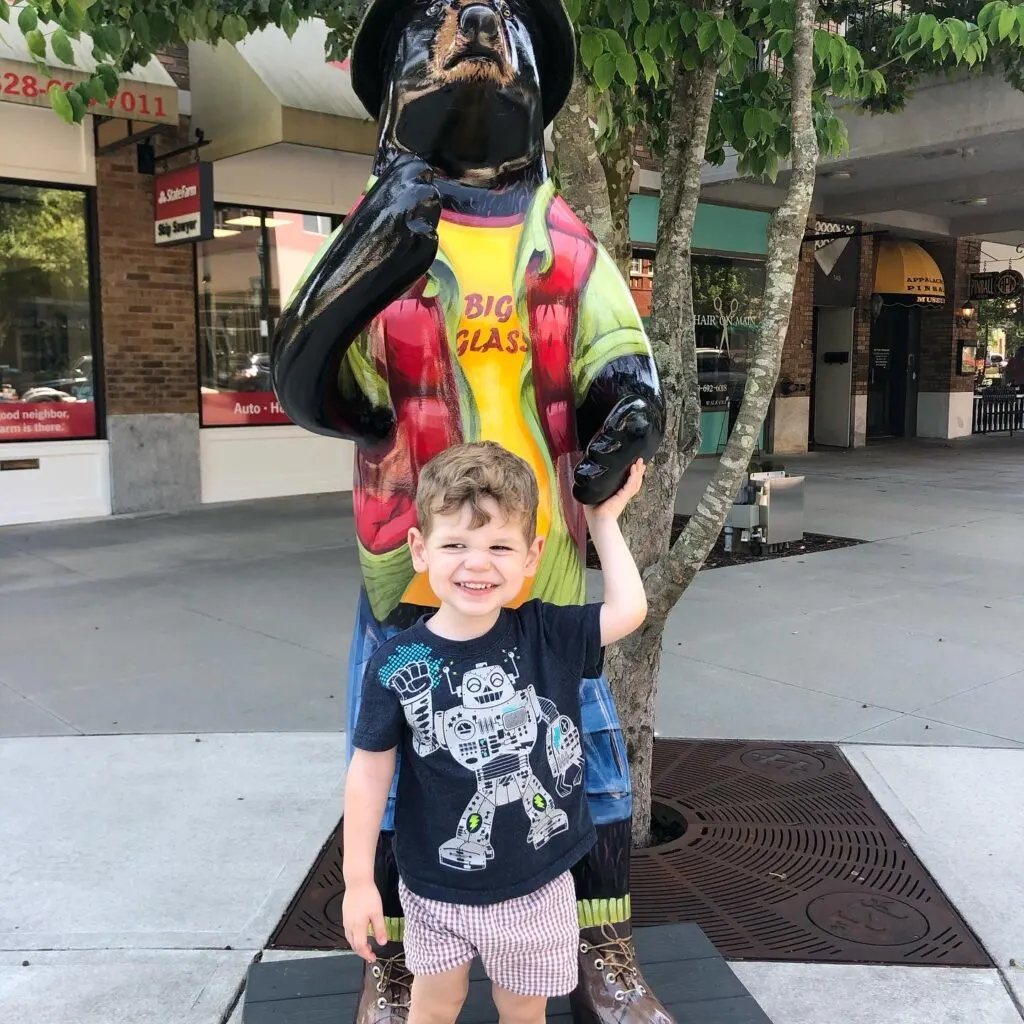 On every corner of Main Street in dowton Hendersonville, there are painted bears! These are figurines painted by local artists and auctioned off for local charities at different intervals.
Luke and Rory both really loved going to see these bears. They like to touch them, talk about the colors and designs, and have their pictures taken with them!
It was free and simple (great to do when doing something else on Main Street) but once again, Luke talked about it all week long and we went back a few times!
Farmer's Market
Hendersonville has a farmer's market every Saturday morning. We really had fun walking up and down it! There were a TON of bouquets of flowers, potted plants, produce, and homemade goods for sale.
There was also live music and the street is completely closed off, making it very family-friendly.
Train Depot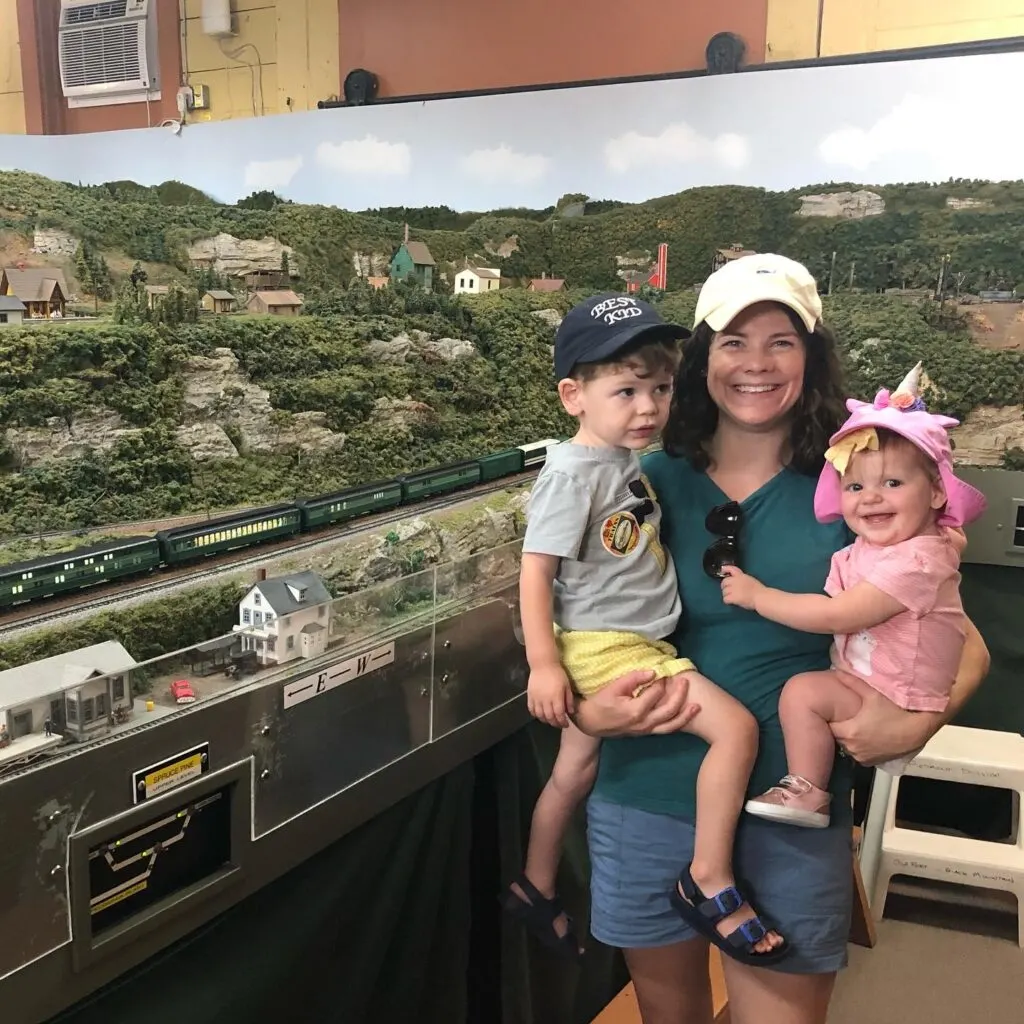 The train depot is open on Saturdays during the farmer's market. It is run by the local train lovers club and let me tell you it is AWESOME.
There are two big rooms of train set ups (with little miniature towns modeled after different North Carolina Towns!)
There's also a smaller Thomas the Tank engine loop set up on the end. And, outside, theres another Thomas and Percy that go outdoors!
We stayed for a really long time watching it over and over. If your kids love trains, this is a must-do.
Hot lunch tip: cross the rail road tracks and grab tacos at White Duck. You're welcome.
Pisgah National Forest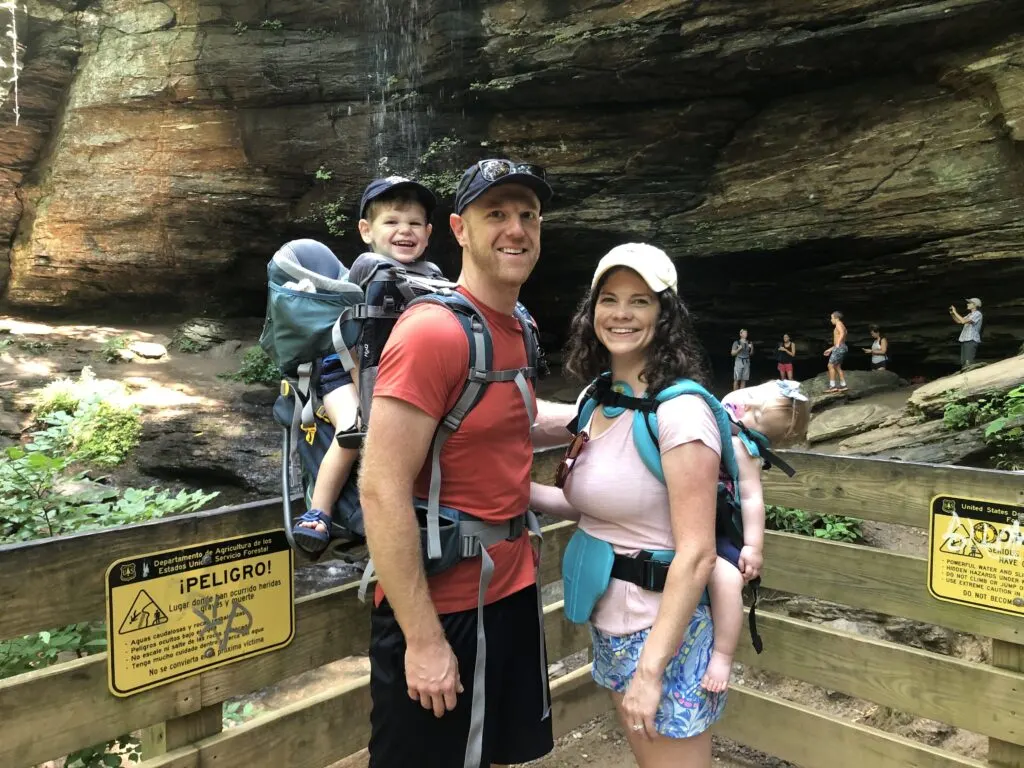 Pisgah National Forest is our pick for family-friendly hiking in the area.
First, stop and see Looking Glass Falls. It's just an overlook – park and walk down the stairs to see the BIG waterfall. Wear water shoes because you can walk in the rocks at the bottom!
Next, drive a little further and park and hike the trail to Moore Cove Falls. This is a little under a mile of a hike, but very doable. We did it each with a kid in a backpack!
When you get to the falls, you can play in the rocks underneath, go in the cave under the falls, and even walk under the waterfall! If you like to get wet, wear a swimsuit!
Finally, there are lots of picnic spots. Bring a bagged lunch and a blanket and lay out and enjoy the beautiful day!
Afterwards, head to Brevard (the town right outside the entrance). The main street is super cute and they are obsessed with white squirrels there! Visit the white squirrel gift shop and grab an ice cream cone or a beer too!
Elijah Mountain Gem Mine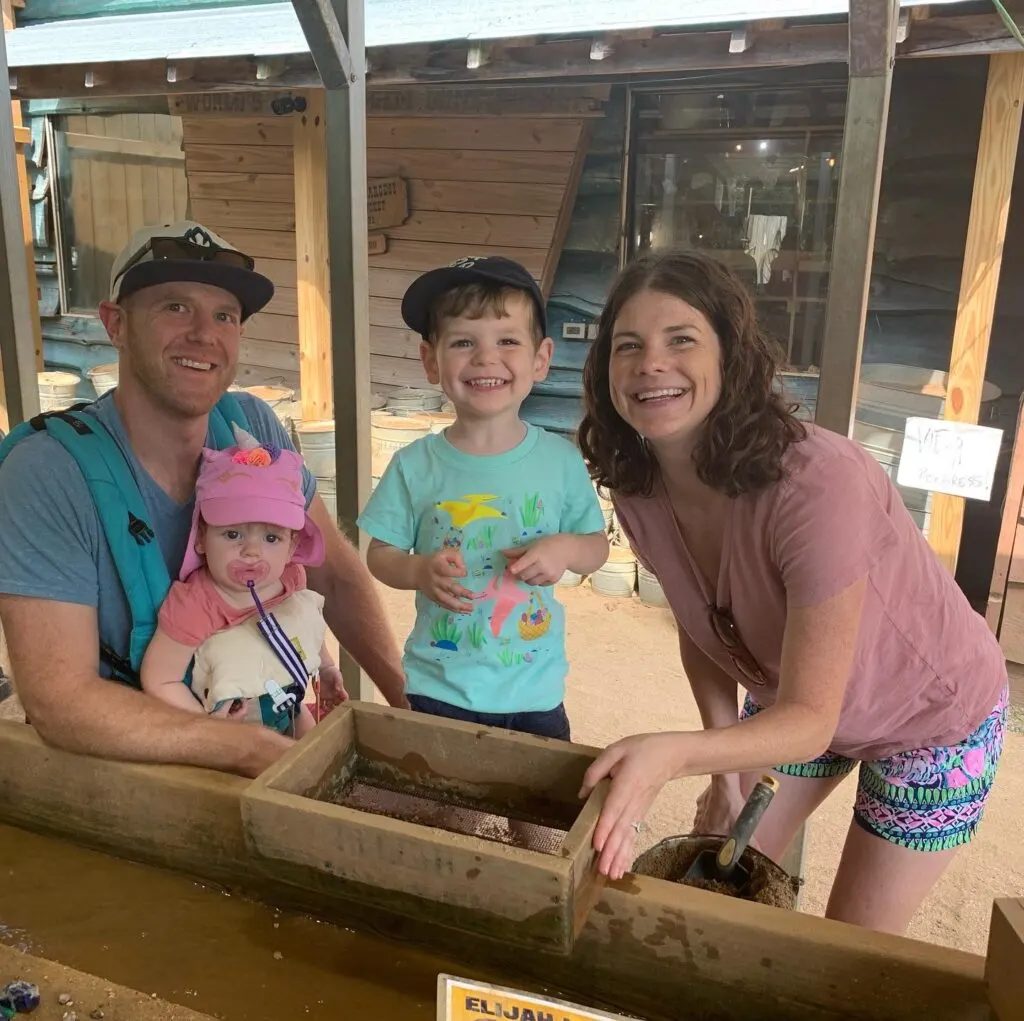 Gem Mining was definitely a big treat on our trip. We got just the smallest bucket (since our 2 year old was the only one mining and he has a short attention span). There were lots of families doing big bins though!
We were really impressed with the number of big "gems" in the small bucket. Big buckets come with geodes and fossils, too!
Additionally they have a huge gift shop with lots of crystals to check out. There are goats, chickens, and peacocks. Don't miss walking down to see the big metal dinosaurs!
Picnic at Jump Off Rock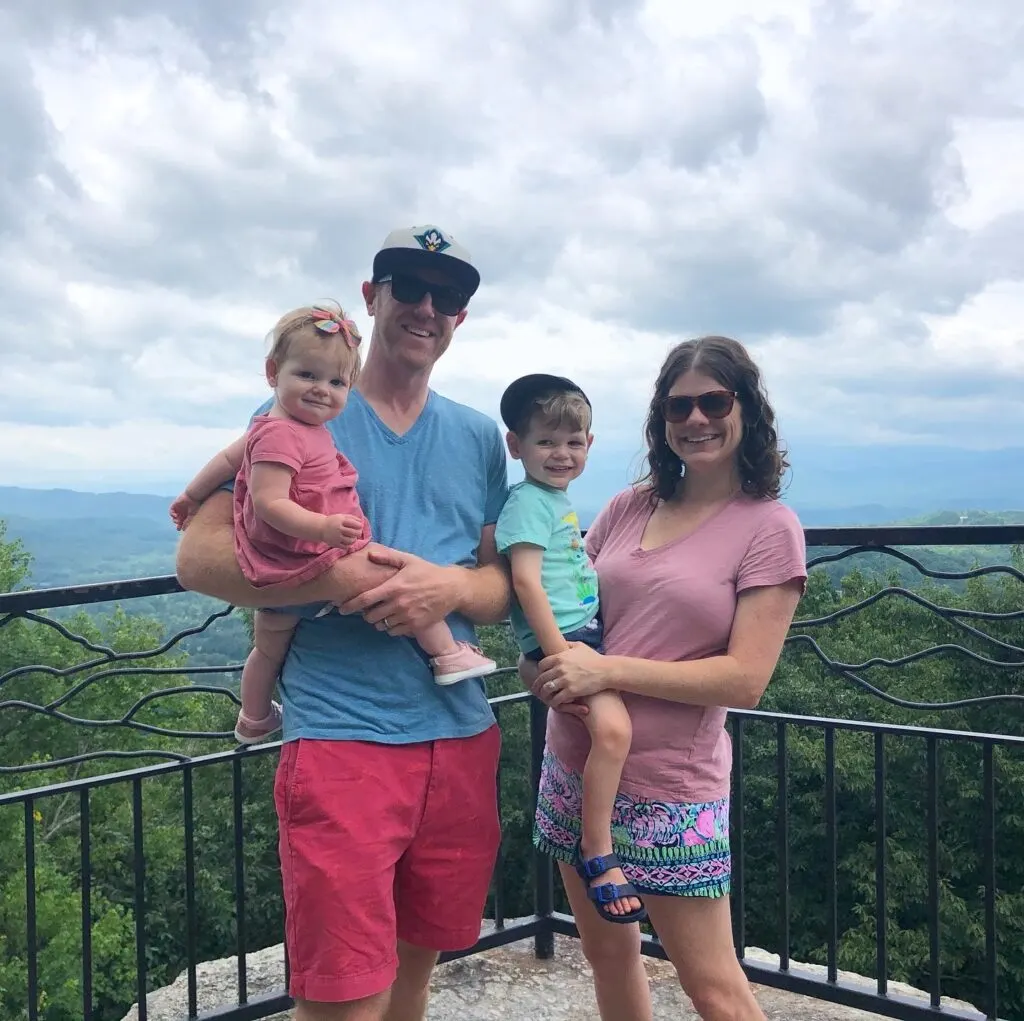 We drove to Jump Off Rock overlook after going gem mining and had a picnic lunch. This is a beautiful overlook (located in a neighborhood!) with panoramic views of the blue ridge mountains.
We laid a blanket out in the grass and ate lunch. It was heavenly! We prefer picnics to eating in restaurants with our small kids, and this was a fantastic place to do it.
Flat Rock Park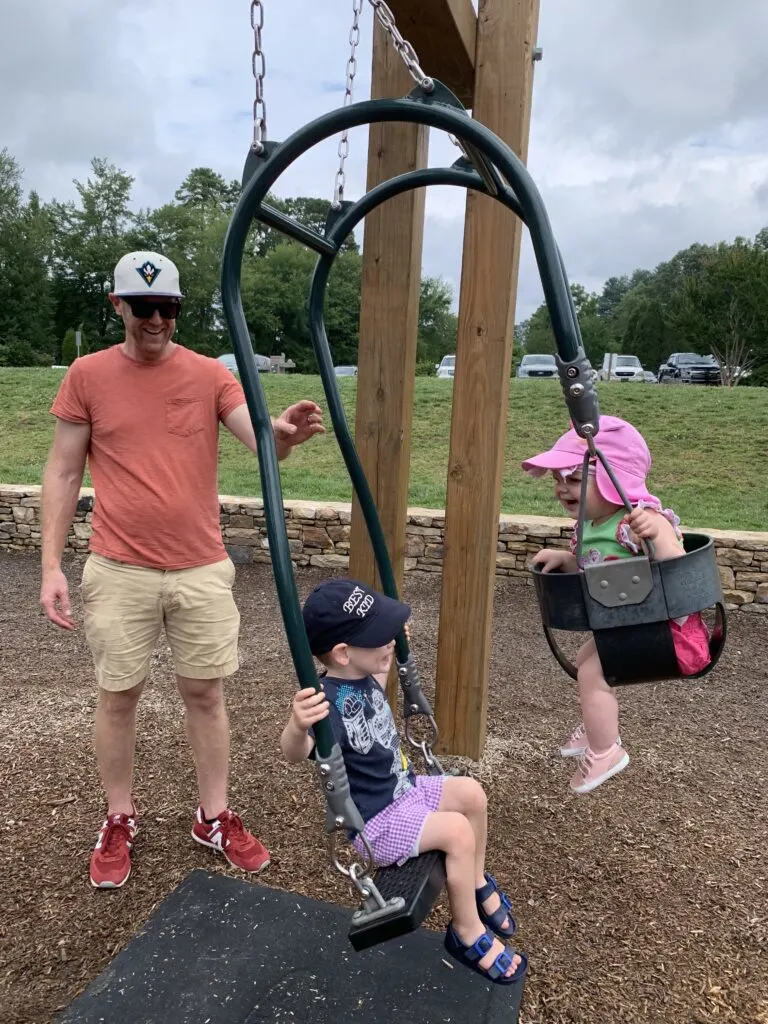 Flat Rock Park is an awesome playground and park. It actually used to be a golf course but was converted to a big park with miles of trails!
There are two playgrounds – one for older and one for younger kids. It's very Ninja-Warrior with lots of balance and climbing things.
It was a really cool find!
Children's Museum
There is a children's museum on Main Street of Hendersonville. We went one morning. We have been to a few children's museums and I will say that this one was just OK – not a huge space (it's a small town) and when we were there it was overrun with a field trip of older kids.
I would say that the children's museum is not a must-do but is a good way to spend a rainy morning if you are bored looking to burn some kid energy.
Breweries
OK so breweries aren't for kids, but our kids love going to them. We pack lots of snacks and toys and stick to sitting outside where they can be free to have fun.
Our favorites were Bold Rock (hard cider with a really big outdoor area), Mills River Brewing Co (really cool outdoor area built on a hill), Sideways Farm (has a u-pick flower farm attached!).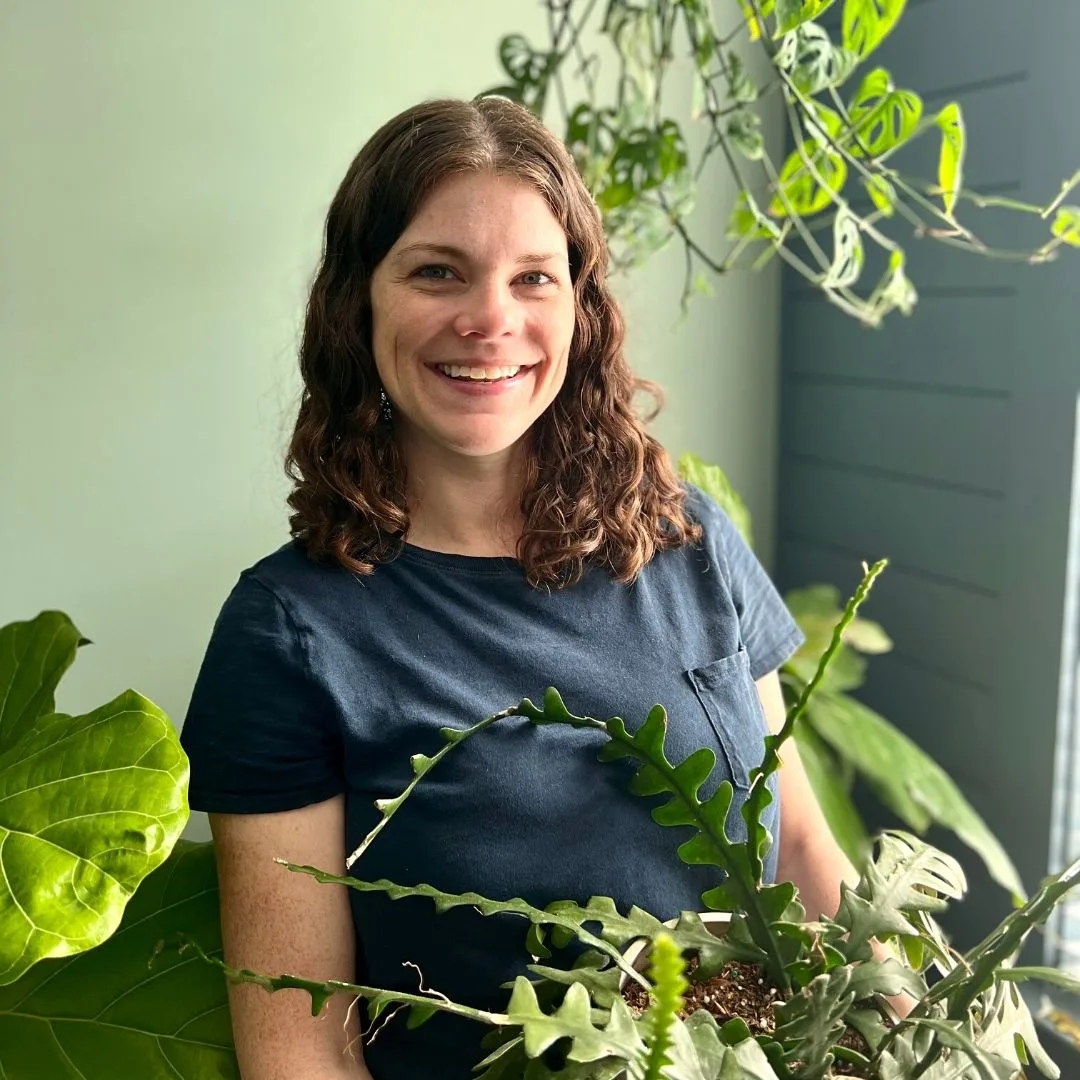 Hey there, I'm Morgan, the creative mind behind CelebratingWithKids.com! As a parent of two lively little ones, I've made it my mission to turn ordinary days into extraordinary adventures, sharing playful activities, thoughtful toy reviews, and delightful printables to help families celebrate every moment together. 🎉👨‍👩‍👧‍👦🎈