Planning a family vacation to the mountains? Here are our favorite things to do in Blowing Rock NC with kids!
Blowing Rock, North Carolina is my idea of heaven on earth. I grew up with a family home in town and, while w no longer own that home, I still dream about Blowing Rock regularly.
We recently spent a week in Blowing Rock with our 1.5 and 3.5 year olds. It was an amazing week with perfect weather (hello long sleeved shirts in June, it was such a relief from the heat!)
Blowing Rock is right next to Boone, home to Appalachian State University, lots of breweries, and tons of cool antique shops.
But we spent most of this trip in actual Blowing Rock.
Here are my favorite family friendly activities in Blowing Rock!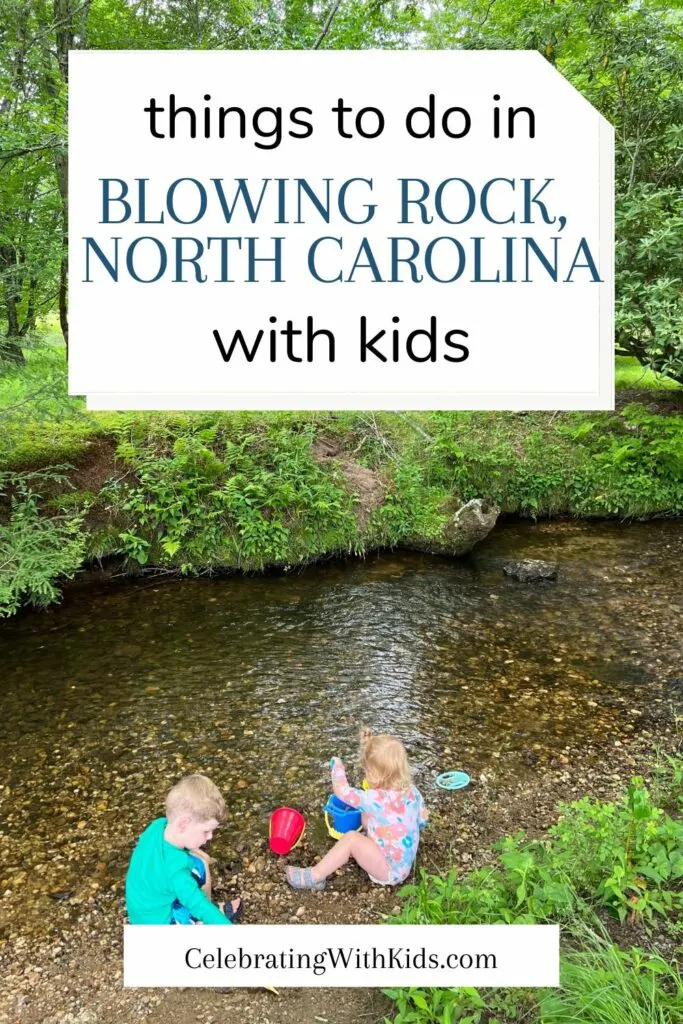 Blowing Rock NC with kids
Tweetsie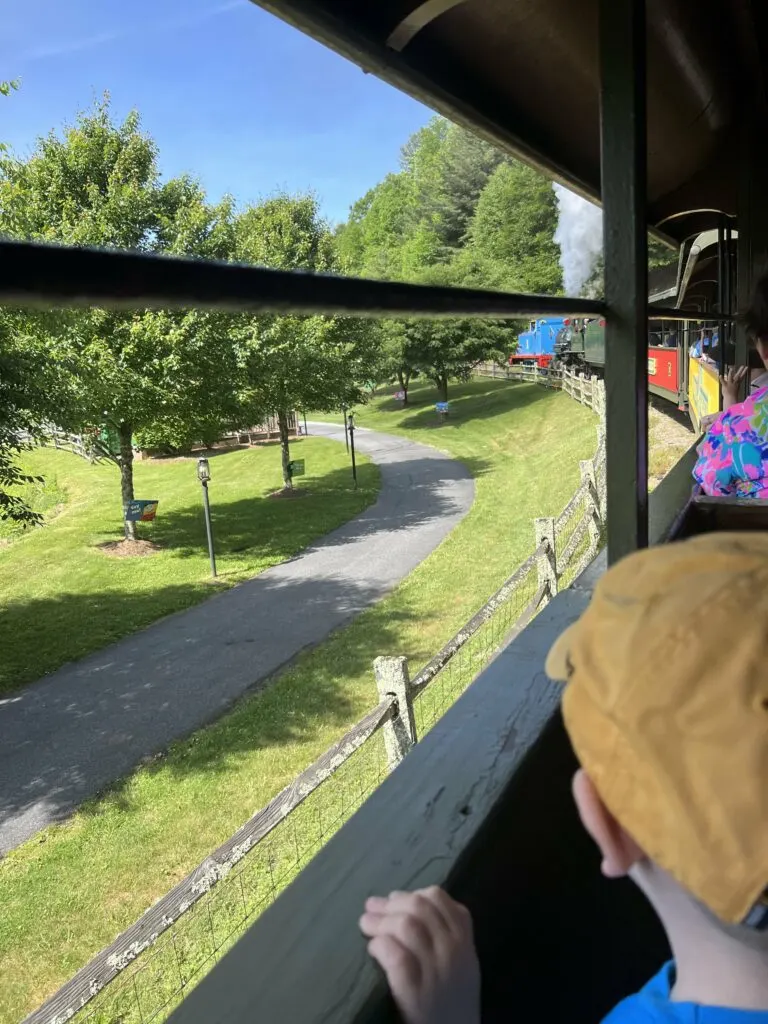 Tweetsie Railroad is a train themed mini theme park (more like carnival) between Blowing Rock and Boone. I would say it's best for ages 2 – 7.
This is a fun way to spend a day if your kids like carnival rides or are into trains. It's a bit pricey and not a must-do, but it is a fun option if you've never been before.
Check out my complete Tweetsie Railroad review here!
Mystery hill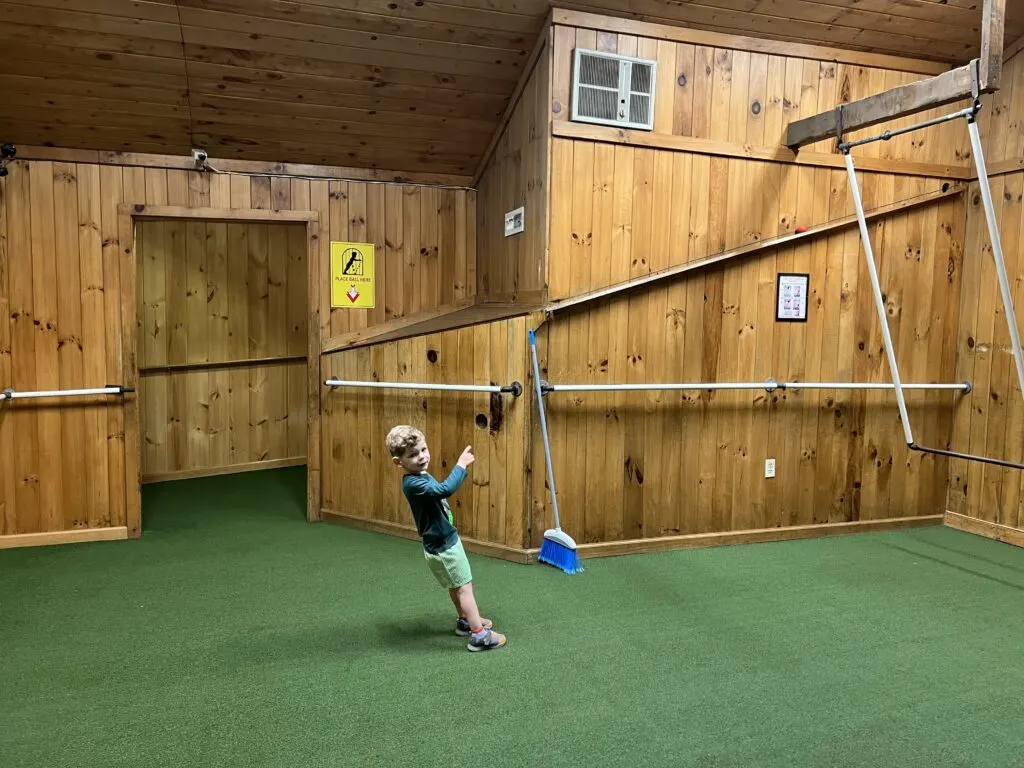 Mystery Hill is another sort of cheesy attraction for kids. It features a room built on a slant but everything rolls and runs uphill. If your kids like optical illusions, it's fun.
They also offer gem mining, bull riding, and a Native American small museum on the property.
Read our full Mystery Hill review here.
Gem mining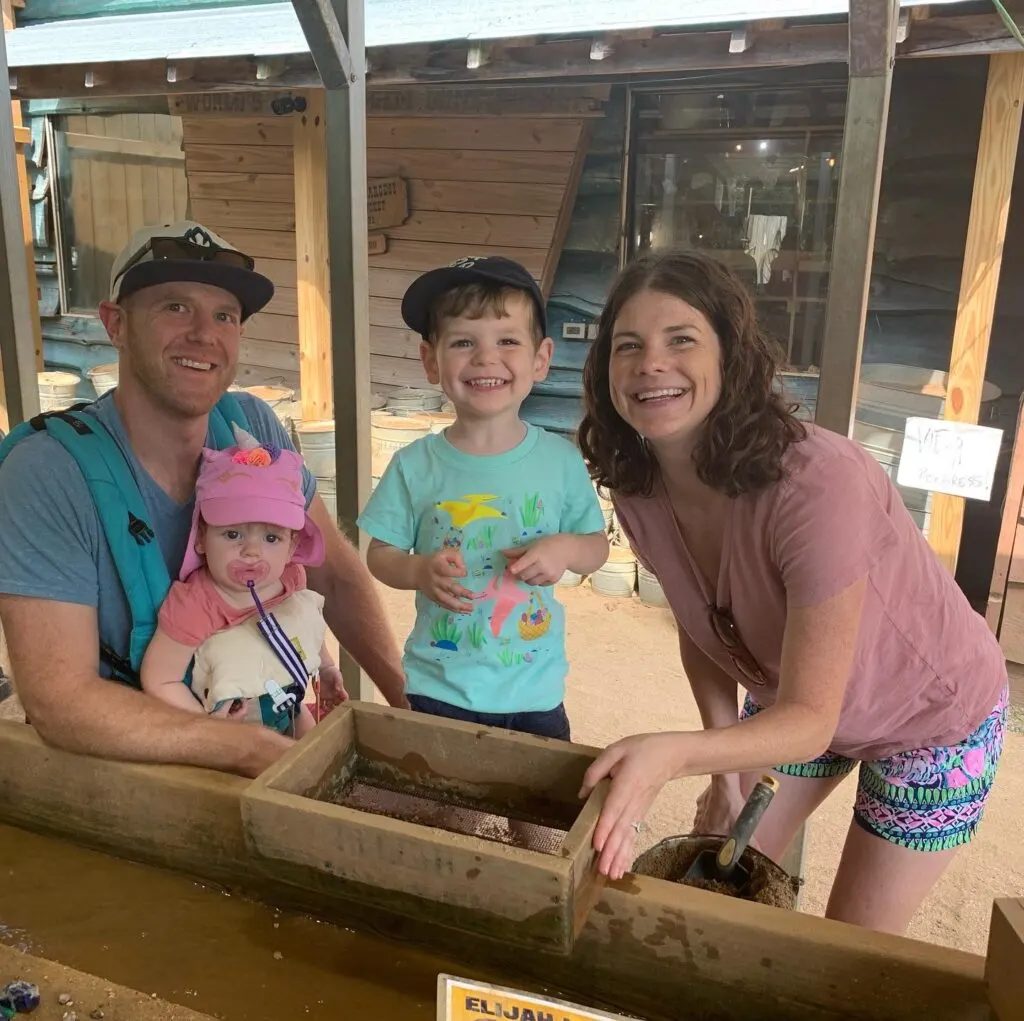 I highly recommend taking your kids gem mining. You can go at mystery hill, Doc's Rocks, or Foggy Mountain gem mine. I always suggest getting a bigger bucket as the bigger buckets have better stuff!
Grandfather mountain
Grandfather Mountain is a state park located just outside of Blowing Rock (just down the parkway). It features the mile high "swinging bridge". If you came in the 90's, note that there is a new bridge that does a lot less swinging!
The kids loved walking on the bridge and climbing the rocks at the top of the mountain on the other side. Obviously, you need to use extreme caution.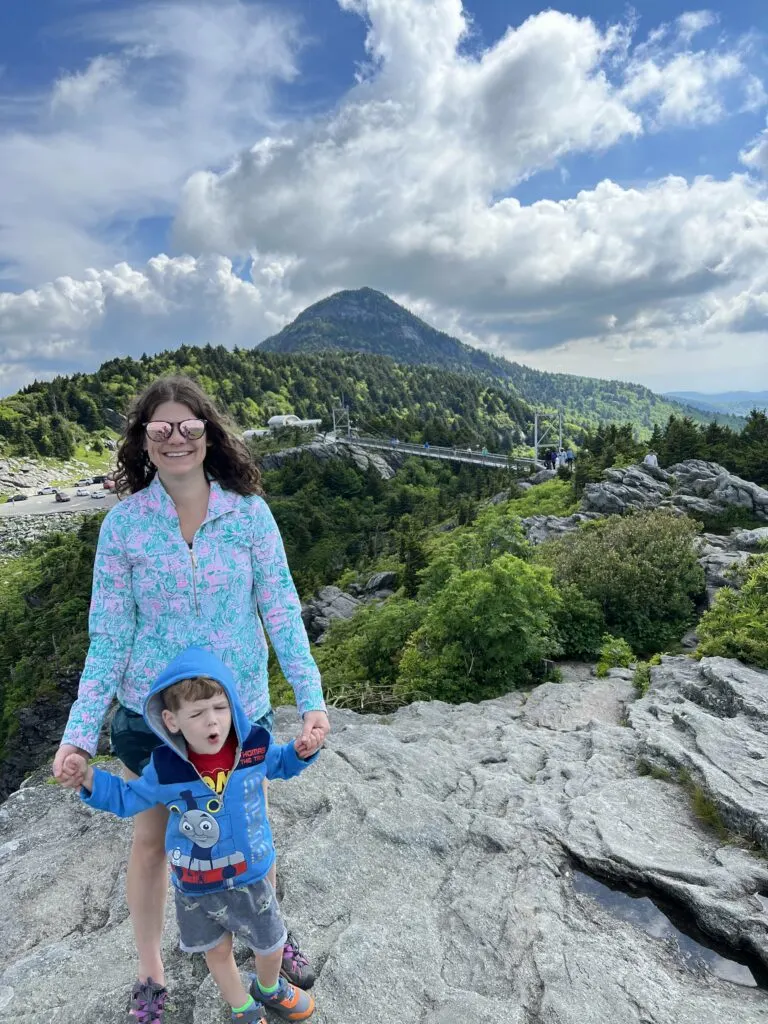 There are also lots of hiking trails and picnic spots. I suggest bringing a picnic and a picnic blanket in case there isn't a table available.
The Woods Walk towards the bottom of the mountains is a very easy hike. Black Rock trail is closer to the top and more moderate but doable with slightly older kids (or toddlers in backpacks). The trails at the top of the mountain include ladders and signing a release form – not kid frienly!
Additionally, there is a small native animal zoo with black bears, bald eagles, otters, cougars, and an elk.
Julian Price park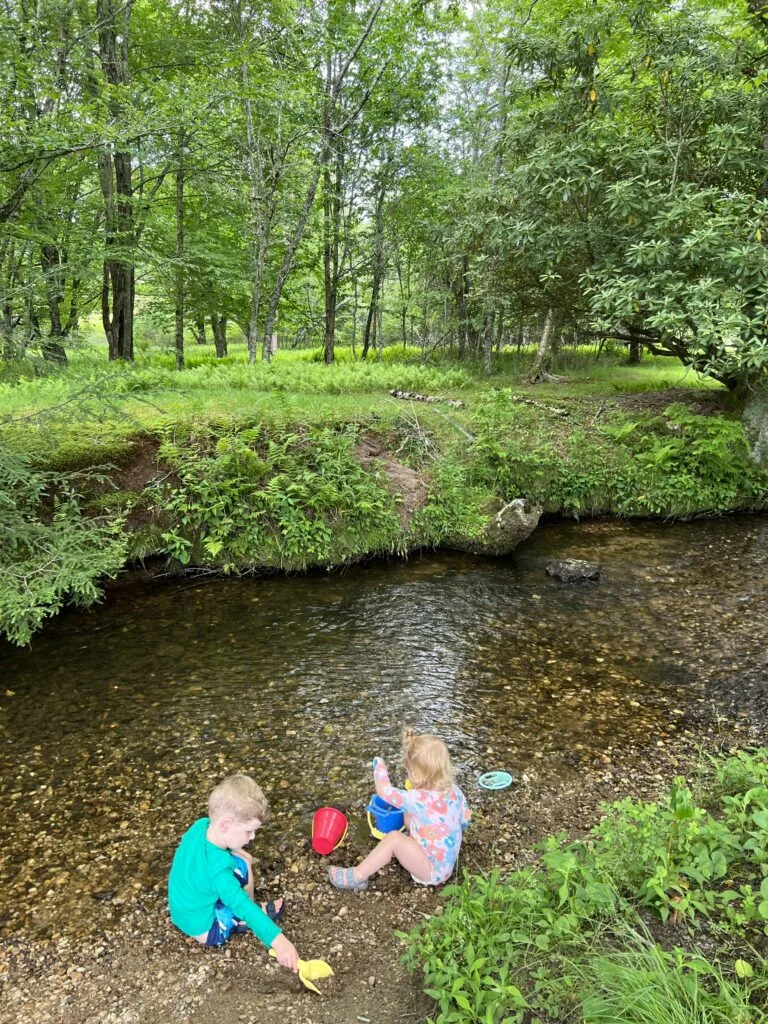 Julian Price Lake is along the parkway just outside of Blowing Rock. You can hike around the lake, canoe or kayak.
But, for younger kids, we prefer the picnic area just before the lake (opposite side of the street as the lake). There is tons of parking, picnic tables, and the most perfect creek for kids to play in.
Bring buckets, shovels, or sifter beach toys if you have them. We spent over 2 hours playing and this was our kids' favorite stop of the trip.
Memorial Park playground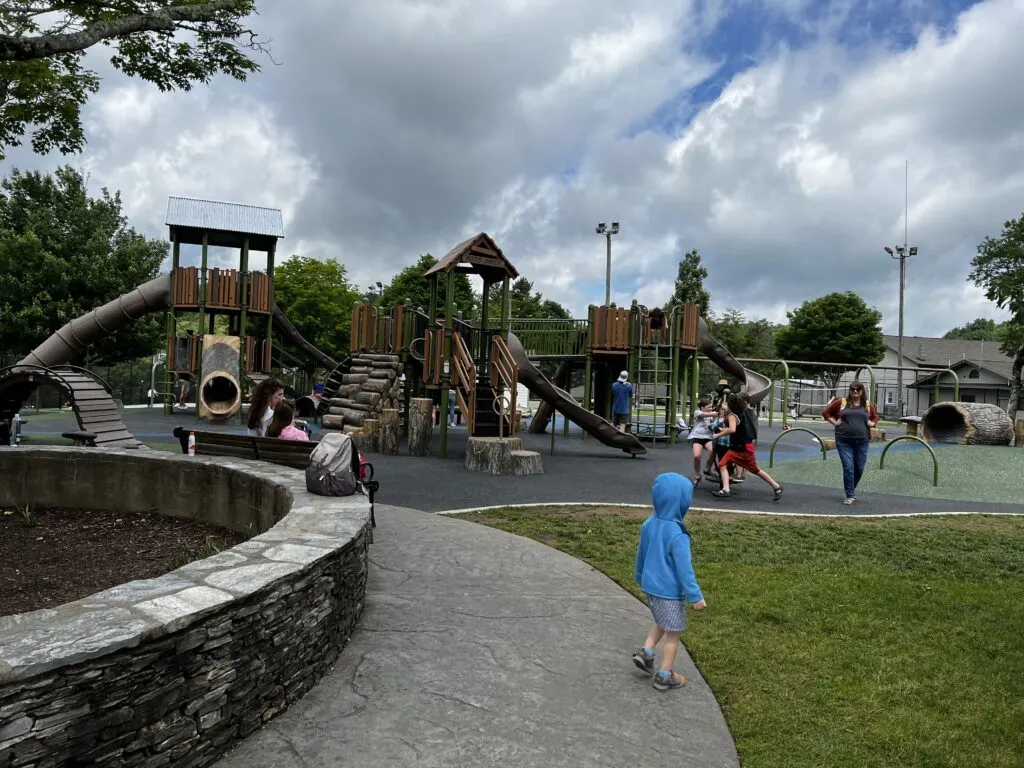 The town square downtown Blowing Rock has an amazing new playground. We heard they spent 1.7 million dollars on the renovation and it's amazing. There's sections for little kids and bigger kids – it's a great spot to go to several times.
Kilwins
Kilwins is the spot for ice cream and fudge. Walk over from the playground, but be prepared for a line on hot afternoons. Take it to a bench in the park to enjoy!
Blue deer ice cream sandwiches
Blue Deer Cookies is located in Blowing Rock, Boone, and on the road between the two. They have the BEST design-your-own ice cream sandwiches. You will not regret it.
Robbins pool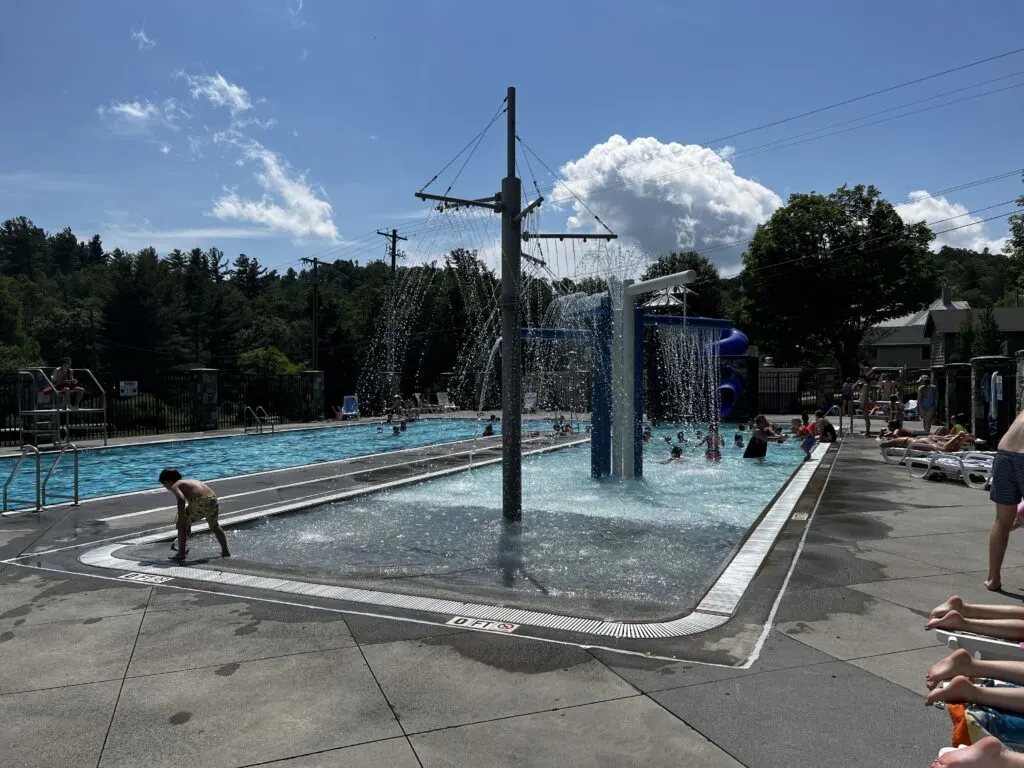 If you are visiting in the summer, check out the public pool. It's downtown just behind the playground. There is a big water slide and sprayers. The pool is mostly 3 feet deep, making it great for smaller kids.
You can pay per person to get in for the day. Just know that there are sometimes busses of summer camp kids there!
Broyhill Park
Broyhill park is a pond with a gazebo and a loop trail around it. It's located downtown just behind the playground – park in the lot behind the playground and take the stairs down. It also shares a parking lot with the pool.
This is a quick 15 minute loop easy enough for toddlers but a nice place for an easy walk.
Moses cone
Moses Cone manor is a beautiful big old house at the top of the hill with sweeping views of the mountains. It's a great place for easy paved walks along the ridge or into the hills. There's a half mile figure 8 trail that our kids love.
Bass lake
Bass Lake is the lake associated with Moses Cone. It's just off of the road downtown and a really nice mile loop trail.
In the summer the water is covered with lilly pads. There is the perfect view up to Moses Cone Manor.
In the winter the lake freezes and is beautiful. Beware that the road to the parking lot is very steep and slippery if icy.
All of our Blowing Rock, NC content:
What are your favorite things to do in Blowing Rock?