Considering taking your kids to Day out with Thomas? Here is a complete review of our experience!
My 3 year old is OBSESSED with Thomas the train. We watch the Thomas show and movies, listen to the podcast, read the books, wear the clothes, have alllll the toys, and so when I heard that we had the chance to go meet the REAL Thomas, I had to do it.
See my favorite gift ideas for Thomas obsessed kids!
We actually drove 6 hours and spent a week in the mountains of North Carolina to attend Day out with Thomas at Tweetsie Railroad.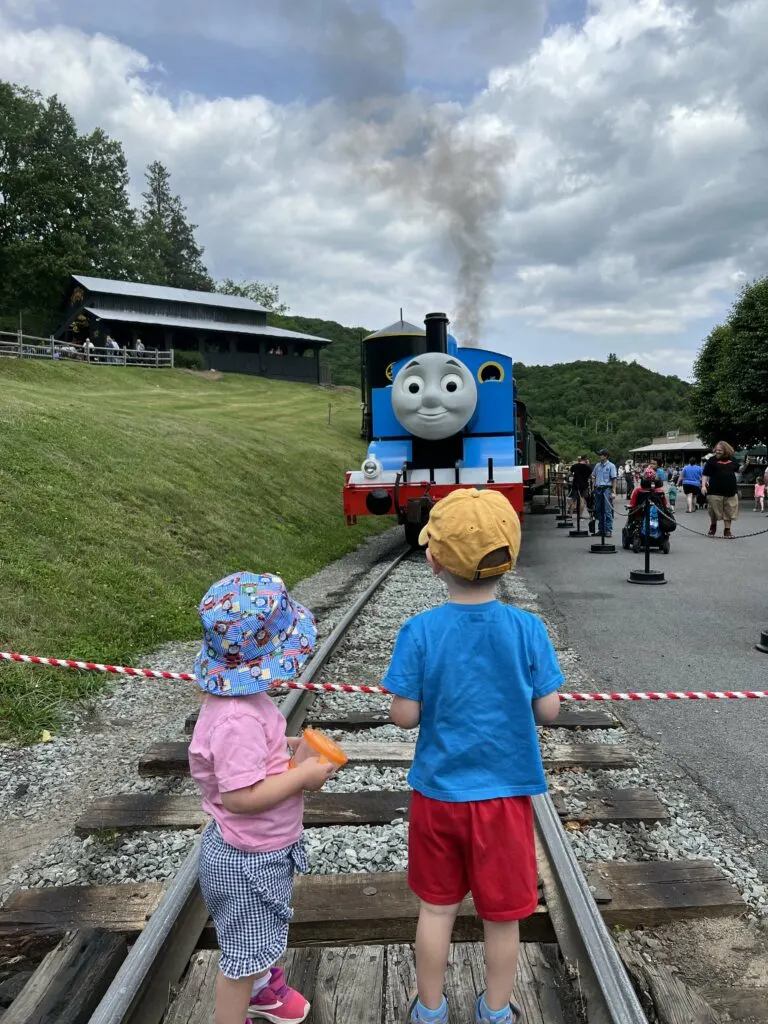 And, it was easily the best day of my son's life.
My 1 year old, who is a Thomas fan by association, had a fabulous time, too.
Here's what to expect if you are considering attending a Day out with Thomas, too!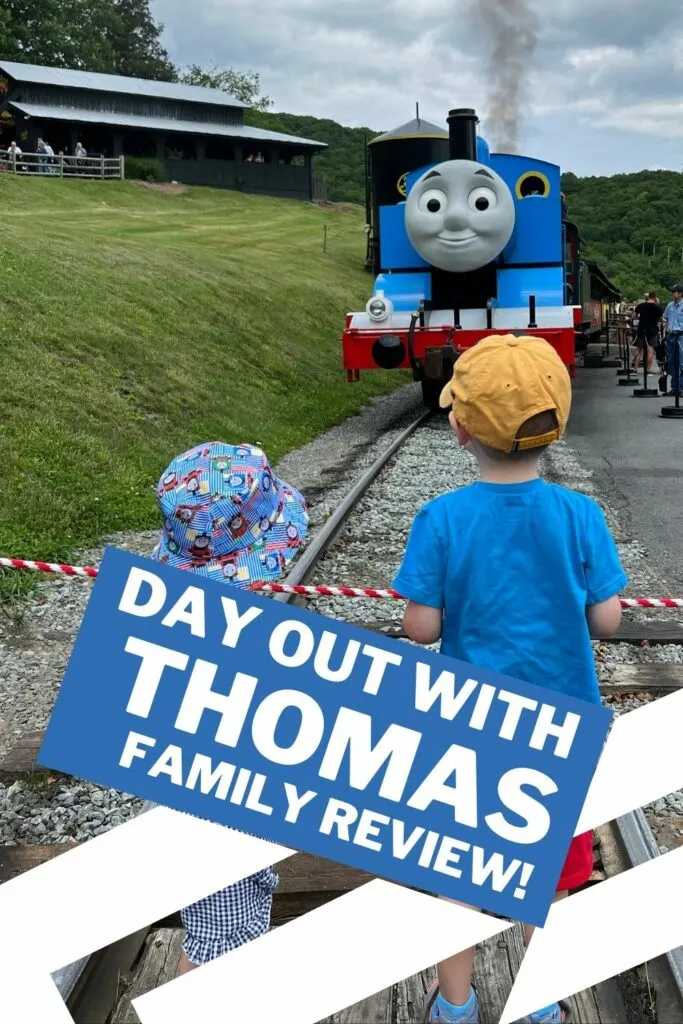 Day out with Thomas
I want to first say that we booked the first train on the first day of the Thomas residency at Tweetsie. It was a Friday and so I think that helped with crowds a bit.
We arrived 30 minutes before the gates opened (9:30, gates opened at 10, our train ride was at 10:30).
There was a decent line already and as we waited it grew pretty long. My 3 year old didn't like waiting.
But, when they opened the doors to get in, the doors were actually all along the building and we ended up right at one of the doors and first in line to scan our tickets (there were several lines). So, it was fast once we got there.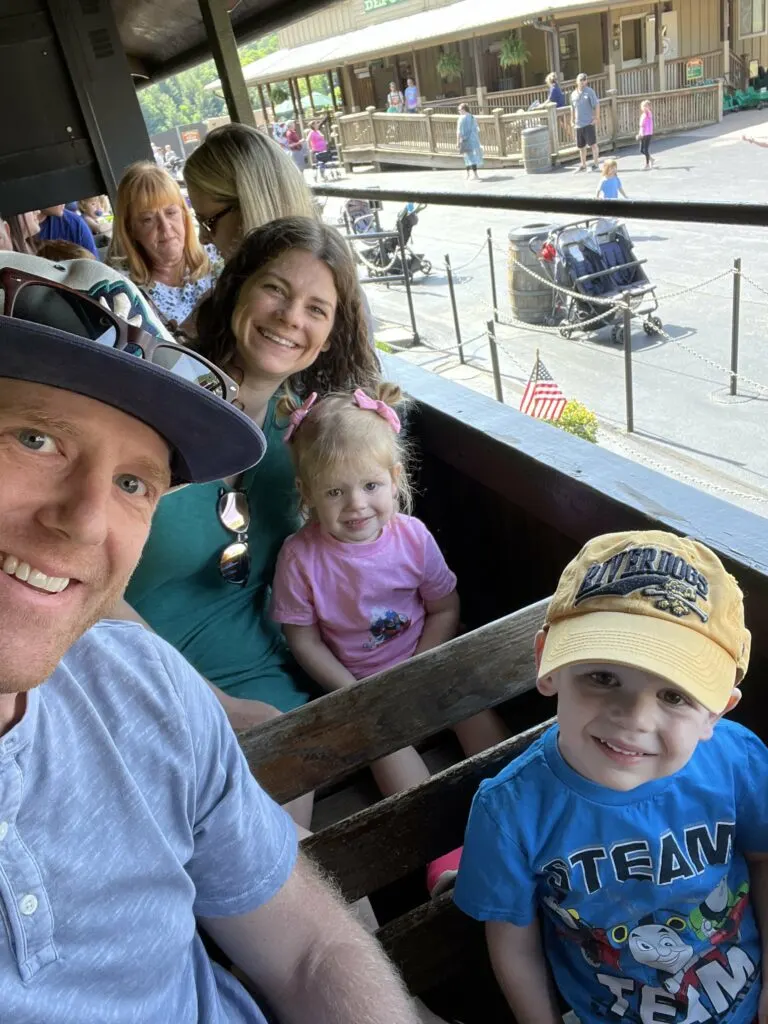 The train ride
The place you get on the train was right at the entrance so it was all very convenient. I will say aim for the 3rd car back or so – the front cars were very smokey.
We watched Thomas pull up and then boarded. My kids were THRILLED.
The train ride was 20 minutes long and they still did their traditional cowboy battle scene halfway through. My kids didn't get that and weren't too impressed.
The views out of the train were lovely, but there were lots of cinders and ashes coming off of it, you had to be careful to keep it out of everyone's eyes.
Our ticket only allowed for 1 Thomas ride, but that was plenty for my kids.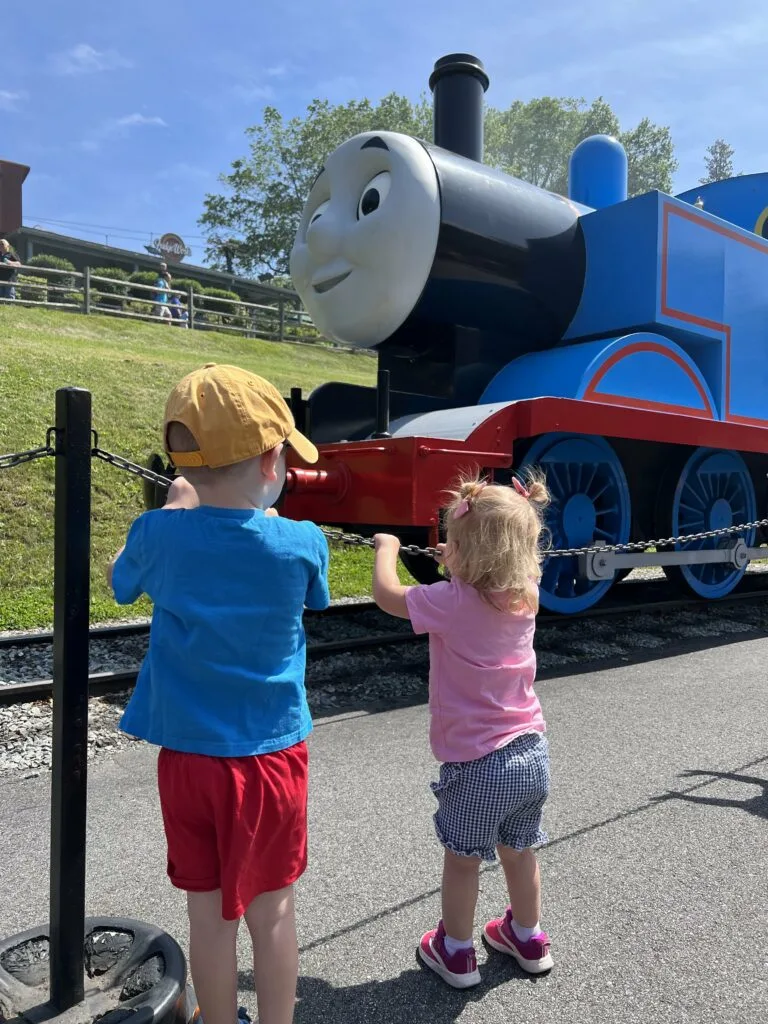 Thomas himself
I thought Thomas looked better than anticipated. His eyes and mouth really moved and he was talking if you got close enough to hear him!
He was hitched to the front of the Tweetsie train which was the same coloring, design, and number (12) as Emily so we said that was Emily!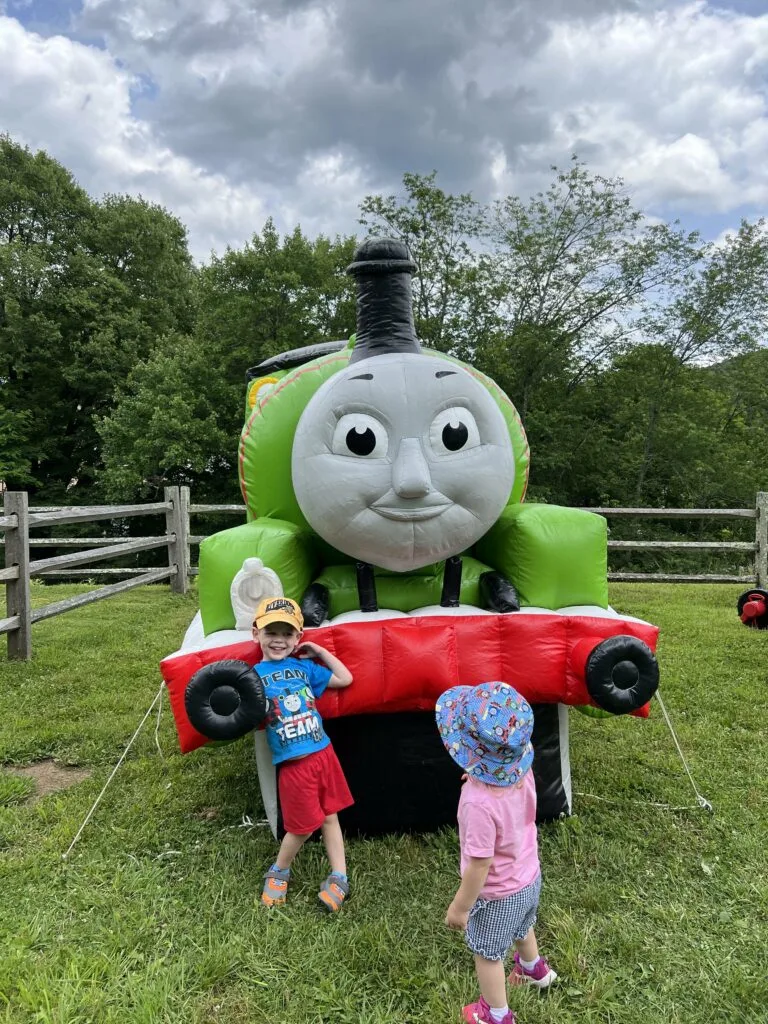 Other Trains
They also had an inflatable (like Christmas lawn blow up but huge) Percy and randomly enough, Rosie. My 1 year old LOVES Percy so this was a hit.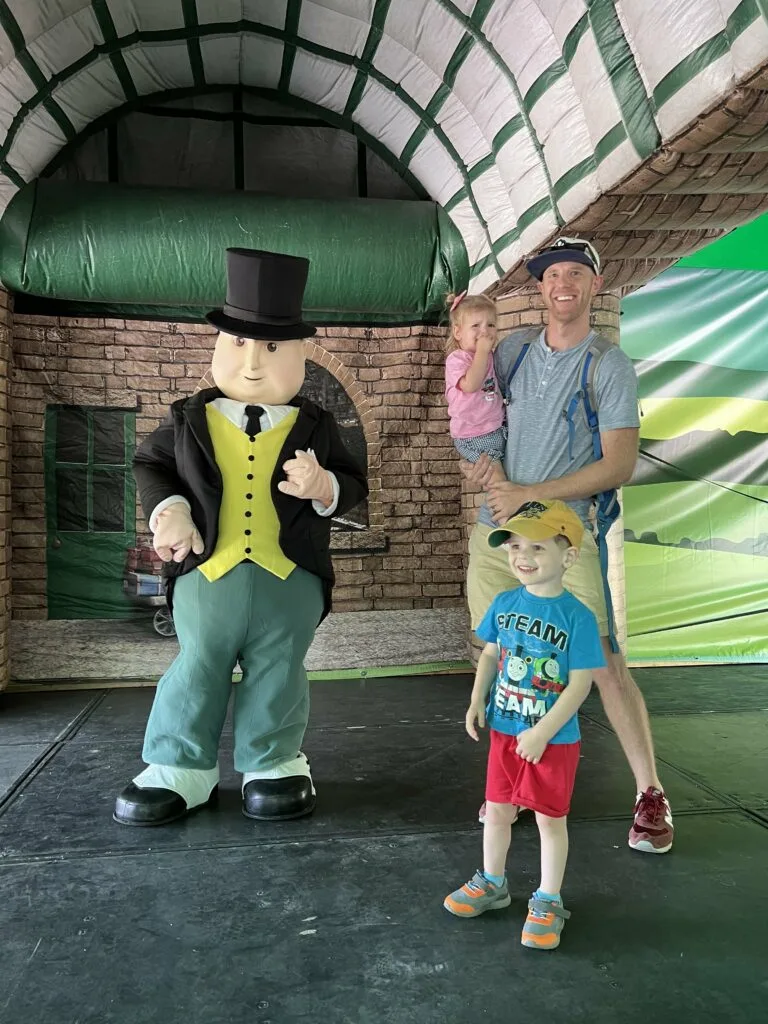 Sir Topham Hatt
In a tent, they had a Sir Topham Hatt cosplayer for kids to get photos with. My 1 year old was not impressed.
I will say that the line was super long in the morning and there was zero line in the afternoon. He was out for the first 30 minutes of each hour, so check back later if there's a line.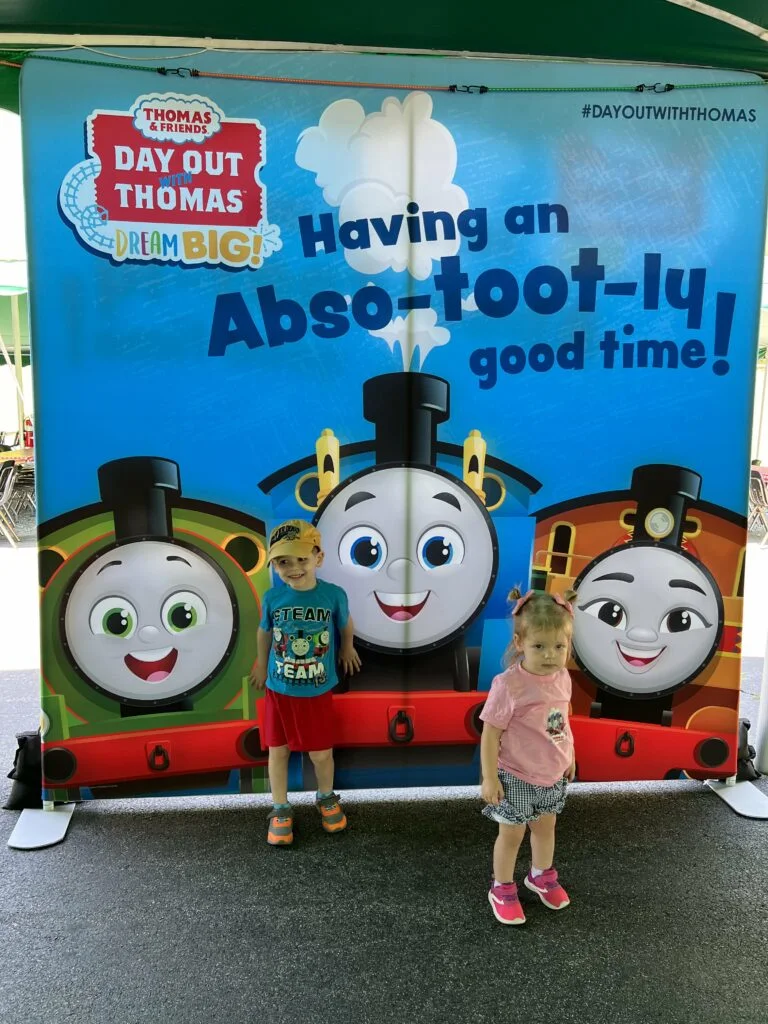 Toy area
Around Sir Topham Hatt there were lawn toys like ring toss, hopscotch, and large connect four. There was a lady handing out free temporary tattoos (though no water or any way to put them on there).
When you entered, they gave each kid a passport with 4 places to get stamps. If you got all 4 stamps, you got a prize. 3 of the 4 stamps were given by the tattoo lady, so I feel like other Thomas locations might have these things spread out instead of all in one tent.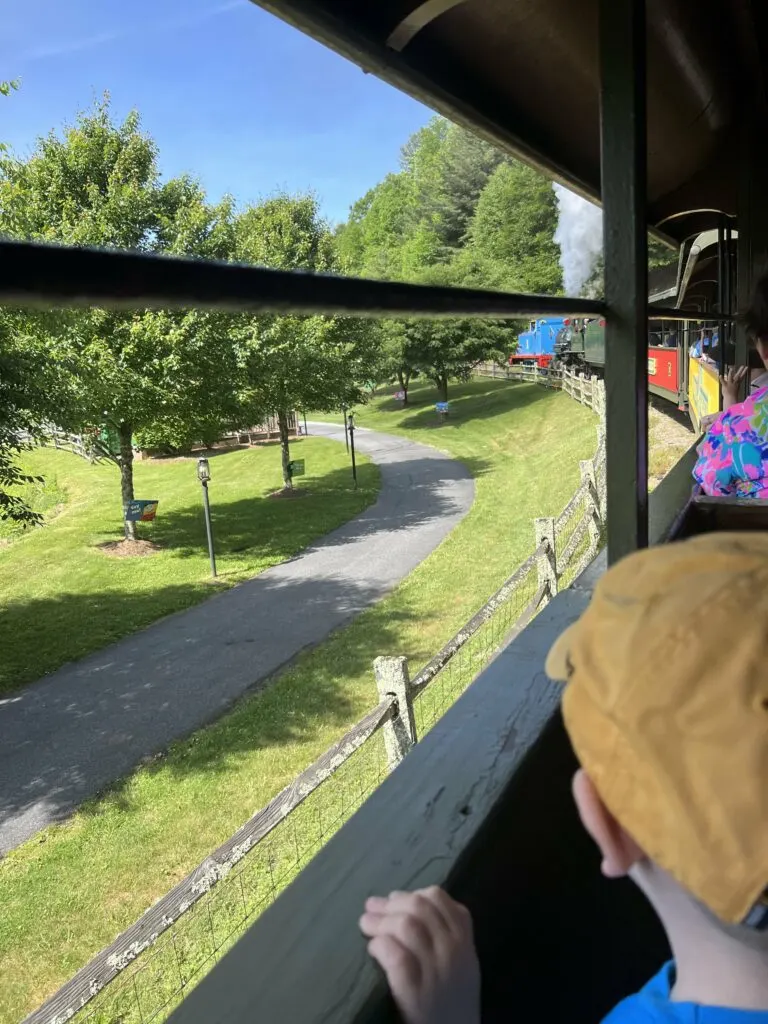 Gift shop
They of course had set up a Thomas gift shop. This is where you redeemed your stamped passport (and got the 4th stamp). My kids each chose a small foam Thomas ball that said Day out with Thomas 2018 (in 2022 lol). They also had stickers and cardboard eye masks.
The shop had shirts, hats, balloons, small toys, and Thomas trains and tracks. Pretty standard, and pretty standard prices too, they didn't seem jacked up compared to Target or Amazon.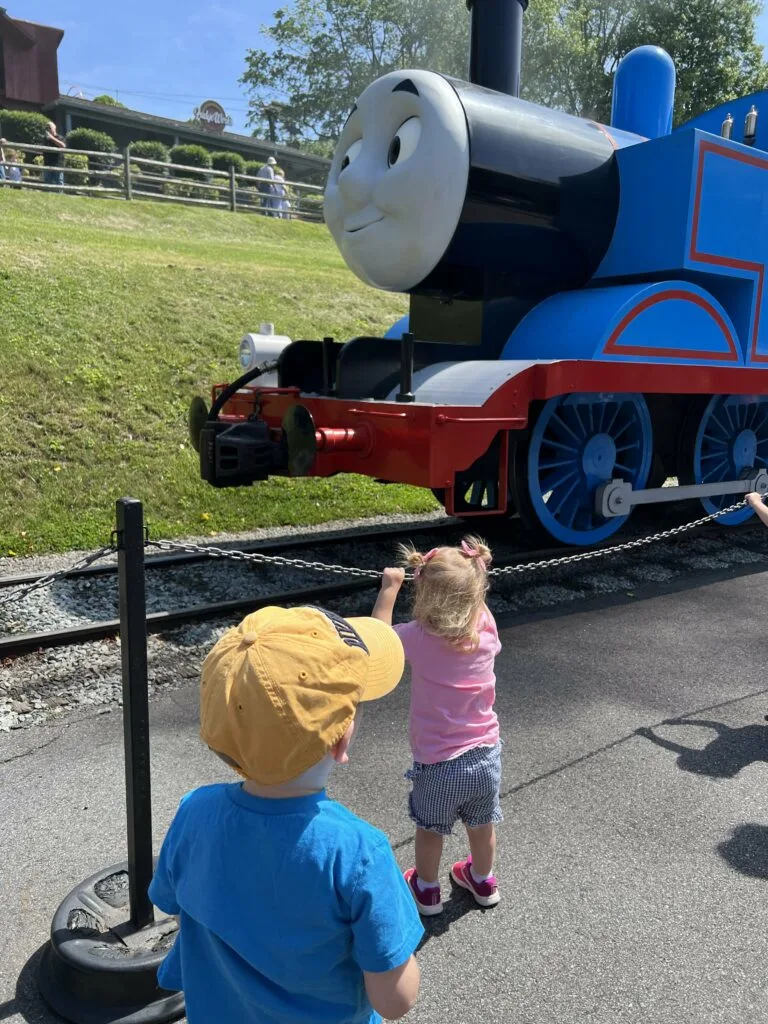 That's it – that's all the Thomas stuff that was going on. I'd say it took us about 45 minutes to do it all at a 1 year old's pace.
Tweetsie Railroad
Our tickets ($60 and adult and over $30 a kid over 2!) also got us access to all of Tweetsie Railroad.
Tweetsie is a bit like if the State Fair was 1/4 the size, set up in 1985, and left to sit.
It's creepy and dated and honestly kind of half assed. But, my kids really enjoyed it. I'd say kids under 7-8 would love it, older would not be impressed.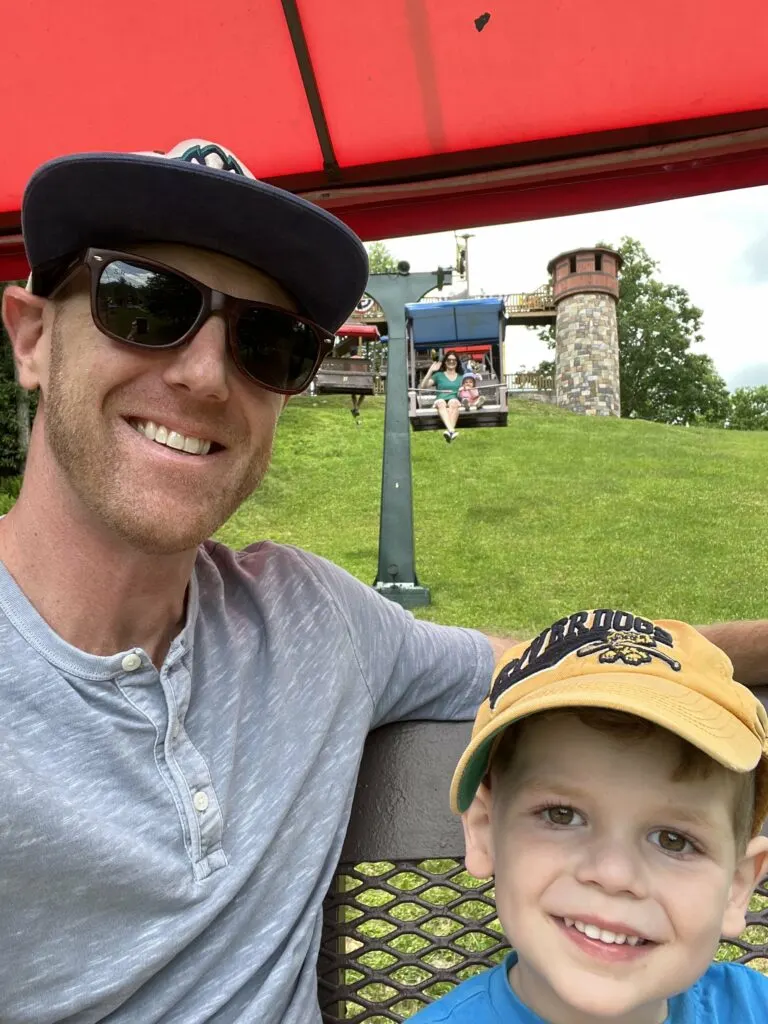 My kids really loved riding the chair lift to the upper section of the park. There's a smaller train ride up there that goes into a tunnel and does a very weird Small World day glo mouse knock off dance. It's wildly weird.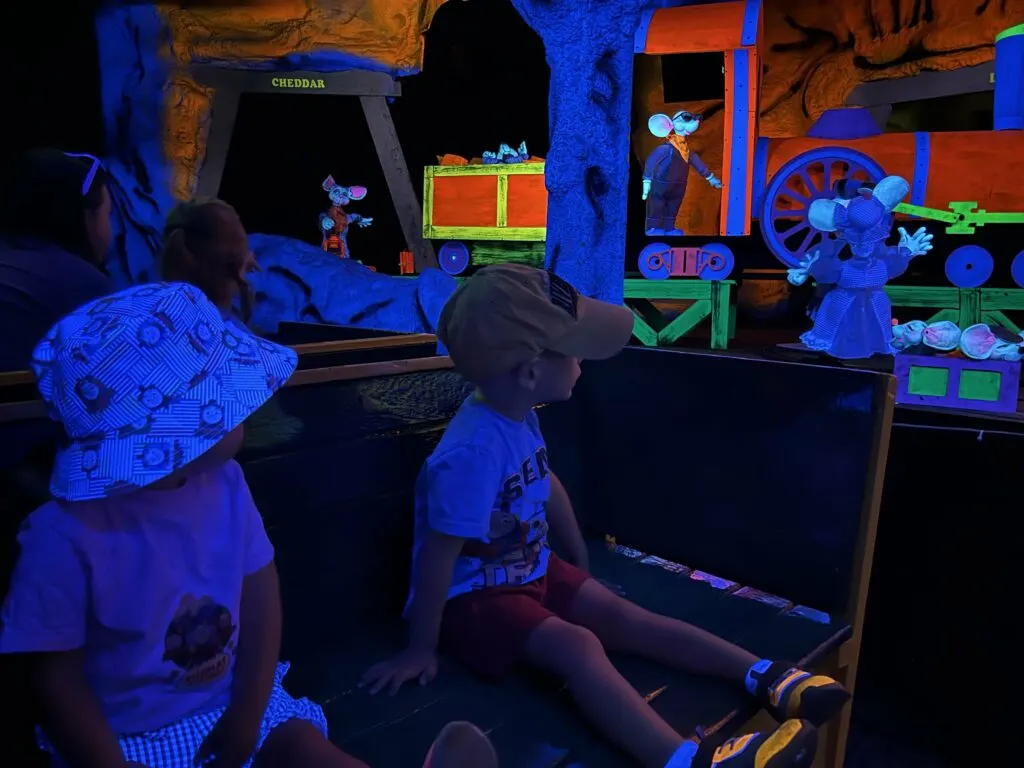 There are no height restrictions on the rides except some have maximum heights. Yes, my 1 year old was allowed on a bunch of wild rides, as long as she had a parent. Was it sketchy? Yes. Did she love it? Also yes.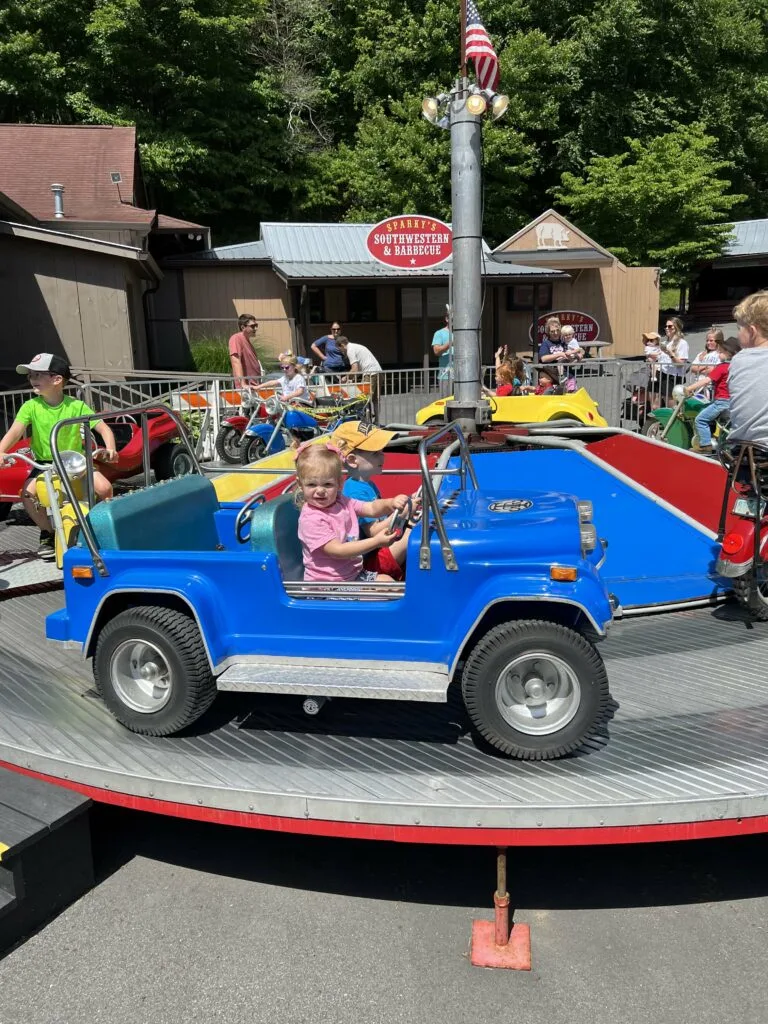 They also have a petting zoo – that's the only thing you pay extra for, it's 50 cents per cone of food. Definitely get a cone for each kid, it was a blast!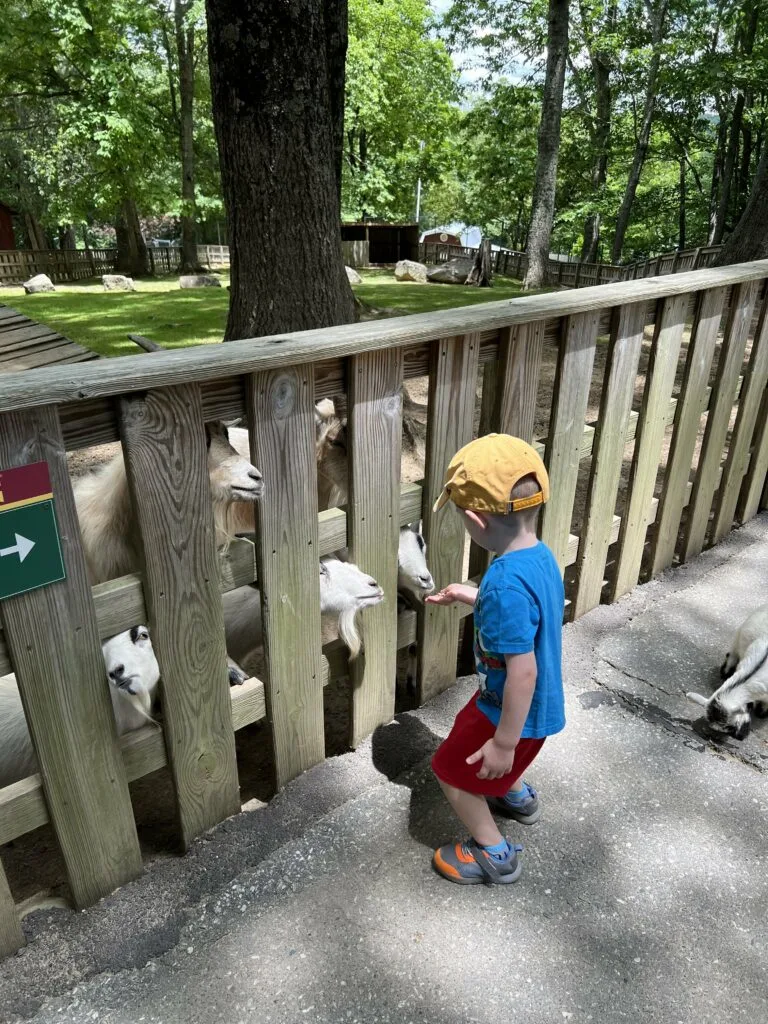 We rented a stroller for $10 for the day and in the end it couldn't come up the chairlift or on the train ride, so I'm not sure if I would do that again.
We stayed a total of 4.5 hours and felt that we had covered the whole park, that was plenty of time.
Any more questions about Day out with Thomas?
All of our Blowing Rock, NC content: