Considering visiting Tweetsie Railroad in Blowing Rock North Carolina? Here's our complete Tweetsie Railroad review!
I grew up with a family home in Blowing Rock, North Carolina so we visited a lot.
That home was sold a decade ago, so I haven't had the opportunity to take my kids up to the area to visit.
However, we scheduled a week this summer in Blowing Rock to coincide with Thomas the Train visiting Tweetsie Railroad.
Read our complete Day out with Thomas review!
It had been 15-20 years since I had been to Tweetsie and it was my first time bringing my own kids, so I wanted to share a review of the park!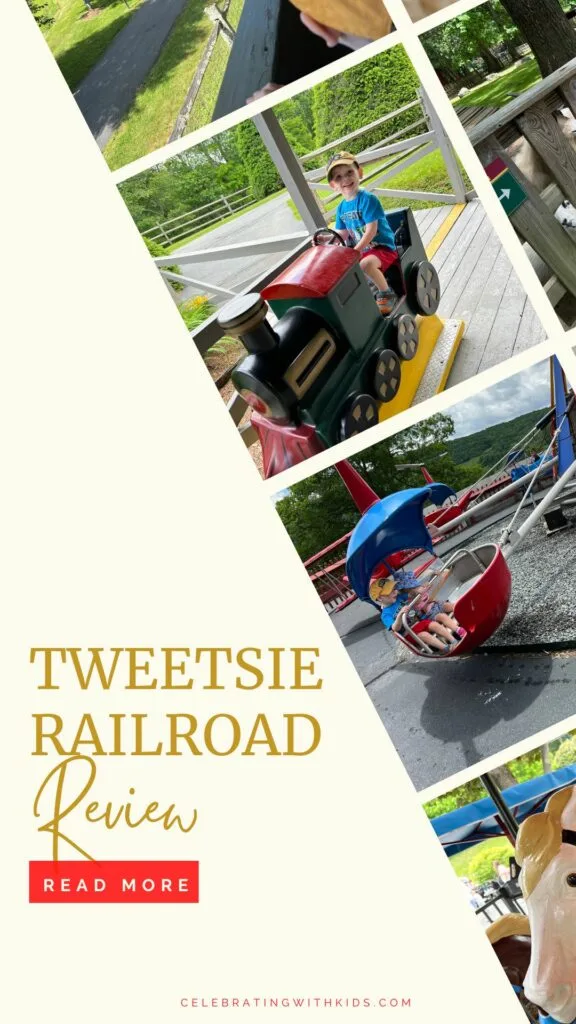 Tweetsie Railroad review
Tweetsie Railroad is a wild west themed mini theme park in Blowing Rock, North Carolina.
I say theme par, but it's more of a carnival type park. There are no roller coasters or anything.
My main takeaway from Tweetsie is that it is a simple, old carnival in the mountains. It is not fancy. It is not modern. There is not tons going on.
Honestly, they have it priced like it is Carowinds. That is where I see the miss.
The park itself is fine and probably worth about $20-30 a person, but they charge double that.
The one big plus is that once you are in, almost everything is free. You pay for food, food to feed the pets in the petting zoo, and souvenirs. But there are no ride tickets – it's all included unlimited.
The main attraction is a 20 minute train ride. It takes you around the mountain, with a stop halfway around. Sit on the right side of the train for a best view of the show.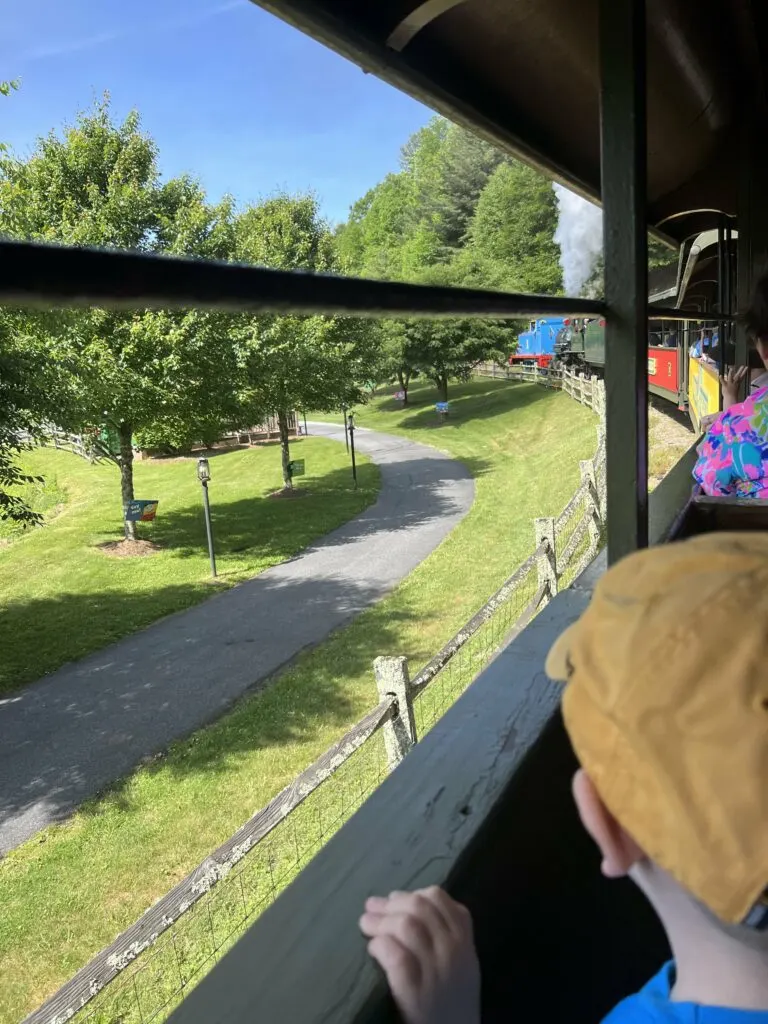 The show is a couple of college kids doing a cheesey cowboy skit. When I was a kid, it was cowboys vs indians, but now it has some "red shirts" bandits as the bad guys.
The show is mediocre at best and my kids were not impressed, haha. But they liked riding the train.
I will say that the train is coal burning and puts off a LOT of smoke and ash. It's very easy to get it in your eye and it was all over our legs and faces after riding the train. Probably not great if you have asthma or similar.
Aim for car #3 for the least ash and the best view of the show.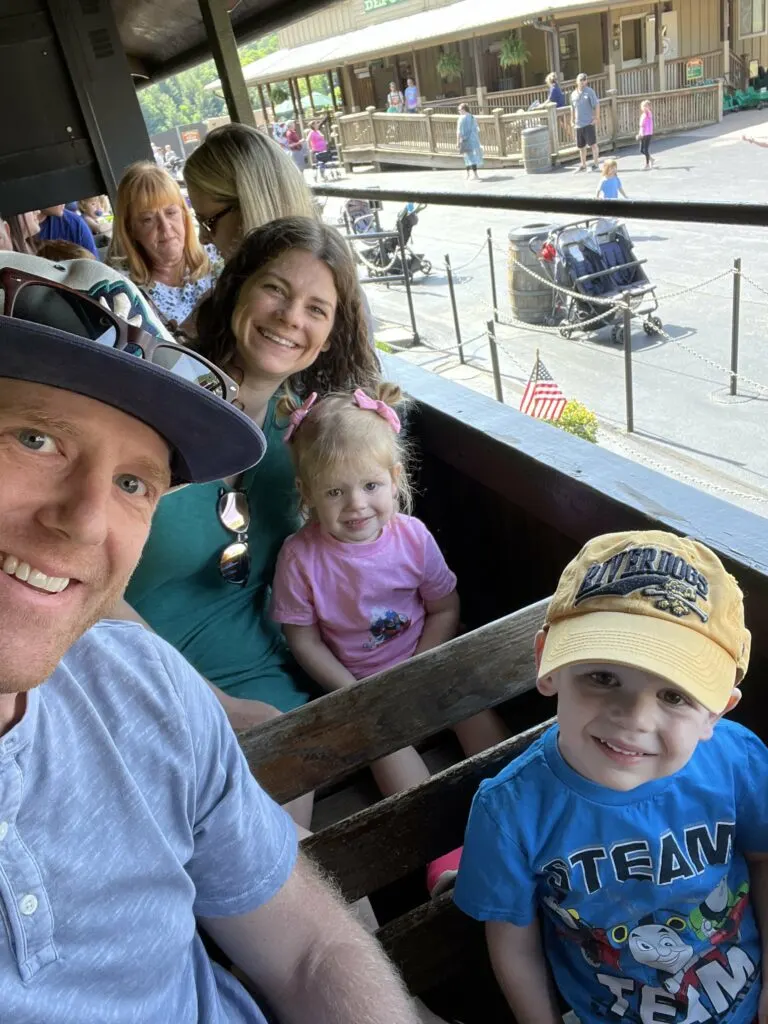 My kids really loved riding the chair lift to the upper section of the park. There's a smaller train ride up there that goes into a tunnel and does a very weird Small World day glo mouse knock off dance. It's wildly weird.
There is also mining for gold and gem mining (which I believe the buckets of gems were an extra cost). We did this elsewhere in town and not at Tweetsie.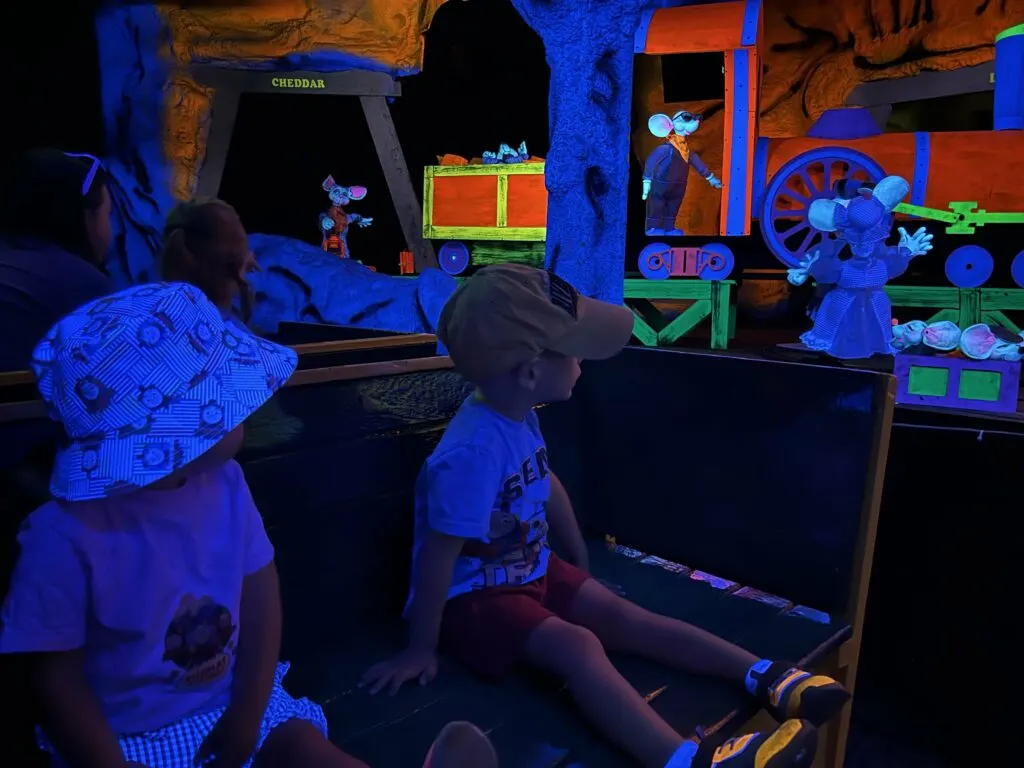 There are also a lot of state fair type carnival rides.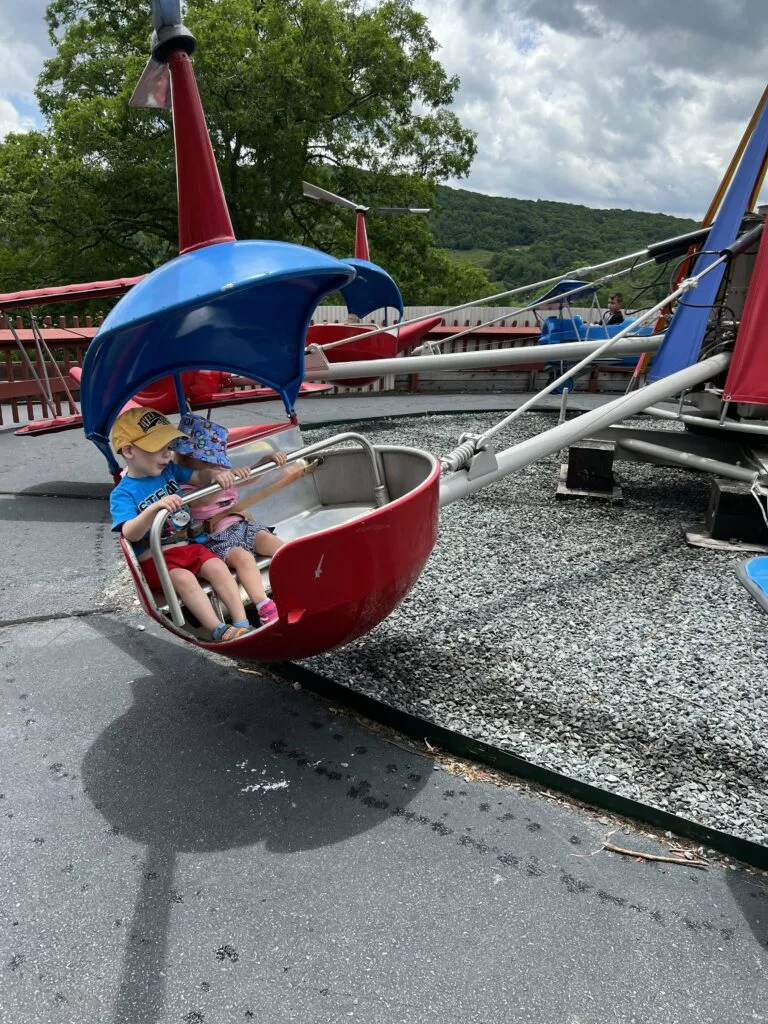 There are no height restrictions on the rides except some have maximum heights. Yes, my 1 year old was allowed on a bunch of wild rides, as long as she had a parent. Was it sketchy? Yes. Did she love it? Also yes.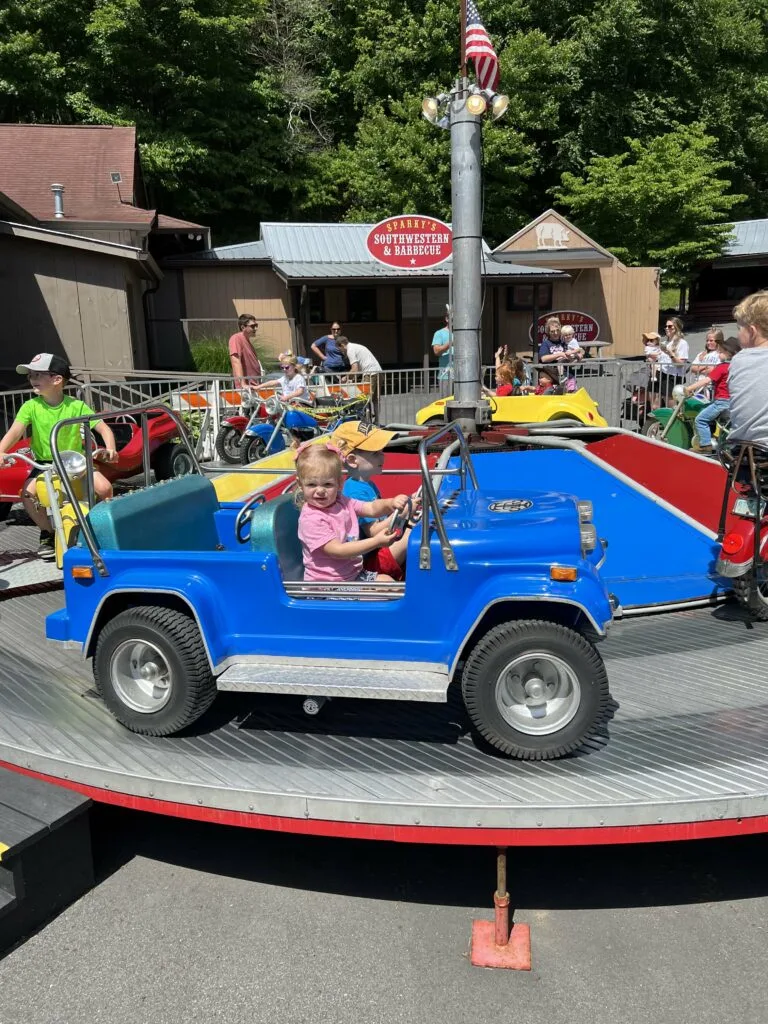 They also have a petting zoo – that's the only thing you pay extra for, it's 50 cents per cone of food. Definitely get a cone for each kid, it was a blast!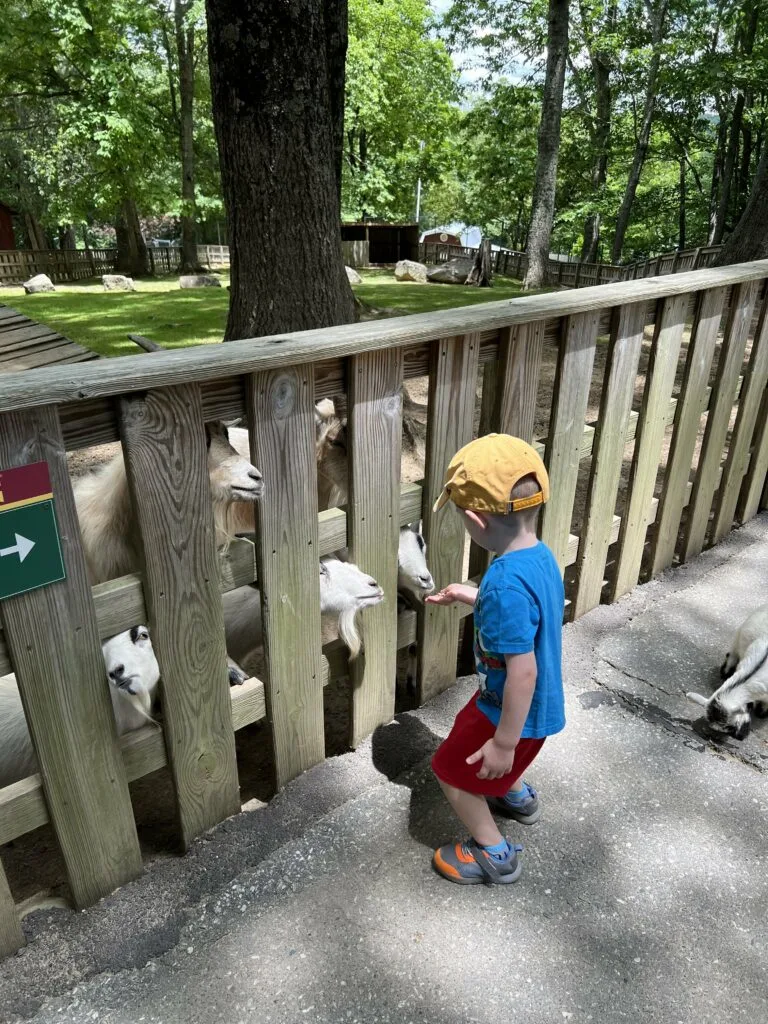 We rented a stroller for $10 for the day and in the end it couldn't come up the chairlift or on the train ride, so I'm not sure if I would do that again.
What age group is Tweetsie Railroad for?
I'd recommend Tweetsie for kids ages 2 to 6. Anything older than that and they are likely to get a little bored.
Is Tweetsie Railroad just for kids?
Anyone is welcome at Tweetsie, but I definitely would not suggest going as a group of adults with no kids. Go for a hike instead. Or, go sit at a brewery – we recommend Blowing Rock Brewing on Sunset.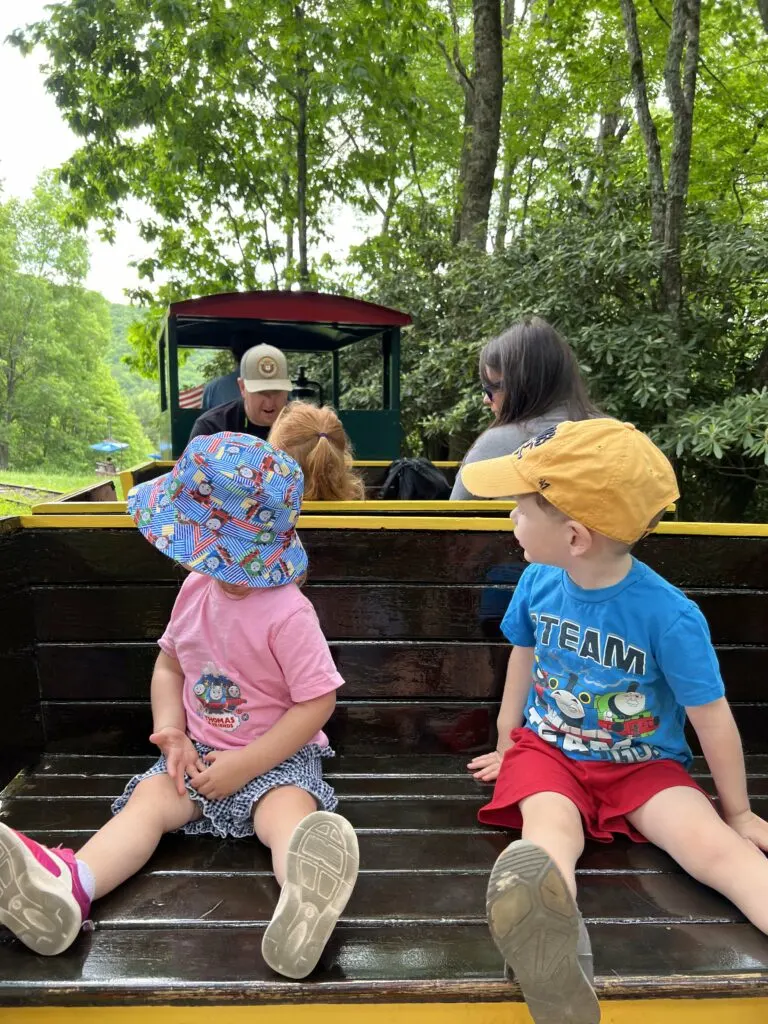 How long does it take to go through Tweetsie Railroad?
We stayed a total of 4.5 hours and felt that we had covered the whole park, that was plenty of time.
What kind of train is Tweetsie?
The train at Tweetsie is a coal burning train. It is a narrow-gauge steam locomotive that runs on a 3 mile loop.
Which is better Boone or Blowing Rock?
I'd say that Boone is a better place to live but Blowing Rock is a better place to visit (or have a vacation home). Blowing Rock is quaint, quiet, and beautiful. There just aren't the everyday suburban amenities – like multiple grocery stores, a home depot, or similar things. Boone has a college campus and is a larger town overall.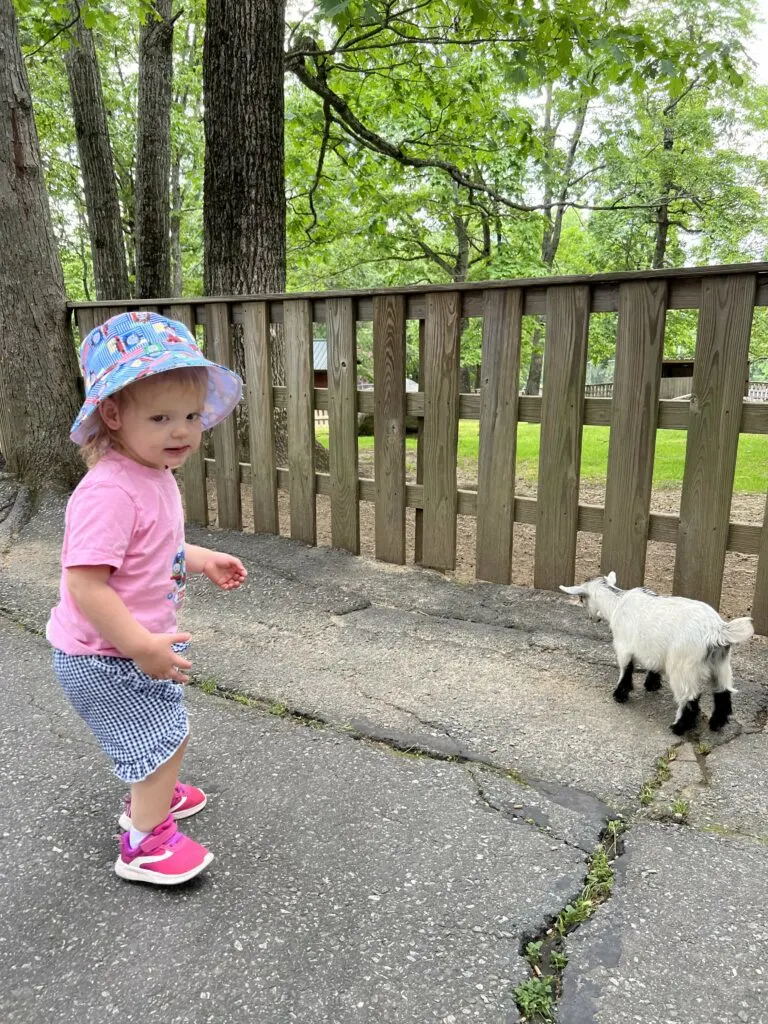 Is Tweetsie Railroad worth it?
Personally, I think that the price (currently about $60 an adult and over $30 a kid) is very steep for what you get at Tweetsie. We had a fine time, but that was mostly thanks to the Thomas show.
If you are on a tight budget, skip Tweetsie. If the money is not an issue and you have kids ages 2-6, it is a fun way to spend a morning.
I'd say a lot of the appeal of Tweetsie is nostalgia. If you didn't go there as a kid, you will be quite a bit less impressed than someone with happy memories of the place.
One tip is that if you arrive at Tweetsie after 4pm, you can use your ticket the next day, too. So, if you really want to spend a lot of time there – that's a money saving trick.
Any more questions about Tweetsie?
All of our Blowing Rock, NC content: