Considering a trip to Mystery Hill in Blowing Rock North Carolina? Here is our complete Mystery Hill review!
If you are visiting Blowing Rock, North Carolina, you have probably seen ads or billboards for Mystery Hill.
I actually grew up with a family home in Blowing Rock and one summer we bought an annual pass to Mystery Hill, we went so much!
Things have changed a lot in the 20 years or so since then, but Mystery Hill is still alive and thriving in Blowing Rock.
What is Mystery Hill?
Mystery Hill is an optical illusion attraction located in Blowing Rock, North Carolina. The facility has expanded big time in recent years and so in addition to the mystery room, optical illusion hall, and bubble room, they also have bull riding, axe throwing, gem mining, old timey photos, and more.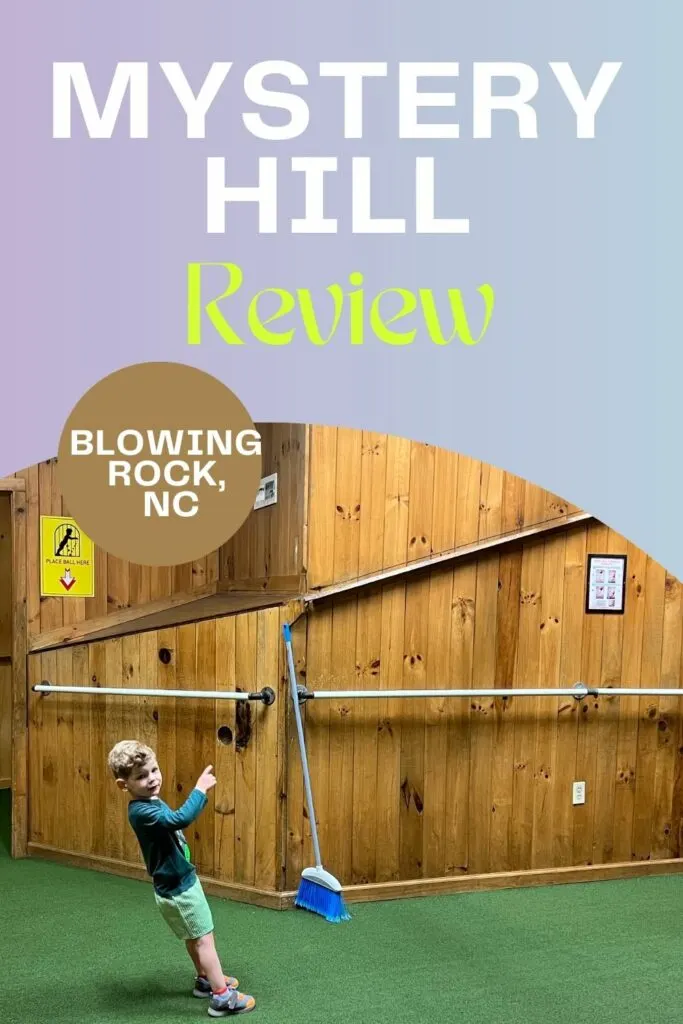 Mystery Hill review
The first big change in Mystery Hill is the ticket price. It cost us about $55 for two adults (the 2 kids were, ironically enough, free).
They justify their higher ticket price by calling that the "basic package" that includes the mystery room and bubble room as well as a bull ride challenge, the native american artifact museum, and the historical house tour. Unfortunately, you can't opt out of those extras, though you can come back and do them another day.
Another big change is the fact that a tour guide takes you through the exhibit. This was very slow and boring for my young kids. We were grouped with another family, and I could tell we all wanted to (kindly) tell the tour guide to just get on with it already.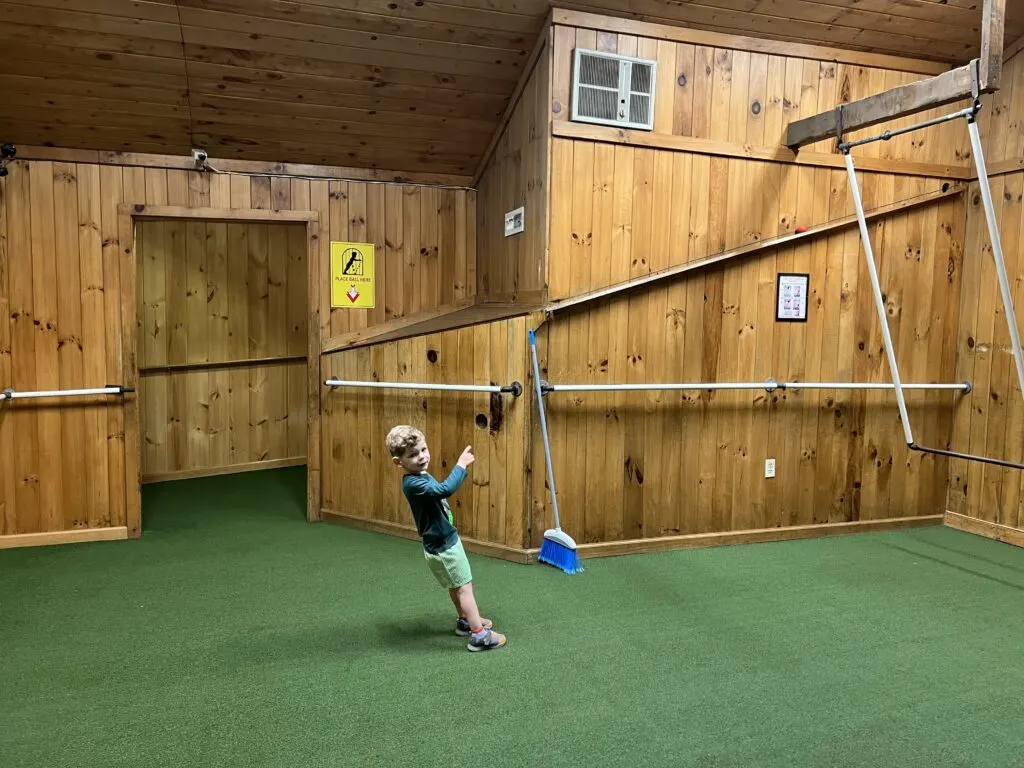 The mystery room
The main mystery of Mystery Hill is the mystery room – a room slanted steeply downward where balls and water run uphill.
I will say that if you get motion sick or nauseous easily, you will not like the mystery room. It made me a bit woozy at first!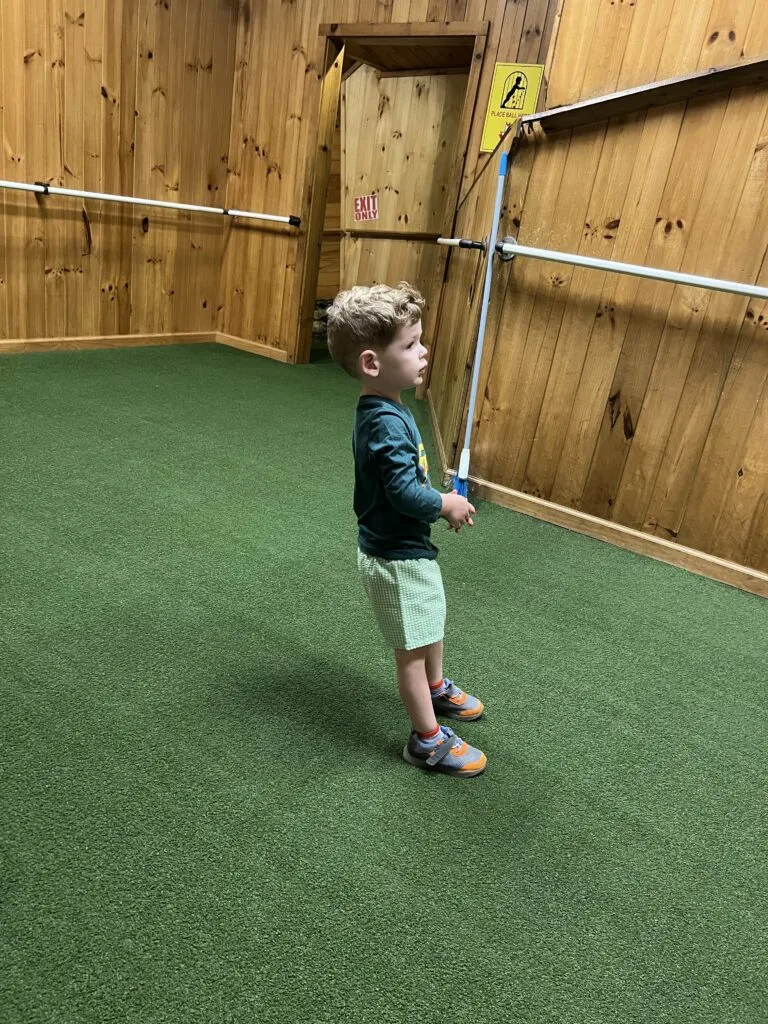 This room is fun for kids and we spent a good 15 minutes in there playing. The room is small though with only a couple of things to really do, so if you are in with a bunch of people, be prepared to fight over the balls and water cups.
After the mystery room is a hall of optical illusions (mostly hanging on the walls) and then a small room for kids to play with bubbles and even put themselves inside a giant bubble! My 3 year old actually liked the giant bubble best of all.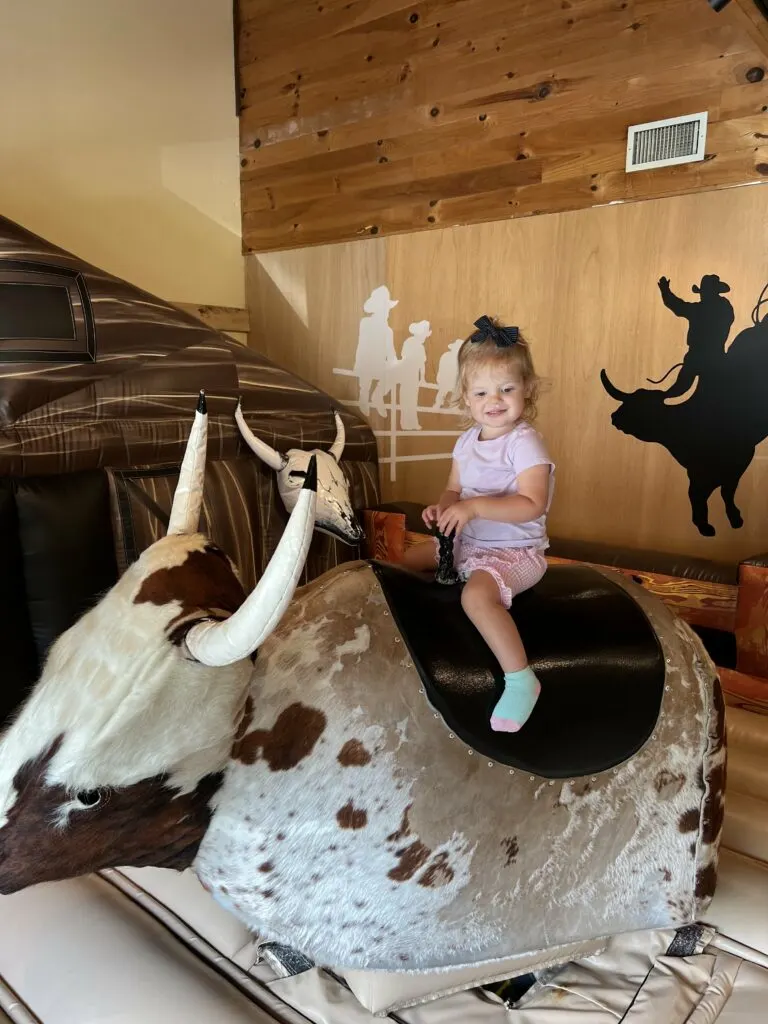 Bull riding
Outside of the main building, you can also go do bull riding. This is indoors in a little bouncey house type place. Each person gets 2 tries on the bull. It was fine, if that's what you're in to.
There's no age limit on bull riding but we just let our kids sit on the bull for a picture and then bounce a bit since there was no one around.
Historical museums
We did not visit the historical house or museum this time, though we went a lot when I was a kid. It's a lot of arrowheads and artifacts behind glass – not great for a 1 and 3 year old.
Gem mining
You can add gem mining onto your package. We paid $20 for a 1 pound bucket. We got lots of good gems and my kids loved it – gem mining is always a hit for them. (Here's our favorite Gem Mining place in Hendersonville, NC!)
Old timey photos
You can also purchase old timey photos with dress up. They take an hour so we skipped this with our kids. If you are into the look and have older kids, it could be fun. You need to make an appointment in advance!
Axe throwing
They also have axe throwing with real or foam axes. We skipped it, because again 1 and 3 year olds, but it is an add on option.
Also note that Mystery Hill is on the greenway. You can walk left to Tweetsie or right towards Blowing Rock!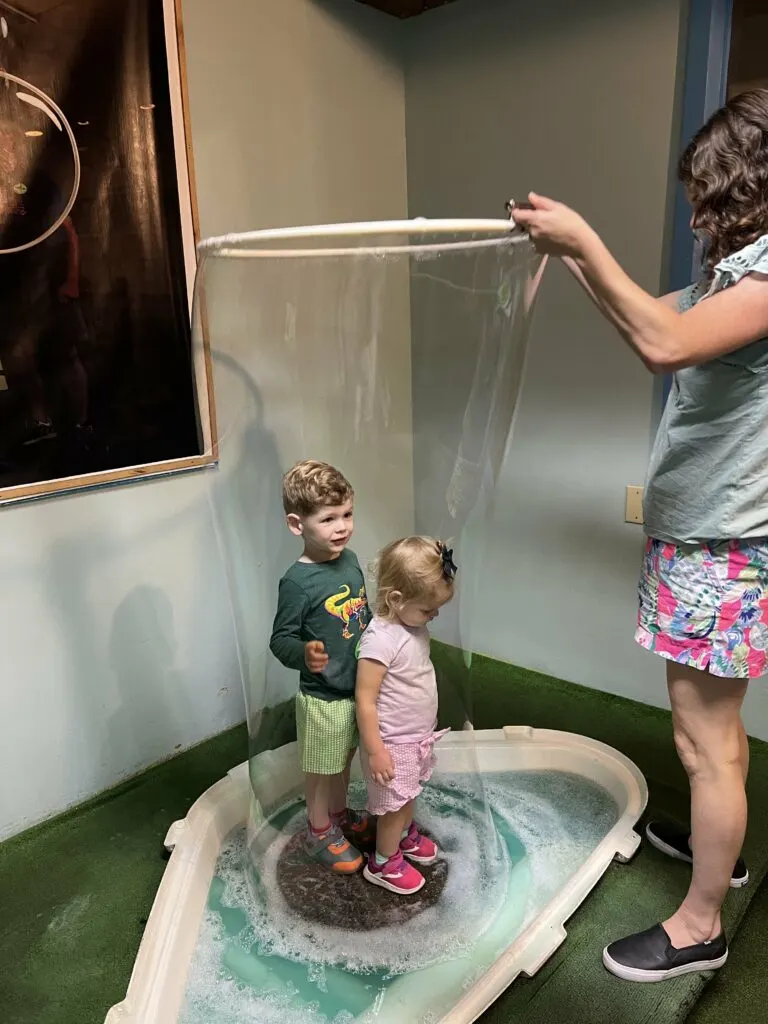 How long does it take to go through Mystery Hill?
We did the main building in less than an hour. If you add on other activities, it will add on more time!
What Age is mystery hill for?
I'd recommend Mystery hill for preschool to elementary aged kids. Anyone older than that is unlikely to be impressed.
Is Mystery Hill worth it?
Mystery Hill is fun to do once. I wouldn't do it every time you come and I wouldn't do it if you don't have small kids. It is not cheap and it's only moderately fun.
It's a decent option for a rainy day. I'd recommend the Blowing Rock playground over this for a fun (free) nice weather day.
Any more questions about Mystery Hill?
All of our Blowing Rock, NC content: