Want to purchase a screen-free audio device for your kid? Let's compare the 2 most popular options: the Tonie box vs the Yoto player!
If you are looking for a screen-free toy for your toddler or preschooler this season, you might be considering a Tonie box or a Yoto player!
They are both audio players geared at young kids.
I've seen tons of buzz about both in kid-centric Facebook groups, so let's dive in and compare the two, head to head!
Looking for other options? See the full comparison of Yoto vs Tonie box vs Jooki vs Lunii vs Storypod here!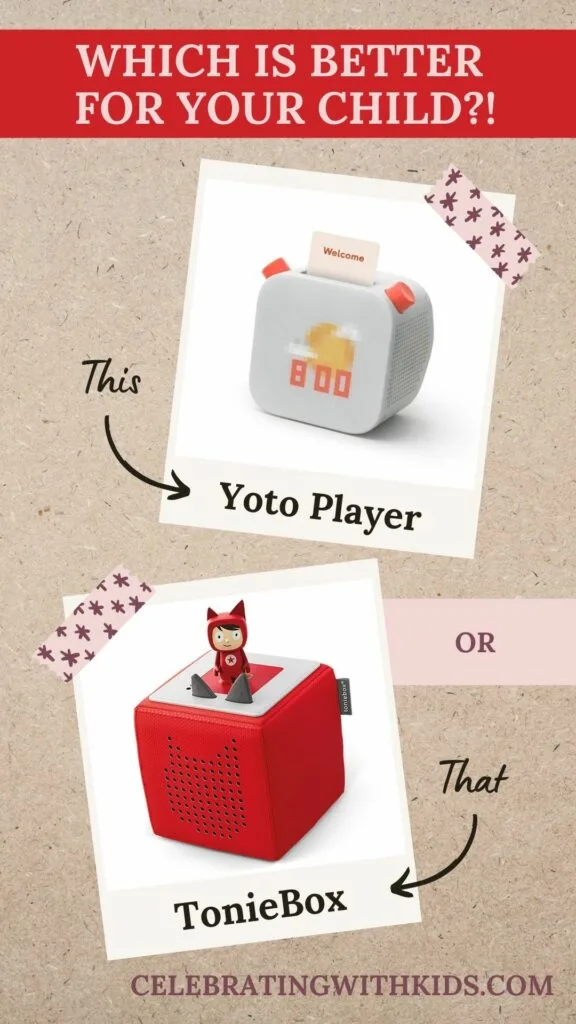 What is the Tonie Box
The Tonie box is a small bluetooth speaker that plays based on small figurines stuck on top of it. Each figurine represents a book or story.
Cost
Tonie box sells for just under $100, including 1 character. There are bundles with more characters for a higher price.
The figurines are $15 each. Some of them have an hour of content, some only 15 minutes.
Awesome features
The figurines are obviously a favorite part of the Tonie box for a lot of kids. They snap to the top of the player with magnets, making them easy for even a small toddler to operate.
The Tonie box is covered with a rubbery type material.
The controls are very child friendly such as squeezing the ears to turn the volume up or down. It's definitely designed to be easy for toddlers to figure out!
Creative Tonies work on the Tinies app to let you add your own content!
If you remove the figure from the top of the box to play with it, it stops playing. This can be hard for playful kids!
Tonies has a TON of different Disney characters, which is a huge pro for many parents. Kids love playing with and listening to these favorite characters!
Things to consider
The only way to skip ahead in big playlists is to hit the side, so if kids want to skip to number ten, thats ten whacks with no quick way to skip ahead.
Each creative Tonie holds only 90 minutes, which isn't a lot for longer chapter audio books for older kids.
What age is Tonie for?
Tonie box is aimed at kids age 3 to 7. The figures and controls make it great for smaller kids!
Is the Tonie box worth it?
Tonie box is a great screen free audio player for kids, but it is pricey. If your kids want a lot of figures, it could add up quickly.
If you have the extra cash, it's a great gift with the potential to add more pieces later.
Just know you are getting into an expensive habit for your kids 🙂
What is the Yoto Player
The Yoto Player is basically a small Bluetooth box player with a card slot. You buy cards individually and stick them in the slot to play.
Cost
The Yoto runs around $100 full price. The cards come in bundles and range from $15-100. The actual player doesn't come with any yoto cards so you will definitely need to plan to purchase some immediately.
Awesome features
One awesome feature of the Yoto is that you can purchase "make your own" cards to record yourself or a relative reading stories or singing songs.
I also love that the Yoto works as a clock and night light.
Yoto has a daily podcast included for free with the Yoto radio. This is especially great for older kids!
The Yoto player can also be used as a bluetooth speaker, which is awesome!
Things to consider
Yoto has a hard plastic shell material. This is less great for kids to carry around.
It's also said that because the cards are the size of a credit card, it's easy for them to get lost. But, the stories also sync to your Yoto app so you can access them that way if you need to!
What age is Yoto for?
The YOTO is designed for kids age 3-12 years old. Younger kids might have trouble placing the card. Older kids might get bored, it just depends on your kids interests!
Is the Yoto player worth it?
Yoto players are good for allowing kids to be independent. For example, my 3 year old no longer naps 🤪 and this is something he can do alone in his room quietly for "rest time".
However, the cards can obviously add up pretty quickly.
My answer for if the Yoto is worth it 100% depends on your financial situation. If you can afford to spend $100 on an audio player for children, that's a start, but keep in mind the cost of cards – which the device doesn't work without!
Tonie box vs Yoto player
Similarities
Both of these devices play music using bluetooth technology and are designed to be used independently by toddlers and kids.
They both are beautiful to look at and would work in even designer homes!
They both cost roughly the same and the add ons (cards or figures) both cost similar (though the Yoto includes more content in each).
They also both allow you to purchase customizable add ons such as to record a grandparent reading a book.
Differences
The Yoto player is slightly more expensive to purchase, but the cards end up being cheaper than the Tonies figurines. This is mostly because the Yoto cards come in big packs with lots of content while some of the Tonies don't have as much content for the same price!
The material of the box is another big difference. Tonie box is rubbery padded (ok to drop) while Yoto player is hard plastic.
Obviously the figurines vs cards is a big difference, too! Remember you will have to store a bunch of figures vs a stack of cards – which could make a big difference on a plane or car ride!
Tonies come in a LOT of colors while Yoto player is more simple, color-wise.
Yoto has a lot more content to choose from and it's cheaper overall.
Which should I get – the Tonie Box or Yoto Player?
If you definitely want one of these, I think it comes down to your kids ages!
The Tonie box would appeal more to 3 or 4 year olds with shorter stories, bright colors, figurines, and a padded box.
The Yoto player is great for kindergarten and elementary aged kids, with cards they have to keep track of and a hard box. But, it's got more space for longer content and that podcast they will love! Plus, a clock!
Looking for another option? We love our Storypod! Check out my Storypod review here!
Any more questions about Tonie vs Yoto!?