Want to purchase a screen-free audio device for your kid? Let's compare the most popular options: the Yoto vs Tonie box vs Jooki vs Lunii vs Storypod!
If you are looking for a screen-free toy for your toddler or preschooler this season, you probably have been considering a kids reader or music player toy!
I did a detailed comparison of the Tonie vs Yoto already, but I have gotten various emails in favor of or asking about some of the additional, less popular options.
Read my complete comparison of Yoto vs Tonie box!
So today, I am going to compare the Tonie box, Yoto, Jooki, Lunii, and Storypod!
Have another great similar option? Email me at hello@celebratingwithkids.com and I'll see if I can add it to my comparison!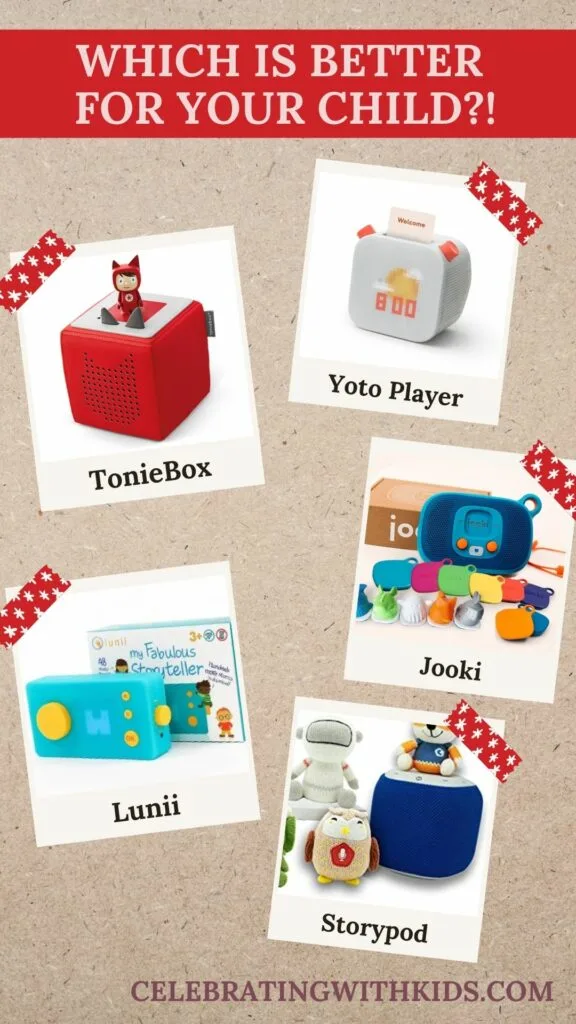 What is the Tonie Box
The Tonie box is a small bluetooth speaker that plays based on small figurines stuck on top of it. Each figurine represents a book or story.
Cost
Tonie box sells for just under $100, including 1 character. There are bundles with more characters for a higher price.
The figurines are $15 each. Some of them have an hour of content, some only 15 minutes.
Awesome features
The figurines are obviously a favorite part of the Tonie box for a lot of kids. They snap to the top of the player with magnets, making them easy for even a small toddler to operate.
The Tonie box is covered with a rubbery type material.
The controls are very child friendly such as squeezing the ears to turn the volume up or down. It's definitely designed to be easy for toddlers to figure out!
Creative Tonies work on the Tonies app to let you add your own content!
If you remove the figure from the top of the box to play with it, it stops playing. This can be hard for playful kids!
The best thing of the Tonie Box is the character-based content. They have a TON of Disney characters and other well known characters, making kids super attracted to it.
Things to consider
The only way to skip ahead in big playlists is to hit the side, so if kids want to skip to number ten, thats ten whacks with no quick way to skip ahead.
Each creative Tonie holds only 90 minutes, which isn't a lot for longer chapter audio books for older kids.
What age is Tonie for?
Tonie box is aimed at kids age 3 to 7. The figures and controls make it great for smaller kids!
Is the Tonie box worth it?
Tonie box is a great screen free audio player for kids, but it is pricey. If your kids want a lot of figures, it could add up quickly.
If you have the extra cash, it's a great gift with the potential to add more pieces later.
Just know you are getting into an expensive habit for your kids 🙂
What is the Yoto Player
The Yoto Player is basically a small Bluetooth box player with a card slot. You buy cards individually and stick them in the slot to play.
Cost
The Yoto runs around $100 full price. The cards come in bundles and range from $15-100. The actual player doesn't come with any yoto cards so you will definitely need to plan to purchase some immediately.
Awesome features
One awesome feature of the Yoto is that you can purchase "make your own" cards to record yourself or a relative reading stories or singing songs.
I also love that the Yoto works as a clock and night light.
Yoto has a daily podcast included for free with the Yoto radio. This is especially great for older kids!
The Yoto player can also be used as a bluetooth speaker, which is awesome!
Things to consider
Yoto has a hard plastic shell material. This is less great for kids to carry around.
It's also said that because the cards are the size of a credit card, it's easy for them to get lost. But, the stories also sync to your Yoto app so you can access them that way if you need to!
What age is Yoto for?
The YOTO is designed for kids age 3-12 years old. Younger kids might have trouble placing the card. Older kids might get bored, it just depends on your kids interests!
Is the Yoto player worth it?
Yoto players are good for allowing kids to be independent. For example, my 3 year old no longer naps 🤪 and this is something he can do alone in his room quietly for "rest time".
However, the cards can obviously add up pretty quickly.
My answer for if the Yoto is worth it 100% depends on your financial situation. If you can afford to spend $100 on an audio player for children, that's a start, but keep in mind the cost of cards – which the device doesn't work without!
Jooki
The Jooki is a kid's music and story player with tokens and figurines that power the playing.
Cost
The smallest Jooki bundle includes the player and two tokens for $112. The tokens are 6 for $25 and the figurines are 5 for $35.
Awesome features
One great thing about this player is how easy it is to use. Kids can just set a figurine or token on top and the music plays!
The device itself has a power button, a skip button, and a volume button, which keeps it simple for smaller kids.
These tokens connect to Spotify playlists. That makes it easy to add your own music. Also, if you lose a token, you don't lose the music – it is still in your spotify, you just need a new physical token to connect it to.
Things to consider
If you don't use Spotify, you might not want to get a Jooki! It runs off spotify. Jooki can be used with free spotify, but ads will play. I know my kids don't like or understand ads. So, you have to add a Spotify monthly cost into the cost of owning one of these!
You can also add MP3 files to your Jooki, if you have those. I personally haven't had MP3 files in this decade!
What age is Jooki for?
This device was designed for ages 3 and up.
Is the Jooki worth it?
If you use spotify already then I think this is PERFECT for letting your kids play pre-made playlists.
If you don't use spotify, but have a lot of MP3 files, it can be great too.
If you have neither (like me haha) then this isn't the best fit in my opinion!
Lunii
The My Fabulous Storyteller by Lunii is a screen free audio story player for kids.
Cost
The Storyteller runs $80 and includes 48 pre-loaded stories. Additional stories can be purchased and cost from $3 to $15.
Awesome features
If you are looking for an audiobook player for kids, this is exactly what you are getting.
The stories on the Lunii are sort of choose your own adventure – when they start, kids get to choose the character and the setting. That's pretty fun!
Stories are offered in English, French, German, Italian, Spanish, Dutch, Flemish and Russian.
Things to consider
There are no physical cards or tokens for the stories – you download them online and transfer via USB.
The stories on the Lunii don't have the best reviews. They are said to be generic (to fit the choose-your-own-adventure style) and overall not great.
However, I have been told by readers that they have an emphasis on inclusivity and diversity in their stories, which is great.
Parents say that transferring the stories via USB drive is annoying and cumbersome.
Also, I have heard reports that the Lunii itself is kind of fragile, but that customer service is great about repairs and replacements.
And of course, remember the recurring cost of buying all of those stories!
What age is Lunii player for?
Lunii is designed for ages 3 and up.
Is the Lunii player worth it?
Based on the reviews of these stories, the cost of the materials, and the limits of the device, I'd personally pass on the Lunii in favor of more versatile options.
Storypod
Storypod is a kid's speaker with knit figurine that power it to play stories, music, and play games.
Read my complete Storypod review here!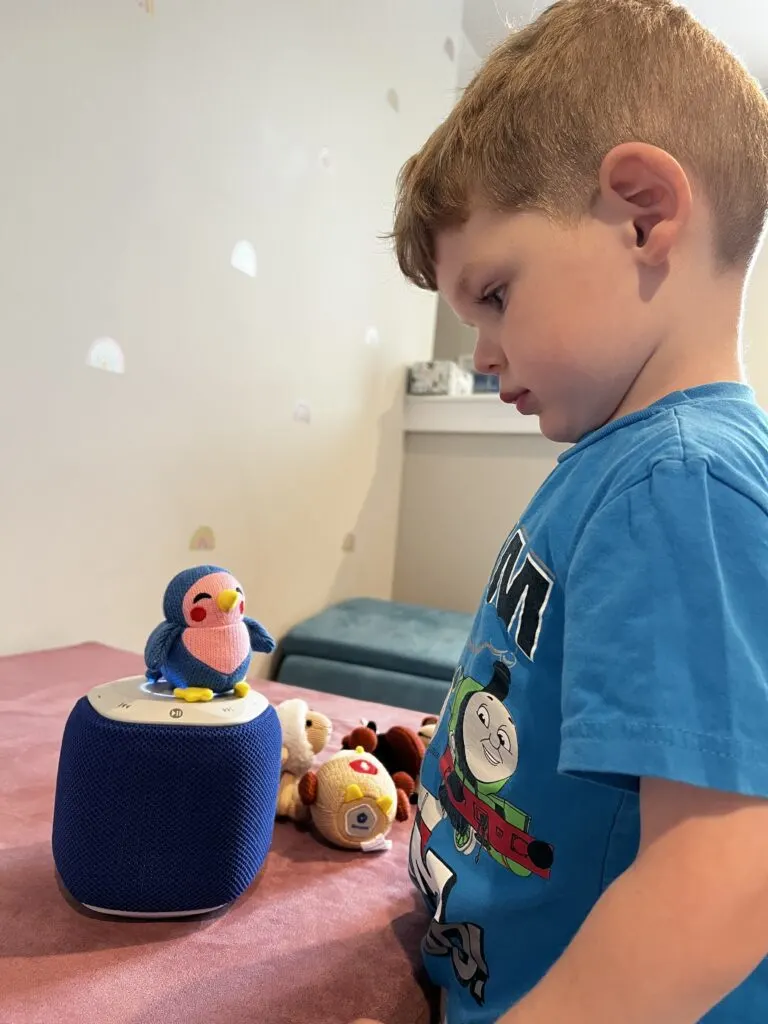 Cost
The Storypod includes 1 iCraftie Owl to make your own recording, 1 sleeve, 1 carrying strap, 1 charger for $79.
They offer books, yarn audio characters, and trivia cards ranging from $9.99 to $19.99.
A player with 5 crafties (figurines) will cost you $150.
Additional figurines cost $19 each for about an hour of content.
Awesome features
The stories and music on the Storypod is some of the most highly rated I have seen on any kids screen free device! People seem to really, really love it.
iCrafties are figurines that you can record your own things on – songs or someone reading a story or anything.
The Storypod also has a cool interactive feature. This includes interactive buttons that actively engage kids via question-and-answer trivia sessions that create a fun, active learning experience rather than just passive listening.
Things to consider
The figurines are knit like stuffed animals. If your kids lose toys a lot, these seem small enough to fall into the cracks of never never land around here.
What age is Storypod for?
This is designed for ages 3-9.
Is the Storypod worth it?
The Storypod is super highly rated for its quality content. People seem to really, really love it. Their products are on the higher end, but they offer more added value by providing longer runtimes, higher quality audio production, and bilingual audio content in most of the Craftie offerings in English and Spanish.
That being said, if you have plenty of money and budget is not an issue (no shame, go you), this is a super highly rated popular product. I would NOT go into credit card debt to buy it, please no, but if you can afford it, it is very beloved.
Which screen free kids player should I get??
| | | | | | |
| --- | --- | --- | --- | --- | --- |
| | Yoto | Tonie | Jooki | Lunii | Storypod |
| Target age | 3-12 | 3-7 | 3+ | 3+ | 3-9 |
| Add on type | Card | Figurine | Spotify tokens | USB | Plush figurine |
| Price of player | $99 | $99 | $112 | $79 | $79 |
| Add on price | $30 for 6 pack | $15 each | $35 for 5 | $3-15 each | $20 each |
Storypod is the highest and best reviewed kid's audio player. While the player is the same price as the others, the add ons (Crafties) are on the more expensive end, making this a more expensive option long term.
For a slightly cheaper option, I suggest Tonie Box or Yoto.
The Tonie box would appeal more to 3 or 4 year olds with shorter stories, bright colors, figurines, and a padded box.
The Yoto player is great for kindergarten and elementary aged kids, with cards they have to keep track of and a hard box. But, it's got more space for longer content and that podcast they will love! Plus, a clock!
Any more questions about screen free kids readers?