Considering buying a Storypod for your kids? Here is our complete Storypod review and everything you need to know about this kids music player and entertainment system!
One of the biggest trends in toys for preschool to lower-elementary aged kids this past year has been screen free audio players.
And I totally get it. Kids are mesmerized by screens – but, as a parent, you don't always feel great parking them in front of one.
But sometimes you just need your kid to play independently. That's why so many parents cut on the TV or hand over the phone. And I get it – we've been there.
However, if you are looking for a screen-free way to keep your kids enthralled, you might be interested in one of these audio players.
There are a few brands on the market, but today I am going to chat about the Storypod, which we own and has been tried and tested by my 3 1/2 year old son and 20 month old daughter.
Be sure to check out our comparison of Yoto vs Tonie box vs Jooki vs Lunii vs Storypod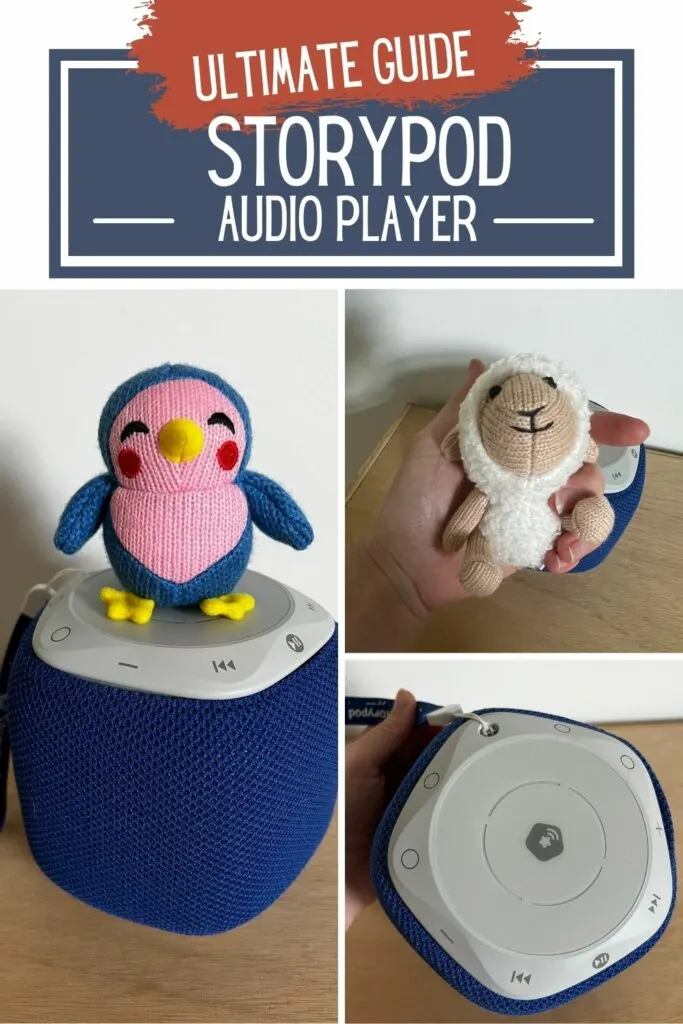 What is a Storypod?
A Storypod is a brand of kid's audio player. It is electronic, but has no screen and instead uses a speaker to play songs and stories for kids to enjoy.
What does a Storypod do?
The Storypod quickly and easily plays music, tells stories, reads books, and even has trivia games that kids can play without a screen.
How does Storypod work?
Storypod works by connecting the device to Storypod Crafties, which individually hold different sounds, music and stories.
Storypod Crafties are knit material and each feature a magnet and NFC chip inside. The magnet gently holds them in place on top of the Storypod and the NFC chip transfers the sound to your player.
There are also books and cards that have NFC chips in them, making them easy to tap and play.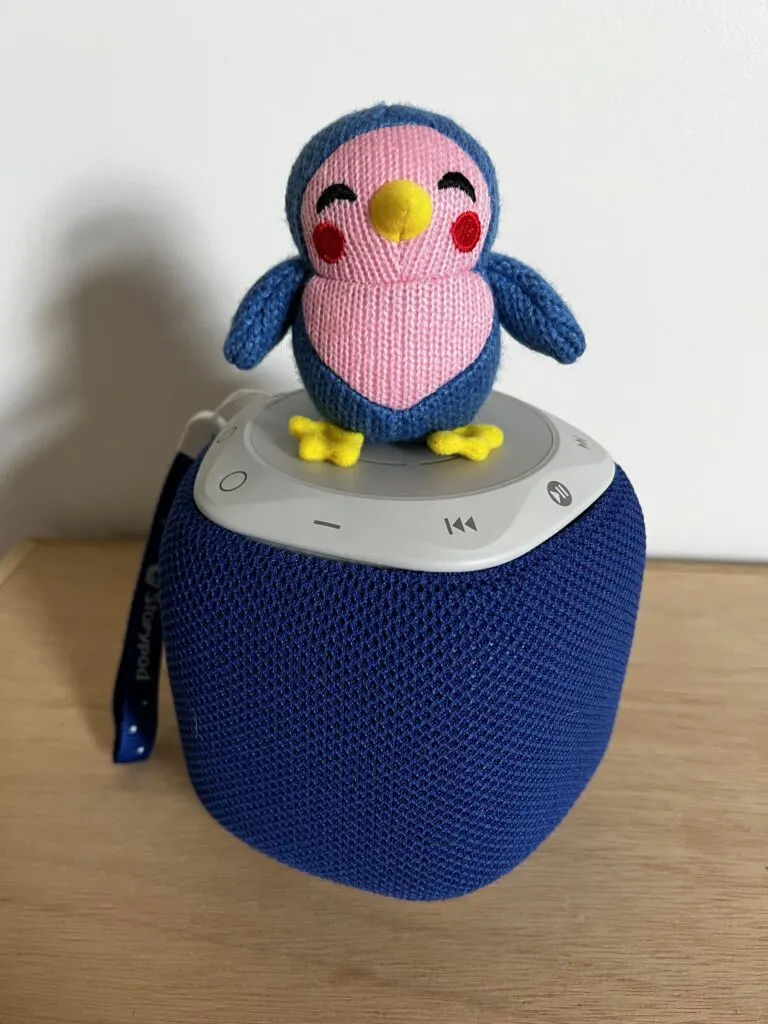 Storypod Review
I have been pleasantly surprised by the quality of the Storypod and how much my 3 year old has enjoyed using it. He's currently on a (6 month+) nap strike, and we are trying to use the Storypod as a way for him to have some quiet/alone time in his room while his sister naps and his parents get a little break!
The Storypod has a lot of really smart, creative features that make it super useful for parents. Our son was able to figure out how to work the device in just a few minutes and run it himself, making it great for some independent play.
So, you have to be sure you know what you are getting into before signing on with one of these types of toys.
Let's talk about the features that I love of the Storypod.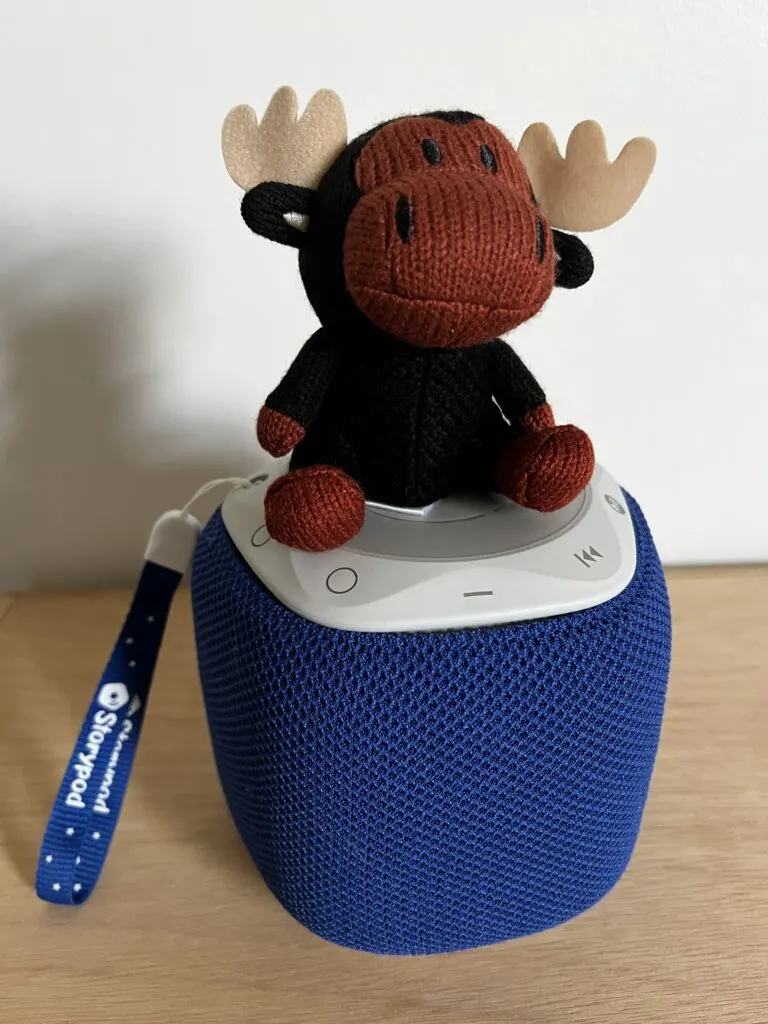 Awesome Features
Keeps playing without the figurine
You place the Craftie figurine onto the Storypod to get it to play the song or story. However, if your kid takes it off, it keeps playing until you hit pause or put on another Craftie.
I love this – my kids are always messing around and having the music stay continuous is a great feature.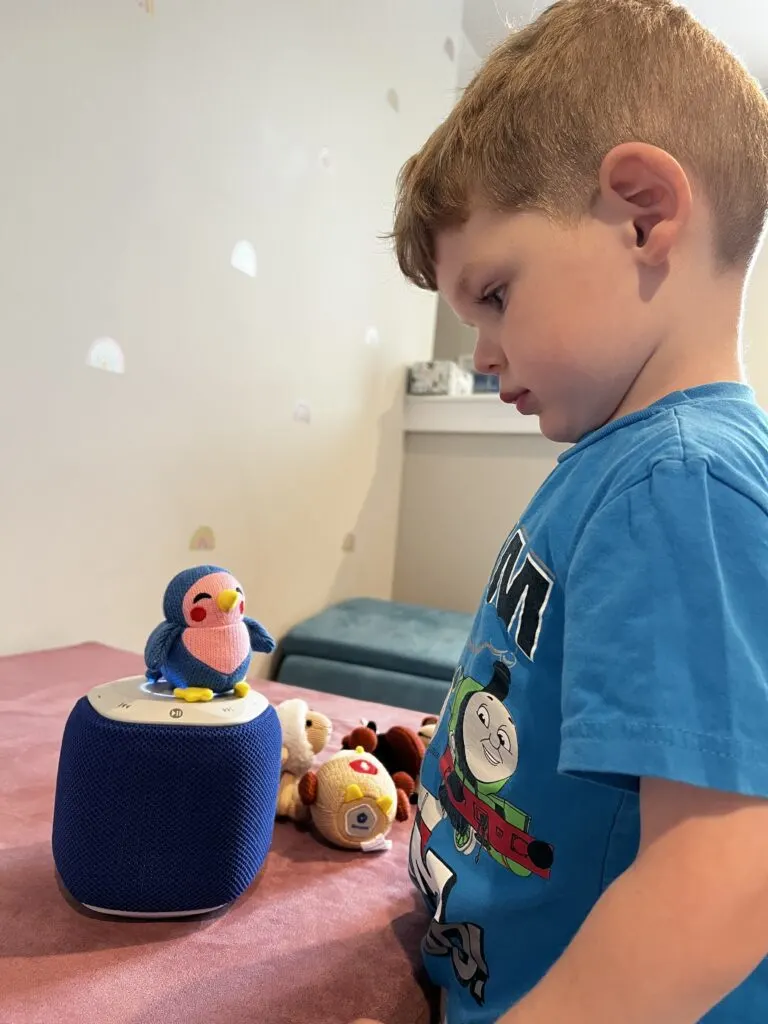 Sound quality
The sound quality is really very good and impressive for a kids toy. The volume can be lowered to a restful level and still come through clearly.
You need wifi to set it up, but works without it after
I was worried about the toy needing to be hooked up to wifi. However, once you have added a Craftie to your machine's repertoire, it remembers it and will work without wifi.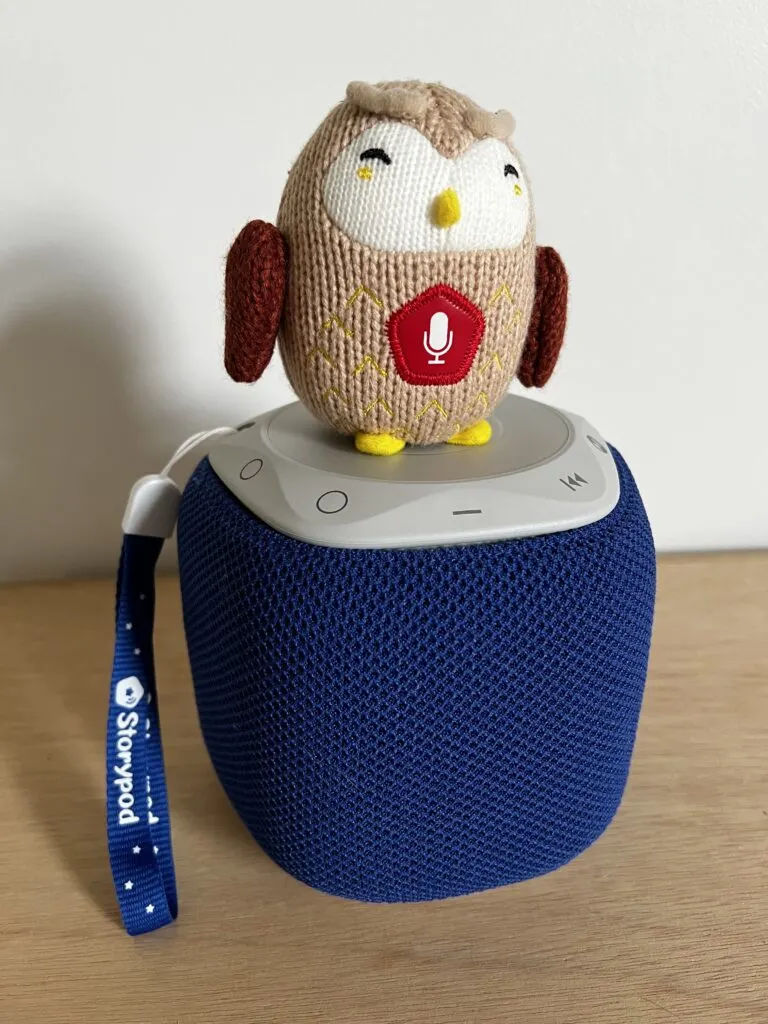 Nightlight
You can toggle on and off a nightlight on the lower half of the player. This is great! The light isn't very bright and shines down underneath the device, but it is good if your child uses this before bedtime.
It can also play white noise, perfect for bedtime.
Timers
The machine has timers so you can restrict usage after a certain time or set the player to work for a certain number of minutes. Perfect for bedtime and nap time!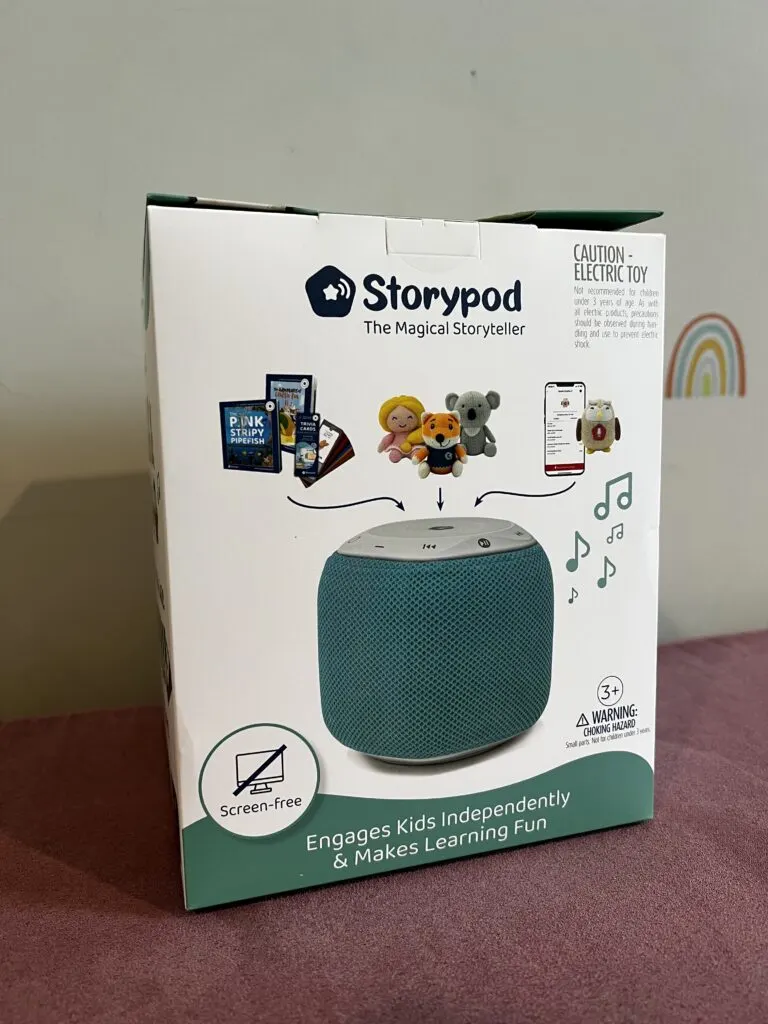 Very soft, plush outside
The speaker itself is actually rather soft and plush, almost cushioned feeling. Great for kids! You can also change the colored sleeve on the outside for different colors and patterns.
iCraftie
The owl that came with the machine is an iCraftie. It has a red microphone on its belly, but you actually use the app to record up to 100 minutes (in short bursts of your choosing).
I'm kind of surprised that this has been my kid's favorite part! They love singing songs and telling knock knock jokes and hearing them play back. I'm not sure they would listen to 100 minutes of this, but it is cool.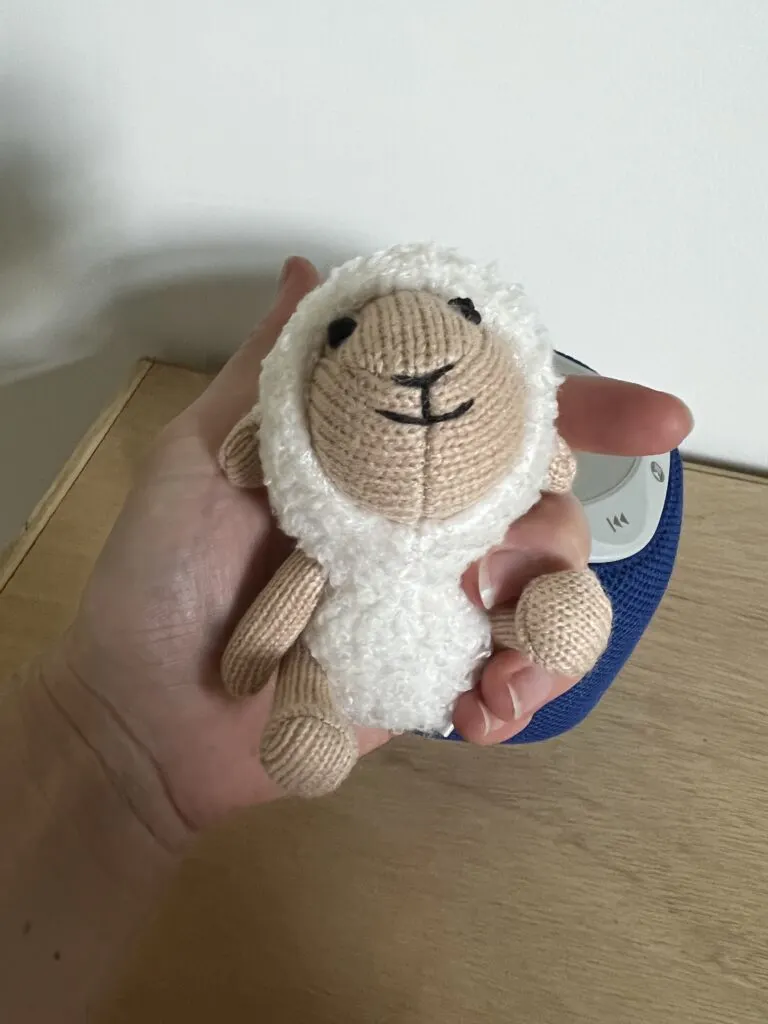 Things to consider
The sounds aren't unlimited
The biggest problem that I have with this player (and others like it) is that the sounds and music and books are very limited.
Each craftie has about 1 hour of music or stories on it. That's fine and great.
But, my kids are used to asking the Alexa to play music. They can ask for specific songs from any movie or show or any random thing in their head.
The Storypod is just more niched down and you get what you get. The selections are nice, but it just sort of is what it is, nothing more, and you can't navigate to exactly what you want quickly.
It was larger than I imagined
This is just anecdotal but I imagined that this thing would be about the size of our Amazon Echo Dot machines, but it is WAY bigger. More like the size of a toaster. Not a problem necessarily, just something to be aware of!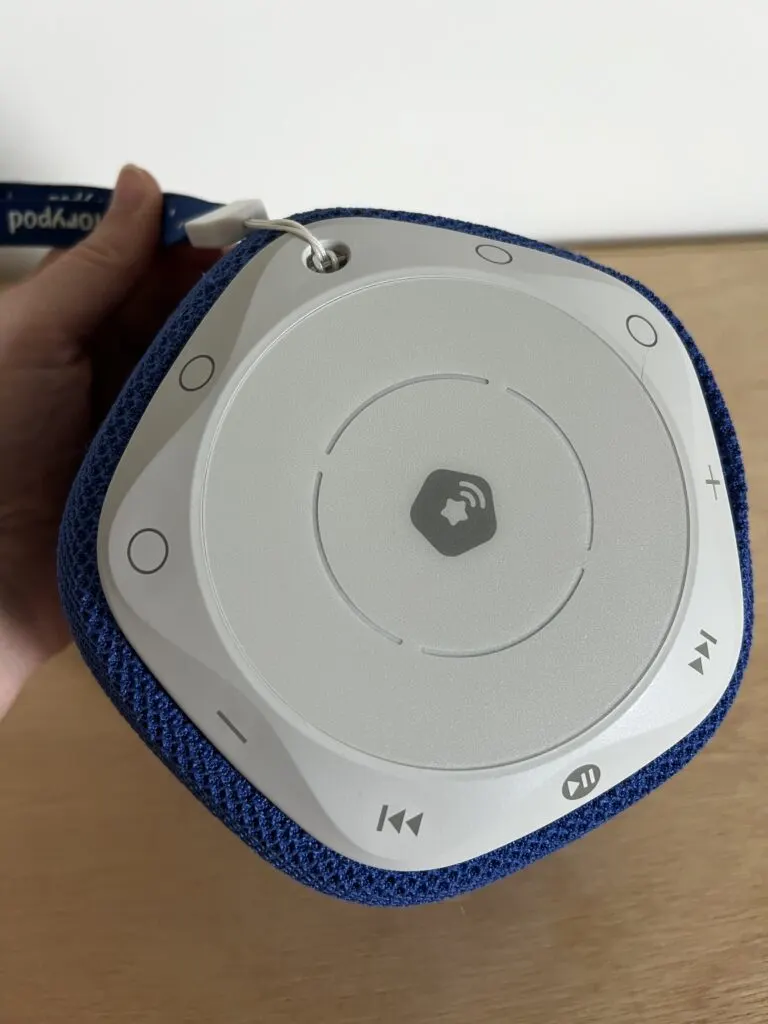 How much does a Storypod cost?
The Storypod and 1 Craftie (the recordable owl) is $79.
The Craftie figurines are $19.99 each and have about an hour of recordings on them.
Books and trivia cards are $9.99-15.99.
As I mentioned, to me, this makes the unit itself fairly attainable at most budgets, but when thinking about needing a large selection of add-ons, the price goes up quick.
Is a Storypod worth it?
This is the biggest question for a device like this. If only you could rub a crystal ball and predict how your child will take to a toy.
I think that the Storypod is awesome and a really smart way to help kids play independently.
That being said – you need a good number of the Crafties or books to make it worth it. On its own, the $79 bundle isn't going to entertain your kids for long.
I would prepare to spend about $200 right out of the gate to get a taste of if your kids will enjoy this toy.
If that is in your budget – that's great. It could be a great holiday or birthday gift, too. These are great for the kid who has everything already. It can also be great for long car trips if you've connected all your Crafties beforehand.
That being said, it's not a must have. Don't beat yourself up as a parent if it's not in the budget.
Do you have a Storypod? What do you think?