Looking for a 2 seater push car for your toddlers? Here's our review of the Step2 Side-By-Side Push Around SUV after using it for our 1 and 2 year olds!
Our go-to way of taking our kids around is no longer our stroller (unless we are at the zoo or somewhere like that). When it comes to neighborhood walks, we are all about the push car!
See our Step2 Whisper Ride II Ride On Push Car review here.
My son loved the single push car when he was younger and since my daughter is old enough to ride, too, we upgraded to the double!
Here are our thoughts about the Step2 double push car!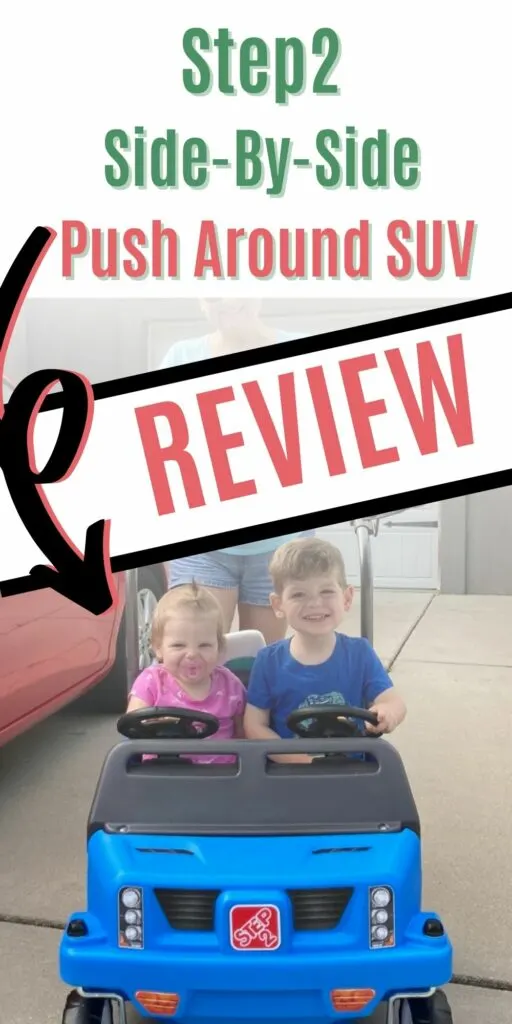 Step2 Side-By-Side Push Around SUV
We have had the Step 2 Double push car for over 6 months. We have had the single for over 2 years, but today I am just talking about the double!
What we love:
Easy to push
This car rolls very easily and only needs one hand to push. It's slightly harder to push on grass or compacted gravel. It definitely is designed for sidewalks.
Seats both kids
While this review skews heavily in me preferring the single seater car, the fact is that the single seater is unusable for a family with 2 kids – unless someone wants to walk. So, this seating 2 kids makes it useful and usable for families with 2 kids.
Kids love it!
Let's face it – a car is way more fun than a stroller for riding around. They can do the steering wheel, beep the horn, and feel cool and involved in the walk.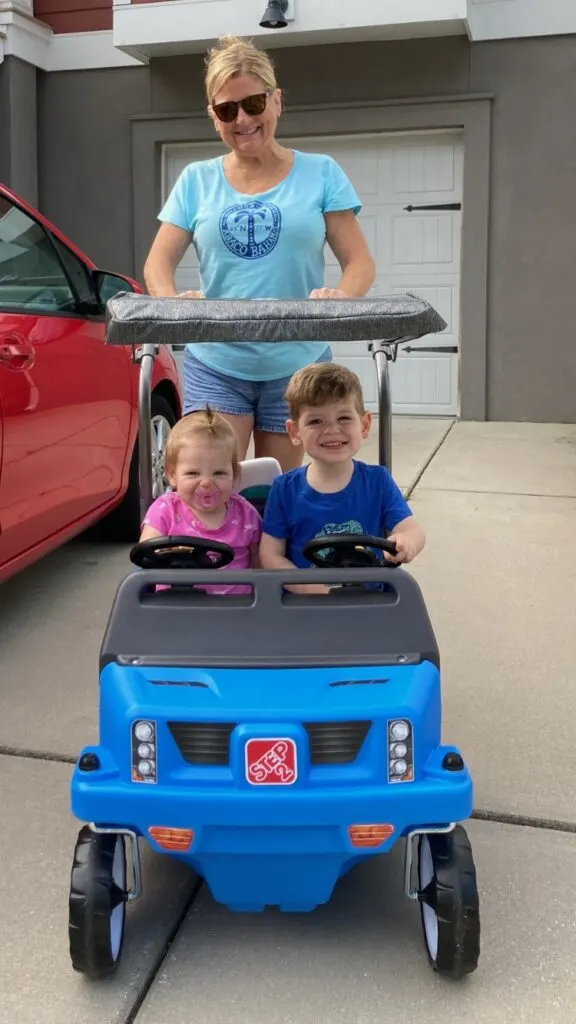 The negatives:
Bulky to store
This thing is huge. It doesn't fold down or collapse, making it tough to fit in a car trunk. It fits in the back of our SUV, but it takes up a lot of room.
Not super easy to assemble
This thing was a monster to assemble and required quite a bit of muscle to get it all together.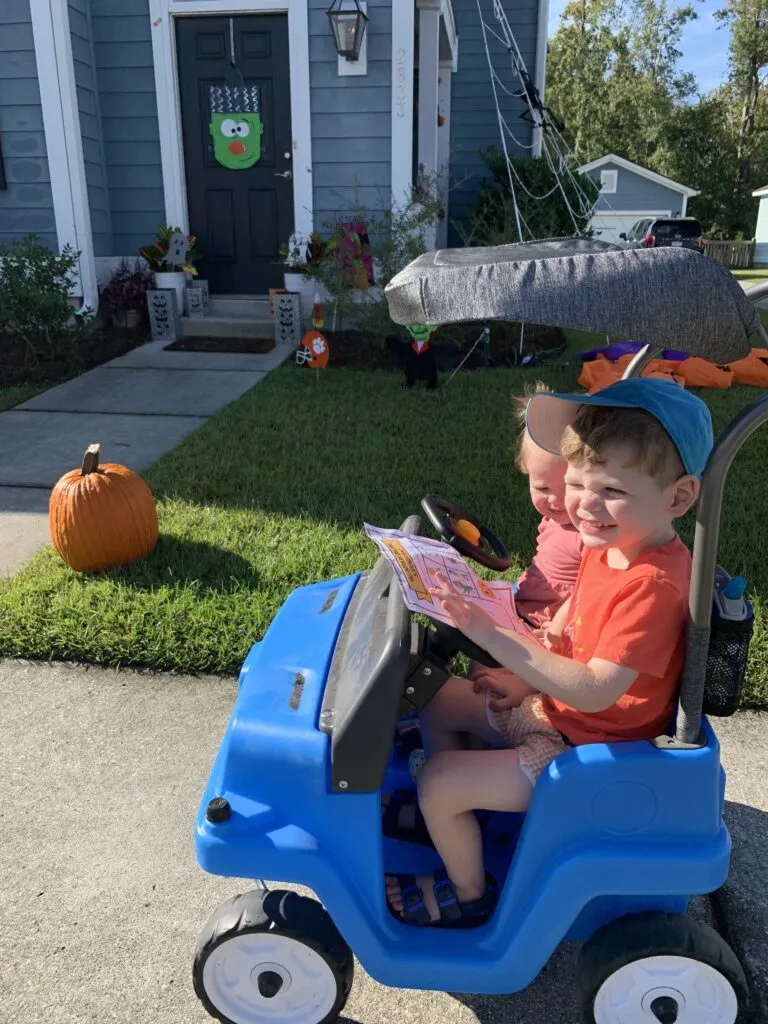 Lack of storage
The storage on this two seater is a lot more limited than the single seater. The storage is under the seat – making it unusable while a kid is riding!
We also miss the adult cupholder that the single seater has. And the cupholders for the kids! Basically, all the cupholders! This one has cup spots on the floor, but they don't hold well and kids can't reach them while seated!
Tight fit
It's a really tight fit in these seats. Our 3 year old is very average sized and it's tight for him to get in and out. It's not nearly as spacious as the 1 seater.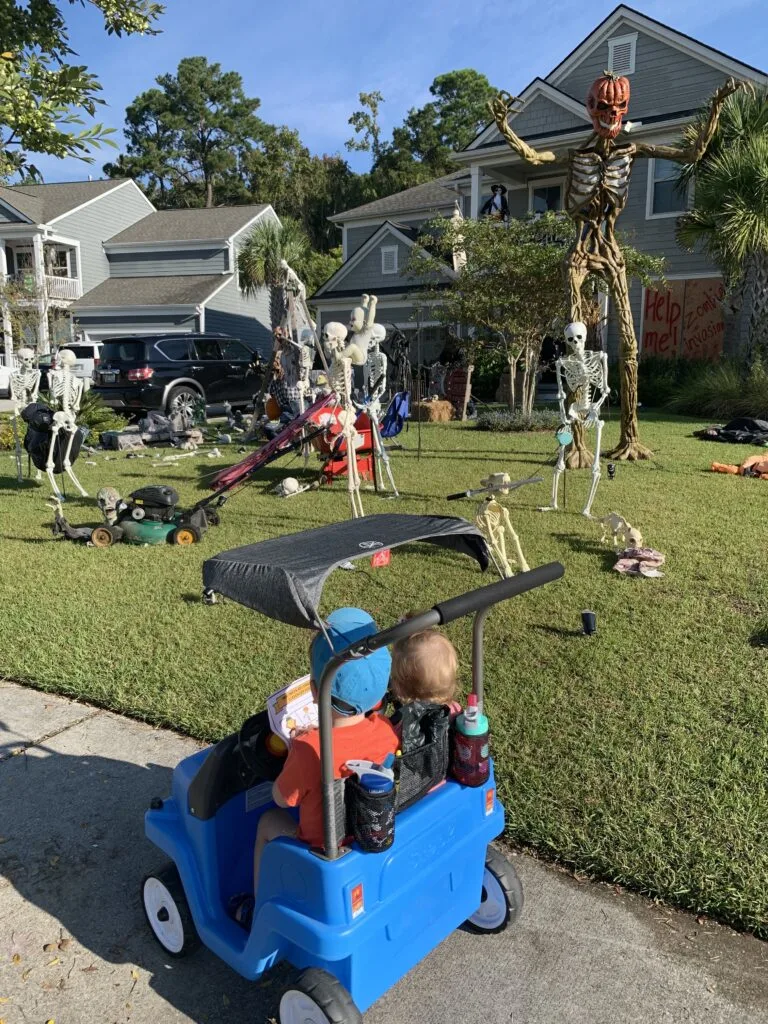 Any more questions about the Step 2 Push Car?