Want to make Valentines day special for your kids? Here are my best ideas for how to celebrate Valentine's Day with toddlers and preschoolers!
I love making simple "Hallmark holidays" into big, multiple-week long celebrations with my kids. It makes it so much more fun for them to build up a lot of anticipation with fun activities.
Plus, we gotta do something all day – why not give it a theme 😀
The thing about Valentine's Day is that it's traditionally a romantic holiday. Obviously you don't want to do anything romantic with your kids (lol).
But, you can instead focus on the idea of love and loving each other! Valentines Day with family can be sweet and special.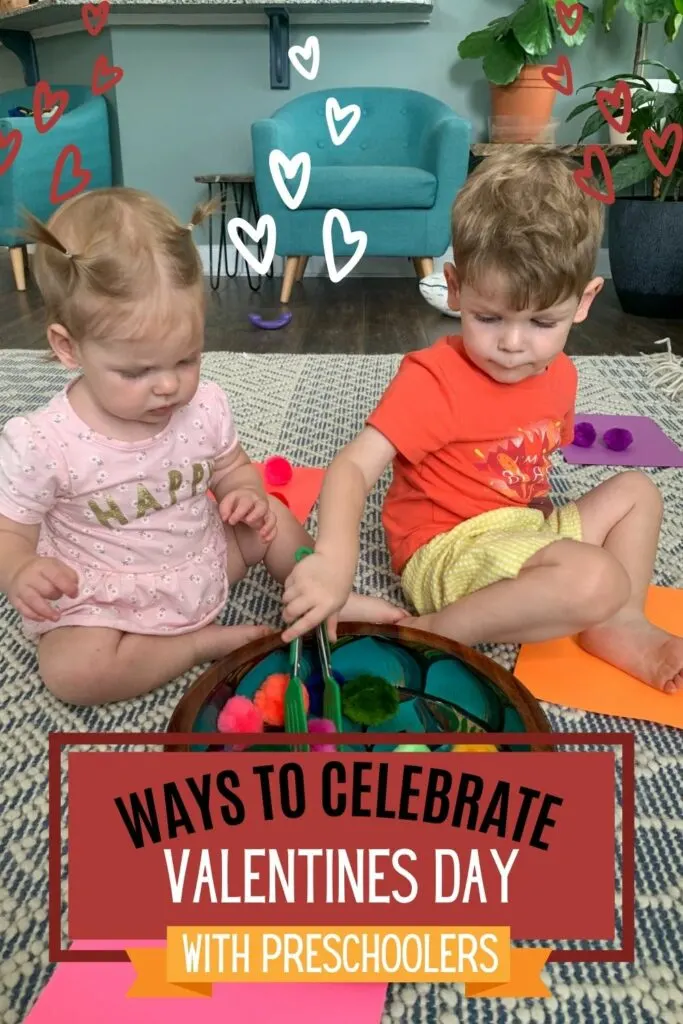 Family Valentines Day Ideas
Hare are some fun ways to celebrate Valentine's Day with kids!
Make lists of things you love
This is a great way to emphasize the season of love and remind your kids to be grateful for everything in their life. Make a big list of everything you love – the people, places, pets, and things! Re-visit the list often to talk about love!
Have a special breakfast
Even if it's a school day, you can start Valentine's day off on a sweet note with a special breakfast! Heart shaped pancakes are fancy, but a pink donut with sprinkles is super sweet, too!
Here are my favorite Valentine's Day breakfast ideas for kids!
Do a craft
Plan some fun Valentines day crafts leading up to the big day! There are lots of crafts to choose from – here are my favorite Valentine's Day crafts!
Bake a treat
I like to do LOTS of baking leading up to Valentine's Day. You can make cookies, cupcakes, or any of these Valentines Day treat recipes.
Don't limit yourself to just Valentines day – kids will enjoy making & eating these treats all month long!
Decorate your house
To make the season feel special, decorate your house! You can hang pink or red streamers, get heart shaped balloons, or hang hearts from the ceiling!
It's fun to cut out large hearts from colored paper and let your kids color them. You can then write things you all love on each heart and hang them up to display!
Have a photo shoot
Maybe I am "that mom" but I love buying my kids matching shirts for different holidays. That means we do a photo shoot! Grab some cute props and let your kids be silly for the camera.
Have a tea party
Tea parties are a big hit around here, too. Gather your stuffed animals and have a heart or love themed tea party! Pretend food is fun, but it's extra fun to bring in some real treats in the end!
Go on a scavenger hunt
We did this last year and it was a HUGE hit. I am so excited to do it again now that our kids are a little older.
What we did is cut 5 pieces of colored paper into big hearts and write a simple clue rhyme on each.
Then, we hid each clue in the place the last clue led to. In each spot, we had a small (candy) treat and the final spot had a big treat (a stuffed animal). You could do it without the treats, too, especially if you had more clues and stops for an older kid!
Dress up for dinner
One of my favorite Valentine's Day treats from years past was going to eat somewhere nice. Now, I couldn't be less interested in taking my kids to a fancy restaurant!
So, get that same feeling by dressing up for dinner! Let everyone put on a nice outfit, set the table a little bit fancy, and have a nice dinner at home!
Read Valentine's Day books
I love getting armfuls of holiday books at the library! Ask your librarian (well in advance) for their recommendations for your kids.
Watch a Valentine's Day movie (or episode)
Turn TV time into a holiday celebration by watching Valentine's Day movies or episodes of your kids' favorite shows.
Share the love with your neighbors
Make some holiday treats and share them with your neighbors! Deliver them door to door with your kids for some extra fun.
Take a pink bath
Make bath time a part of the celebration with a pink bath! I use these bath colors, but any pink bath bomb or bath paint will do!
What are your favorite ways to celebrate valentines day with preschoolers?!