Want to make your baby's first Valentine's day special? Here are some ideas for how to celebrate Valentine's Day with a baby!
Every first holiday is a milestone with a baby! It's so fun to make each day a little special, so it's really exciting to do something extra special for holidays.
However, Valentine's day can be a bit weird. It is traditionally a romantic holiday, and if you have a new baby I seriously doubt you are feeling romantic.
Anyways, there are still some things that you can do with your baby to commemorate the holiday.
I seriously suggest keeping it low-key, but still do something special to remember the day. Your baby will never remember their first Valentines day – but you will!
Here are my best ideas for how to celebrate Valentine's Day with toddlers + preschoolers!
Here are my best Valentine's Day ideas for babies!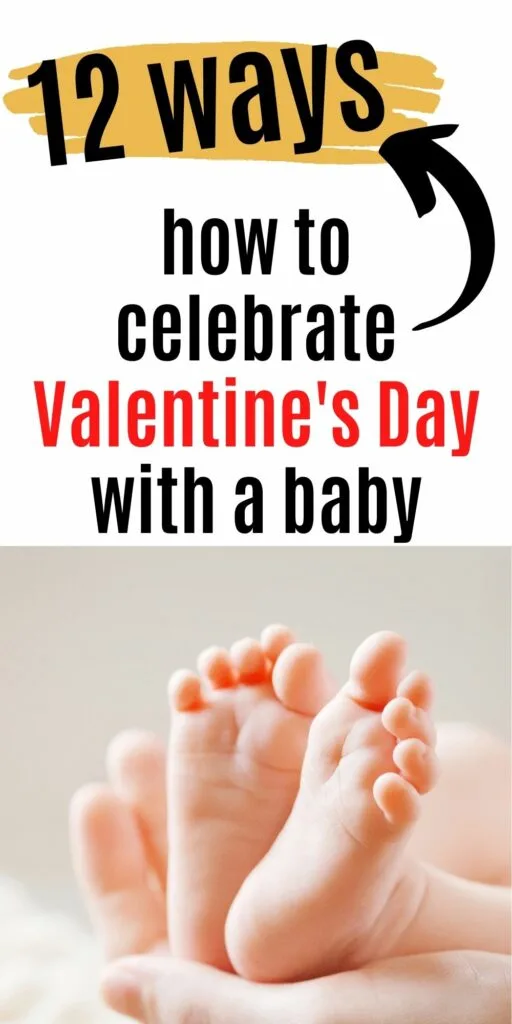 Valentine's Day ideas for infants
Focus on love
Valentine's Day is the season about love. So, share the love with your baby!
Do lots of cuddles and snuggles and show them lots and lots of love.
Dress them up
It's so fun to get newborn my first Valentines day outfits. You can get a onesie, a bib, a hat, anything!
If you want something that will last past the holiday, focus on something pink or red, or with hearts, that will work all year long.
Do a photoshoot
One thing I would tell any parent of a newborn is to take ALL of the pictures and videos that you can. It sounds cliched, but you can never go back and get the picture later.
So, whether you buy an outfit or just dress your baby up and cover them with lipstick kisses, take a bunch of pictures!
One of my favorite pictures of my son as a baby was valentine's day, with my husband and I each kissing one of his cheeks!
Invite over other parents of babies
If you know any other babies, invite them over for a valentine's day "party". Let the babies roll around on a quilt and the caregivers drink coffee and complain about lack of sleep. It's really nice to hang out with someone else in the trenches.
Have a special lunch
My son was 5 months old his first Valentines day, I was home with him and his dad was working. We went to Papa Johns and got a heart shaped pizza (hahaha, but it was good) and surprised his dad at work for lunch.
We just sat at a picnic table and ate mediocre pizza out of a box, and the baby didn't eat anything, but it was a memory that I will never forget!
Bake a Valentine's treat
I love baking for Valentines day. Here are my favorite Valentines day treat recipes.
Even if your baby can't eat, they can sit in their pillow or seat of choice in the kitchen with you while you bake. They love to watch things happen!
Play music and let them smell things like chocolate or vanilla as you go!
Decorate their nursery
If you want to be extra, hang some decorations in their rooms! My babies always loved twinkle lights!
Read Valentine's books
Check out a few Valentines Day board books from your local library – call ahead or reserve them online in advance as they "sell out" quickly!
Get your newborn a Valentine's day gift
If you are into gifts, consider getting something for your baby. It could be practical – like a teething toy shaped like a heart. Or, it could be sweet, like a stuffed animal. Whatever fits your budget and lifestyle!
Do a craft
Valentines day crafts for babies might seem ridiculous. Obviously, they aren't running the hot glue gun. I suggest sticking to handprint or footprint crafts – and stick them in the bath right afterwards.
If your baby is on the older end of it, check out my favorite Valentines day crafts for toddlers!
Write a love letter
Write a love letter to your baby. Consider asking other family members or care givers to do the same, then tuck them away for the future!
Treat yourself
If you have an infant, you are busy and tired and working hard. Do something to treat yourself. Maybe it's skip cleaning and watching a movie, or schedule a haircut, or have a long phone call with a good friend.
Treat yourself and the boost it gives you will benefit your baby, too!
Here are my best ideas for couples for how to celebrate your first Valentines day after having a baby!