First Valentines Day after having kids? Here are some ideas for how to celebrate your first Valentine's Day after having a baby!
Valentine's Day is one of those holidays that some people get really into, and other skip all together.
When you are in a new relationship or a newly wed, it can be a really fun holiday to celebrate together.
However, if you have a new baby in your home – you might not really be feeling very romantic.
Maybe before-baby you would have gone out to a nice dinner, cooked a romantic meal at home, or gone on a fun or cheesey date night.
Valentines with a newborn just doesn't have the same ring to it.
So, let's chat about dad & mom's first valentines day as parents and what you can do to still make it special!
If you are wondering how to celebrate valentines day with a baby, click here for my best ideas to include your infant!
I will say that the most important thing is to plan in advance and talk to your partner. Find out what their expectations are – for real.
There is SO MUCH disappointment around Valentines day and it almost always is because the partners have different visions or expectations.
If you want a gift or a dinner or a babysitter, say it in advance, out loud, or put it in writing. It's a lot harder to swing those things the day-of.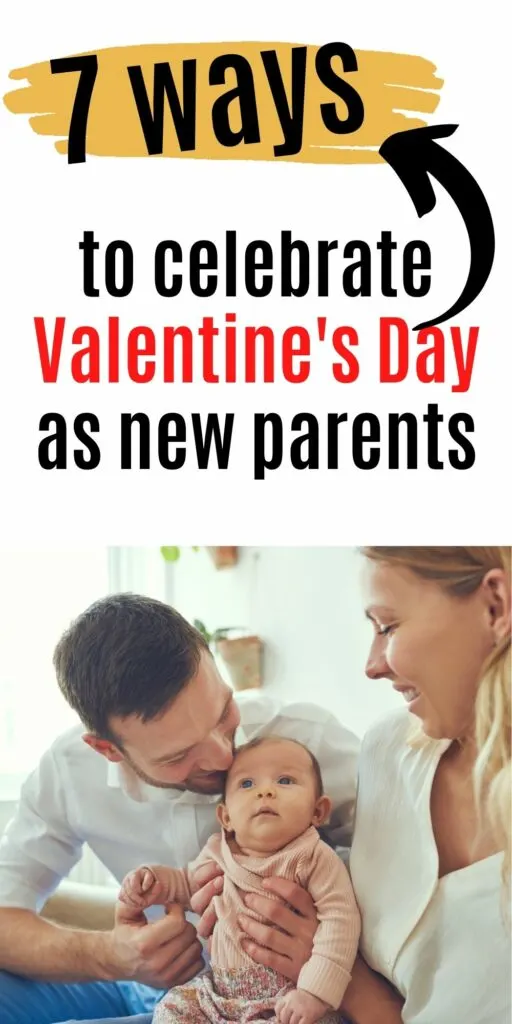 Valentines Day ideas for new parents
Step away from parenting
The goal of all of these ideas is to step away from parenting for an hour or two and focus on yourselves as a couple.
I recognize that is easier said than done – my kids have never gone to daycare and we don't have any family nearby. We are literally always with them.
if you are in a similar situation, plan something for after bedtime or during nap time!
Plan a special meal
If you can swing it, a nice adults-only meal after the kids are in bed is wonderful. If you don't have a babysitter, eat at home. You can cook or order take out from your favorite place.
Set the table with your nicest dishes and maybe even a centerpiece. Pour your drinks of choice and try to really reconnect.
Light a candle (or two)
Lighting a few candles and dimming the lights instantly makes your home feel more relaxing and romantic.
Do a day date
Our second child was a terrible sleeper as a baby. She's only really sleeping well now and she's almost 18 months old.
If you have a terrible sleeper who takes hours of crying to finally go to bed at night, do NOT plan a romantic evening – it will get frustrating really quickly.
Instead, plan a day date. Maybe it's a hike in your favorite spot. Or, a lunch somewhere special. Babies are actually pretty portable during the day, so plan something they can come with you, even if its while they nap in the carseat.
Practice small acts of kindness
You should obviously always be kind to each other, but around Valentine's day really try to do something extra. Do an extra chore (unasked and don't brag about it, just do it quietly).
Take care of some simple tasks to make your partner's day a little easier and send some extra love their way.
Help each other relax
Thing of what makes your partner relax and plan to do that – especially in the evening after the baby is in bed. Maybe it's watching a movie, a back massage, or a glass of wine.
Keep it simple and as relaxing as possible!
Write love notes
I love writing love notes, and taking the time to put your feelings about your partner into words is completely free and very meaningful.
I know that after you see your spouse become a parent, you appreciate them in all new ways. Write that down!
If you don't feel eloquent with your writing, you can do a jar with little slips of paper of all the things you love about your partner! Simple but very meaningful!
Valentines gifts for new moms and dads
If you want to give the perfect Valentines day gift for a new mom or dad, you want to really give them a break or a chance to do something for themselves. My favorite new-parent gifts are:
Food – a gift certificate, or send a delivered meal or even a week of a meal kit like HelloFresh
Spa treatments gift certificate – haircut, massage, pedicure
House cleaning
Family photographer session
The gift of time – offer to watch the baby so they can have an hour or two to do something – and let them choose what they want to do. It might be run errands, it might be shower and nap. No judgment.