If you are looking for something fun to do with your kids on St Patrick's Day – how about a scavenger hunt? Download the Free Printable St Patrick's Day Scavenger Hunt at the end of this post!
There are a lot of fun ways to celebrate St Patrick's Day with kids – trust me, I've tried most of them.
One of my favorite things to do is get our kids up and moving. A scavenger hunt is a great way to get them running around and a way to sort of stretch out the process if you are giving them gifts.
My kids started doing scavenger hunts at the age of 2. Obviously, you have to read the clues and make them easier for young kids. But this can definitely be scaled up or down for any age group!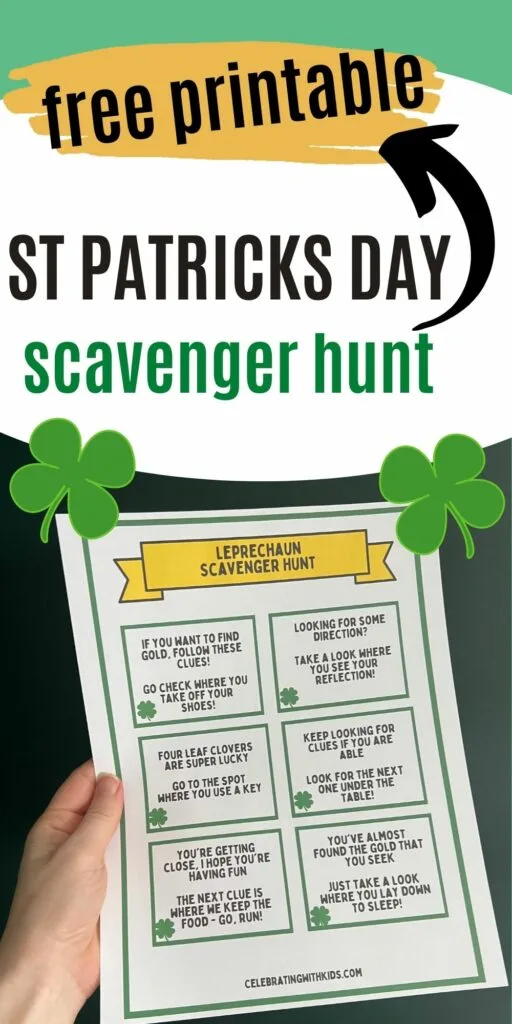 Be sure to check out our St Patrick's Day ideas!
St Patrick's Day Scavenger Hunt
A St Patrick's Day scavenger hunt is a fun way to celebrate the holiday.
If you do a leprechaun trap, you could have the first clue left at the trap for your kids to follow to find the gold.
No leprechaun trap, no problem. Have the leprechaun leave the clues where ever your kids will see the first one when they wake up or get home from school!
How to set up your St Patrick's Day scavenger hunt
Print the free printable scavenger hunt clues or write your own. If printing, cut them apart or use the blank cards to create your own!
Place the first clue (starting "if you want to find gold, follow these clues") somewhere they will obviously see it first thing in the morning or after school.
Hide each clue. Remember to hide it not where the clue leads to but where the clue prior to it leads to!
Place the final clue somewhere fairly well hidden (age appropriate of course) and put a few treats next to it as the treasure!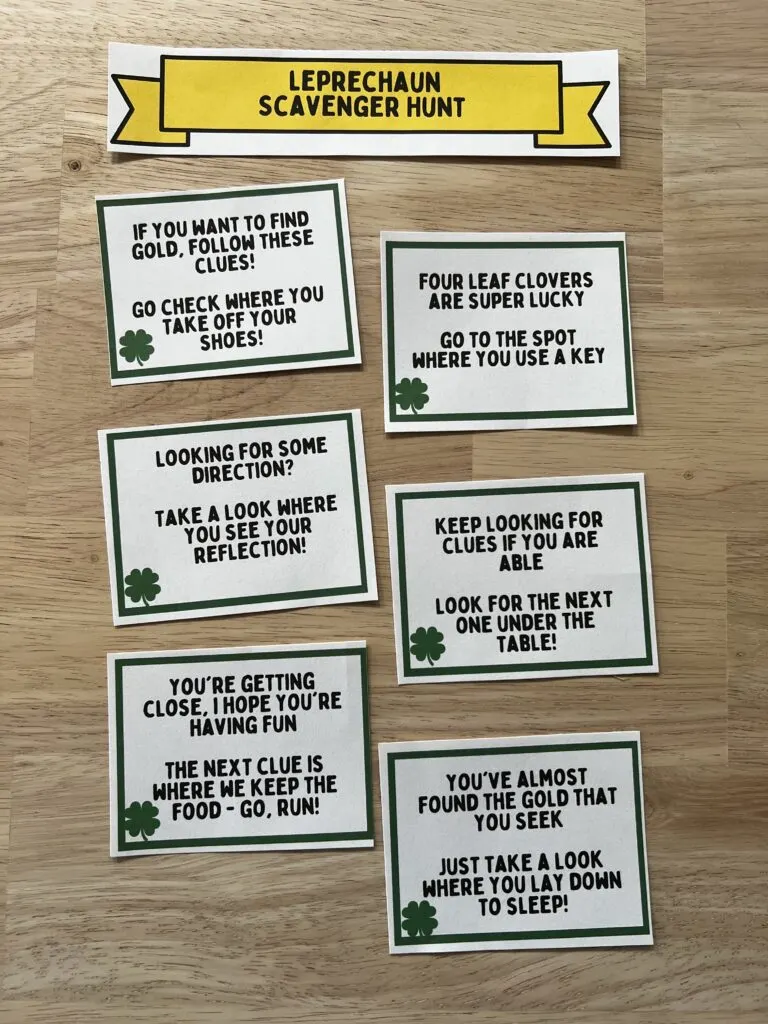 What should be at the end of your St Patrick's Day scavenger hunt?
It's always good to have some treasure at the end of a scavenger hunt. St Patricks Day themed ideas include:
Homemade coupon to go do something for the holiday (parade, festival, go get shamrock shakes)
Gold dollar coins
Shiny pennies (shine them using table salt + white vinegar!)
Candy wrapped in foil (I think gold or silver is fine)
Dollar bill with glitter on it
Lucky charms cereal… hey, there are pots of gold marshmallows!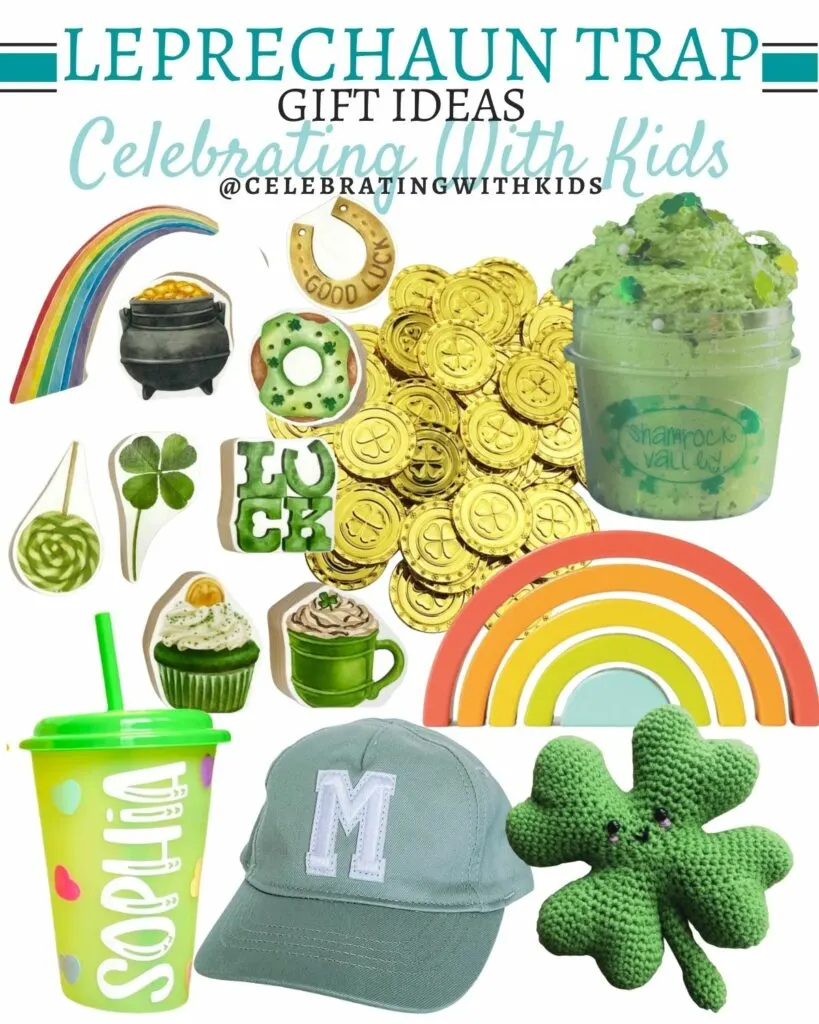 Click here to shop this collage of leprechaun gift ideas!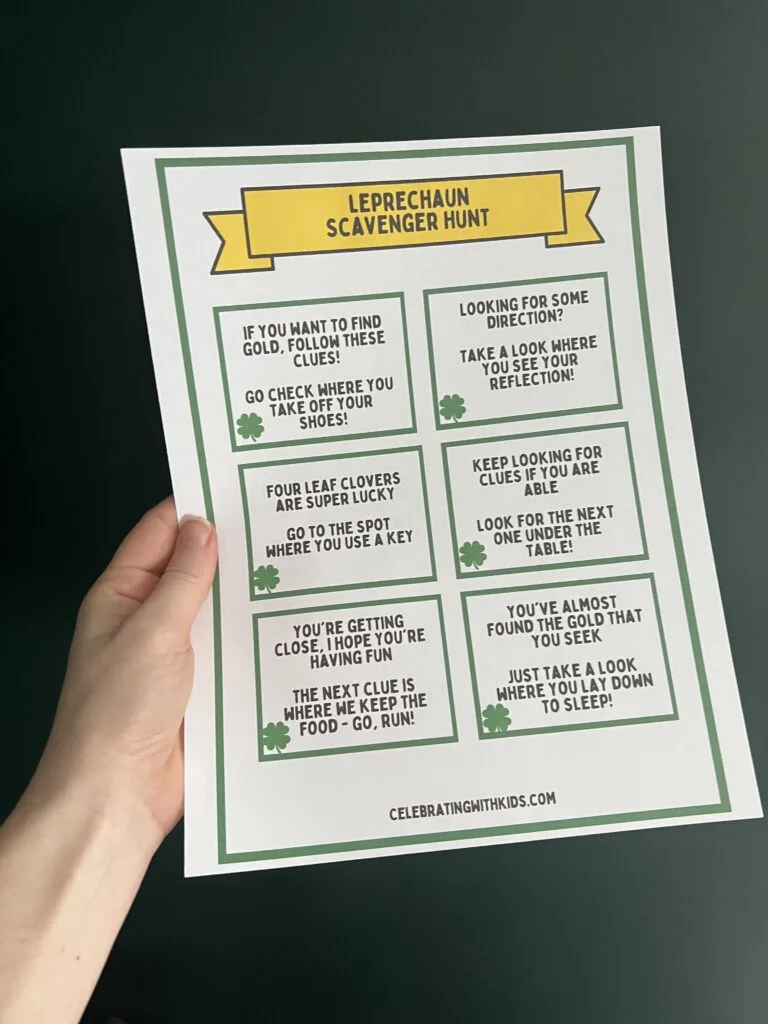 Free Printable St Patrick's Day Scavenger Hunt
Click here or use the widget below to get the free printable St Patrick's Day scavenger hunt!
What are you doing with your kids for St Patrick's Day?