Want to create some St Patricks Day magic for your kids? Here's how to make Leprechaun footprints from your door to their leprechaun trap!
St Patricks Day is a really fun day to celebrate with kids!
We have really enjoyed making leprechaun traps and going on leprechaun hunts to celebrate.
One fun way to make it look like a leprechaun was in your house is by making a trail of leprechaun footprints leading to and from your leprechaun trap!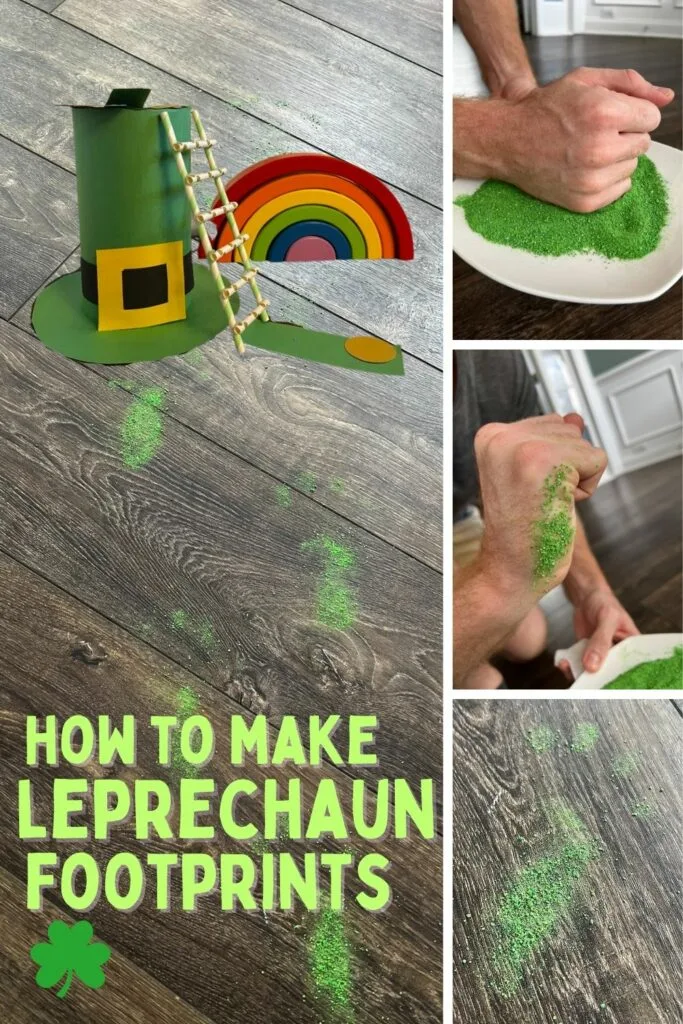 Be sure to check out our St Patrick's Day ideas!
How do you make leprechaun foot prints?
You can easily use your hands to make Leprechaun footprints for a fun tradition! No stencil or tools required.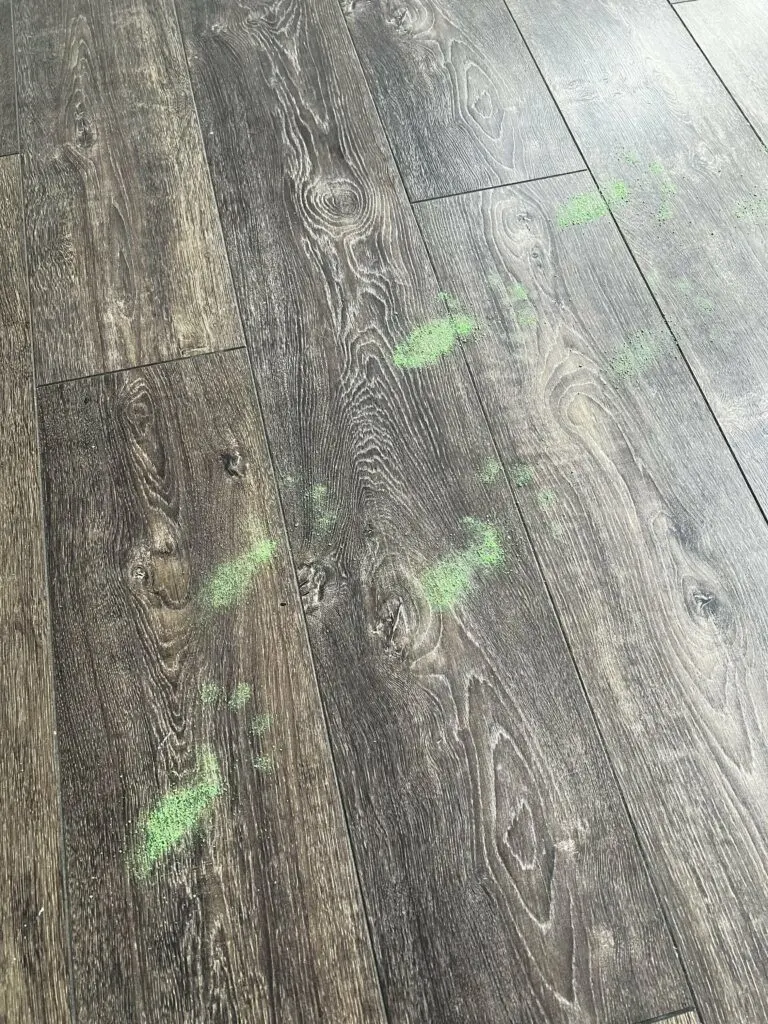 What do you use to make leprechaun footprints?
You can use any green powder to make leprechaun footprints. Here are some ides of what to mix dye into:
Flour (what we use)
Powdered sugar
Baby powder
Chalk (outdoors on sidewalk)
Baking soda
Green paint
Glitter (if you are brave, that's a no from me) or mix glitter into any of the above
You can also have the leprechaun drop little treats on his path like gold coins or shamrock cut outs. We have pets so that doesn't work great for us!
Check out all of my ideas for what a leprechaun leaves behind in the trap!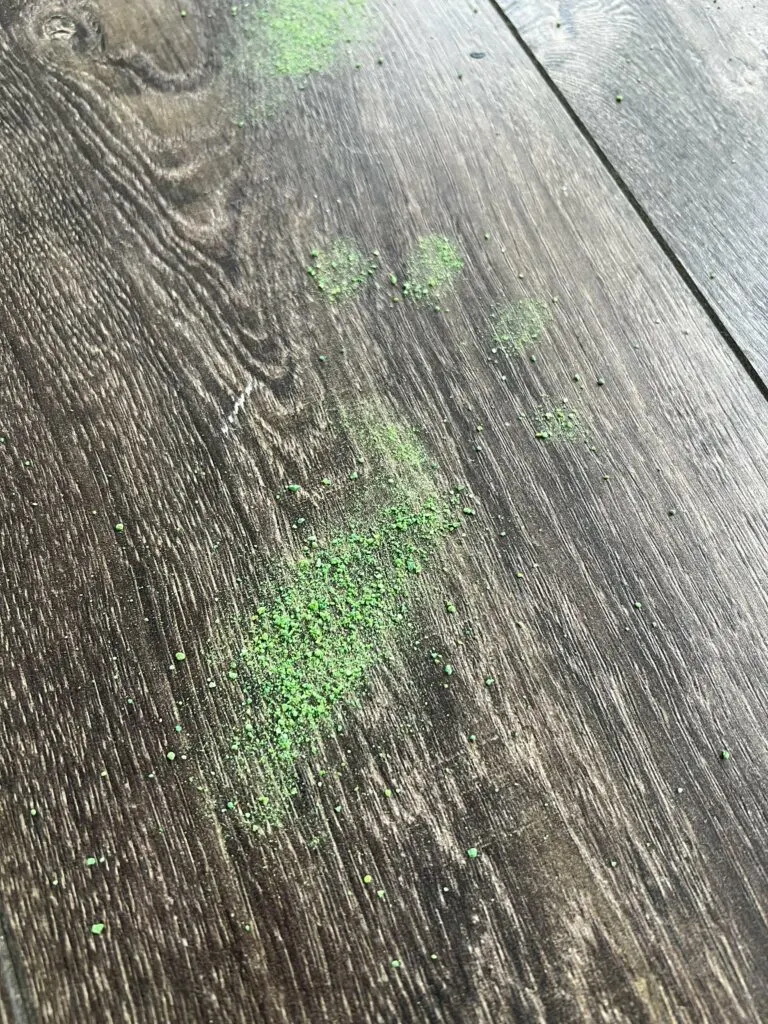 How to dye flour
If you want green footprints, you can easily dye your flour (or other powder) green.
What you need:
Flour or other powder
Green food coloring
Bowl
Teaspoon
Spoon
Ziplock bag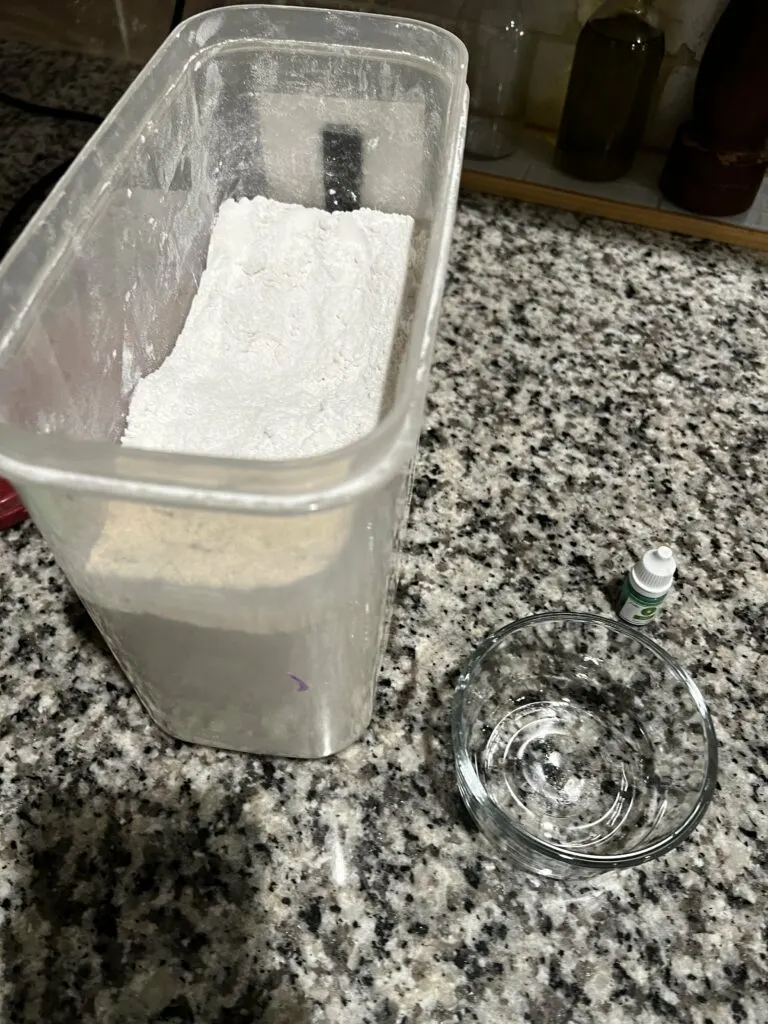 Steps to dye flour:
Put about 1/4 cup of flour in a small bowl.
Add food coloring to the flour directly. Stir to combine.
If it won't mix well, you can add a small amount of water – 1/4 teaspoon at a time – to help the dye blend.
You can put the powder into a ziplock bag to shake it and combine well.
If you add too much water and it gets clumpy, you can put it in a blender or food processor and blend smooth.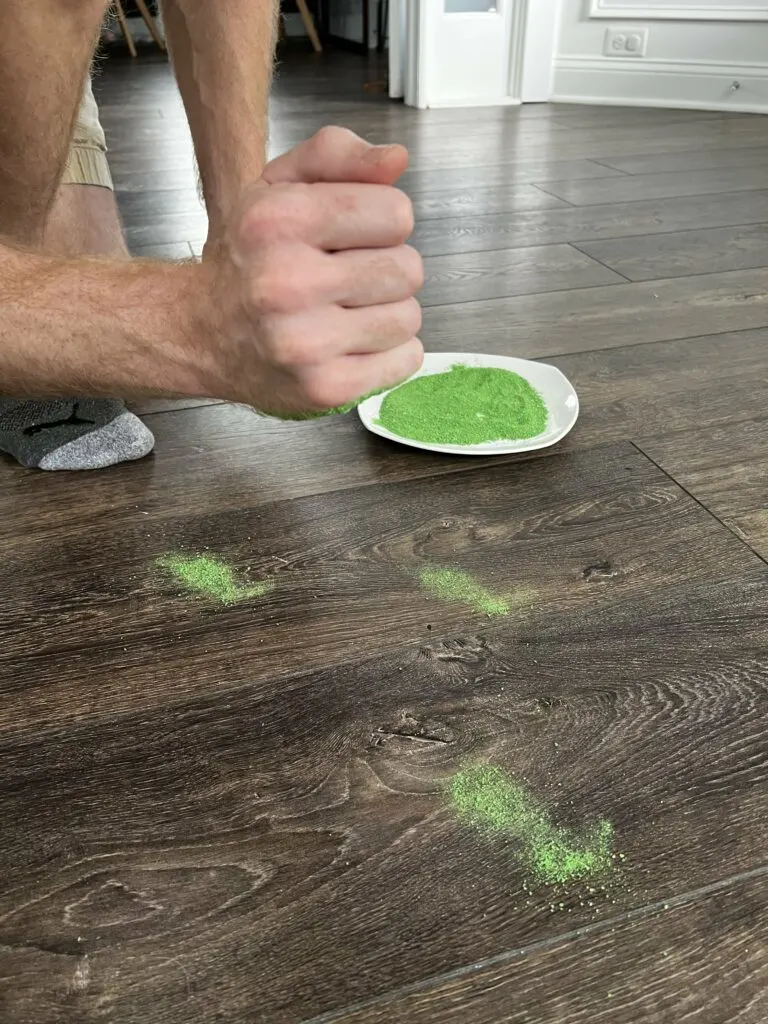 How do you make leprechaun footprints with your fingers?
I prefer to use the side of my hand (balled in a fist) to make my leprechaun footprints. If you want to add toes, you can do that using a finger.
Some people use a footprint template. This is OK, but have you ever tried to stencil something? I think it turns out neater to do just them by hand.
I have also seen people cut little sponges into circles and piece them together to make footprints. That's fine too.
But let me give you permission to KEEP IT SIMPLE. Your kids will not remember how perfect the paw prints were or if they had toes.
They will remember the joy and excitement. And one day, decades from now, they will appreciate your effort!
How to make Leprechaun footprints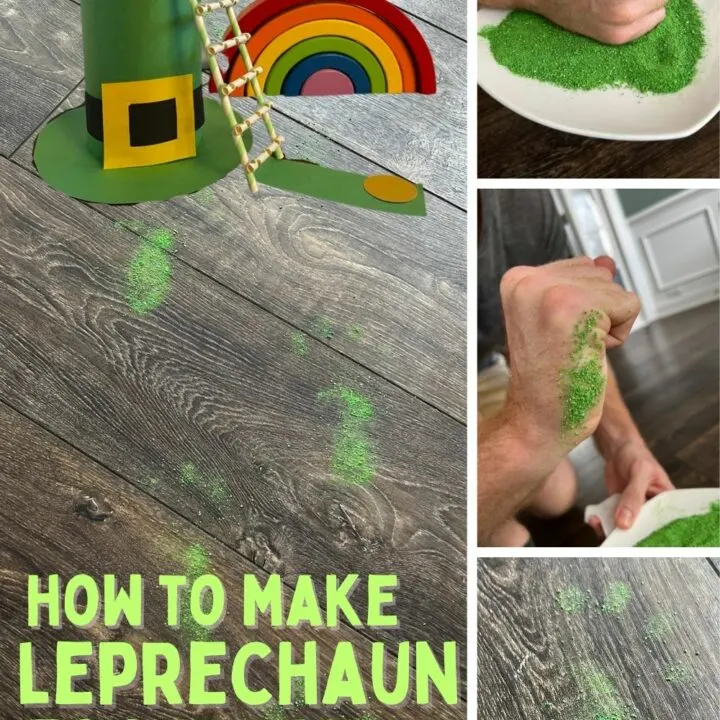 How to make leprechaun footprints
Yield:
1 set of footprint
It's super easy to make leprechaun footprints to get your kids excited about St Patrick's Day!
Materials
Your choice of: flour, powdered sugar, baking soda, baby powder
Green food coloring
Optional: glitter
Tools
Bowl and spoon or plastic bag
Plate or shallow bowl
Your hand (2 hands are great for opposite feet)
Broom or vacuum to clean up
Instructions
Pour the white powder of your choice into a shallow bowl.
Add food coloring and a tiny bit of water (1/4t). Mix to dye. I found it easiest to put it in a ziplock bag to mix it well. If you end up adding too much water and it get clumpy, you can put it in a blender or food processor to blast it to dust again. Add glitter if you want to.
Pour the mixture into a shallow bowl or plate.
Make a fist and identify the outside of your fist that makes the shape of a foot.
Dip it into the powder.
Press onto the floor gently. Optional - use your finger to make lil toe prints.
Repeat to create a trail of footprints. I like to alternate hands to show two different feet.
Wash your hands and enjoy!
Powder cleans up easily with a broom.
Any questions about how to make leprechaun footprints?