Did your kid decide to set a leprechaun trap and now you aren't sure what happens next? Here are some ideas for what does a leprechaun leave in a trap!
This was our first year setting a leprechaun trap and honestly I have mixed feelings about it.
Our 3 year old was *very* concerned with why we wanted to trap a leprechaun and wouldn't he want to go home to his family.
Which, if you know Luke, is so very him. He is wild but has a sweet heart.
Anyways, the whole point of a leprechaun trap is that you don't catch the leprechaun, but instead they leave you some gold or treats behind.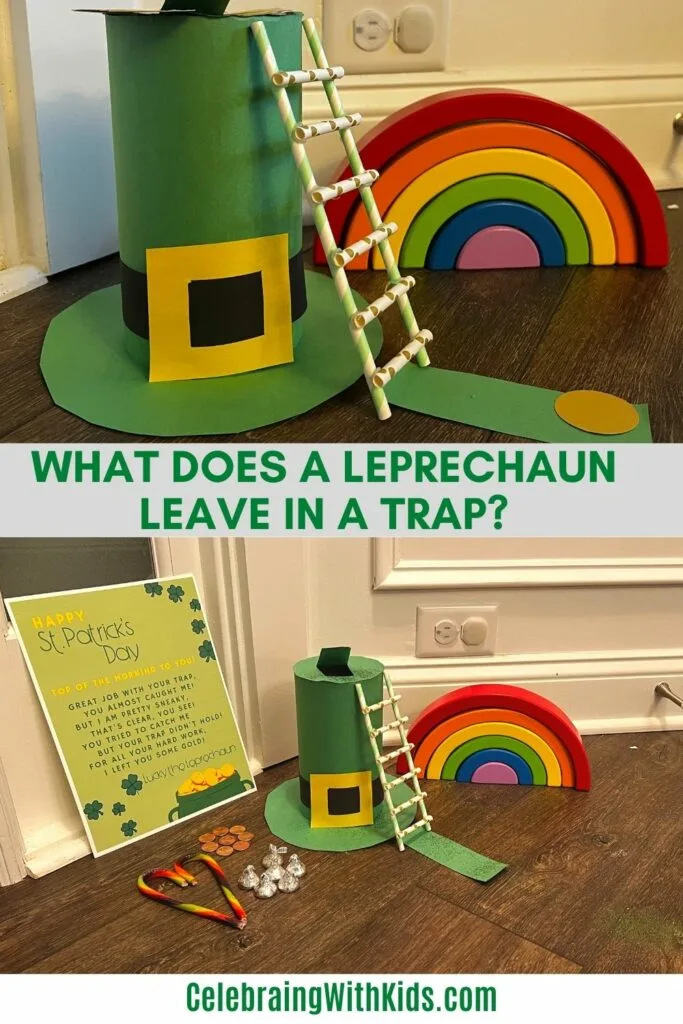 If you are, like me, confronted with a kid who wants to leprechaun trap, and completely beffudled about what to do with it, keep reading!
What does leprechaun leave behind in trap?
You really can't go wrong with leaving anything behind in your leprechaun trap, but here are a few ideas.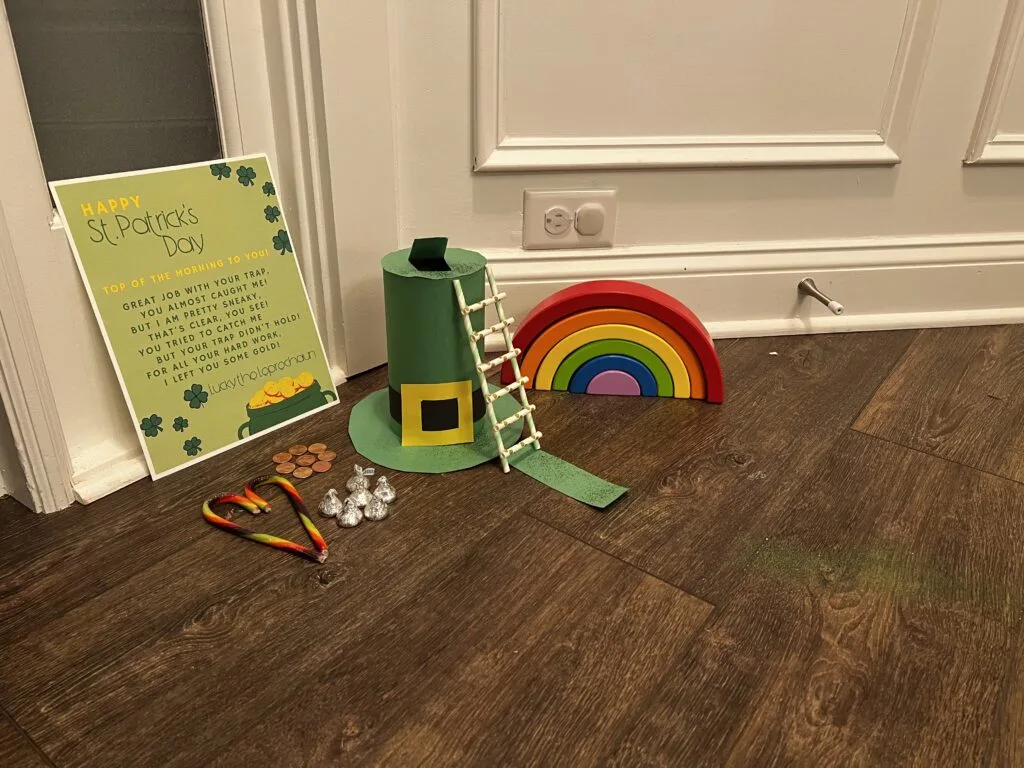 Footprints
You can use the side of your fist to make footprints coming to or from the trap. You can also use green washable paint. We do this with flour for the easter bunny, and used DIY dyed flour for the leprechaun.
Or, you can use green glitter. I just sprinkled a little trail from the door to the trap and up the trap ladder!
Or, use confetti – green or shamrocks is fine. You can also hole punch gold paper to make mini gold coins!
Here is our step by step tutorial on how to make leprechaun footprints!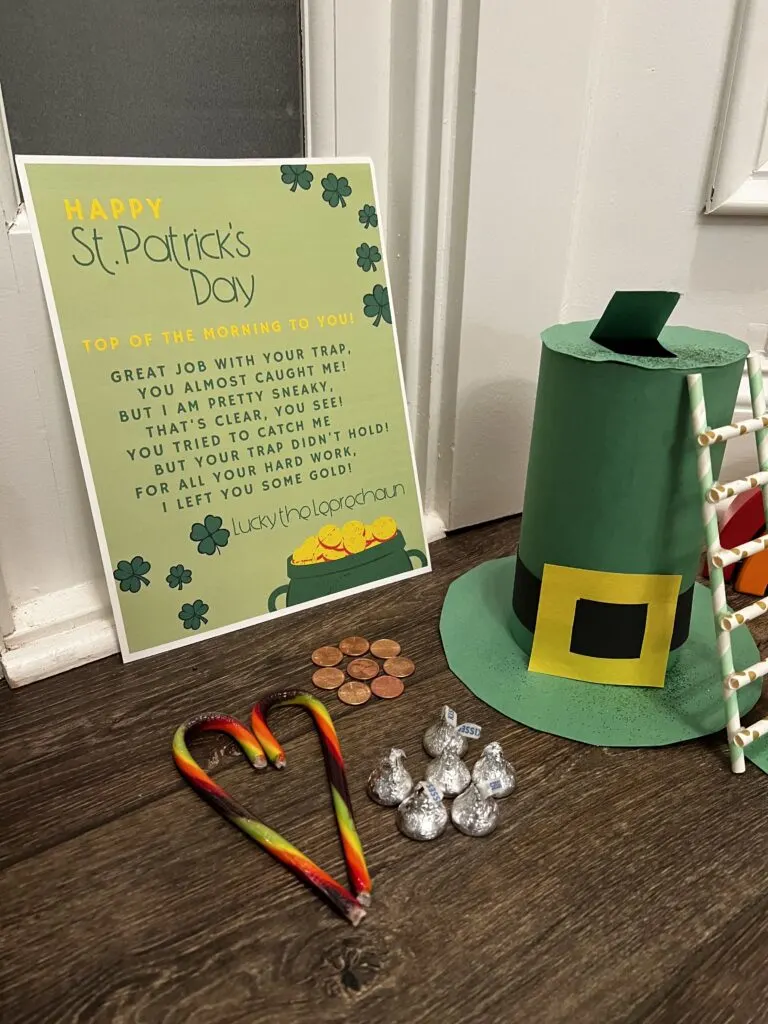 A letter
Your letter should say something like hello, thanks for trying to trap me but I escaped, here is some gold!
We have 2 free printable leprechaun letters you can download here!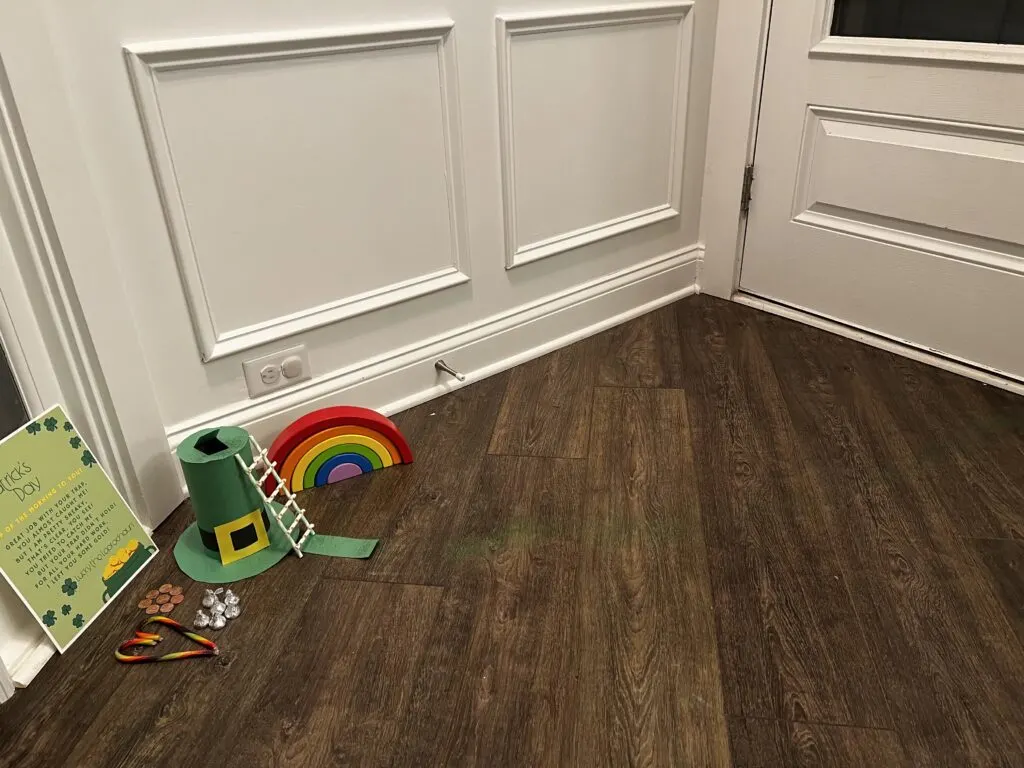 Gold
The idea is that your leprechaun escapes but leaves you a small amount of gold as a consolation prize. consider leaving:
Gold dollar coins
Shiny pennies (shine them using table salt + white vinegar!)
Candy wrapped in foil (I think gold or silver is fine)
Dollar bill with glitter on it
Rocks spray painted gold
Lucky charms cereal… hey, there are pots of gold marshmallows!
Other stuff
Luke's preschool today had the leprechaun visit. He got a sticker, a lollypop, and a beaded necklace that I think was from Valentine's Day. He was THRILLED. He's three years old but in general would get hype if you gave him a paper clip and told him it was magic, so easy to please.
Additionally, anything shamrock or rainbow theme is sure to be a hit!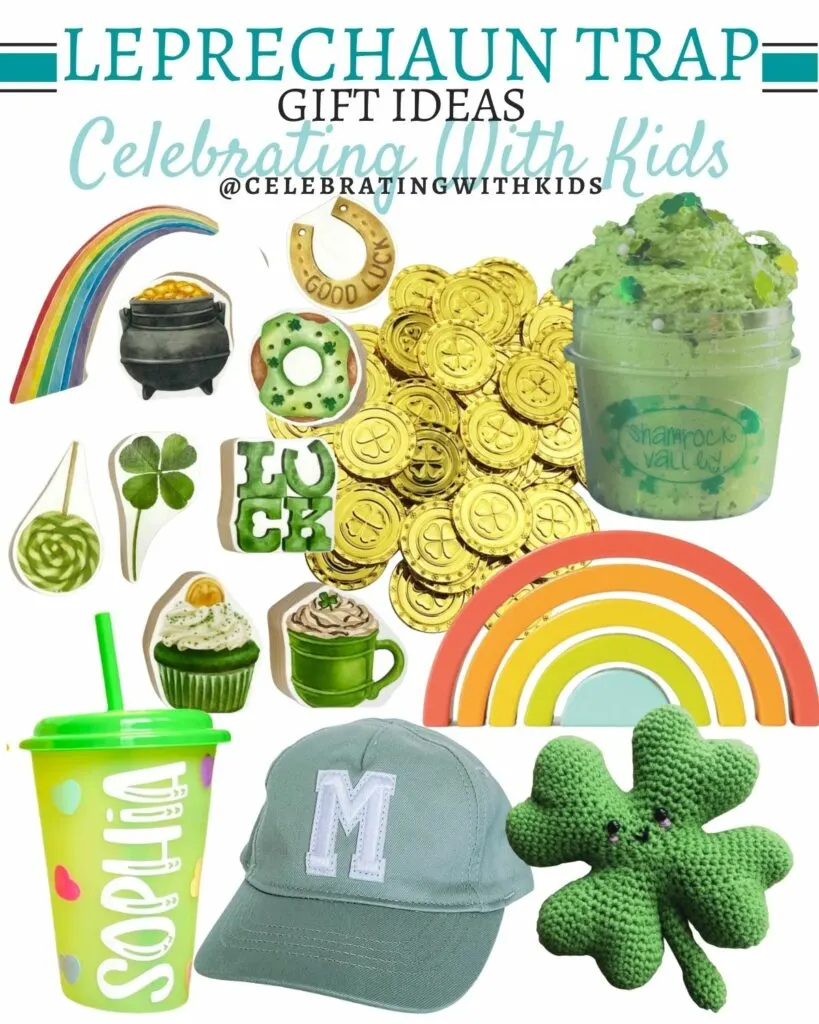 Click here to shop this collage of leprechaun gift ideas!
Be sure to check out our St Patrick's Day ideas!