Looking for fun summer activities? Here are my favorite patriotic crafts for preschoolers. Bring on the red white and blue!
Summertime can be long and hot. While we are all for having our kids play outside as much as possible, sometimes you have to beat the heat.
One of my son's favorite indoor activities is crafts! He is really into making things and always so proud of himself when he finishes a project.
Our daughter is only 1 year old and still at the put-everything-in-her-mouth stage, but I know she will love crafts soon, too.
There are lots of fun summer themes for kids (hello, watermelon!) but one of the easiest ones is a patriotic theme.
This is easy because you have a few holidays – Memorial Day, Fourth of July, and even Labor Day – to play off of.
Be sure to check out my favorite patriotic books for preschoolers.
The color palette is set for you — red, white and blue, of course.
You can really take any popular kid's activity or craft and make it red white and blue and suddenly it's patriotic. Seriously! Try making red, white, and blue crafts:
Tie dye
Homemade playdoh or slime
Paintings of any kind
Bead crafts like jewelry
Tissue paper crafts
Whatever your kids are into!
Other than red, white, and blue, most patriotic crafts have stars or star shapes on them, for instant flag vibes.
There are also some flag crafts where kids can make an actual American flag or display a flag design!
Finally, think of any crafts with a fireworks theme. This is perfect for 4th of July crafts and kids will love anything to do with fireworks!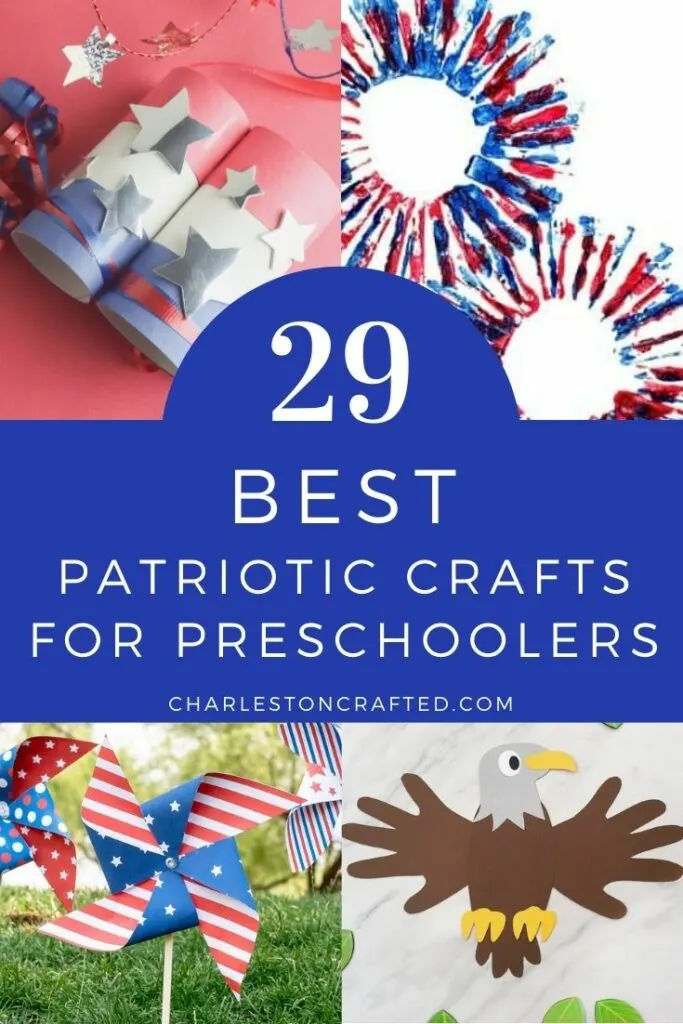 Here are my favorite patriotic crafts for kids!
Patriotic crafts for kids
Here are tons of ideas for patriotic crafts for kids!
What are your favorite patriotic art projects for kids?