Looking for Disney Cruise tips? After a week on the Disney Fantasy, we ate at every restaurant aboard the ship at least twice. Here's our review of the Royal Court restaurant!
I love that the Disney Fantasy cruise has set up rotational dining so that you can experience different dining options each night of your cruise.
We dined at Royal Court twice on our cruise and got to experience it with full effect.
Compared to Animator's Palate and Enchanted Garden, this was our least favorite, but part of that was because of our seating situation, which we'll get into later.
The food and service at Royal Court is as good as it is in all the other restaurants and there is a lot to enjoy about the menu!
Be sure to check out our full review of everything the Disney Fantasy has to offer!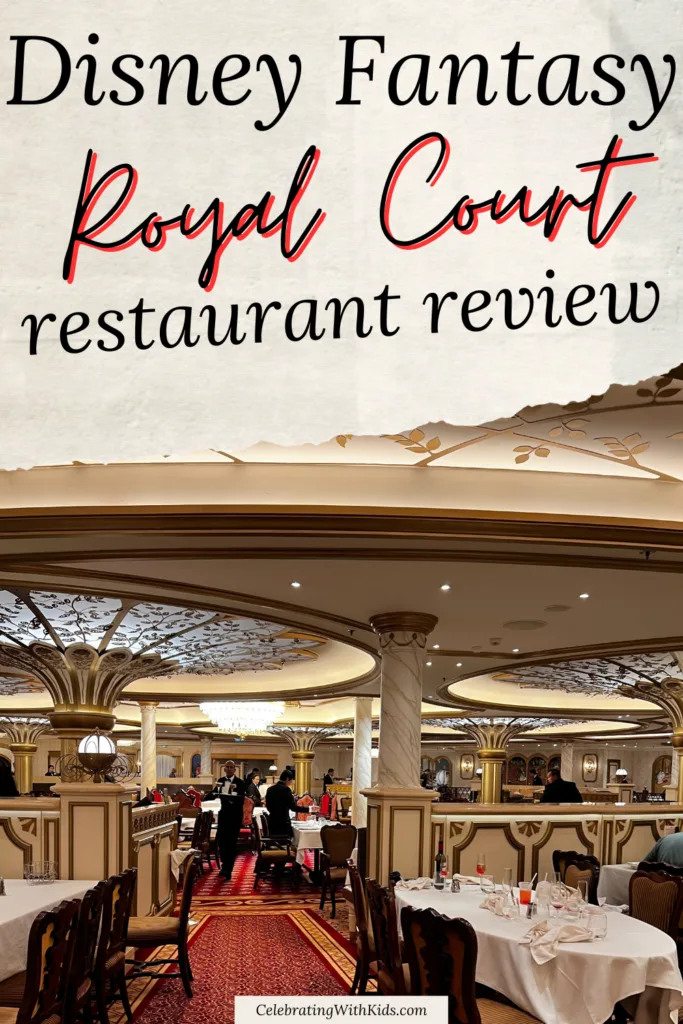 Royal Court Restaurant Review
What I liked about Royal Court is that I got to try a few different types of food that I might not normally have ordered at a restaurant.
We definitely felt fancy when we were at Royal Court, which timed up perfectly for us with formal night and semi-formal night. The Royal Court theme with the formal attire really worked nicely.
Royal Court theme
The theme of the Royal Court restaurant on Disney Fantasy is Disney Princesses. While there are no Disney princesses at Royal Court, it's inspired by the luxury that they have.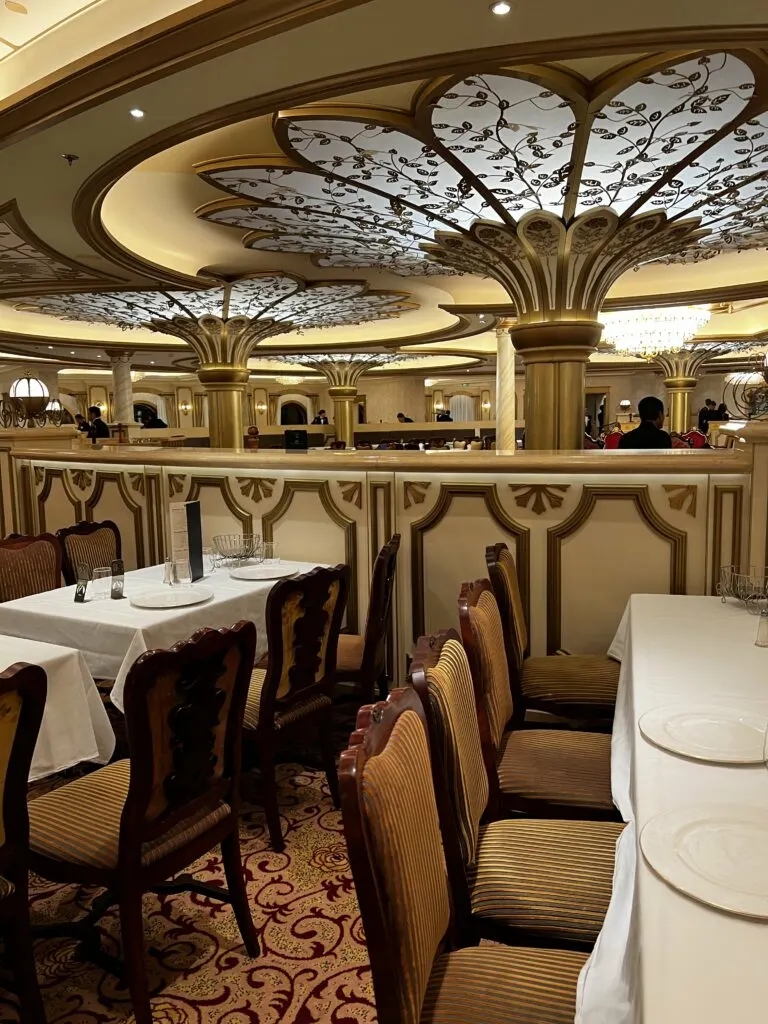 Royal Court is filled with beautiful artwork of Disney Princesses and is intended to make you feel like a true guest of honor at a royal palace.
Royal Court atmosphere
The atmosphere in the main dining section of Royal Court was really nice, filled with fancy chandeliers, artwork and marble.
However, if you get stuck in the back room like we did, the atmosphere wasn't great.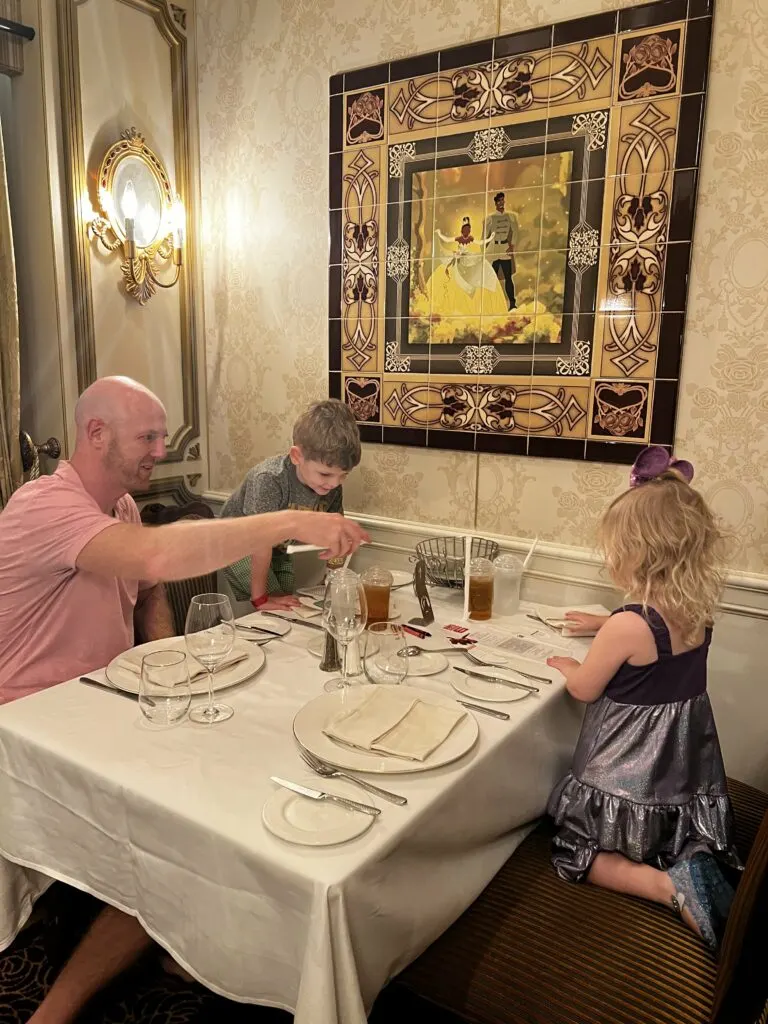 We were seated at table one, which was in a room around the corner and to the back. There were only a few tables in here, so we didn't feel connected at all.
It's highly unlikely that you will be seated in this room like we were, so likely you'll be in the main room, which looks very elegant with marble columns and gold accents throughout the space.
This is also the restaurant closest to the main lobby of the ship, so you are likely to be able to experience any pre-dinner activities happening here easily.
Royal Court dining choices
Royal Court definitely tries to make their menu appear like the food is more fancy than the other two rotational dining restaurants, but don't get fooled. If you want truly fancy, go to Remi or Palo.
The food in Royal Court was really nice and we did end up being synced up with formal and semi-formal night in this restaurant, so we did feel a little more formal, but the food is the same level as the others. However, they do aim for the French-inspired foods here.
Here's a look at the menu in Royal Court on the Disney Fantasy: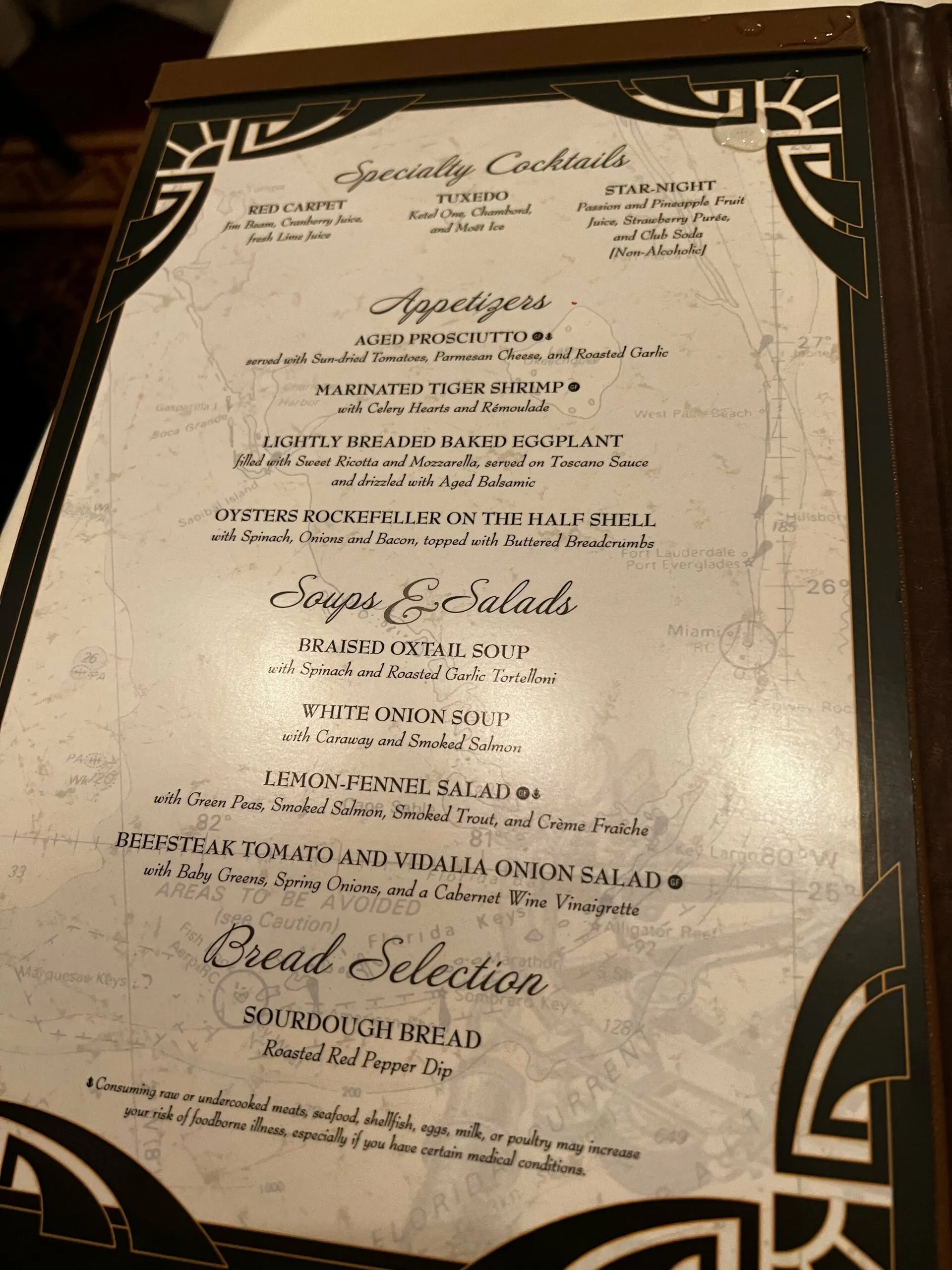 Royal Court appetizers
The Royal Court appetizers are the truly "French" options on the menu. We each chose to try some French inspired choices, including the breaded and deep-fried brie with an orange cranberry chutney and the escargot.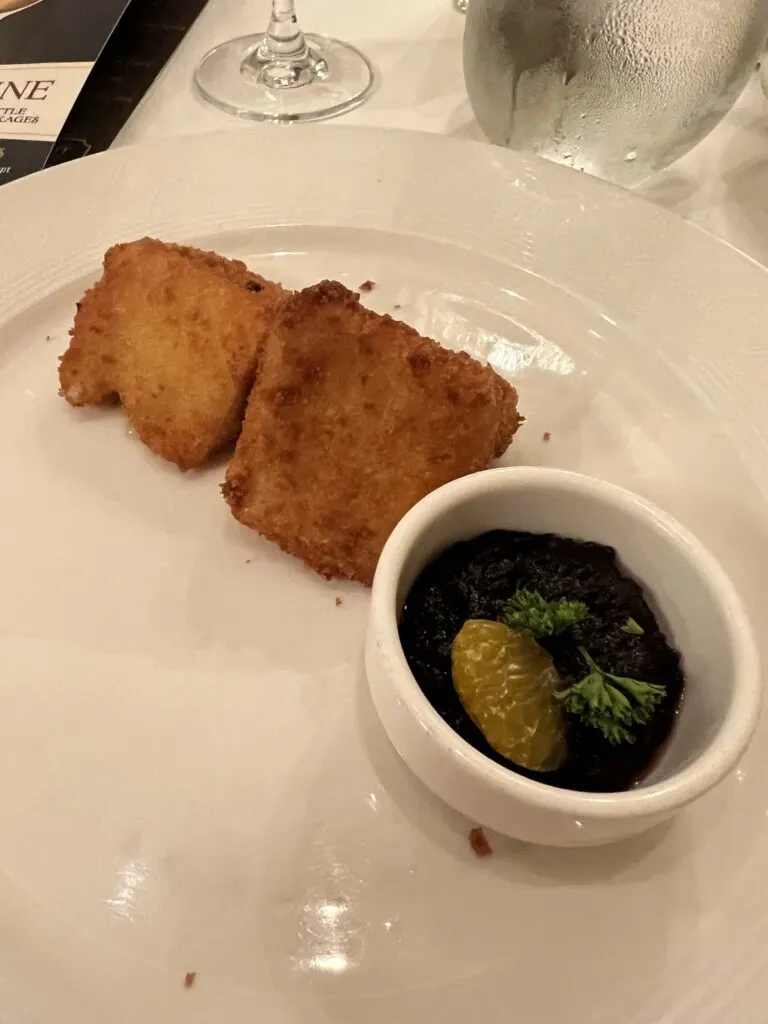 The brie was fantastic, let's just put that up front. Really good with the chutney and super gooey.
I've never had escargot before, but figured this was the best opportunity. I don't know if it's just because they were sooooooaked in butter, but they were really good!
Royal Court soup and salad
Royal Court also offered a French onion soup, so we had to try that. I was not a fan.
This seems like the kind of dish that if you like it, you like it. If not, it's overpowering.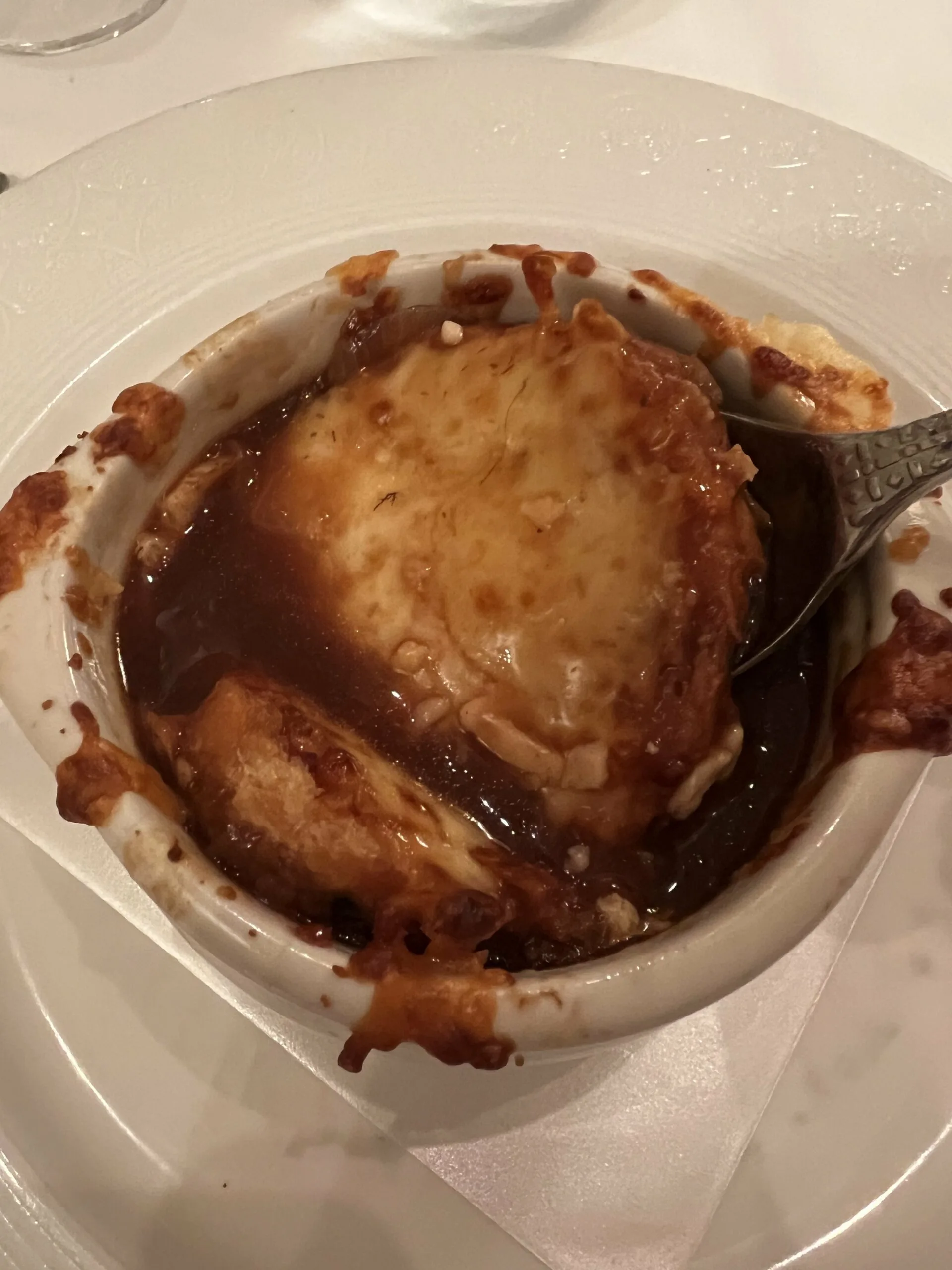 The French onion soup in Royal Court comes with a large Texas Toast cheese crusted bread on top, which you just couldn't break up to try with the soup. The elements were too hot and separated and made it difficult to try and the end result was something I'd pass on.
The braised oxtail soup on the second night was also kind of a miss. I guess hot soup after a day on a cruise just doesn't really hit.
Royal Court entrees
In Royal Court, we once again opted for their main fish dish, which was an oven baked salmon, served on a cauliflower puree with a white wine sauce. I really loved how the fish was cooked each night on the cruise, so flaky and fall apart. The sauces really make it good.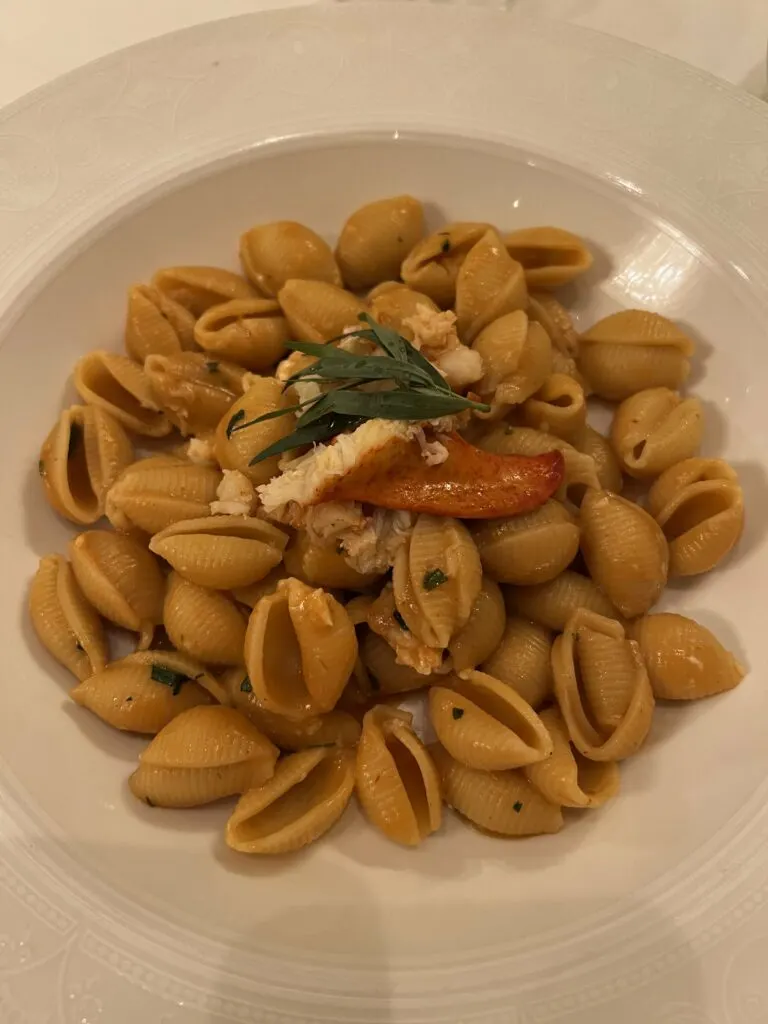 We also tried the lobster pasta, which was fine. As you can see in the picture, it's a lot of pasta and a very small amount of lobster. The flavor was fine, but nothing overwhelming.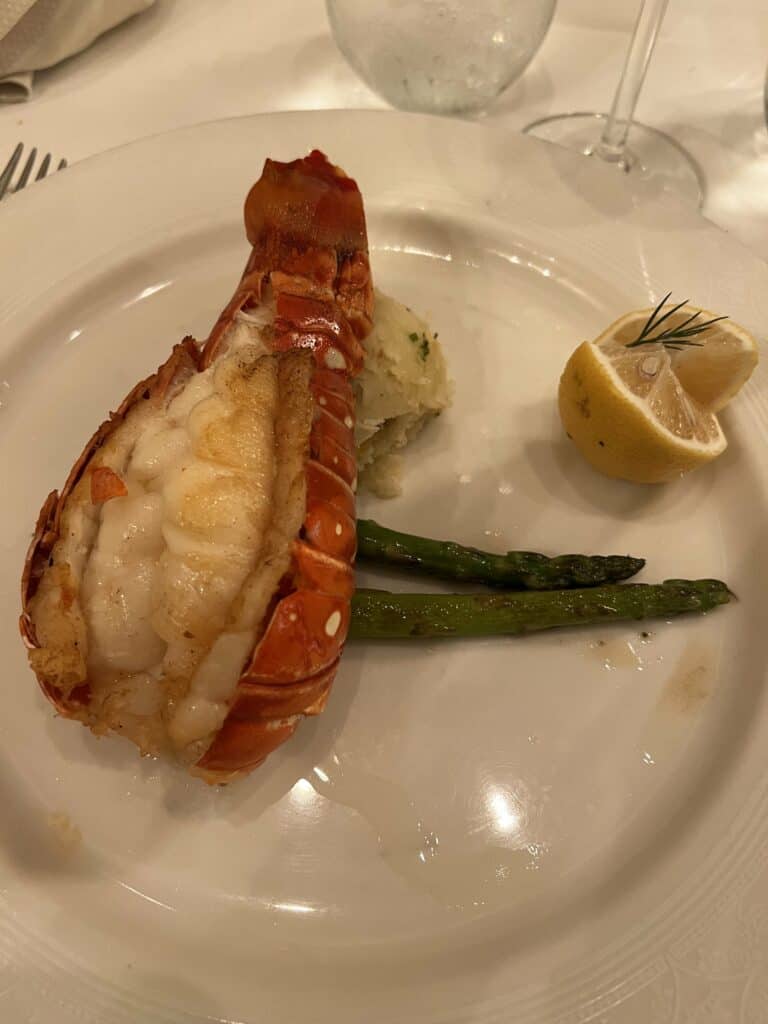 Our second night at Royal Court was lobster night, so we got some big honking lobster tails. The servers were kind enough to cut the meat out of the tail for you (might have been a liability thing idk), but the lobster was definitely good.
Royal Court dessert
Royal Court also had some wonderful appetizers, including the apple tart and the souflee.
The apple tart was really sweet and yummy, with a large amount of carmelized apples in a caramel sauce with vanilla ice cream.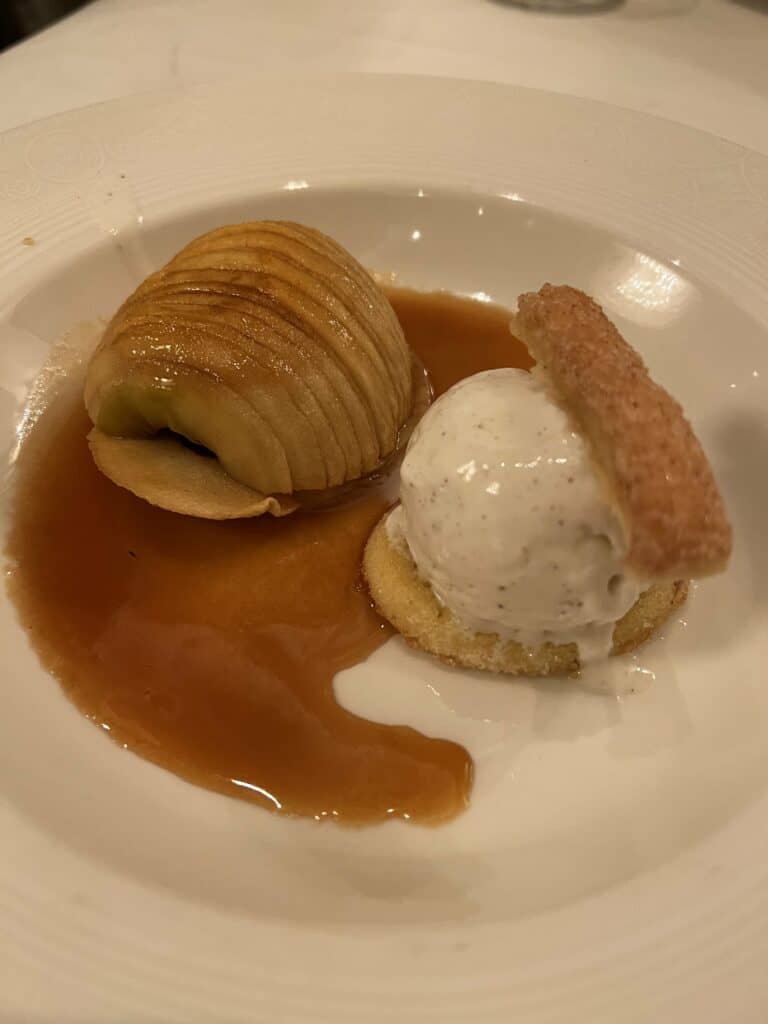 The souflee was definitely good and in line with what you'd expect from a souflee in a restaurant trying to be French.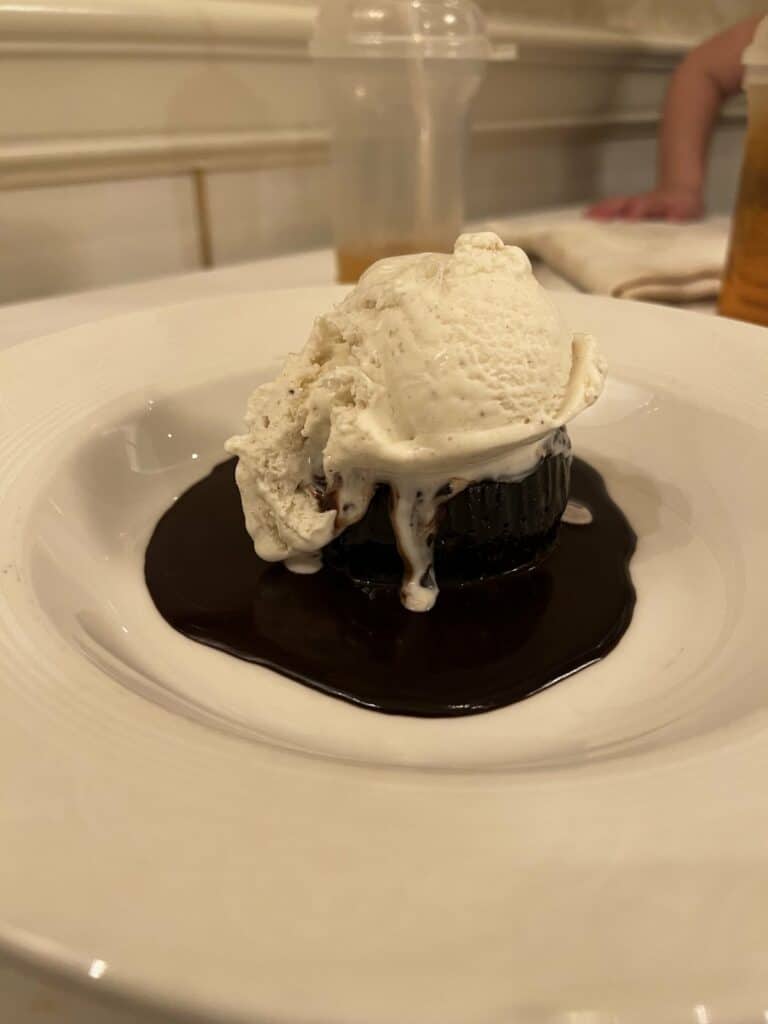 We tried the creme brulee, cheese cake and chocolate lava cake on the second night we were in Royal Court and they were all really good. The creme brulee could have been seared a bit more, but that's being picky.
Royal Court kids meals
The kids options at Royal Court were on part with what you get at the other rotational dining restaurants, including the Minnie Burger, mac and cheese, and penne with red sauce, but they also offered a corn dog, which our kids opted for.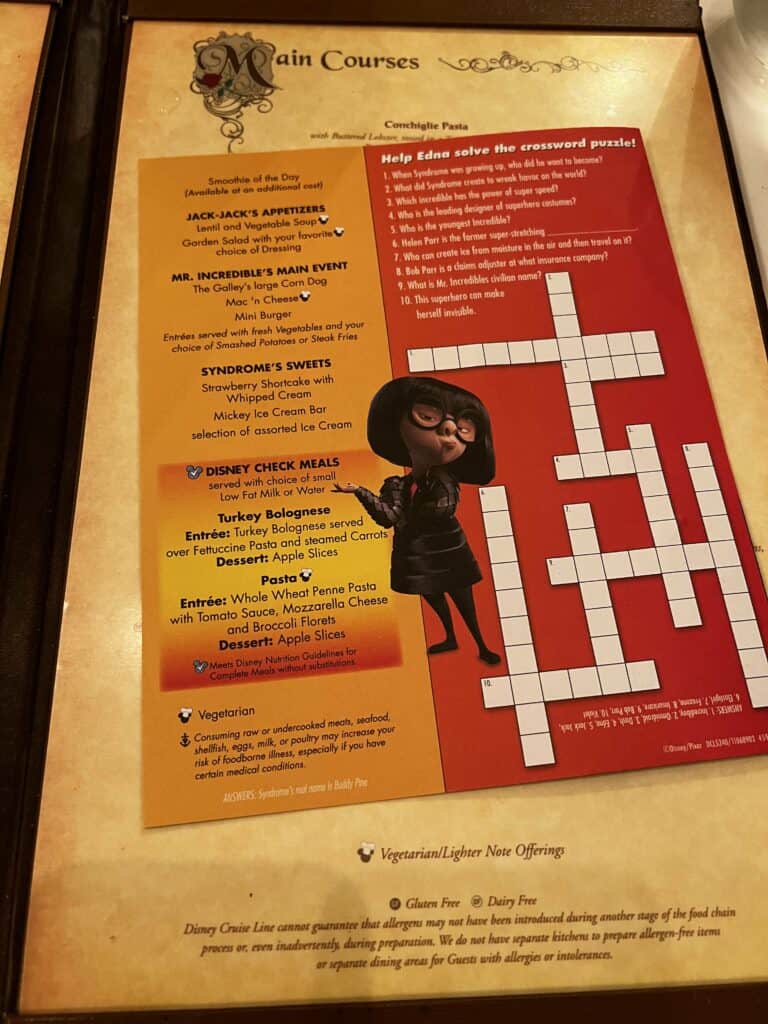 I love how the kids menus at each restaurant have Disney themed games and coloring on them to try to keep the kids entertained as best as possible. They had some really good options to help you get through the night.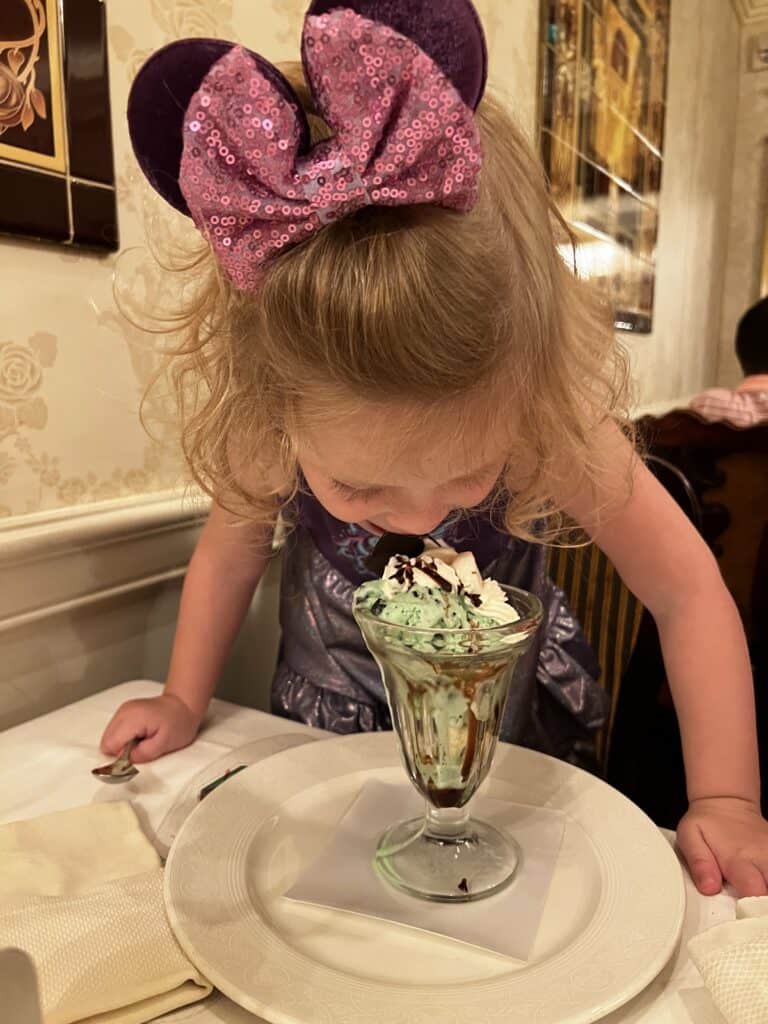 Also, do yourselves (and your kids) a favor and let them order the full-size mint chocolate chip sundae sometimes.
Royal Court tips for kids
If you're celebrating a birthday (either on the cruise, near the cruise or really just want to pretend), the wait staff will really go out to celebrate you.
Our daughter had a birthday the week before the cruise, so we told the wait staff that we were celebrating her birthday on this cruise. While we were at Royal Court, they made a point to bring her a special dessert and had a large number of the waiters singing happy birthday to her!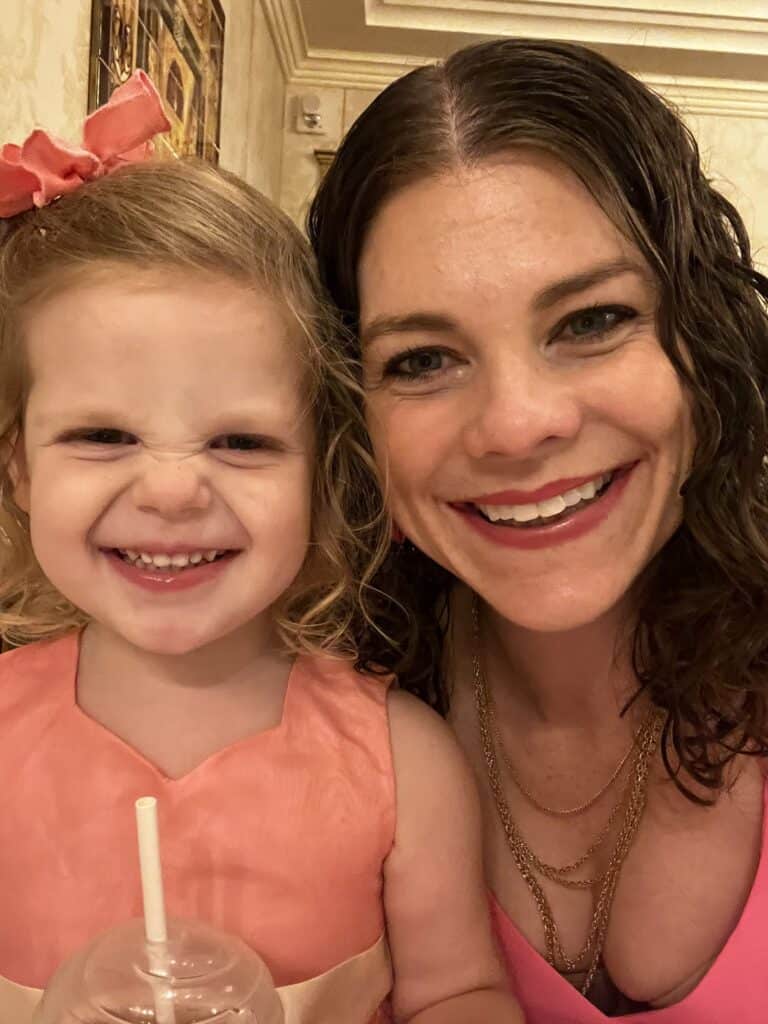 Royal Court is definitely the restaurant where it is worth having asked to be "close to the action" before you get on the cruise. If you end up in the back room like we did, you don't feel connected to anything at all.
We only had about 5 tables in this room and felt very closed off. However, if you're looking for a quieter experience, this might be nice for you, but our young kids were very bored.
Here's our top 14 activities for kids on the Disney Fantasy!
Before you go…
Royal Court is just one of the three rotational dining restaurants you'll experience during your Disney Fantasy cruise. Make sure you check out our reviews on the other two restaurants before you go!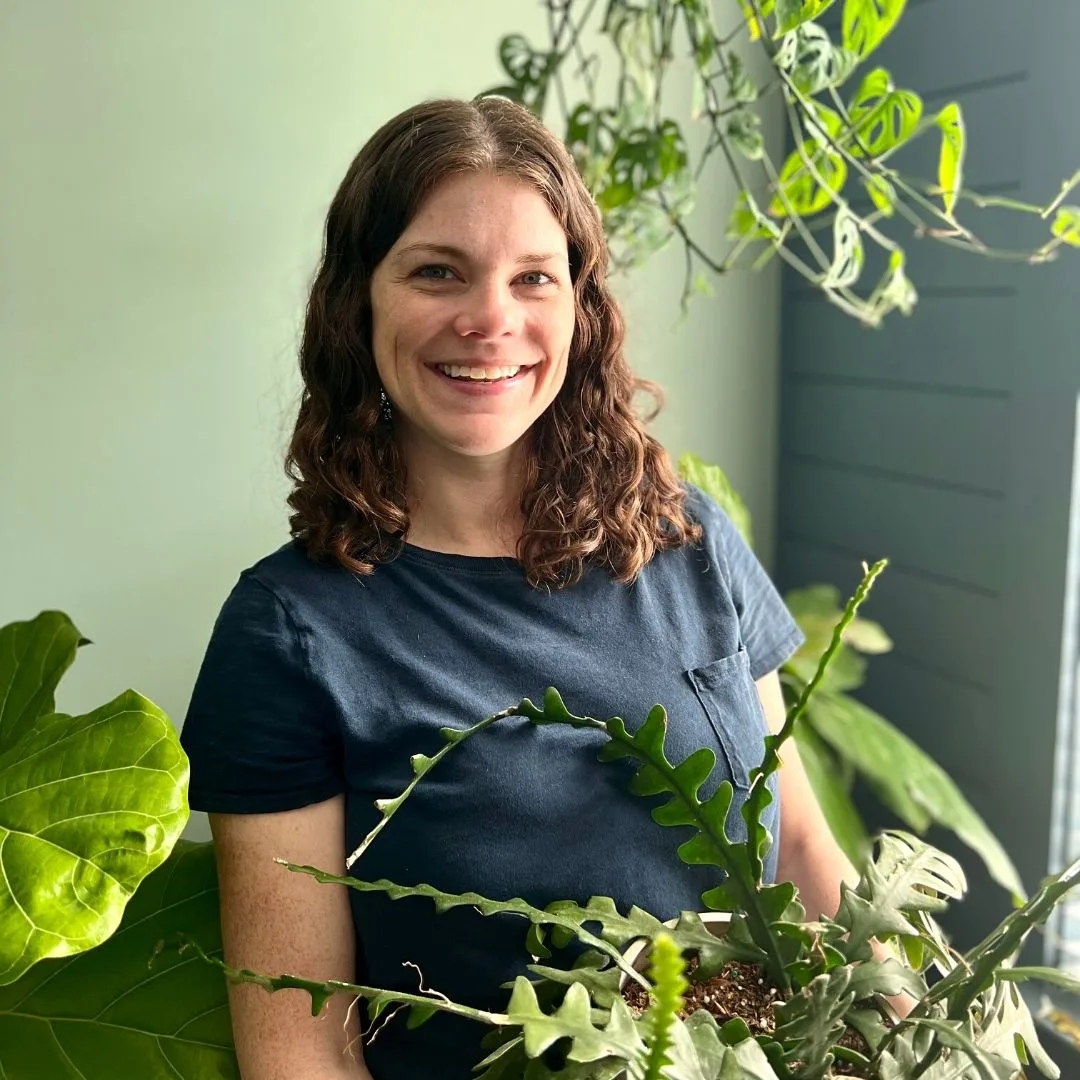 Hey there, I'm Morgan, the creative mind behind CelebratingWithKids.com! As a parent of two lively little ones, I've made it my mission to turn ordinary days into extraordinary adventures, sharing playful activities, thoughtful toy reviews, and delightful printables to help families celebrate every moment together. 🎉👨‍👩‍👧‍👦🎈