Are you considering going on a Disney cruise? Here is our complete Disney Fantasy 7 day eastern Caribbean cruise review!
My family of four recently got back from a seven day cruise on the Disney fantasy cruise ship.
We are not what you would call a Disney family – we have never been to Disney World, and really have no intention of going anytime soon – and we aren't big cruisers either as my husband and I have each taken a couple of cruises total and they were more than a decade ago each.
So, it was kind of out of character for us to plan a Disney cruise. But, our kids are three and four now, and have never been on a true vacation before.
We decided that this was going to be the summer that we went somewhere cool with them.
After throwing around a lot of different ideas – and actually booking and then canceling a trip to Yellowstone – we settled on a Disney cruise as being the most child-friendly possible option for this age.
I'm going to take a lot of time to go into very deep detail about this cruise, and I will write a lot of other articles that will dive into very specifics about the ship and our experience, but spoiler alert – we had a great time.
This cruise was, at times, stressful and frustrating, but still pretty much the best experience we could've possibly had considering the age of our kids, their general demeanors, and the fact that we don't have grandparents or cousins that can travel with us and help.
But, let's dive into all of the details of what made our Disney cruise great, some of the pitfalls, and what I would want to know if I was booking a similar cruise for my family!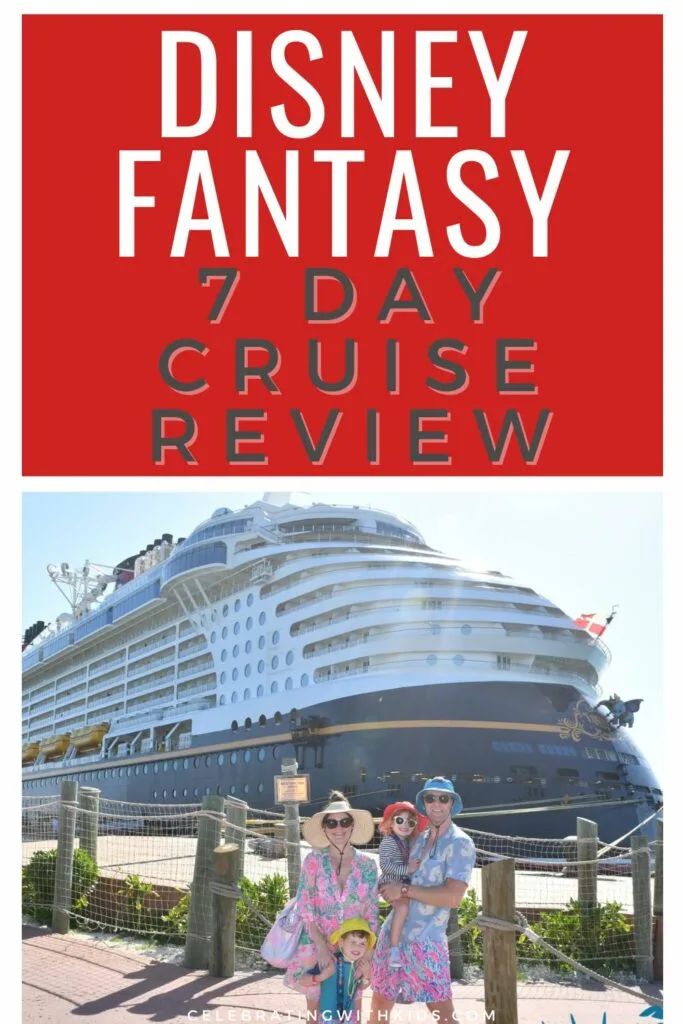 Is a Disney Cruise worth it?
Before I start breaking it down, I wanted to dive into the number one question I've gotten from friends and family since getting back from this cruise five days ago – is a Disney cruise worth the price?
Because, I would be lying if I didn't tell you that Disney cruises can be more than double the cost of comparable cruises from other cruise lines.
Here's the thing – I struggle telling people if certain things are worth it, because that is such a personal decision.
Would I go into debt to go on a Disney cruise? Absolutely not.
But, as someone who was able to comfortably pay for a Disney cruise, I definitely think that it is worth it to pay the extra compared to the other cruise lines.
I'm a little bit bougie, I like nice things, I'm willing to pay a little bit more for something clean, with a very friendly staff, that feels very safe and child friendly. That's a Disney cruise.
To be fair, before we had kids, Sean and I could've gone to Europe and done something really nice with the amount of money we spent on the seven day cruise. Honestly, I think we spent more on this cruise than we spent on our two week Italian honeymoon in 2015.
But, everything is taken care of for you and we did have a lovely experience.
One of the really nice things about doing a cruise with little kids is you don't have to worry about wasting money when you're there.
And by that I mean maybe you wouldn't normally take your kids to see a movie because you're afraid that they would scream and cry, and wanna leave halfway through. On the cruise, who cares, it was included.
Maybe you wouldn't normally order the scallops and the steak just to take a few bites and try them both. On the cruise, who cares, it was included.
Maybe you wouldn't normally give each person in your family their own ice cream cone, you would normally share a cup or two. Everybody get one, they're free.
I certainly would have never bought tickets for my kids to see a Broadway style show. But it's low risk when they're free, and, what do you know, turns out my kids love musicals and we went 5 times.
Soda is included and free. We don't really drink soda, but I drank a few cokes on the trip just because they were there.
My point is that the all inclusive experience really is nice and feels very low risk and relaxing. And isn't that the whole point of your vacation?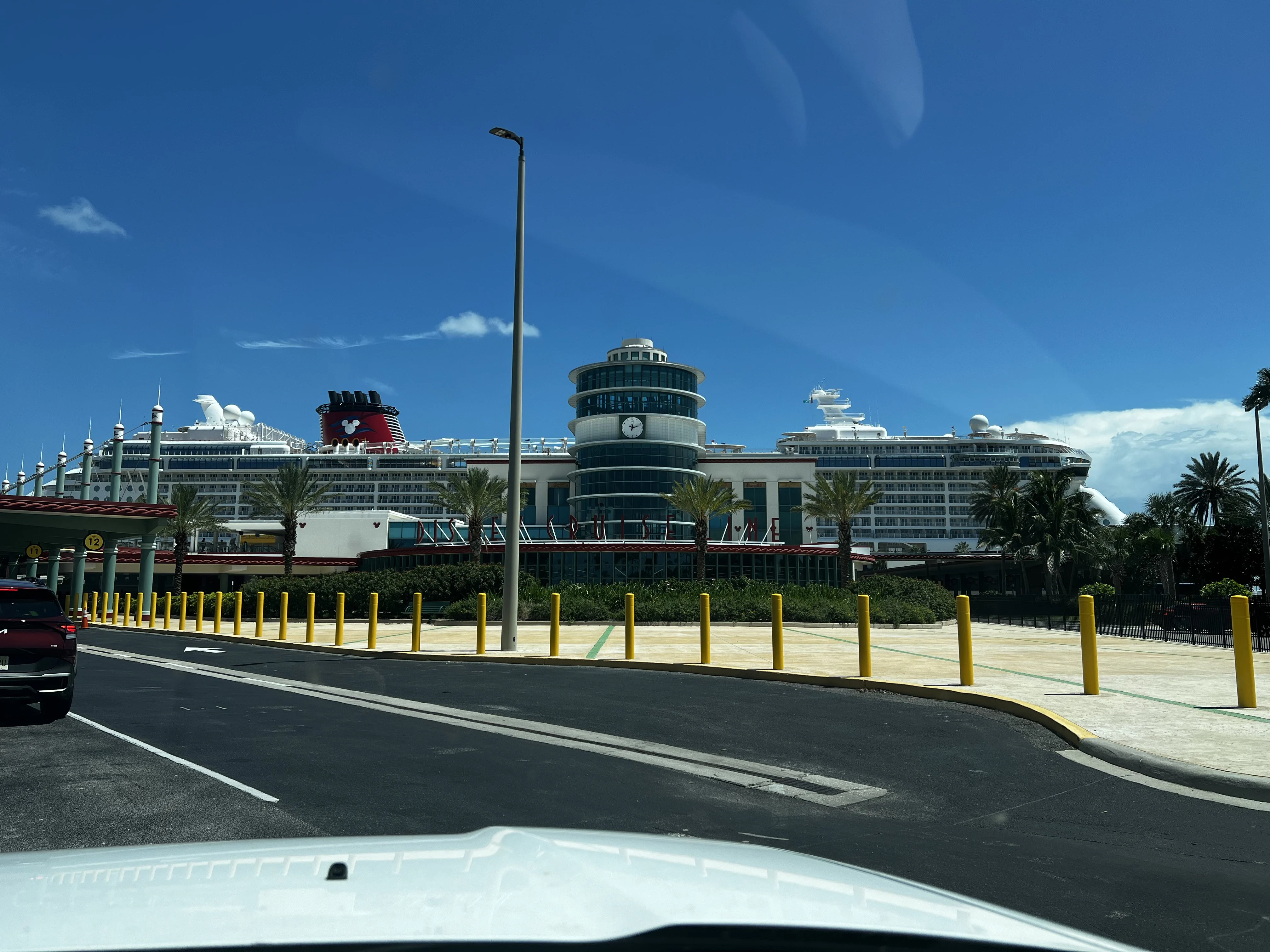 Disney Fantasy 7 day eastern Caribbean cruise review
Here is everything I can think of sharing regarding our experience on the Disney Fantasy Eastern Caribbean cruise.
Booking and Planning
When doing initial research for this trip, I did a lot of googling and looking at the options for Disney cruises. We are in South Carolina and are lucky enough to be able to drive to Port Canaveral so we focused on cruises that left from that location.
There were three different Disney ships at the time that were leaving from Port Canaveral, but I didn't really do any planning based on the ship.
Instead, I focused on the itineraries that we wanted. In this case, we wanted a seven day cruise.
I talked to a few people who thought that it was a bit aggressive to leap straight into a seven day cruise. It seems like a lot of people do a three or four night cruise as their first, especially with little kids.
But, for us, it's over a 7 Hour drive to Port Canaveral, and Sean and I don't work conventional jobs where we have to take vacation days or anything like that.
I found that it was about $1000 more total for a seven day cruise compared to a five day cruise, at least at the time we were booking it, and so to me it just seemed like a total no-brainer to focus on the seven day cruises.
So, the Fantasy was the only choice for seven day Caribbean cruises out of Port Canaveral with Disney cruise lines.
They alternate weekly between an eastern and western itinerary. We just ended up with the Eastern itineraries based off the week we were available.
It's worth noting, and I'll get into this later, that kids have to be 3 years old to go to the kids club and that is why we were so specific on the date that we could go on this cruise – we had about a two week window between Rory's third birthday and the day they went back to school.
So, that was pretty much how we landed on the eastern Caribbean itinerary – it's just what fit our schedule best.
Reservation process and tips for booking a Disney cruise
You have two options for booking a Disney cruise- you could book it yourself, or you can use a travel agent.
We booked our trip through an acquaintance of mine, who is a Disney travel agent. I reached out to her because I knew she did this and there was no cost for her services as she's paid a fee from Disney directly.
I am implying no hate to her. She's a very nice person, and I'm not speaking on all travel agents, because I literally only worked with this one person, but we got zero benefit from working with a Disney cruise travel agent.
She didn't get us any discounts, we didn't get any credits or gifts, she didn't even really give us any tips or advice, all of my advice came from Reddit and Facebook.
So, don't feel like you need to use a travel agent. You aren't missing out on anything. If I were to book it again, I would just do it myself online like I do everything else.
When to book a Disney cruise
Based on my research, Disney cruises tend to sell out, especially during popular times like when kids are out of school.
They also limit each cruise on the number of kids in each age category that can be on board at a time.
They limit it so that if every single kid age 3 to 12 was at the kids club at once they would be below capacity. So it's possible that a cruise you want to book will have open rooms but will not let you book a room if you have kids of a certain age.
All of that is to say, the earlier you can book your cruise, the more likely you are to get the room that you want for the best possible deal. It seems the prices only go up as you get closer to the cruise date.
Embarkation Day
Embarkation Day is the day that your cruise leaves the port. You will be assigned a time to get on the ship – this is based on your rank in the Disney system (first timer, silver, gold, platinum, etc for returning cruisers, or concierge for the high rollers).
Arrival at the port
Do not arrive before the time you are assigned. Maybe 15 minutes before to get situated, but they will not let you in the door before your time- they are strict on this.
We chose to drive from our hotel and park in the parking deck. At Port Canaveral it was $17 per day (including arrival and departure day) to park, working out to be just shy of $150 for the week.
Before parking, you can drop your suitcases (with a member of your group) at the curb and then drive to park.
We were shocked that there were hardly any cars in the deck – we got one of the first spots on the ground floor and there were tons of empty spots. You'll see later that this made getting out when we got back very easy.
Once you have your suitcases ready, a porter will come to take your bags away. It was chaotic, and by the time I flagged a porter down, he straight up told me to my face that he does not work for Disney and he works for tips and held out his hand. I stood there for a moment and said "well I don't have any cash" and he walked away.
When Sean came out of the garage, I told him, and he got out some cash. The guy took a bit and came back and took the cash and our bags. Do not leave your bags on the curb and walk away, instead be sure someone takes them away for you.
So, definitely bring cash and be prepared with a $20 for your bags. I get it, they will help whoever is paying the most. I just was not prepared for that, there was no option that I saw to do your own bag, and it kind of put a sour taste into my mouth right at the start of the trip.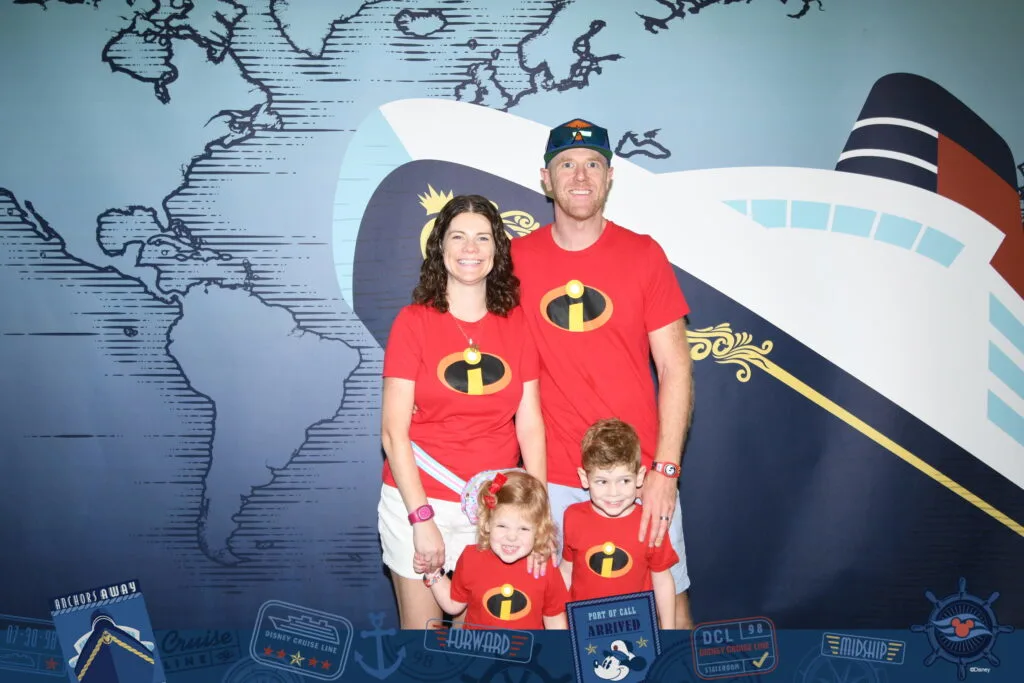 Check-in process
After the porter graces you by taking your money and bag, your party will have to go wait in line to board the ship. This is, luckily, indoors and air conditioned.
Have your passports ready and be prepared to wait 30-60 minutes to get through the queue.
They took our passports, set up our room, and set up our MagicBands.
On the other side of that line, you will go through an x-ray machine and then ride the escalator up to the Mickey tunnel and the ship's entrance.
You go through the Mickey tunnel, cross the bridge, and you are on the ship!
The cast members (that's what they call employees) will announce your family and everyone claps for you as you enter the ship. It's a nice touch and very indicative that Disney tries to make everyone feel special and celebrated.
First impressions of the ship
When you first enter the ship, you will be in the atrium, which is the lobby. The atrium is on the third floor and has two upper floors that look down on it. So, the atrium kind of includes the third, fourth and fifth floor of the Disney Fantasy cruise ship.
While the ship is large and beautiful, I do think that a lot of the fits and finishes are dated. The ship was built in 2012, so it's not exactly old. Perhaps they were going for a "classic" look.
That being said, it is very very clean and well maintained. We had zero issues with messes or trash or broken anything on our trip.
Activities and events on embarkation day
On embarkation day, they suggest that everyone go up to the 11th floor to Cabanas, which is the buffet on the pool deck, and get lunch. It was about 1:00 by the time we got on and got up to the buffet, so we were glad to eat.
Expect the food to be very crowded day one. It was hard to get a table, so we brought our food out to the pool deck which had some empty spots.
You can get into your room after 2pm on embarkation day. Your keys will be stuck to the outside of your door and your luggage will come to your door by dinner time. Don't be surprised if they don't all come at one time as ours came in a couple batches.
Accommodations
The Disney Fantasy cruise ship, like most other cruise ships, has interior rooms, ocean view rooms, and rooms with a veranda. There are also suites, but I will not dive into those haha.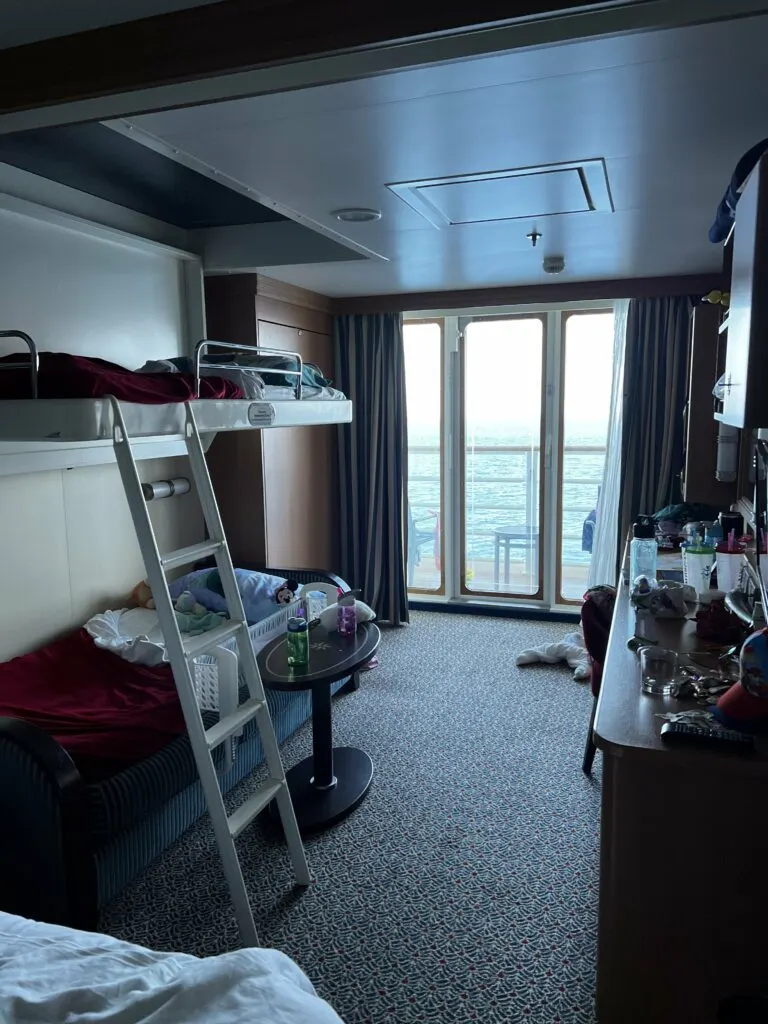 Our room
Our room was a family deluxe verandah state room, which is the largest non-suite room. This was room 8116 on the Disney Fantasy.
Size-wise, the room was just right. It has a queen sized bed, a sofa that folds into a twin bed, an upper bunk above the sofa that pulls down from the ceiling, and a 4th bed that folds down murphy style.
We used the queen and bunk beds. It did not feel too tight with a family of 4, even with the beds down, though we were thankful that our steward put the bed away each morning.
Location-wise, this room was perfect. I loved being on the 8th floor – it felt central but quiet. Being mid-ship meant we had no issues with motion or rocking. It was a great room!
My only feedback was that we had a port view, and if you had a starboard view, you would be able to watch the fireworks from your balcony! But, we loved looking at the port on docked days.
The bathroom
The other thing that this room had was a split bathroom. So, basically two separate, back-to-back bathrooms. One is a sink + toilet and one is a sink + shower.
This would be great if you had a lot of people wanting to get ready at once.
We are in a weird spot where our kids still need help with the bathroom and bathing and have zero modesty issues, so it felt very tight and closed off, but I see how this set up would be great for most families.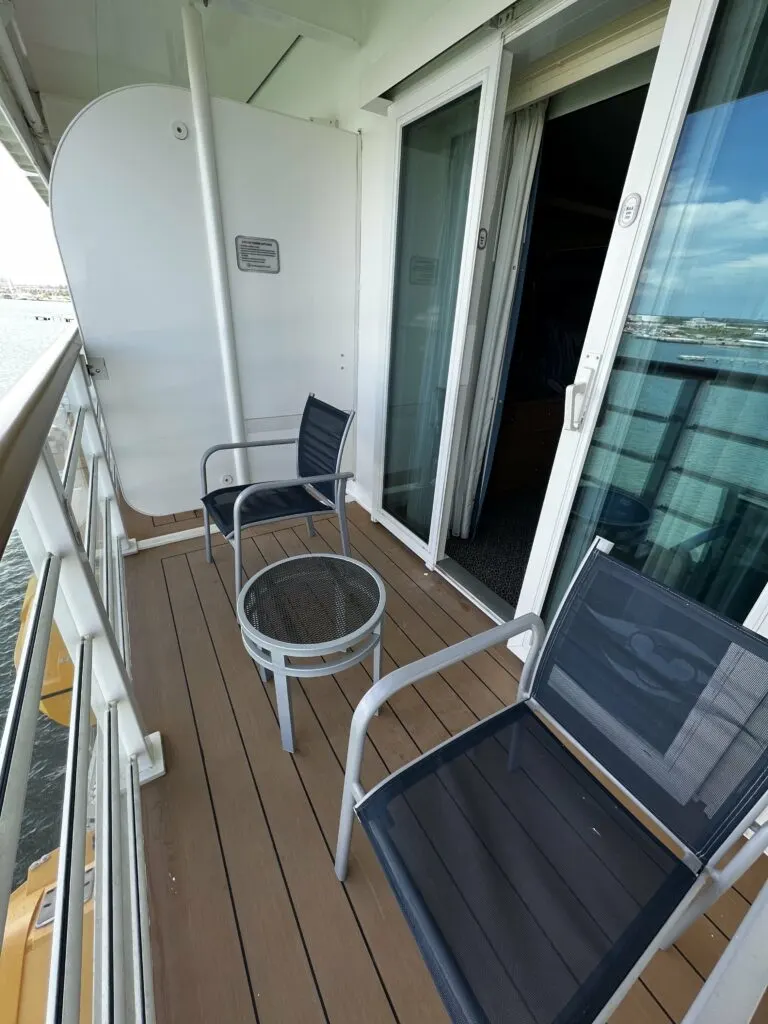 The verandah
I think that the verandah was the most used part of our room. We ate room service out there, drank wine in the chairs, watched the ship enter and leave the ports, and even interacted with Pluto onshore at Castaway.
I recognize that the balcony was a higher cost but whoooweee we loved it. It's also really good if you're a parent that needs a space to get away after your kids go to sleep.
Dining Experience
The Disney Fantasy had good food. It was by no means the best food of my life, but it was all consistently good. Some was great. A few things were bland or boring, but nothing was bad.
I will say that the best part of the food to me, as a mom home with 2 kids 24/7, is that I did not wash a dish or prepare a single thing for a week.
Even on vacation I am usually washing up a bit or cooking some meals. Nothing on this cruise! That, my friends, was priceless.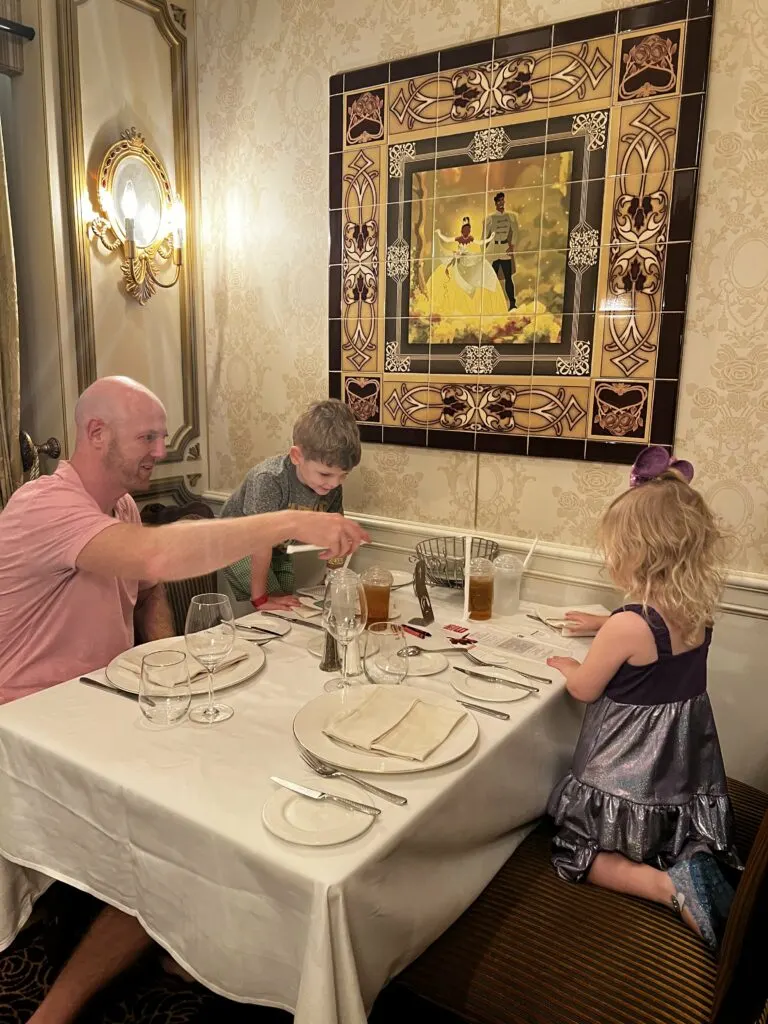 Main dining rooms and rotational dining
Disney serves their dinners in a rotational dining format. On the Fantasy, there are three restaurants that you rotate in between.
You will have to go into the Disney cruise navigator app to see the restaurant you are assigned to each night and your table number.
Your table number stays the same at every restaurant all week, as does your server and assistant server. The people at the tables around you stay the same too.
I thought this was really fun because you got to try different restaurants which each had a different style of food, and even when you went back to restaurant, it had a new menu each time.
On the seven day cruise, you get to try each of the three restaurants twice. The restaurant you go to the first night you will also go to on the middle night, which is pirate night, which has a pirate themed menu, so you will still get two menus at each restaurant excluding the pirate menu, to add up to seven total.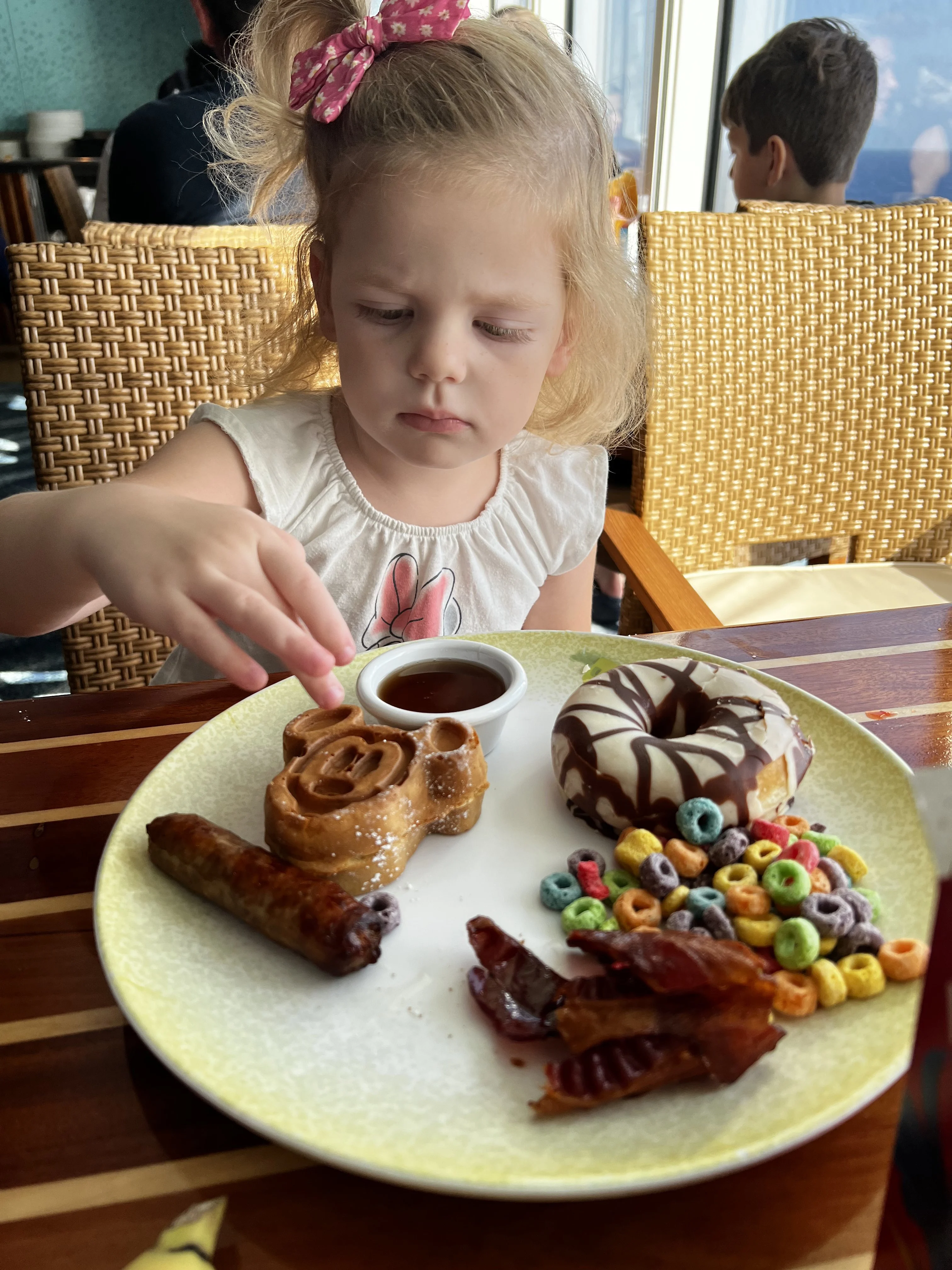 The buffet
There's also a buffet, which is called Cabanas, on the 11th floor near the pool deck.
We ate breakfast at Cabanas each day we didn't have room service and had lunch there as well.
The food was pretty good for buffet, and there was a really wide selection of items.
My biggest complaint with a buffet is that I actually find it harder than a sit down restaurant with small kids.
It's a tossup, because my kids don't want to sit and wait for their food, but, they also aren't going to carry a plate through the buffet.
We ended up having one adult go and take the kids and find a table – which could be really hard to do a peak times – and sit down.
At the same time, the other adult went and got food for the kids and then we had to alternate getting food for ourselves.
So the buffet was honestly kind of a lot of work, and there weren't even servers bringing you drinks or anything.
They bused your table, so it's not like you have to take your trash away at the end, but it was kind of an ordeal.
Poolside food
Additionally, there's one more spot to get lunch or dinner, which is Flo's Café, which had a "Cars" movie theme.
They had pizza, burgers, barbecue sandwiches, Panini's, french fries, hotdogs, corn dogs, stuff like that. This was available for lunch and dinner.
We could eat at the pool deck or you could get it and take it into Cabanas and eat it there.
A lot of the food at Flo's was actually at Cabanas too – my big feedback was that this spot usually had really short lines and I thought the pizza and burgers were pretty good so it was actually easier for us to grab lunch here with the small kids compared to dealing with a larger buffet at cabanas.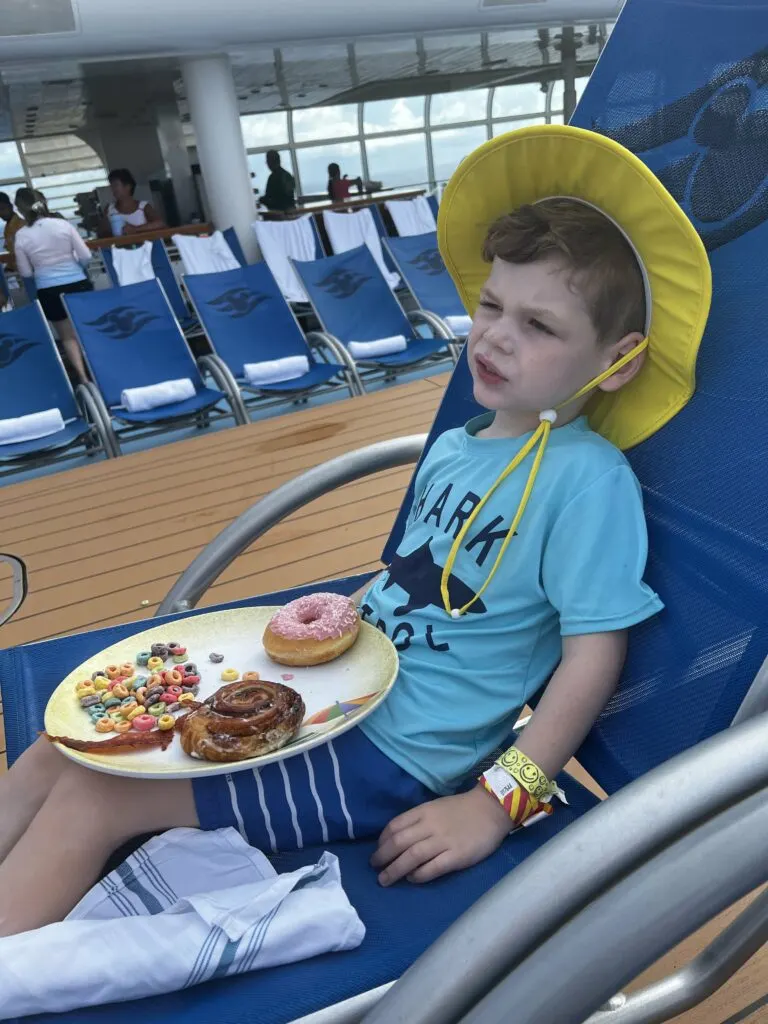 Room Service
Your final option for food is to order room service. Room service is free and included with your cruise, unless you order booze or some thing else premium.
However, we did tip a few dollars when we ordered room service.
Room service was clutch for early morning breakfasts when we had port activities starting at 7 or 8 AM.
I literally don't know how we could've gotten the kids up, dressed, put on sunscreen, up to the buffet, fed, and downstairs by 7 AM. This way, we had food delivered between 6-6:30, ate it on the balcony, got dressed, and left.
Hot tip – you can get uncrustables pb&js delivered from room service with breakfast. We got 2 of these on each port day for the kids to snack on. It was CLUTCH when we didn't make it back until 2pm or so.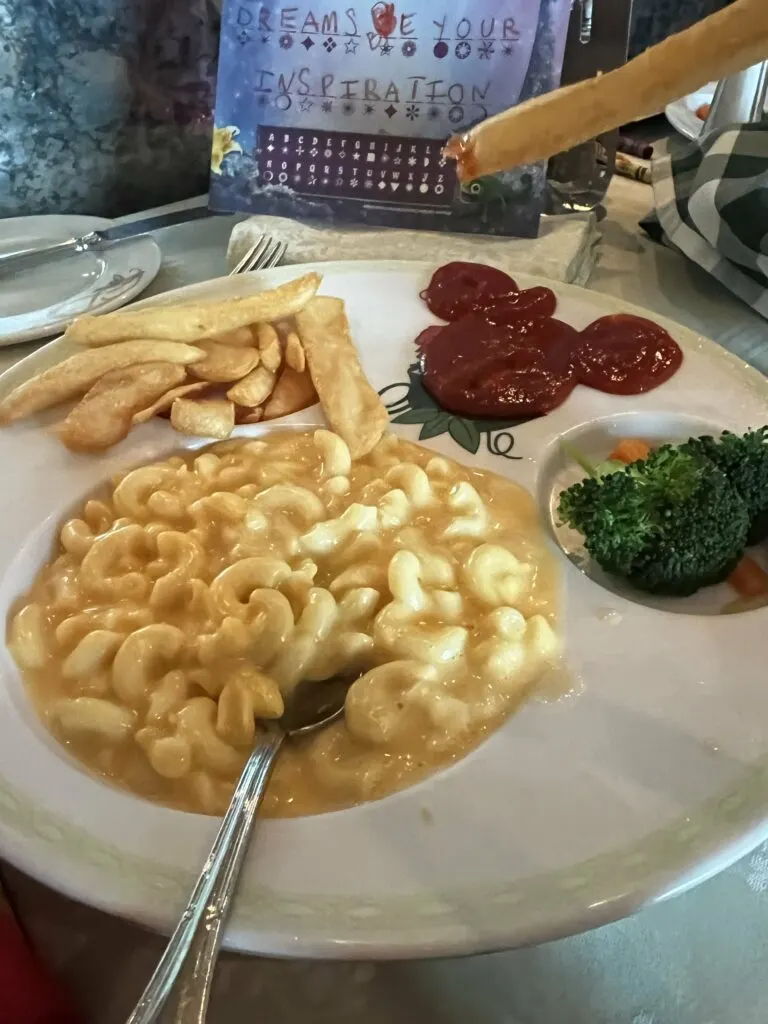 Kid-friendly meal options
Everywhere on the ship is expecting kids. So, they have extensive kids menus and no one was upset by my kids poor behavior.
To be fair, my kids were not screaming or throwing food or anything but they also didn't like sitting in their seats for a two hour dinner.
The kids menus contained things like:
macaroni and cheese
chicken strips
pasta + red sauce
corn dog
mini burgers
grilled cheese
fries
fruit bowl
The waitstaff also offered to bring the above kids items when they weren't on the menu. They dig them up like magic from somewhere on the ship!
Also, kids can order adult food. The kids at the table next to us were elementary aged and ordered salads, steaks, and seafood off the full menu each night. The waiter actually cut the kids' steak for him. I was very impressed by them!
I will also say that LOTS of little kids at dinner had tablets. We did not bring ours and, retrospectively, it might have helped with dinner time.
It's not something we've ever done – screens at the table – and I'd prefer not too, but those kids seemed to do better than my screenless 3&4 year olds so who am I to judge.
Special dietary considerations
The menus at all of the restaurants had things clearly labeled that were vegetarian, gluten free, and dairy free.
The waitstaff also made a big effort to get to know our needs and preferences. For example, I don't eat much meat, and at first he kept pushing the steak and ribs and all these meaty things and acting perplexed when I chose tofu.
Once I explained my preference to him, he shifted his recommendations and never suggested the meat to me again. Basic, but he did a good job of it!
Onboard Entertainment
The onboard entertainment was really great on our fantasy cruise.
Broadway-style shows and performances
The musical performances on the Disney Fantasy were possibly the highlight for me. I feel like we got so much value getting to see these shows, and I was truly blown away at how much my kids not only enjoyed, but appreciated them.
Each of the three shows was shown as a matinee at 12:45, then at 6:30 and at 8:30. You go to the show that is the opposite of your dinner so if you have early dinner, you go to a late show and if you have a late dinner you go to an early show.
We went to the matinee and the late show for each show. The matinee was a great way to guarantee my kids were awake for it, and each time they enjoyed it so much they begged to go back again later that night.
My kids have never seen a live show like this before in their entire lives, so it's not like they are used to plays or Broadway. These shows were just really good.
The shows on our ship, in order of their appearance was:
Aladdin
Frozen
Believe – a compilation of classic Disney songs from different movies.
Aladdin was random to me, but I made sure my kids watched it leading up to the cruise so they were familiar. Y'all. It was SO GOOD. Shout out to the actor who played Aladdin (yes I looked him up!), he was so charismatic and fantastic.
Frozen was good – though we all agreed that Aladdin was stronger. (I was surprised, since my kids generally prefer Frozen, but the leads were just stronger in Aladdin).
The Believe show was cute, but once again, the song choices were all "classic" Disney movies – most my kids didn't know. They got excited for Tiana, but they don't know Jungle Book, Lion King, Beauty and the Beast, or many other 90s movies.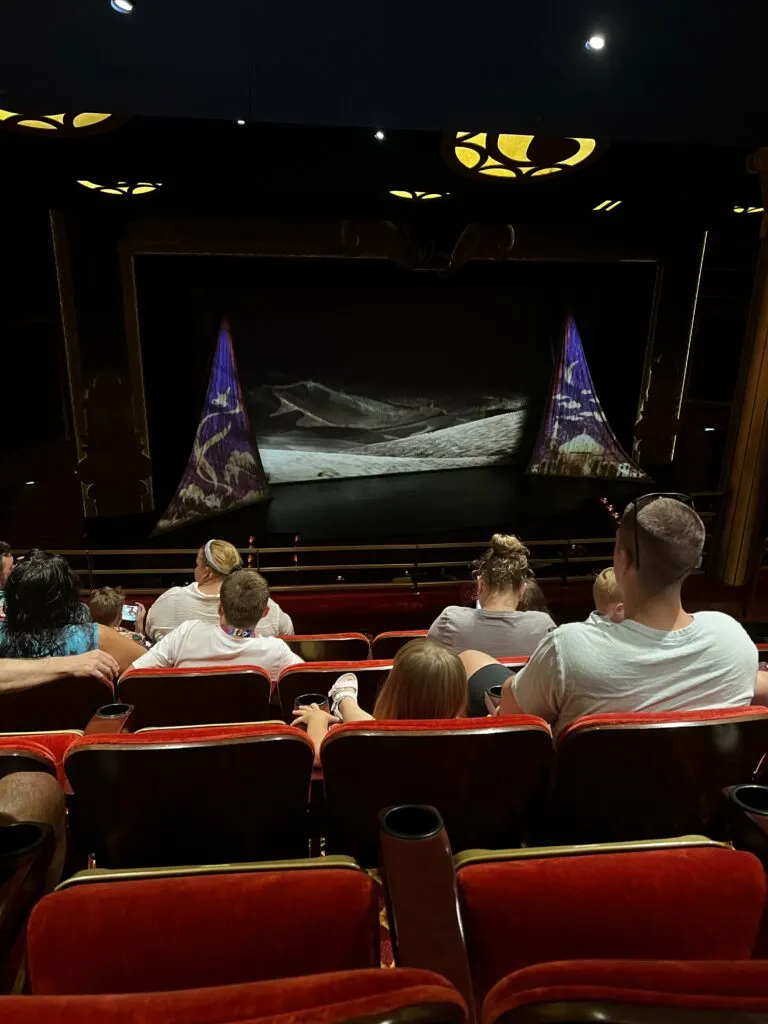 Movie Theater
One thing I don't see mentioned enough about the Disney cruise that I want to shout out is the movie theater. They have a movie theater on board that shows Disney movies that are currently in theaters in the United States.
We were able to see Elemental. I really really wanted to see The Little Mermaid live action but the times just didn't work with our kids schedule.
They were also showing Haunted Mansion, Peter Pan and Wendy, and some Indiana Jones something.
I was surprised that they seem to show the adult movies a lot more, and didn't show the kids movies as much or as many times during the day.
But, if you go on a Disney cruise, definitely try and use it as a chance to catch any movie!
Deck parties and events
The ship held deck parties for sail away, which is when you leave the port on day one, pirate night when they had a little pirate show, and on the 25th anniversary they did a little Mickey show before the fireworks.
Personally, I found the deck parties lame.
They were very very crowded and I'm not one to watch Mickey Mouse dance around.
Some kids were into it, most seemed either hot and tired, or sleepy and tired, depending on the time of day.
There were some Disney adults that were really into it. I'm not gonna yuck their yum, but the deck parties just didn't do it for me.
Family entertainment options
On the nights when there were not musical performances, there were other performers. There was a ventriloquist, a magician, and a juggler.
The only one of these that we made it to was the juggler. I'm not one to hate on artists, but I was super unimpressed with his act. My kids thought it was cool though, so I guess they were the target audience.
We did not make it to the other shows because they were at 8:30 at night and on those nights, my kids were just beat.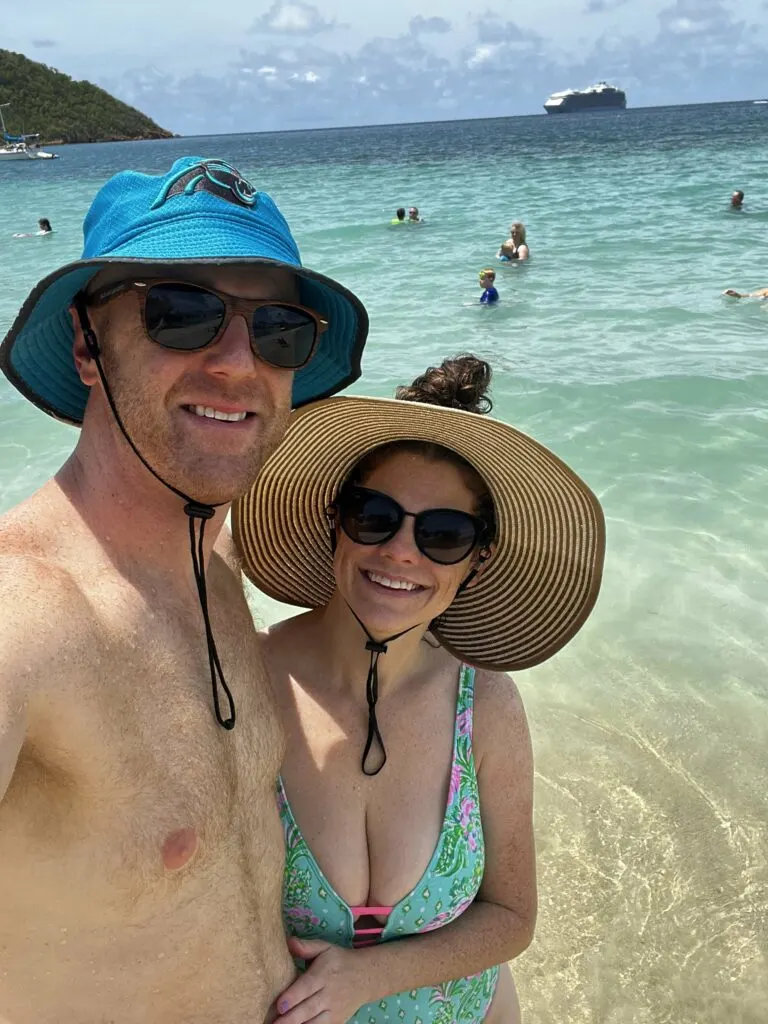 Port of Calls
The Eastern Caribbean itinerary included:
Day 1: Port Canaveral
Day 2: Sea Day
Day 3: Sea Day
Day 4: Tortola, British Virgin Islands
Day 5: St. Thomas, US Virgin Islands
Day 6: Sea Day
Day 7: Castaway Cay private island
Day 8: Port Canaveral
We loved this itinerary. Starting with Sea Days was a great way to get to know the ship.
The Virgin Islands were gorgeous with white sand and clear water.
Castaway Cay is great because everything is taken care of for you and mostly included in the cruise.
As far as the length of the cruise, we felt that 7 days was just right. I never got bored but I also did not feel rushed whatsoever.
Pool and Recreation
There are a variety of pools + water areas on the Fantasy.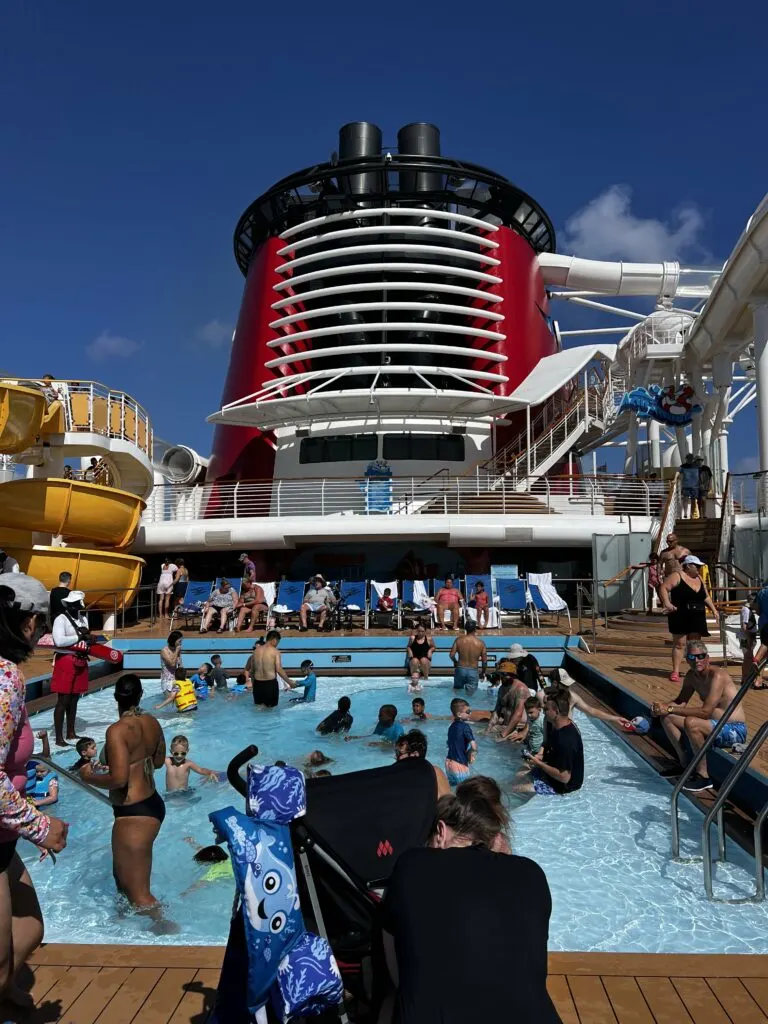 The family pools
I was pretty unimpressed by the pools on the Disney Fantasy ship. There are 2 main family pools – a 3 foot deep pool and a 5 foot deep pool.
They were constantly so full with people it was like human soup, super unappealing and crowded.
We actually found a small fountain area on the side of the ship that I never found the name of – it's next to the soda fountains – that was a huge hit with my 3 year old.
It's worth noting that swim diapers are NOT allowed in any pools, so if your kid is not potty trained, they cannot swim at all.
There is also the Funnel Puddle in the "family area" right above the adults only pool. The fountain was never on, but my 3 year old LOVED this pool. We were always the only ones there.
It was only 6 inches deep but it was private and we ordered daiquiris and enjoyed the spot.
I felt a little awkward – it was right over the adults only section- but it was clearly marked as family pool, and I asked like 4 people and it was family friendly. It's a hidden gem!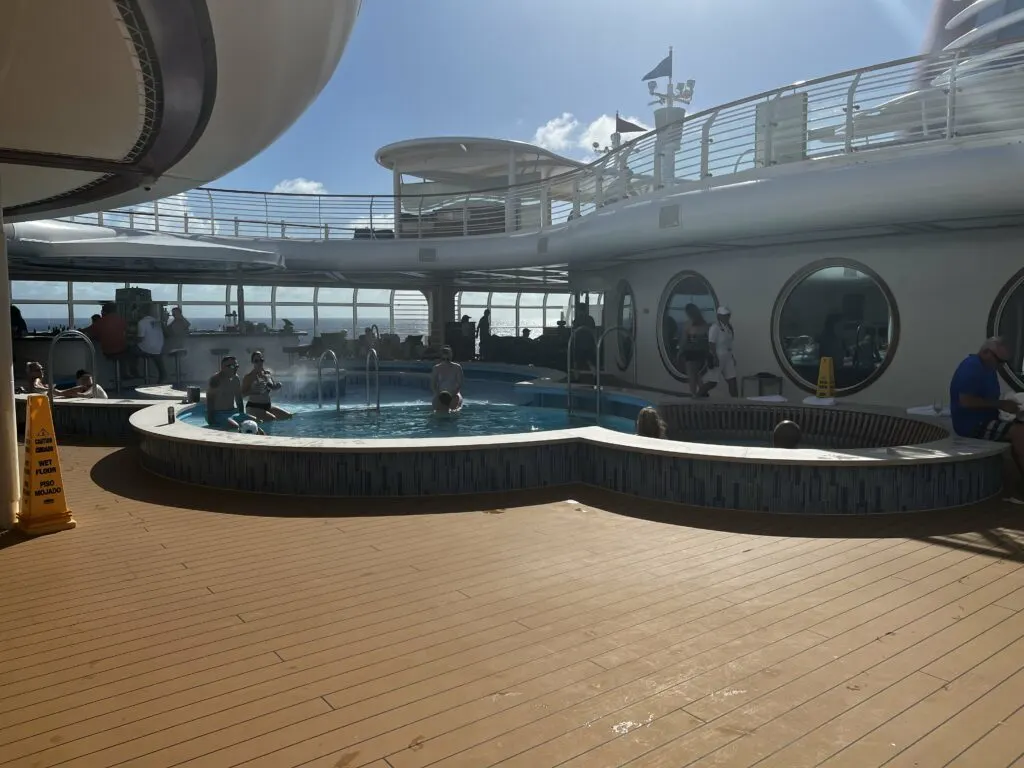 Adult-only areas
There are 2 adult only pools on the ship. In the very front of the ship there's basically a 1 foot deep fountain with a seat you can sit on. We walked by here but never got in.
There is also an adults only pool with a swim up bar and 5'5″ deep section. It was nice – we went during one kids club visit – but it was very small and crowded.
Also there was a hot tub in the adults only area, but I never made it in.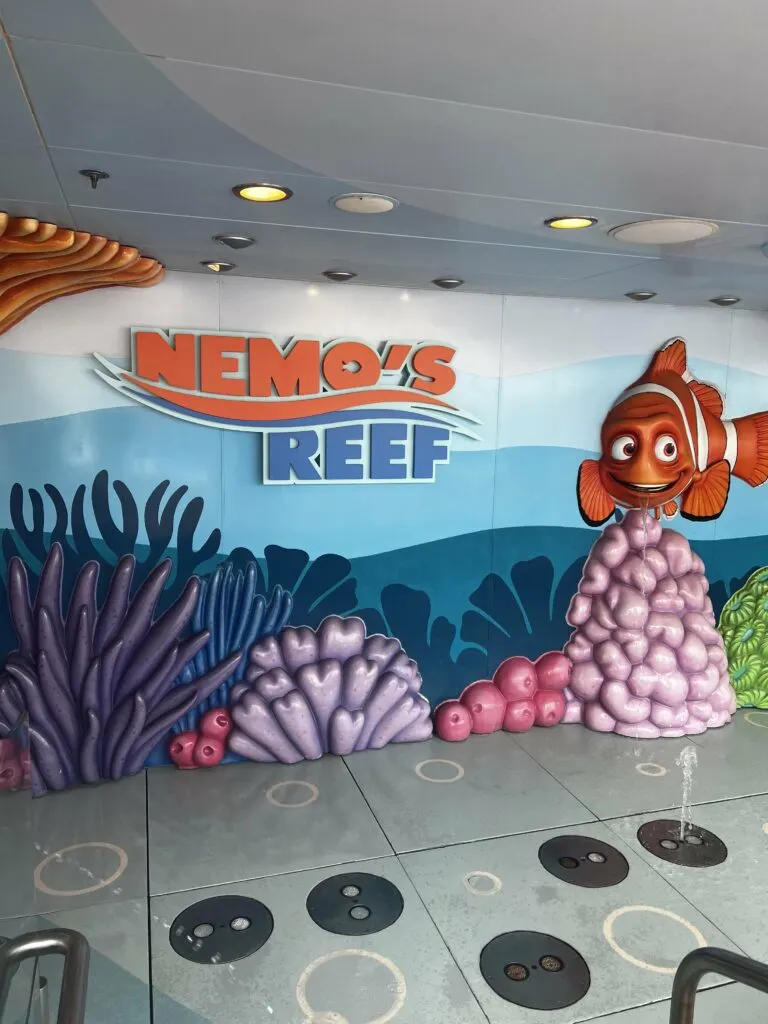 Splash areas
There are 2 splash areas on the ship – Nemo's Reef and the Aqua Lab.
My daughter LOVED Nemo's Reef. It has all of the different Nemo fish that squirt and spray water. And, you can slide down Mr. Ray.
This was a huge hit and is what the Disney cruise should have more of – cute fun character inspired areas.
Aqua Lab is a spot where you can turn knobs and crank levers and squirt each other with water. It was fun, but it was frequently closed for too much wind.
AquaDuck water slide
The big water slide on the ship was called the AquaDuck. You have to be 42 inches to ride the AquaDuck with an adult.
My four year old was able to do it with my husband and they did it twice on the trip.
The trick is to go at low wait times, because during busy sea days, the wait can be long. They went early in the morning or later at night, because my four-year-old is not about the line.
This is the slide that goes all the way around the ship and they really really enjoyed it.
Mickey's water slide
There is a smaller yellow waterslide that is kids only and called Mickey's Slide.
You have to be 38 inches to ride it and have to be shorter than 5 foot five – we talked to a 12-year-old who got turned away because she was too tall.
This was a good slide and my four year-old did it twice by himself. I think he would've done it more if you'd had a friend with him, or if his sister had been tall enough to do it with him.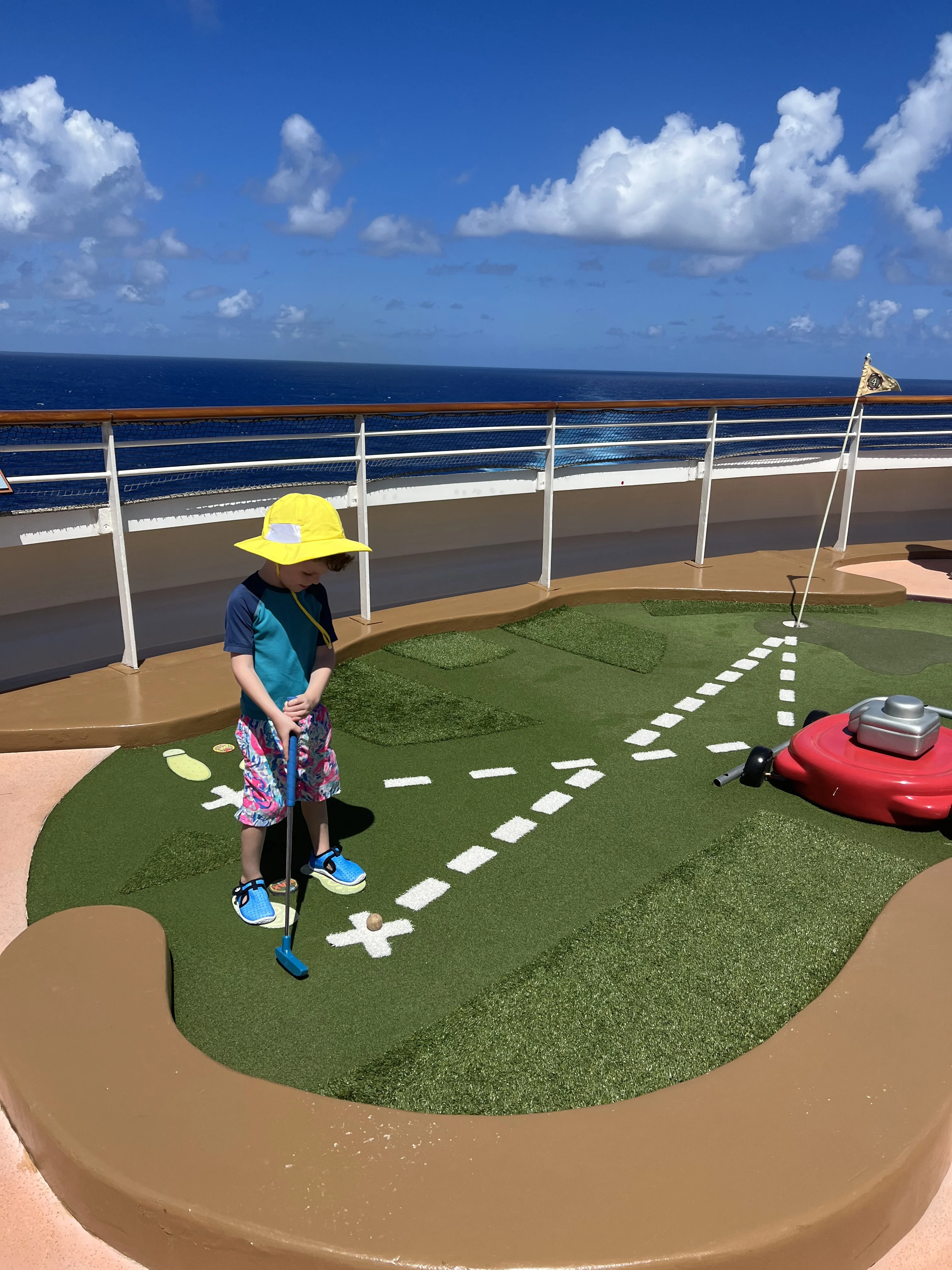 Sports and recreation options
This ship also has Goofy Golf, which is putt putt on the top deck. It was a lot of fun, we did this a few times, and my 4 year old really loved it.
There is also a basketball court, which seemed impossible to do because it was so windy.
Finally, there is a sports simulator up there on the sports deck. It's indoors and you kick or throw actual sports balls at a screen.
You have to pay for this but it's only like $15 for an hour, the bigger problem is getting a reservation. When we were able to sign up as first time cruisers, nothing was available.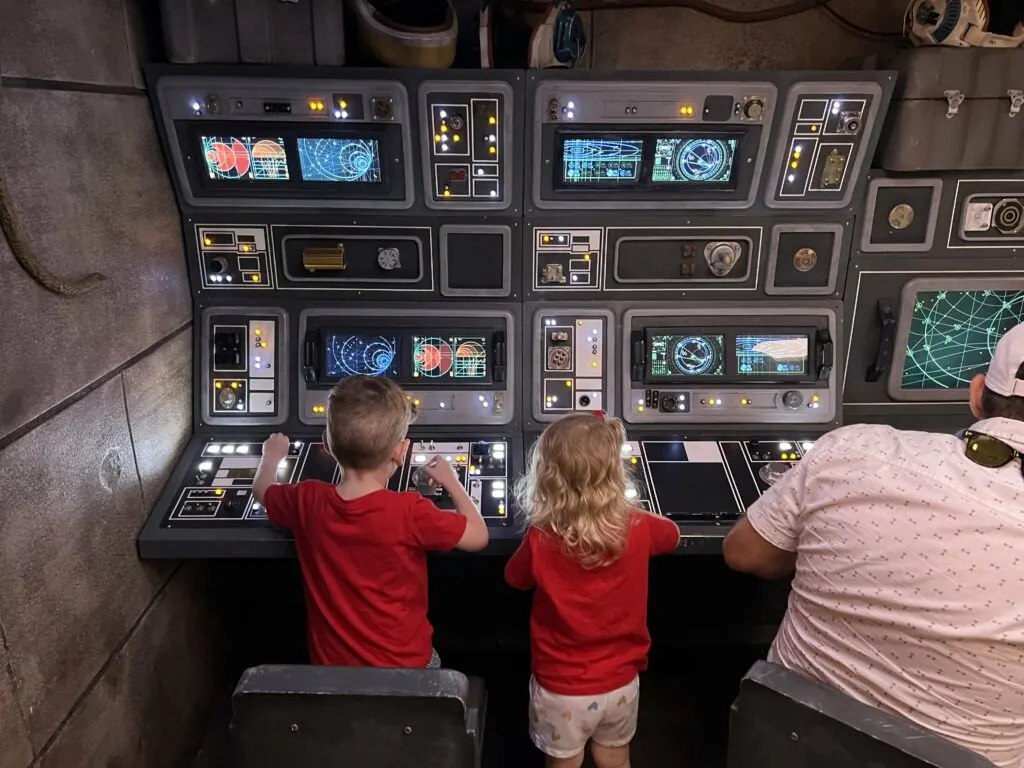 Childcare and Kids' Activities
The kids clubs on the Disney cruise are divided up as follows:
0-3 (or not potty trained) Nursery
3-12 Kids Club – Oceaneer's Club & Lab
11-14 Edge (middle school age)
14-17 Vibe (high school age)
1820 club – for college aged >18 but too young for booze
If we are being completely honest, I was unimpressed by the kids club on this cruise. They have open houses several times throughout the cruise when adults can come and tour and check it out.
I felt that the Oceaneer's club and lab were very screen-oriented. There were computer games, movies, and just a lot of giant TV screens on the walls. There is no playground and not a lot of toys.
They do have activities organized throughout the week, we took our kids to the kids club twice.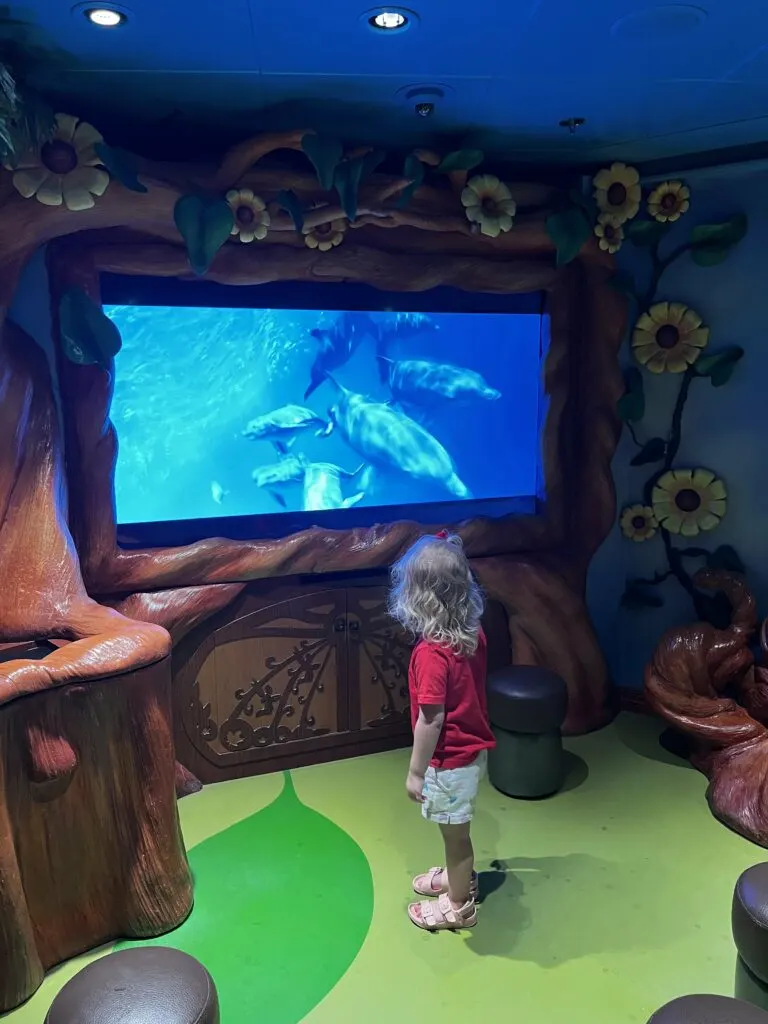 The first time they stayed for less than an hour and seemed to have a good time.
The second time, they stayed for one hour and when we picked them up our four-year-old son was sobbing, snot pouring down his nose, which is incredibly unlike him.
I tried to pick him up, and the woman yelled at me that I can't touch him until he was signed out and then proceeded to sign out two other non-crying kids before signing him out while he stood there and just sobbed.
It then took them over five minutes to find my three-year-old and when they brought her out, she was crying too.
None of the employees seemed too concerned, no one, including my kids or the employees could tell me what happened, and my kids adamantly refused to go back to the kids club after that.
I heard lots of people saying that their kids didn't want to leave the kids club. They loved it so much they even wanted to go to the kids club on the private island days and during dinner. This was not what happened for us.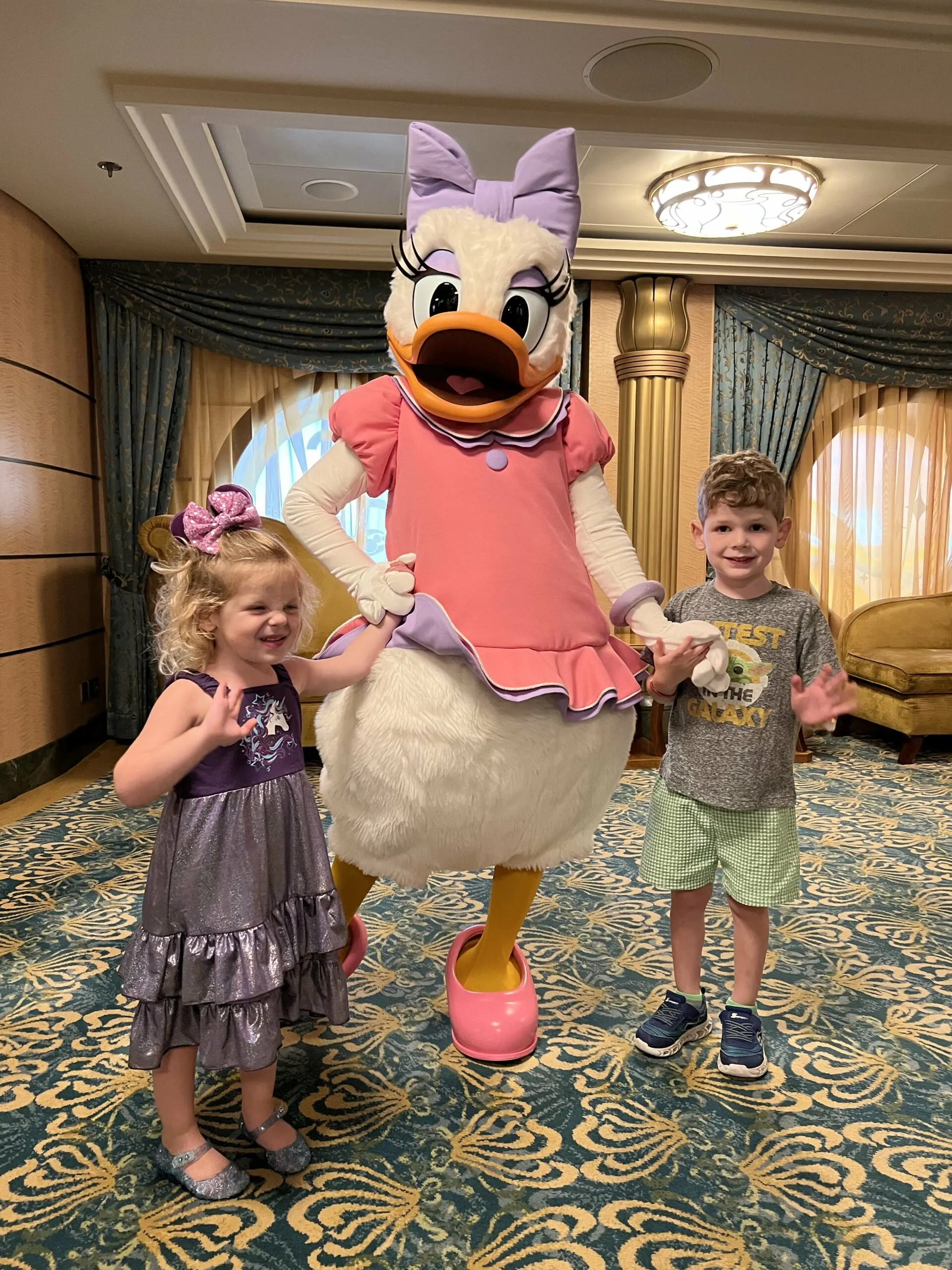 Character Interactions
One of the big selling points for many people on the Disney cruise is the character interactions and the ability to get photos with characters.
I pre-paid for the photo package, so about halfway through the cruise, I decided to start waiting in these long lines to get photos with characters.
It's worth noting that you can take pictures with the characters on your own cell phone. No problem for free.
Also, some of the best interactions that we had with characters was when we just passed them in the hallway, not waiting in a line. Shout out to Rapunzel. She was the best for this.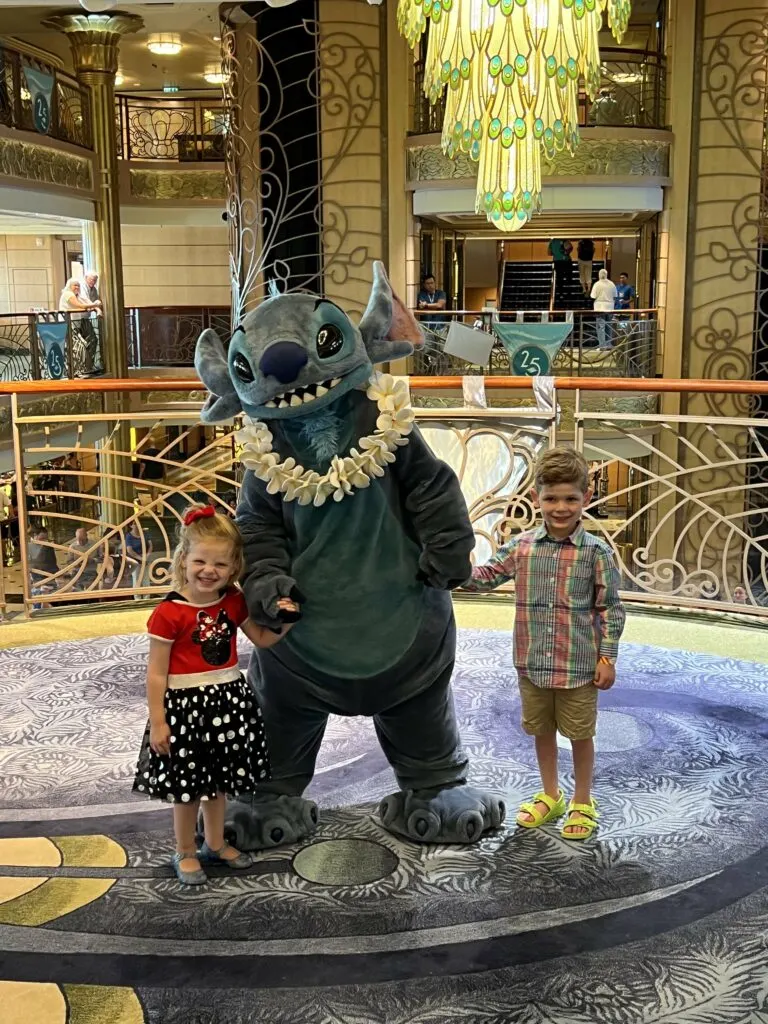 But, if you want to wait in line for a character that you really want to see, be prepared to line up. For example, on the second to last day, we still had not seen Stitch and my kids really love Stitch, so I waited in line 15 minutes before he was due to appear and ended up waiting for an hour total to see him.
The best strategy is definitely for one adult to grab a drink and get in line with their cell phone, and then text the rest of the group when you are close to the front of the line. This was totally cool. As long as you were doing just one group one photo you're not really cutting the line you've got one spot it's not like a ride.
Only other feedback on character meet and greets is that I think that Disney needs to take a long hard look at the characters that they feature on the ship.
It really felt to me like they were catering towards Disney adults with some of these choices.
For example, Chip and Dale were out every day. Are Chip and Dale even relevant anymore? I think not.
I would like to see Elsa and Anna, Moana, Buzz Lightyear, and more recent characters.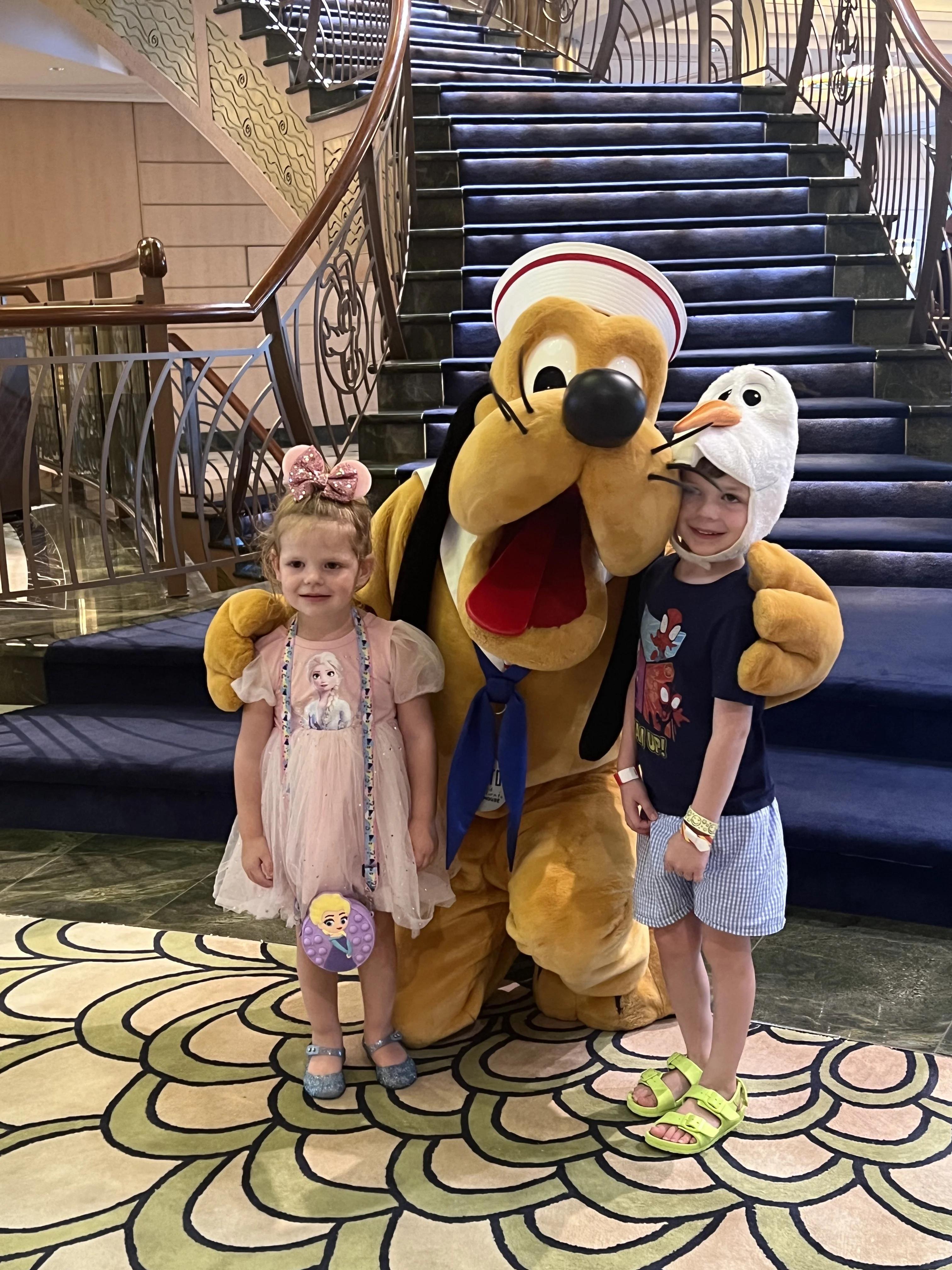 Here's who we physically saw on our cruise so you can prepare your kids, so they know who these people are because my kids did not know most of these:
Classic Disney characters
Mickey
Minnie
Pluto
Goofy
Donald duck
Daisy duck
Chip + Dale
All of these classic Disney characters also come out at different times wearing different outfits, such as pirate costumes or sailing clothes, so you can see them multiple times in different garb.
Princesses
Belle
Cinderella
Snow White
Rapunzel
Tiana
Mulan
Other Disney Characters
Stitch
Captain Hook + Smee (pirate night only)
Captain Jack Sparrow (pirate night only)
Cruise Staff and Service
The highlight of this cruise for me was really the Disney cruise staff, and the level of service that we were given. Everyone seemed just so genuinely happy and friendly.
Either they're the Fakest Fakers in the world or they like what they do. Maybe it's a mix of the two.
I will say this is a sharp contrast to customer service that we have gotten anywhere else lately and was a big relief.
I feel like this is one of the biggest things you are paying for when you pay premium for a Disney cruise – really really good service, very clean facilities, and just a very child friendly atmosphere.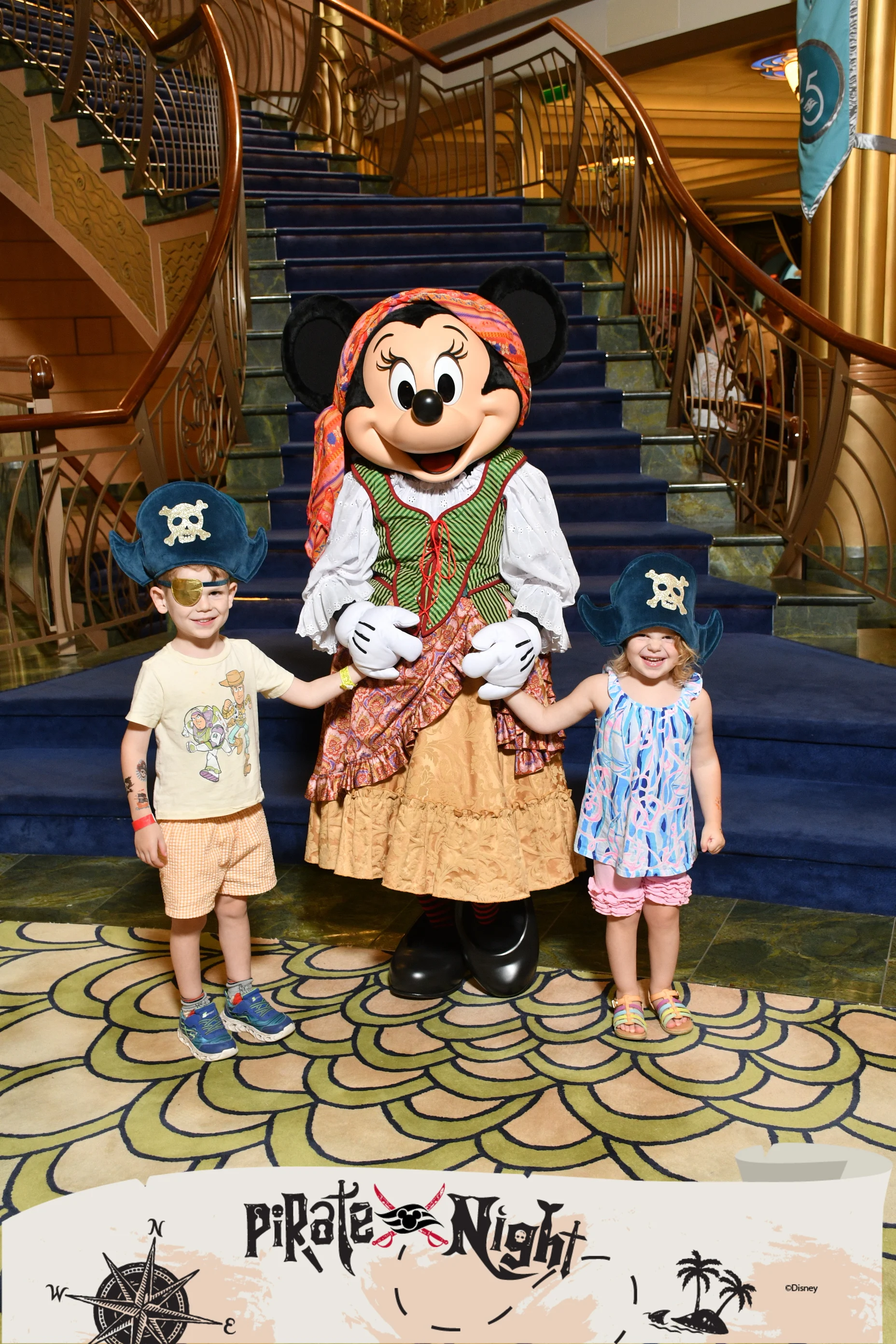 Themed Experiences
There were a few themed activities on our 7 day Disney cruise.
Our cruise had two special nights – the 25th anniversary night, and pirate night.
25th anniversary night
The 25th anniversary night was because 2023 is the 25th anniversary of Disney cruise line.
They had free cocktails in the atrium before each dinner service, which was the only time we found them doing this on the whole cruise. The cocktails were kind of sickly sweet for me, so retrospectively I wish I had grabbed glasses of champagne instead of the neon blue cocktail. Regardless, it was a nice touch.
On the 25th anniversary night it was formal night, and they also did a fireworks show off the pool deck. It was nice, nothing too crazy, and it didn't start until about 10:30 which was way too late for my kids.
Retrospectively, I wish we had a room that looked starboard so we could've just watch the fireworks from our balcony.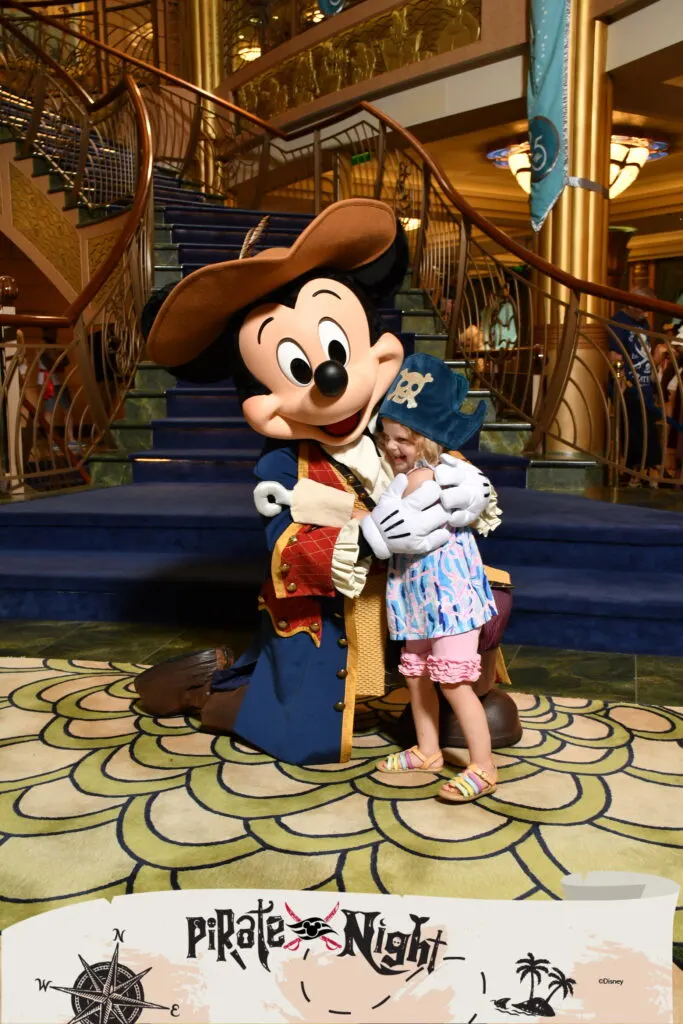 Pirate night
The other theme night was pirate night, which was about halfway through the cruise. Definitely some people went completely wild dressing up in full pirate garb.
All of the staff was talking like a pirate and really having fun with it which made it really silly.
I got this pirate gear set up for my kids and I also got inflatable pirate swords and pirate tattoos for the kids and our fish extender group, which were really fun.
My kids enjoyed getting pictures with Pirate Mickey and Minnie. These were limited costumes so the lines were very very long. Be prepared.
There was a pirate menu, which wasn't really very stand out, and a pirate Mickey show on the pool deck after our early dinner.
They also did a Captain Jack Sparrow show around 10 p.m. followed by fireworks, but we skipped this one because the other fireworks had been such a late disaster for our kids.
Dress-up opportunities for kids
I packed two Disney costumes for each of my kids for this cruise and they did not wear them. Big waste of space. We did see a lot of little girls, wearing princess dresses, especially on the formal and semi formal nights and at the princess gathering.
I will say that lots of kids wore Frozen costumes to the Frozen show, so maybe look into what shows are on your ship and pack costumes if you have them.
Royal gathering
The princess gathering is a free event that you have to book in advance. It becomes available 30 days out from your cruise at midnight Eastern standard time. If you want to go, you need to be on your app at midnight for real. At 12:03 it was sold out.
You don't know the times in advance, but it will be the first two days of your cruise.
This is a chance to see for princesses dedicated like a full 60 seconds with each one. You still have to wait in line, but it's a lot shorter line.
You will see the same princesses for the rest of the cruise, this was a really easy way to see them and get autographs and start the crews out with a bang.
This is not to be confused with the paid premium tea party, which you were not going to get tickets to if you are a first time cruiser. It was sold out I think before even silver members could book excursions on our cruise.
Debarkation
After our experience getting on the ship, I expected debarkation to be a bit of a disaster. I was shocked at how well it went.
With a 5:45 dinner time, we were assigned a 7:10 AM breakfast in the restaurant where we had our final dinner the night before.
This was the only plated sit down breakfast that we went to and we had our regular waiters.
We had breakfast and were not able to go back to the room afterwards. Instead, we grabbed our carry-on bags, said goodbye and headed off the ship.
We were off the ship at 8 AM and our bags were there waiting for us sorted by the group number we were given good night before.
It was easy to grab our bags, and then we had to go through customs which was less than a 10 minute wait.
At this point, some people were hiring porters to carry their bags, and the porters literally came through customs with them. Considering the guy wanted 20 bucks to put our bags on the ship in the beginning I can't imagine how much they were asking for for this 30 minute commitment.
Regardless, we rolled out of there with our rolly bags zero problems, straight into our car and were on the highway by 8:30 AM.
I definitely want to say that there is no problem checking our bags the night before, we were slightly worried that we might have to wait, but there was zero issue.
It was there waiting for us. The combination of checking our bags and parking in the garage made it just so super fast to get out and get going for our long drive.
Final Thoughts and Recommendations
I think that the ideal audience for a Disney cruise would be a family with two elementary aged girls, who love princesses, and are independent enough to feed themselves at dinner, stay up until 11 PM for a special occasion, and are excited to meet new friends and hang out with other kids they might not know very well.
I also think that a Disney cruise would be fabulous for people with younger teens, who similarly like to make friends, and would really enjoy the independence that you could give them in the safe environment of a Disney cruise.
Also, it seems like a hit for Disney adults with cash to burn or grandparents who want to treat all of their kids and grandkids to really special trip.
We had a great time, don't get me wrong. We will probably go on another Disney cruise, I wouldn't be surprised if we did another one next year.
But, I think it would've been a lot more fun for us if we had more adults with us. Either grandparents, or preferably friends with kids pretty close in age to ours.
I think having other kids would have given our kids more confidence in the kids club and it would've been fun to be able to switch off with some other adults so we could do things like go to the adults only restaurant or go out after bedtime once or twice.
In conclusion, the Disney cruise is probably the most expensive way to cruise, but they sure to take care of you- it's clean, it's nice, it's perfect for kids!
Any more questions about the Disney Fantasy?