Looking for Disney Cruise tips? Here is everything you need to know about Disney cruise character encounters: where, when, and how to make the most of them!
It doesn't take much research to quickly realize that Disney cruises are priced much higher than comparable family cruises from other cruise lines.
There are a few reasons that Disney charges more for their experience, and one of them is all of the characters and Disney intellectual property involved.
If your kids are really into Disney or meeting characters, this can be a huge pro of the cruise.
But, if you've ever been to Disney World, then you know that the lines to meet a character can be outrageous.
Today I want to talk about what to expect when it comes to character meet and greets on a Disney cruise and share my best tips after our seven day Caribbean cruise on the fantasy to help you make the most of the Disney characters on your cruise.
Disney Characters on a Disney Cruise
Here is the most important information to know about Characters + meet & greets on a Disney cruise.
How Character Encounters Work
Character encounters are scheduled throughout the days of your cruise. There is a special section in the Disney cruise line navigator app that will show all of the scheduled character encounters.
There will also be times when characters are just walking around the ship. This could be when they are on their way to meet and greet or they could just do a sort of a surprise visit.
For example, one night after dinner, there was a dance party in the atrium with all of the princesses, and a few other classic characters.
I could not for the life of me find this in our navigator app, but it definitely went on for a full hour and was a ton of fun.
If you catch a character walking around and they are on their way to a scheduled meet and greet, they are probably going to say hi, but keep walking.
However, if they are just hanging around, they will stop and talk to you and this is the best time to really get FaceTime with them.
So, if you want to optimize your chances of spending some time with characters, just hang around the atrium and the floors above the atrium during downtimes to see if anybody walks by.
Where to Find Disney Characters
Character encounters typically happen:
in the atrium
in the kids club
on the deck (especially during deck parties!)
outside the theater
Check your navigator app for the designated meeting spots!
What Characters are on the Disney cruise?
Here are some of the characters you can expect to see on your Disney cruise!
Classic Disney Characters
Mickey Mouse
Minnie Mouse
Donald Duck
Daisy Duck
Chip & Dale
Pluto
Goofy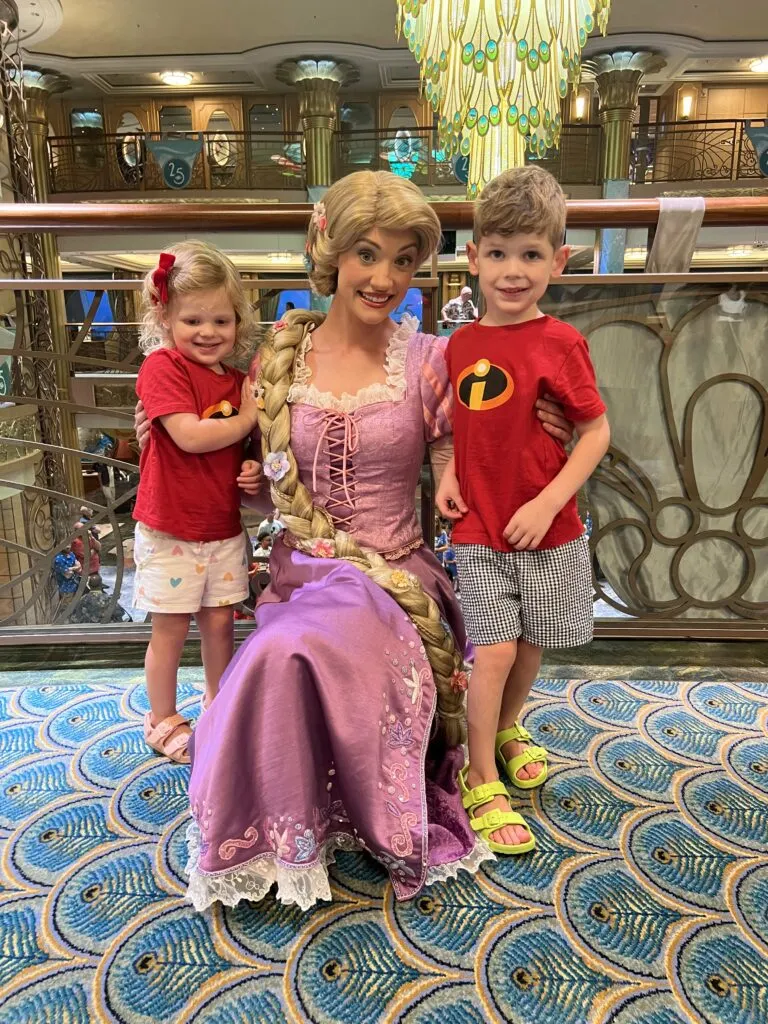 Disney Princesses
Cinderella
Ariel
Belle
Rapunzel
Mulan
Tiana
Snow White
If your child is obsessed with princesses, definitely try to book the Royal Gathering. It is a free even but it is ticketed. Tickets open up at midnight EST 30 days before your cruise. Ours booked up by 12:05!
At this meet and greet you get the chance to meet 4 princesses. You get maybe 60 seconds with each and the line is much shorter than other times.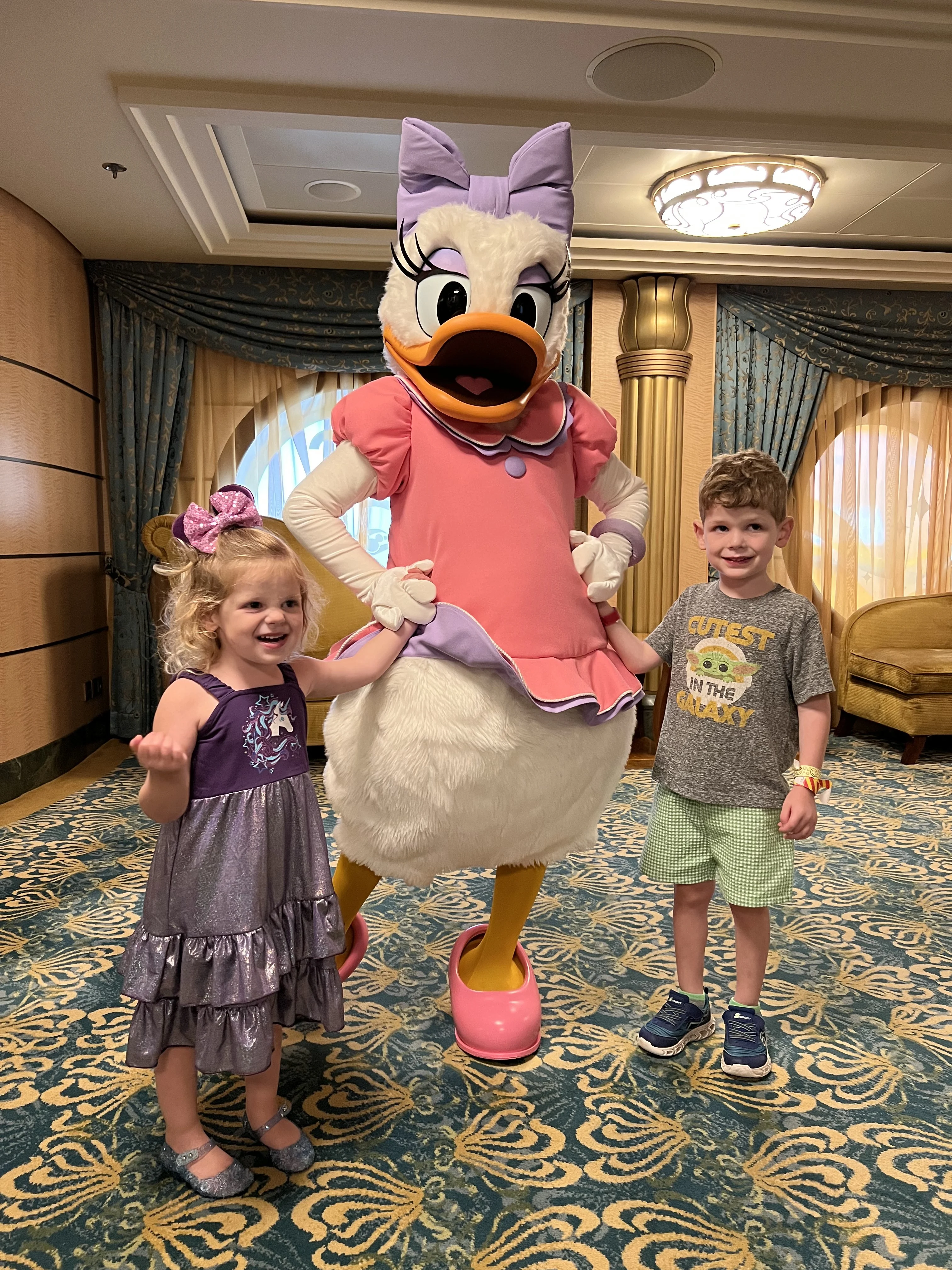 A slight rant
I do want to note that there were zero modern Disney princesses on our ship.
By this, I mean, Elsa, Anna, Moana, the girl from Brave, none of them. I think this is a huge mess on Disney's behalf.
To be honest, it felt like the character selection was targeting adults who have nostalgia over the classic 80s and 90s characters.
I really think that the ships could use a refresh on their characters and bring in some people from more recent movies.
My kids personally didn't even know who some of these older princesses are because the movies just don't appeal to them. They would've gone crazy for some Frozen princesses, though!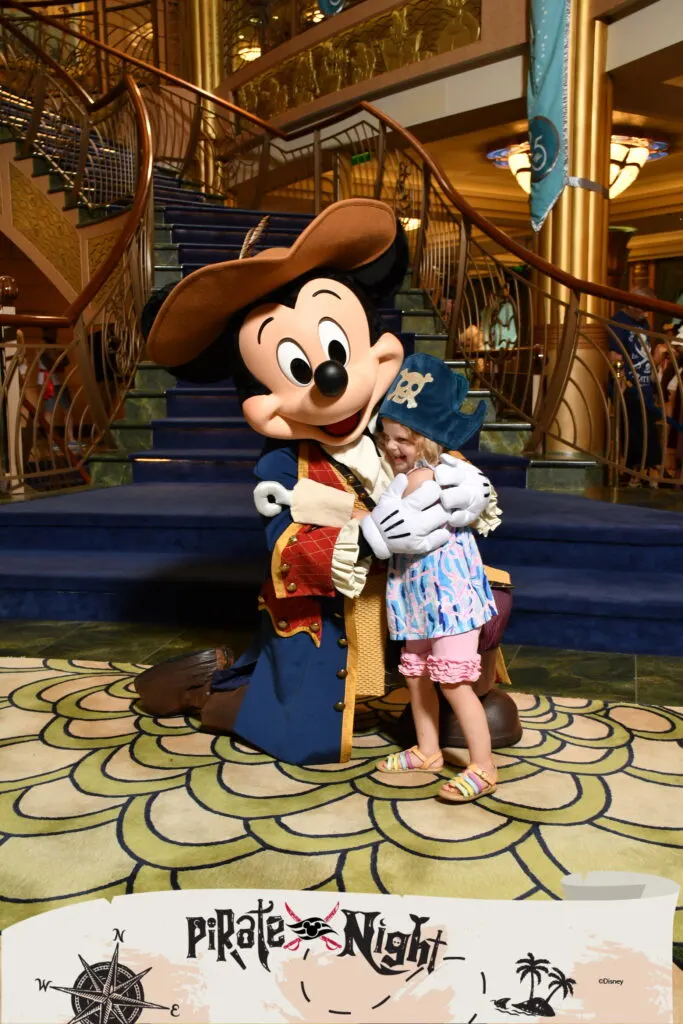 Disney-Pixar Characters
There are certain cruises that are Pixar themed with Pixar characters. Note that if your cruise is NOT Pixar, there will be ZERO Pixar characters. This was very very disappointing for my son.
Woody
Buzz Lightyear
Sulley and Mike from Monsters, Inc.
Finding Nemo characters
The Incredibles family
Marvel Characters
There are certain cruises that are Marvel themed with Marvel characters. Note that if your cruise is NOT Pixar, there will be ZERO Marvel characters. This was disappointing for my son.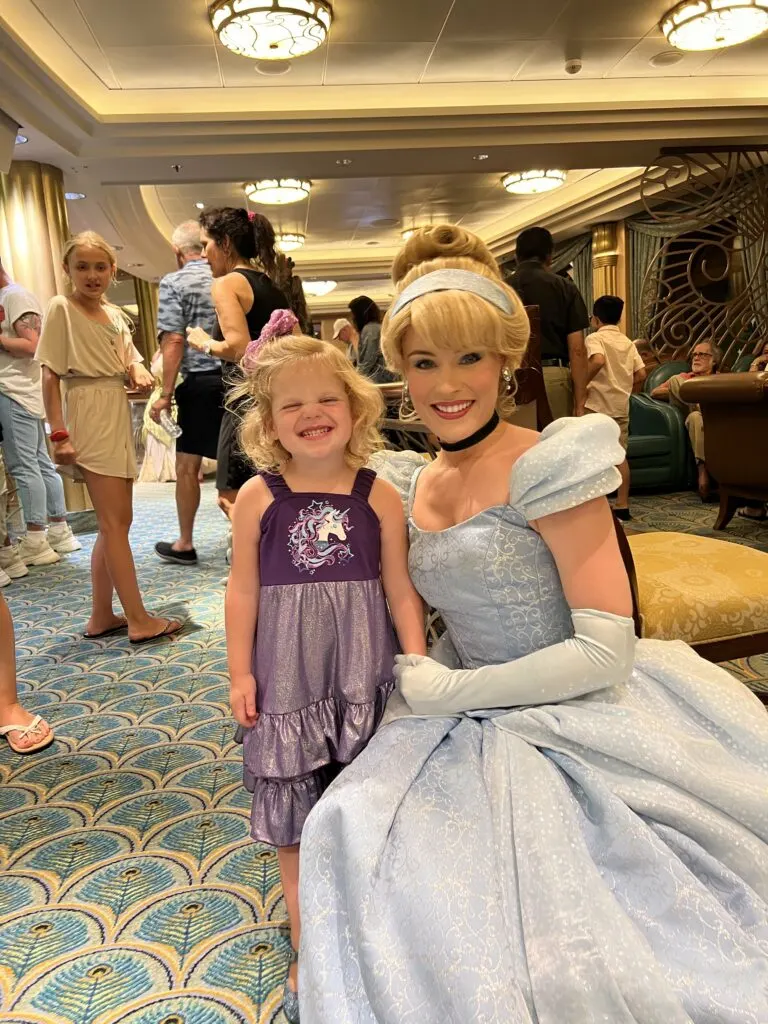 Seasonal and Themed Encounters
There are also special character encounters related to holidays, themed cruises, or special events.
For example, ours was an anniversary cruise so they had the classic characters in some special baby blue outfits.
They also have many characters dress up for pirate night.
There are fun and something a little different if you have been on several cruises.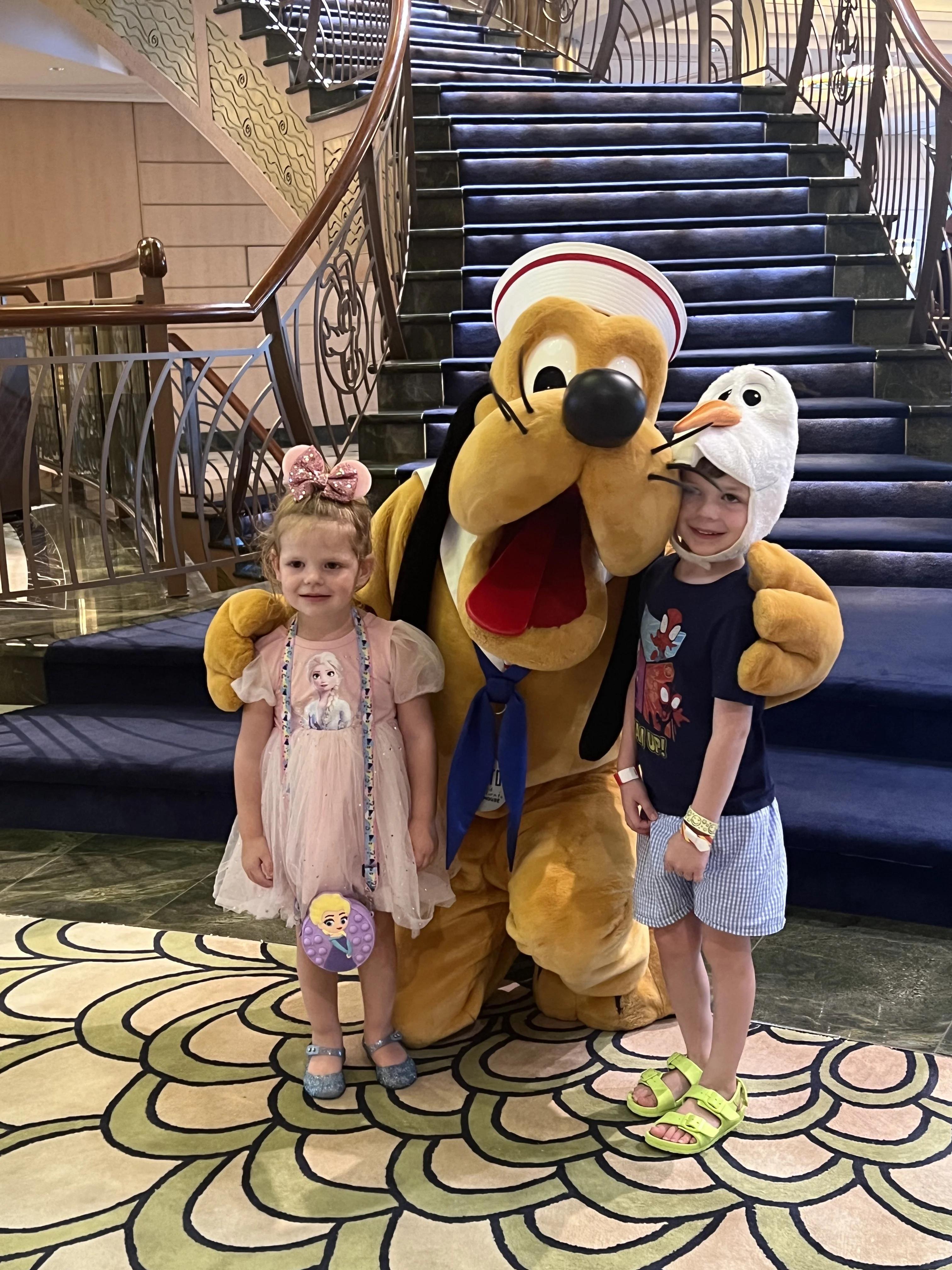 Tips for the Best Character Encounters
OK time to get real and share my best tips for making the most of the character encounters on your Disney cruise!
Make a Plan
Decide in advance how many characters you want to see. Do you want to see them all? Just a few certain ones?
Have a Line Game Plan
Pretty much all of the characters, especially during prime times, are going to have a line to wait in to meet them. This line could take 10 minutes or it could take an hour.
If you have small kids, that won't fly. You need to come up with a plan and the plan should be that one adult wait in a line while the kids go do something else.
This could be run around the atrium or it could be go to an activity. My husband took our kids to go do activities and I texted him when we were close to the front of the line and then they came.
This is much much better than trying to get my three-year-old to wait in an hour long line.
Timing Matters
When my husband or I went out at night, we noticed that there was basically zero line for characters after 9pm. If you can stay up that late and someone will be out, that's the best time to go.
Prioritize One-Offs
There are certain characters – I'm looking at you Goofy – who will come out a ton. Then, others, like Pirate Stitch, only come out once or twice. Generally the themed costumed costumes are only once.
So, if you want to see someone that only appears once, you better be there. You need to be there early and plan to wait!
Capturing the Magic
If you are going to wait in line to meet a character, you're probably going to want to get a picture with them.
If you purchase the photo package from Disney, you will get all of the photos that you get taken with the characters. You also have the option to buy these photos one-off.
But don't forget the fact that you were allowed to take pictures with your cell phone. Plenty of people are doing it and there's no problem for you to get your own pictures.
Also, consider if your kids would enjoy an autograph book. I actually ordered this Disney character book and had the characters signed their page in the book. Just bring a sharpie!
Any more questions about characters on a Disney cruise?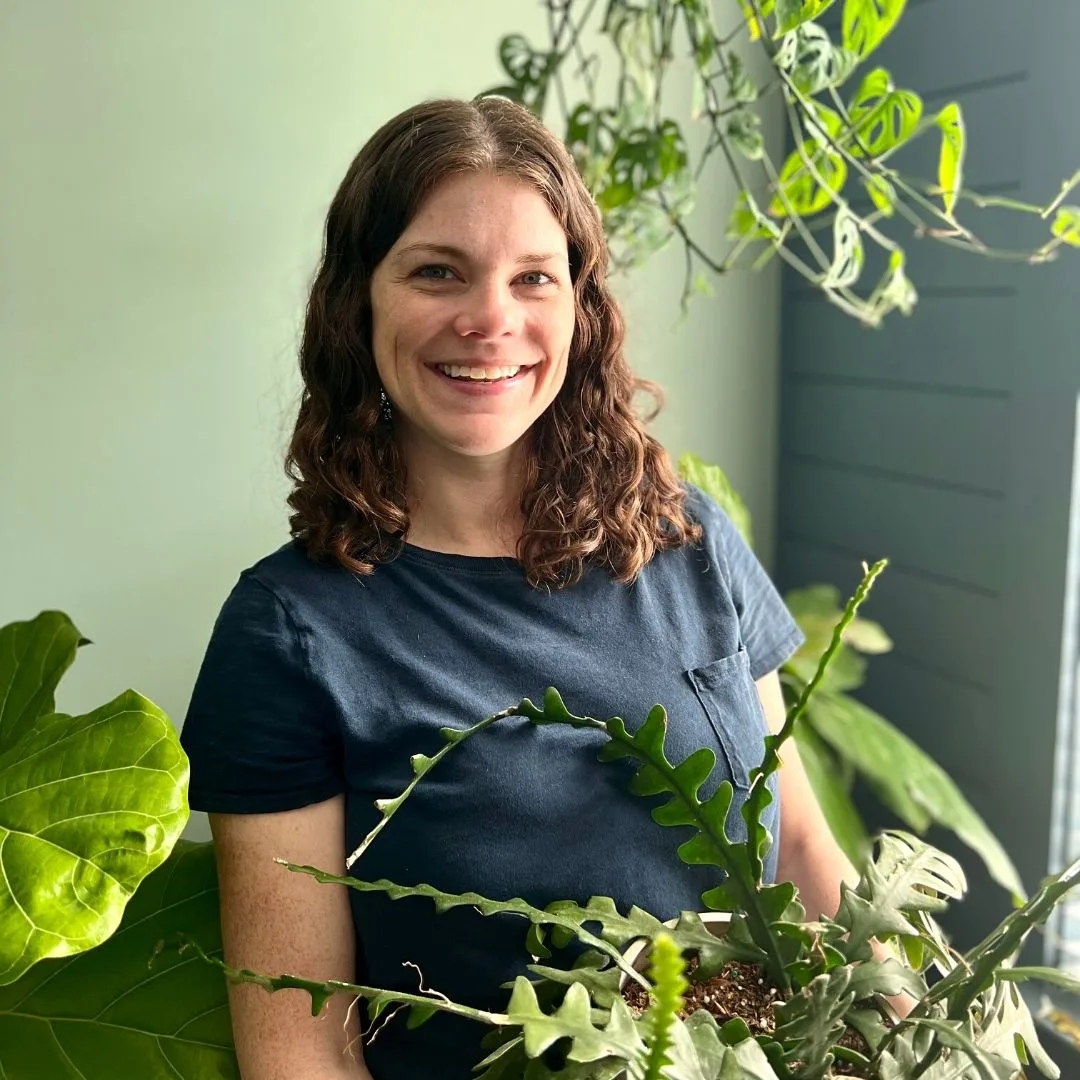 Hey there, I'm Morgan, the creative mind behind CelebratingWithKids.com! As a parent of two lively little ones, I've made it my mission to turn ordinary days into extraordinary adventures, sharing playful activities, thoughtful toy reviews, and delightful printables to help families celebrate every moment together. 🎉👨‍👩‍👧‍👦🎈