Looking for Disney Cruise tips? After a week on the Disney Fantasy, we ate at every restaurant aboard the ship at least twice. Here's our review of the Enchanted Garden restaurant!
The Enchanted Garden restaurant on the Disney Fantasy cruise became our home away from home over the course of the week.
As part of the three rotational dining restaurants on the Disney Fantasy, you're going to eat at each restaurant twice. However, the restaurant you eat at the first night, you'll actually eat at four times!
That was us with Enchanted Garden. We experienced our first night here, Pirate Night, our last night, and for breakfast the final morning.
And honestly, it's a pretty nice restaurant to be stuck in four times.
Enchanted Garden is a beautiful restaurant with a lot to offer, so let's take a look at what your experience will look like!
Be sure to check out our full review of everything the Disney Fantasy has to offer!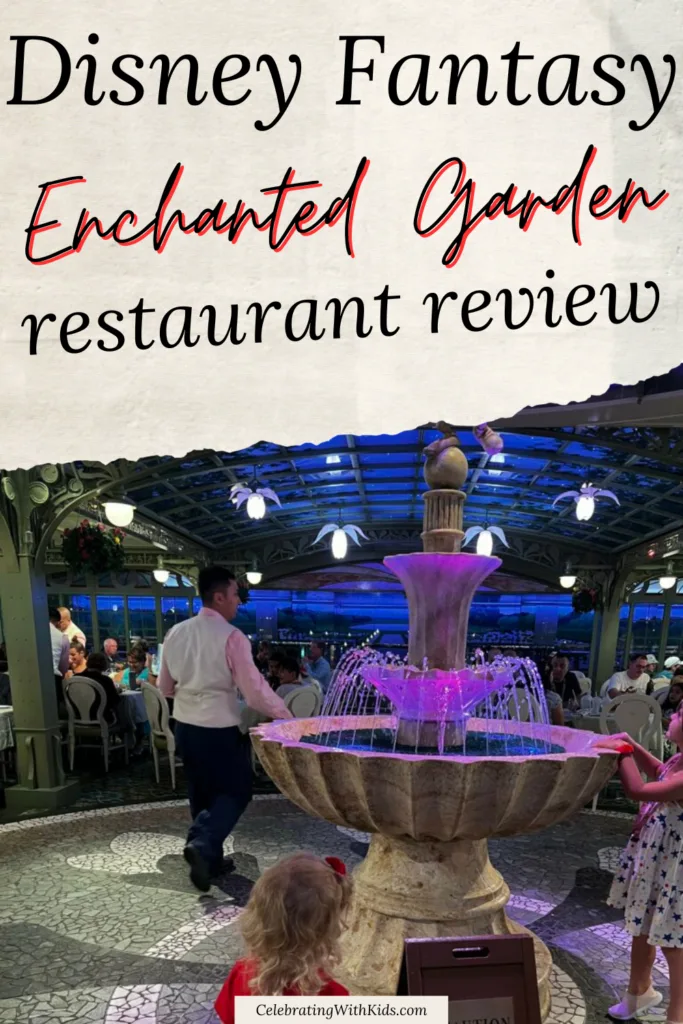 Enchanted Garden Restaurant Review
Enchanted Garden on the Disney Fantasy was a really nice restaurant overall. It wasn't the most interactive, but the ambiance was my favorite overall.
This is the only restaurant of the three rotational dining restaurants that will offer you actual porthole windows to the ocean.
We were lucky enough to be at a table right next to the window and it was really nice to be able to watch the sunset during dinner.
We ended up eating here a lot, as I mentioned. On top of two normal nights, we also had Pirate Night here with the pirate menu and also our breakfast on the last morning.
The last morning of the cruise, your breakfast option before debarkation is to go be served in the restaurant you were in the night before, which in our case was Enchanted Garden. The breakfast was great and fast and then made for an easy exit off the ship.
Enchanted Garden theme
Enchanted Garden is the French-themed restaurant on the Disney Fantasy.
The decor and ambiance of Enchanted Garden tries to transport you to a fancy outdoor patio in France while giving you first class service.
Enchanted Garden atmosphere
The atmosphere in Enchanted Garden was really nice. Overall, it was the most peaceful of the restaurants.
The inside of Enchanted Garden includes a lot of good garden features, like hanging baskets of flowers, beautiful sconces, and a giant Mickey fountain in the middle of the room.
The fountain is a really nice feature and overall looks really nice.
Apparently, Enchanted Garden used to have some big fancy booths in the middle room that were for some reason removed during the Covid-19 pandemic, but now there's just tables like anywhere else.
The natural light from the portholes and the faux sunlight from the ceiling gives the room a really peaceful atmosphere.
Enchanted Garden dining choices
As with all of the rotational dining restaurants, Enchanted Garden had really nice food with a lot of options. I'll say, you'd never say the food was premiere dining, but there were a lot of choices for people of all preferences and each choice was very good.
Each night at Enchanted Garden had a different menu, but here's a look at what we had.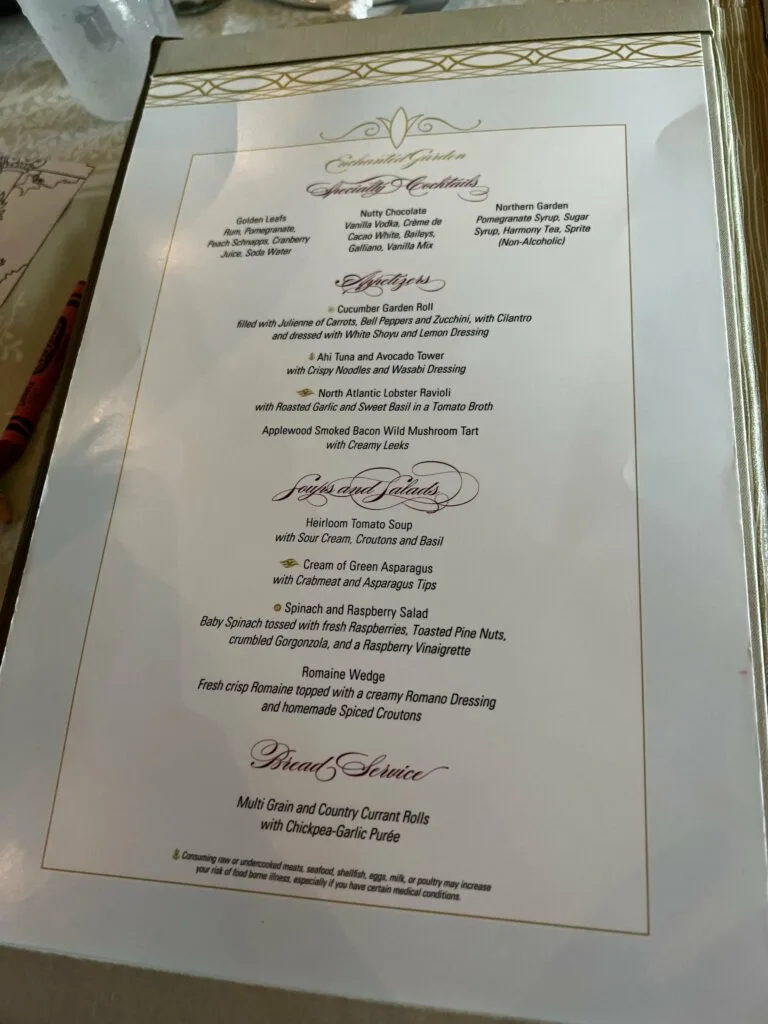 Note that neither of us is a big meat eater, so while some people see a cruise as an opportunity to have a big juicy steak each night, that wasn't us. We both usually choose a seafood or pasta dish and enjoyed them very much.
Enchanted Garden appetizers
For appetizers, we chose the cucumber garden roll and the ahi tuna and avocado tower.
These were both very fresh and light offerings to get us started. We wanted something that would be good but light, considering there are four courses to each dinner.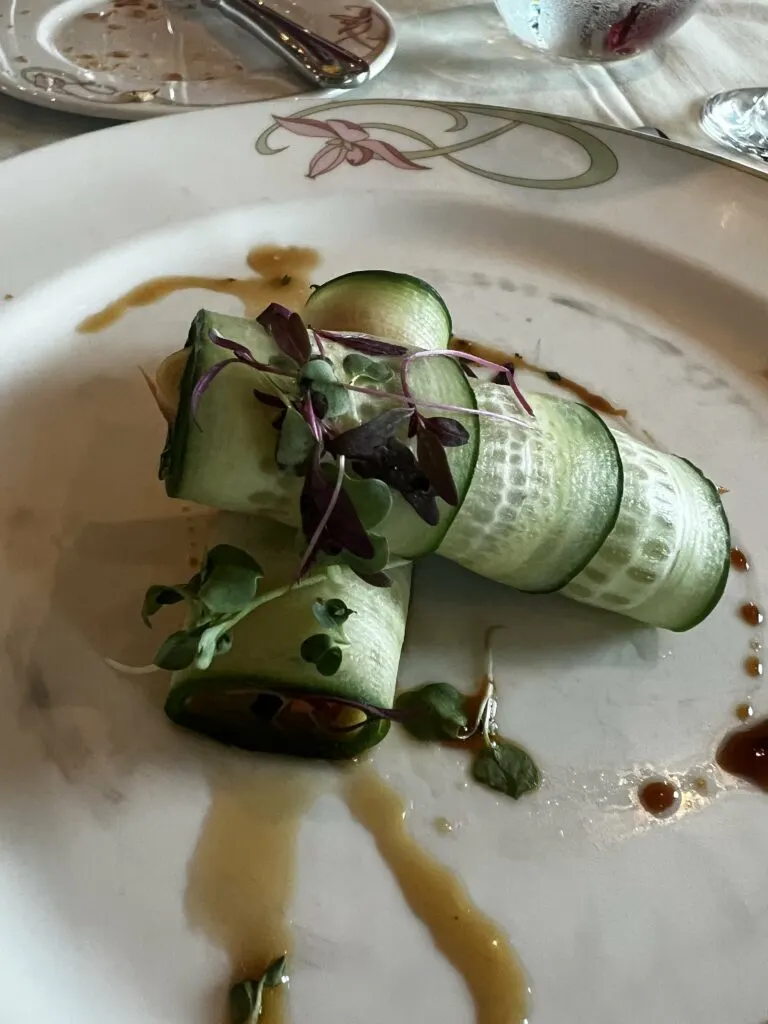 The ahi tuna and avocado tower was the better of the two, but they were both good.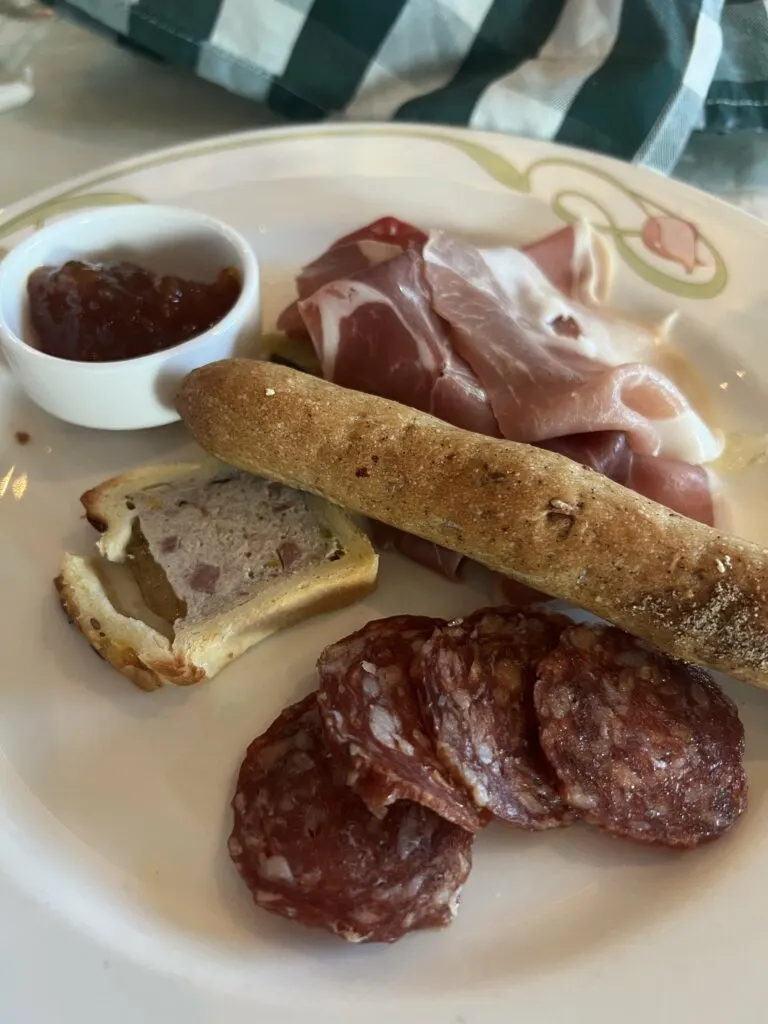 The second night in Enchanted Garden, we tried out the charcuterie plate, salmon roll and shrimp and rice.
The charcuterie board is perfect for a family to start with, while the other two were the types of things you definitely want to try on the cruise!
Enchanted Garden soups and salads
Since we were on a hot day of a cruise, we didn't feel inclined to try soups, so we usually got a salad.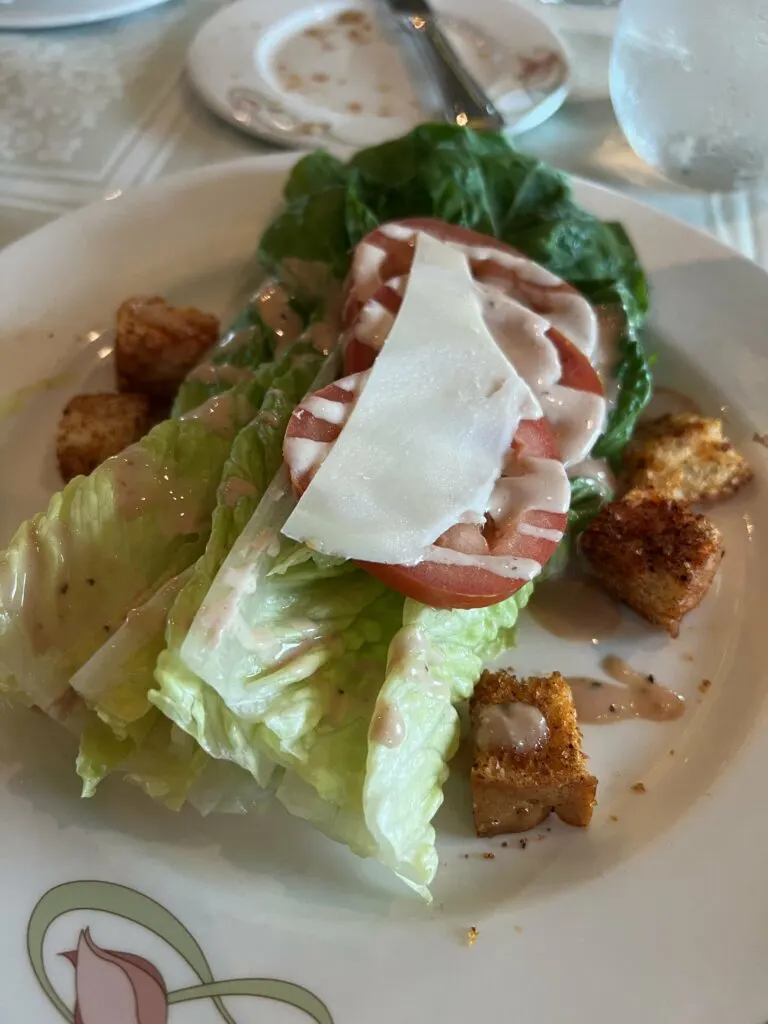 Here, we got the wedge salad and the spinach raspberry salad. The wedge salad was good, but it really was a wedge, meaning there was way too much of a big hunk of romaine lettuce. The spinach raspberry is good, but not an overwhelming amount of toppings.
Enchanted Garden entrees
For our entrees, each night we usually chose something we knew we'd love, but that we rarely cook at home because our kids are picky eaters.
We opted for the caramelized sea scallops and the pan-seared sea bass.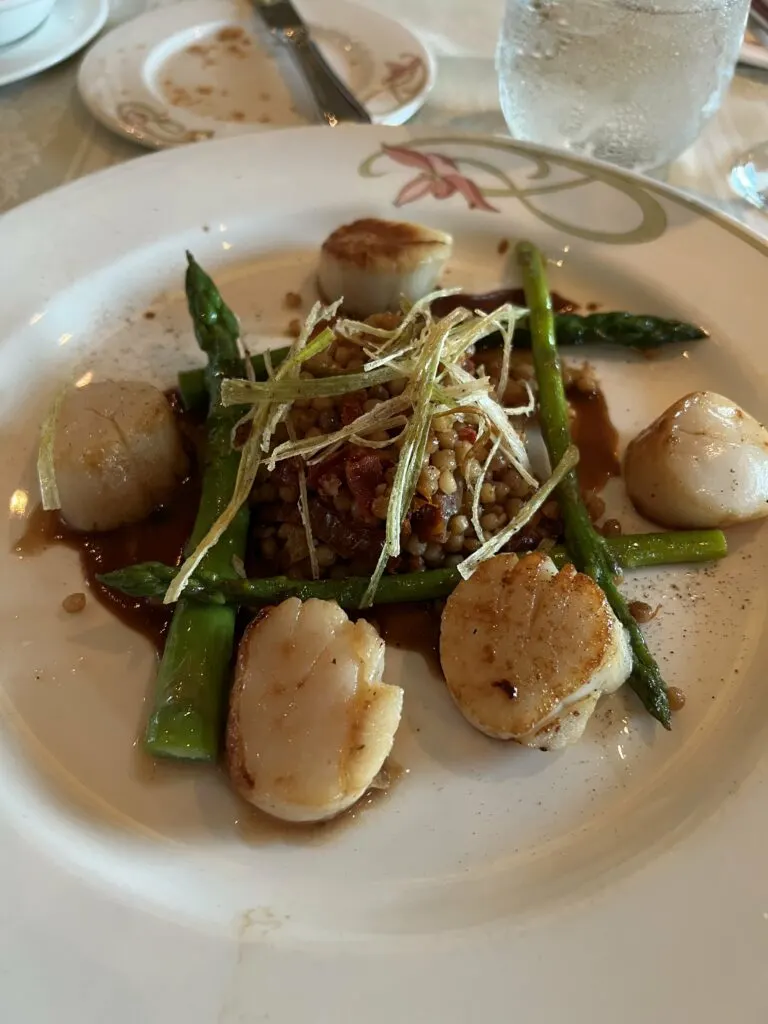 The scallops themselves were really good, but would have been better on something lighter tasting than the sun-dried tomato couscous. The flow wasn't the best, but each element was good.
The sea bass was superb, with a really nice risotto underneath and a light creamy wine sauce drizzled on top. Definitely our favorite of the two.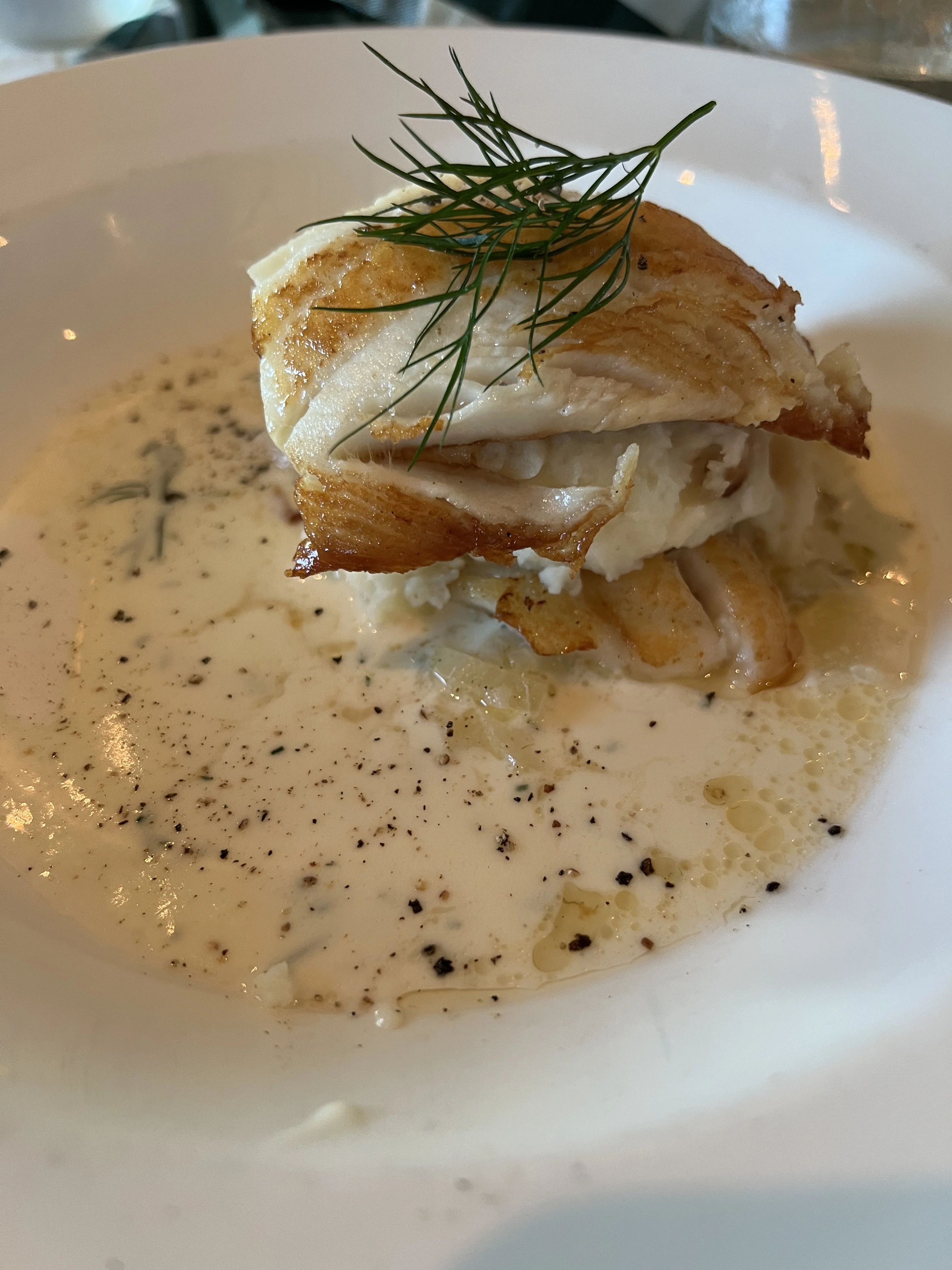 Our second night at Enchanted Garden, we tried the portobello pasta in cream sauce with mushrooms and the grilled fillet of turbot in a potato puree and cream sauce. These were both really good and I truly recommend getting fish on the cruise whenever you can.
Enchanted Garden dessert
I can't remember the full dessert menu for Enchanted Garden, but there were quite a few options. Each menu typically has something chocolaty, fruity and savory.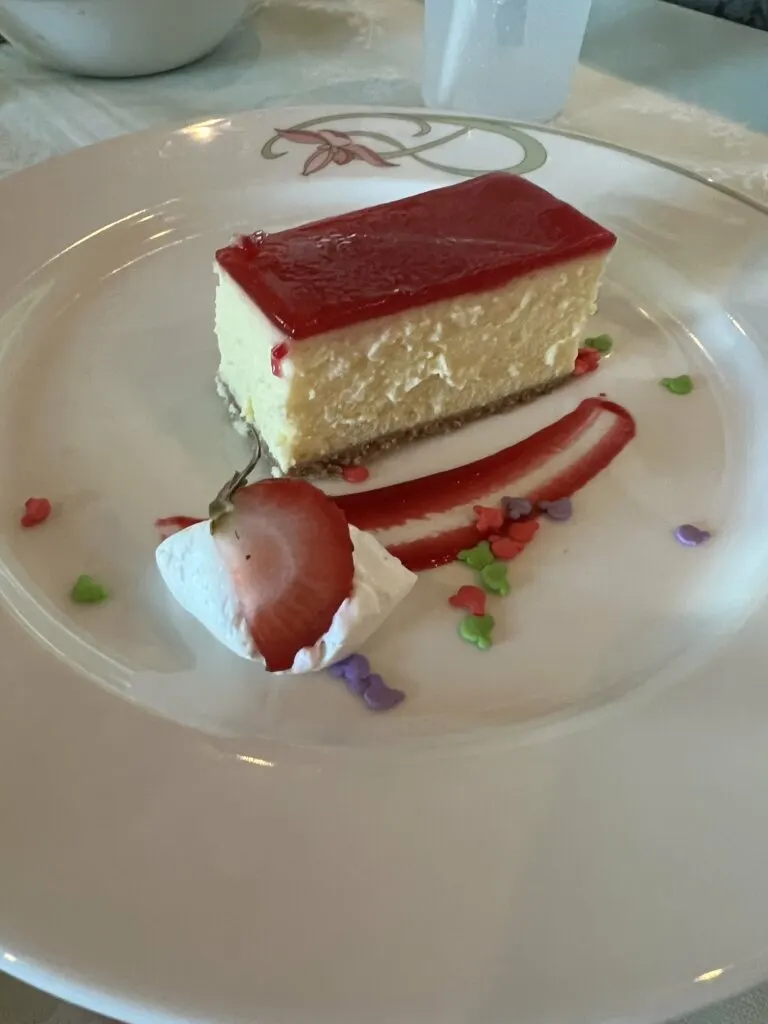 This evening, the highlight was the warm sticky date pudding, which was just oh so good. It had a warm scoop of the pudding with a caramel drizzle, served with vanilla ice cream on a crunchy phyllo. Yum.
Enchanted Garden kids meals
Enchanted Garden has a similar kids meal to each of the other rotational dining restaurants each night. Each night, they are going to offer penne pasta with red sauce, mac and cheese, and a Minnie Burger. Aside from that, they usually offered a simplified steak and/or fish option.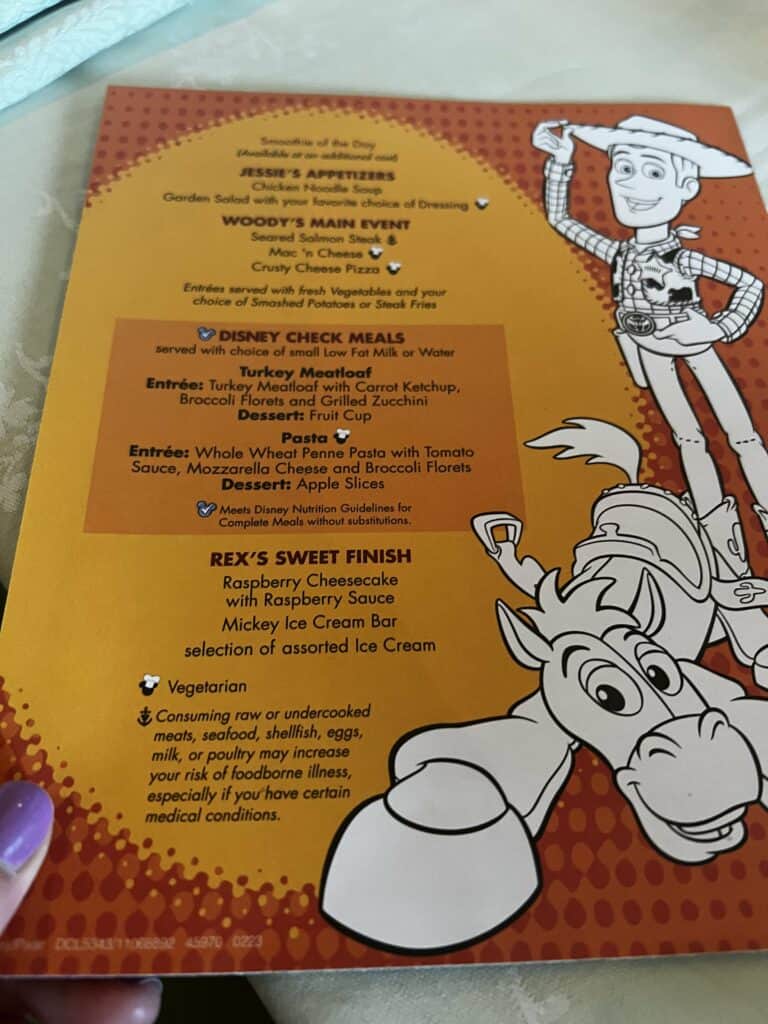 Our kids both opted for mac and cheese and french fries here, which was surprisingly tasty for what it was. Ask me how I know….
Enchanted Garden tips for kids
As with other restaurants, I'd suggest that you request to be "close to the action" for your dining table number so that you can sit over in the garden section. While I (as an adult) loved having a table near to porthole, I think kids would enjoy being more in the garden section near the fountain.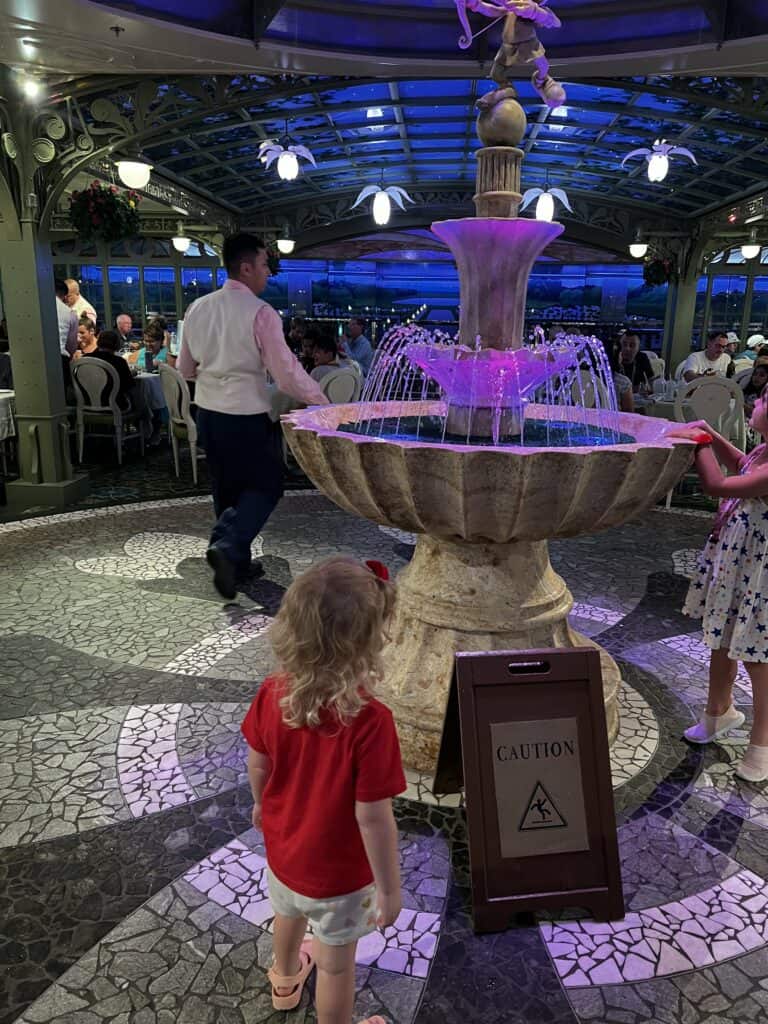 The fountain in the middle of Enchanted Garden is a really good way to keep your kids occupied while they wait for dinner, but keep in mind that they need to be polite.
Remember that you can ask for apples or fruit to be at your table when you arrive at dinner, which will help keep your kids occupied until food is ordered and delivered.
Here's our top 14 activities for kids on the Disney Fantasy!
Before you go…
Enchanted Garden is just one of the three rotational dining restaurants you'll experience during your Disney Fantasy cruise. Make sure you check out our reviews on the other two restaurants before you go!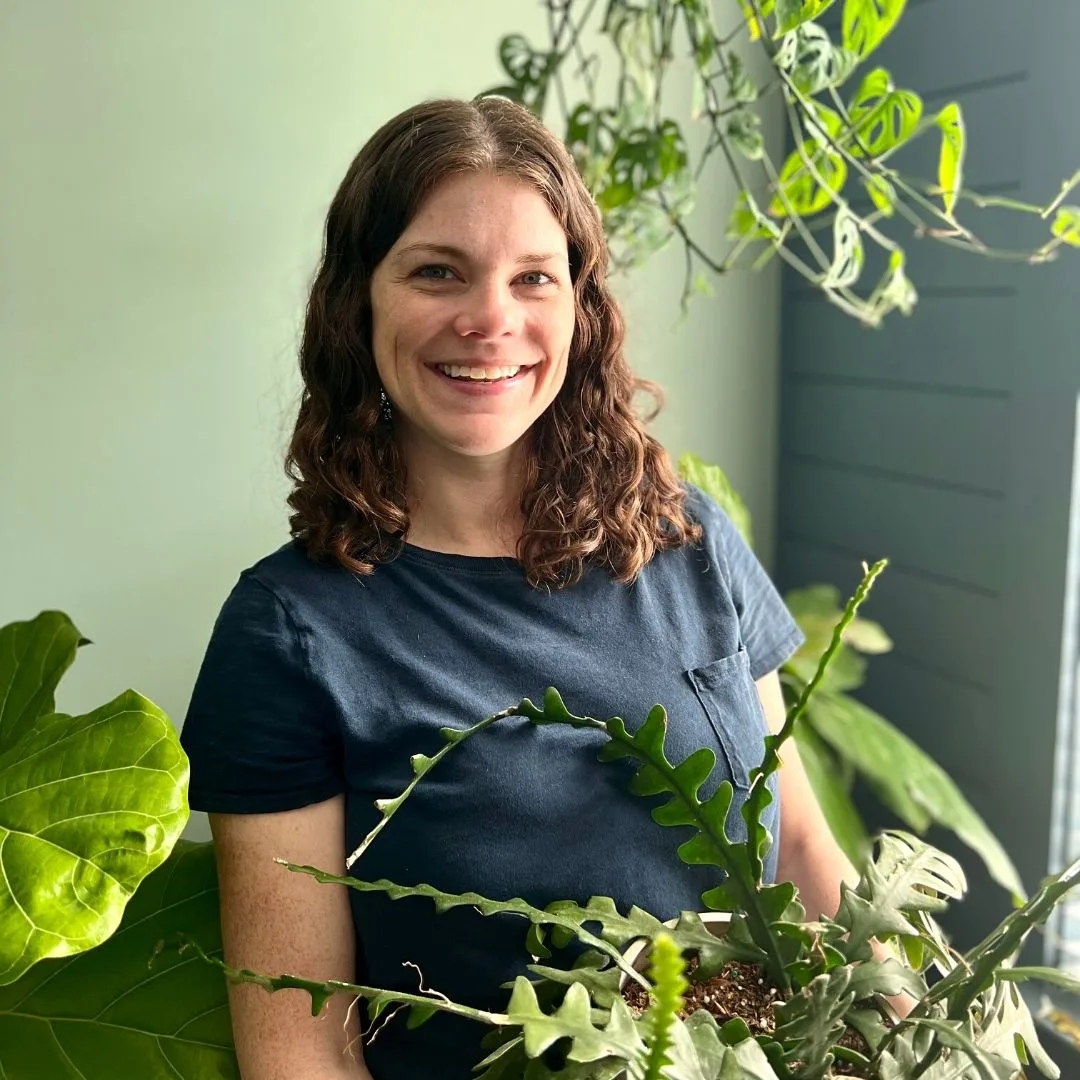 Hey there, I'm Morgan, the creative mind behind CelebratingWithKids.com! As a parent of two lively little ones, I've made it my mission to turn ordinary days into extraordinary adventures, sharing playful activities, thoughtful toy reviews, and delightful printables to help families celebrate every moment together. 🎉👨‍👩‍👧‍👦🎈