Wondering what your family will do on your Disney cruise? Here are the top activities for kids on the Disney Fantasy cruise!
We recently got back from a 7 day cruise on the Disney Fantasy with our 3 and 4 year old kids.
It was a 7 day carribbean cruise with 3 full sea days – and I was concerned about being bored on the ship.
After spending a week on the ship, I really realized the depth of everything that the Disney cruises have to offer, and I can hardly imagine going on a shorter cruise!
But, I wanted to write today and share some of my favorite kid-friendly activities to do on the Disney Fantasy cruise ship!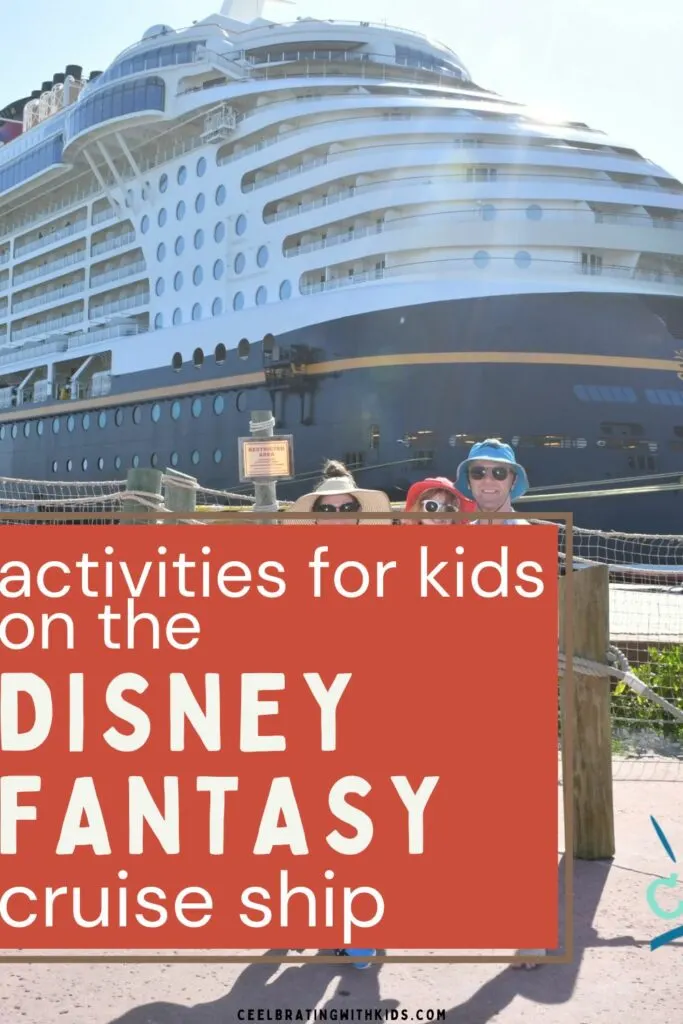 Top activities for kids on the Disney Fantasy cruise
Here are the top activities for kids to do on Disney cruise ships.
Kids Clubs
Of course, I have to start with the most obvious – the kids clubs. For kids aged 3-11, that is the Oceaneer Club and Oceaneer Lab.
These are dedicated kids spaces that kids can be dropped off and picked up from. At this age, they cannot check themselves out.
On the Disney Fantasy, the Oceaneer Club includes a Tinkerbell inspired craft space, a Star Wars video game room, a Marvel room (with no apparant purpose just some displays), a Toy Story playroom (targeting younger kids), and a light up dance floor.
The Oceaneer's Lab is an adjoining space that usually attracts the older kids in this range. In there they have more games, labs, and organized activities.
There are scheduled activities and character visits all day every day in the Oceaneer's space. I suggest you scroll through the app and heart anything that appeals to you, so you will get an alert when it is happening.
Some kids love the kids clubs and never want to leave. Others prefer to stick with their families. Adults are only allowed in the kids clubs during open house hours.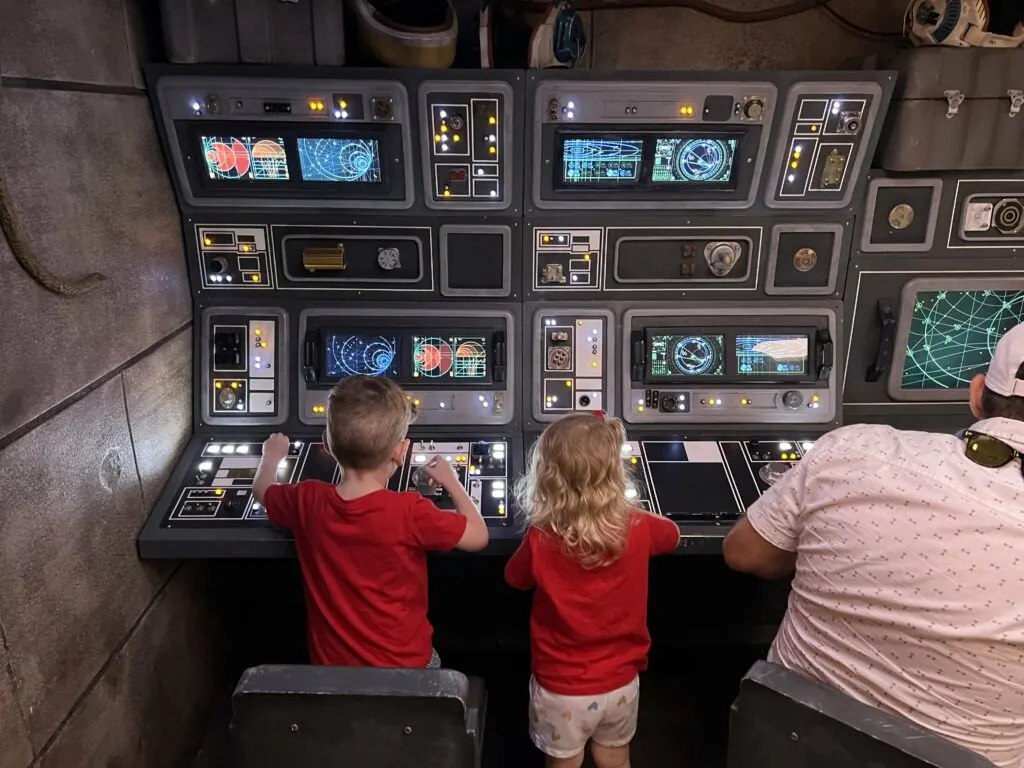 Character Meet and Greets
Another thing that happens all day long on a Disney cruise is character meet and greets. The characters will have scheduled times and locations where they will take photos with kids or adults who wait in line to see them.
My kids especially liked meeting the princesses. Since they didn't have masks on, they could actually talk to the kids and were very sweet and even remembered them on repeat visits.
Just know that some of the lines can get VERY long. It's better for an adult to wait in line and then have the kids brought in at the last minute.
Also be careful getting into very long lines – sometimes the character changes mid-line and you might end up meeting someone different than who was at the end of the line when you got into it!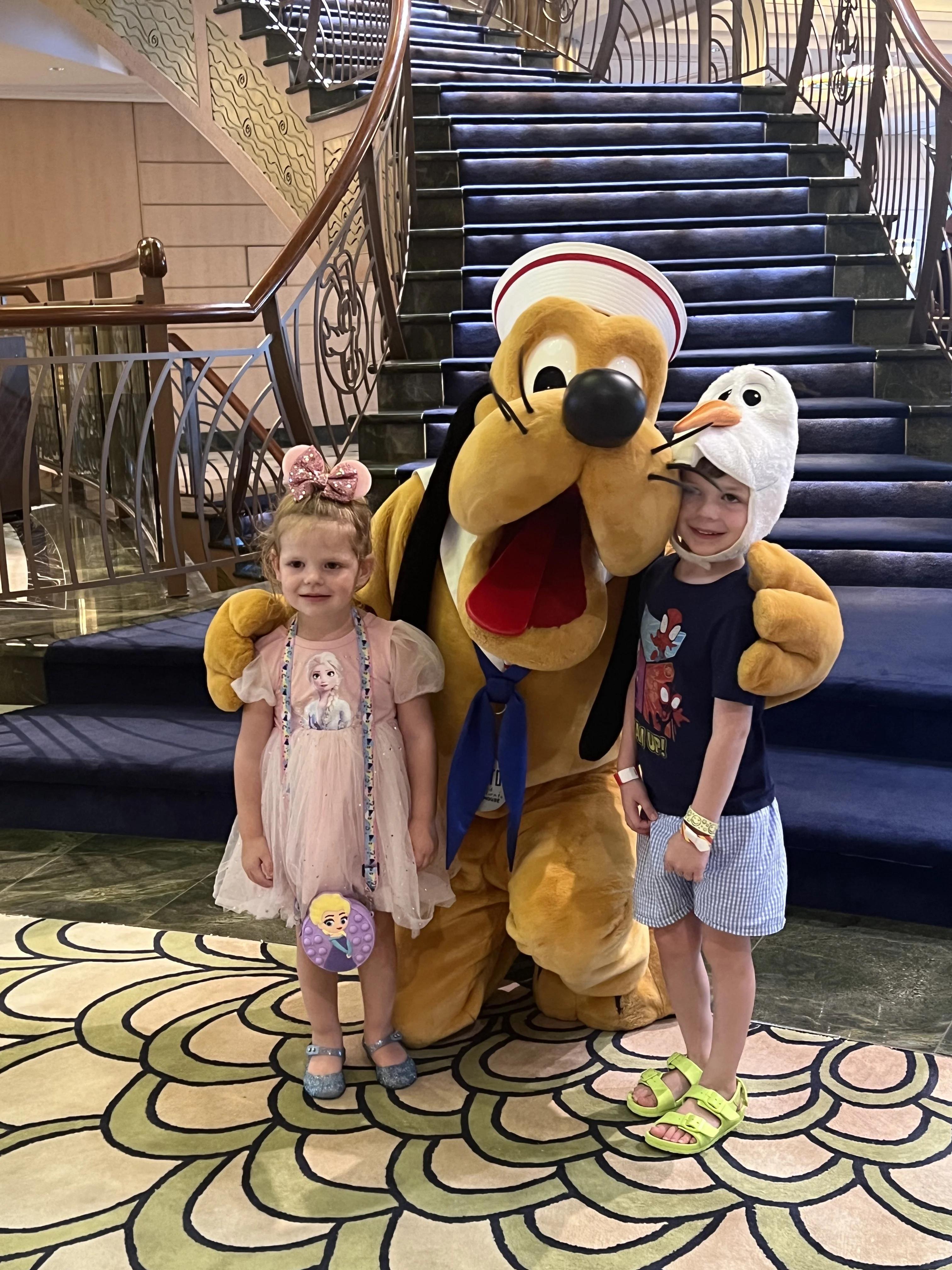 Midship Detective Agency
The Midship Detective Agency was my 4 year olds favorite part of the cruise – he did a total of 6 scavenger hunts over the course of the week.
These are super fun hunts where you go to a main desk on deck 5 or 2 and get a scavenger hunt map. You have to look for framed "paintings" on the wall that are actually screens. They are marked on the map.
Once you get to each, you hold up a special card and a clue is revealed. You get hints or can use them to rule out suspects.
These were fun because they take you all over the ship – its a great way to get to know the layout. Kids and adults loved the mystery and the fun!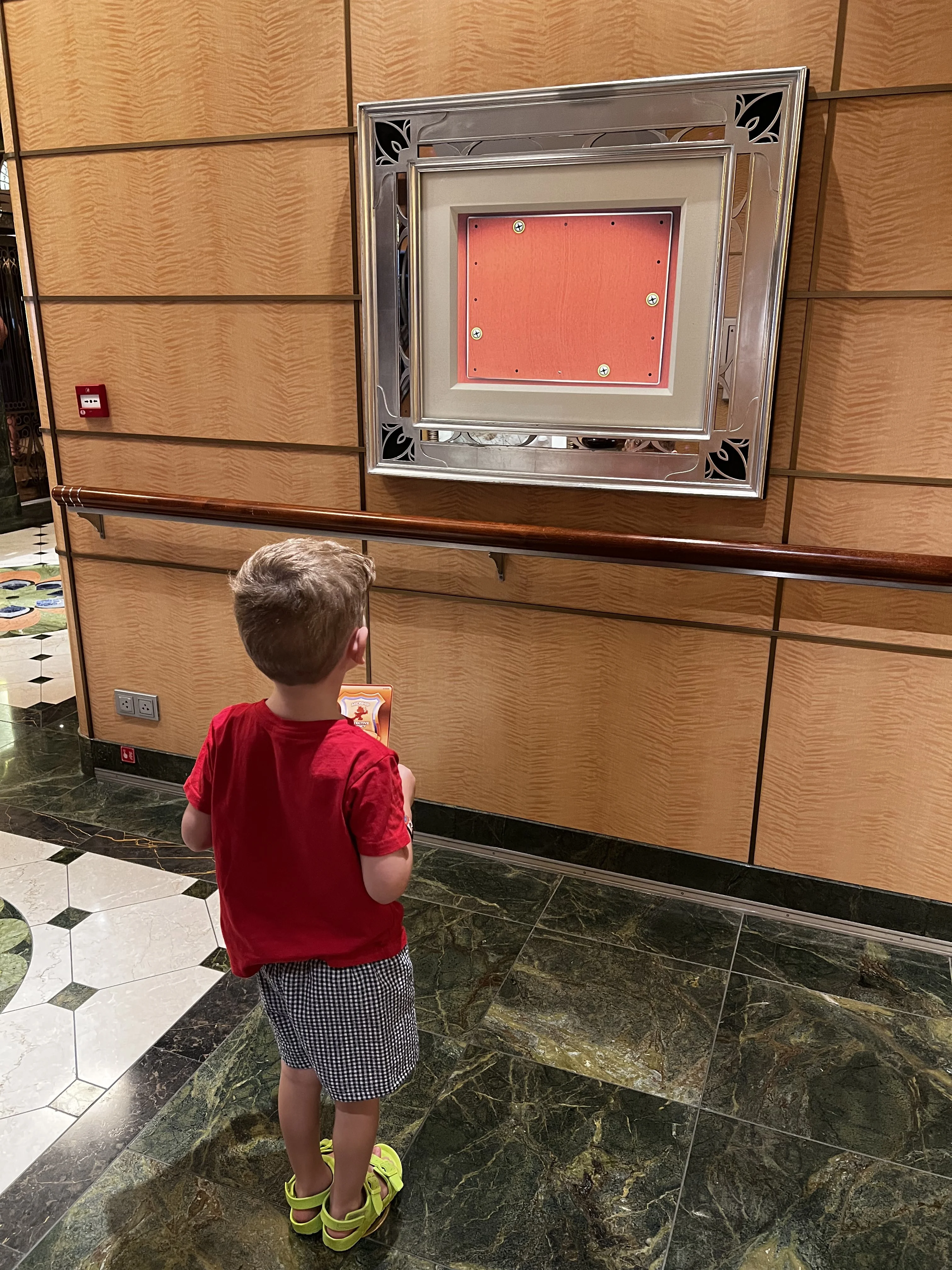 Bippity Boppity Boutique
Bippity Boppity Boutique is an additional charge but it seemed to be really popular with the families of elementary aged girls.
This is a salon where kids can get a dramatic prince or princess makeover, with makeup, updo hairstyling, and a royal gown.
We skipped this one because my son was very uninterested and my daughter is a bit young for it. But it seemed very, very popular, especially on sea day.
Know that it is about $200 -$300 per person and that you need to have a reservation in advance, they were completely booked up on our cruise.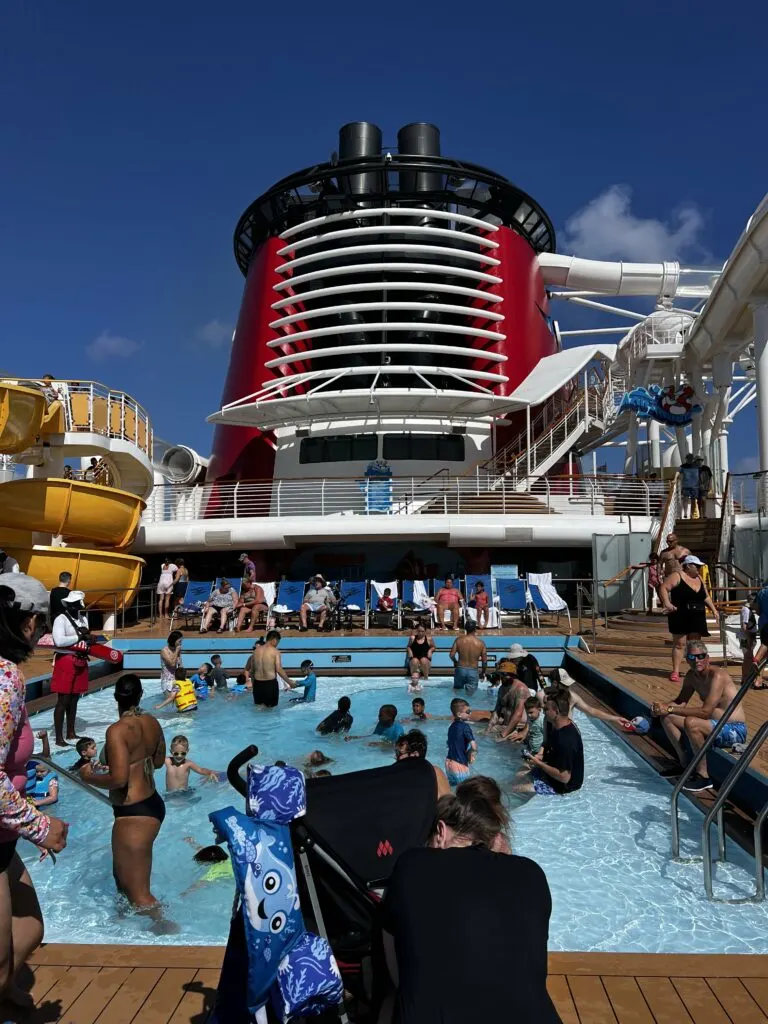 The Pools
Of course, kids are going to love going to the pool. There are 2 kid-friendly pools on the main deck. One is 2 feet deep and one is 5 foot deep.
There are also life jackets available for kids to wear, so you don't need to bring floaties.
I will say that the pools are VERY small and get VERY crowded. My kids were not into the crowded pools.
In addition to the two main pools, there are 2 smaller pools that my kids much prefer.
One is the fountain area on the side of the pool deck near the soda fountains. I never could figure out the name of this pool, but my daughter loved it!
It has fountains and squirters, is about 6″ deep, has a clear water that looks down into the lower decks of the ship, and was in general not super crowded.
There is also the Funnel Puddle in the "Family Zone". This area overlooks the adults only pool, so it was tucked away, but it is very clearly marked family (and I asked)!
We had a wonderful time chilling in the Funnel Puddle and were mostly the only ones there each time we went.
Plus, the waitstaff swarms this area much more than the general pool deck, so we made sure to order non-alcoholic frozen beverages for the kids while we hung out in this spot!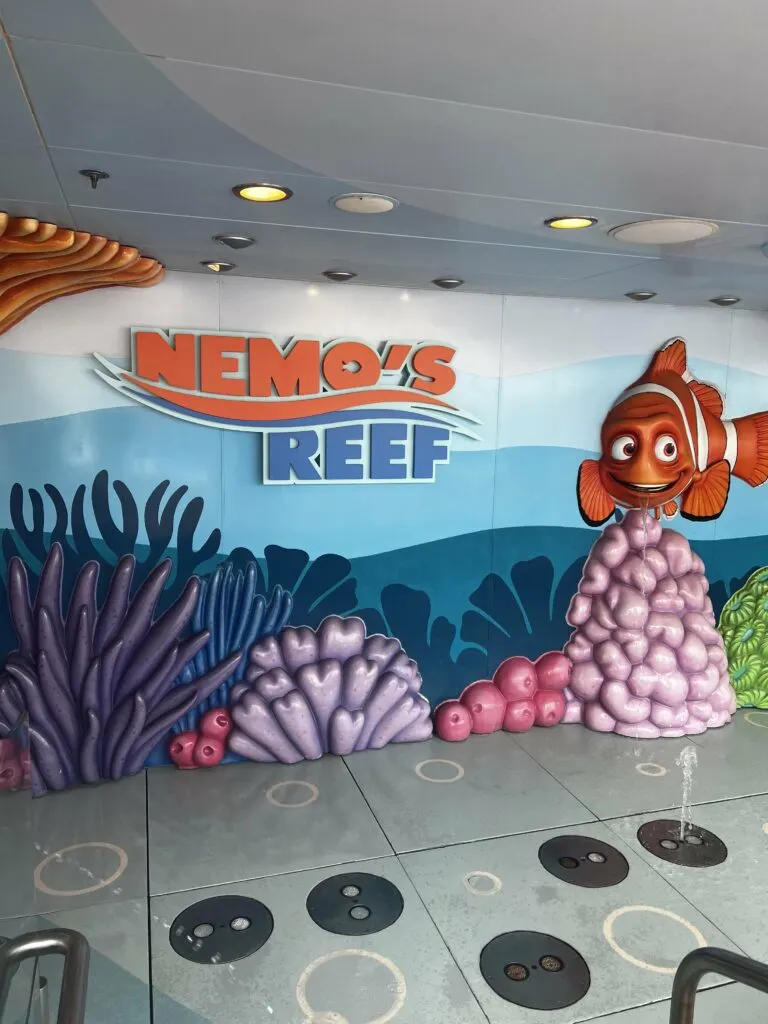 Splash Areas
There are two splash areas on the Fantasy – Nemo's Reef and AquaLab.
Nemo's Reef is a lot of large Finding Nemo figures that squirt water out. My daughter once again LOVED this area, splashing and squirting and in general having loads of fun.
There is also a Mr Ray stingray kids can slide down!
This area was generally smaller kids but I think it was labeled as up to age 9.
The AquaLab is on the far side of the ship and has a lot of knobs, levers, and wheels kids can turn and spin to dump buckets of water on themselves.
In general, I found Aqua Lab a bit lame and lackluster compared to even our most basic splash pads at home. I think they could have done it up with more action and more character branding.
But, it's still an option!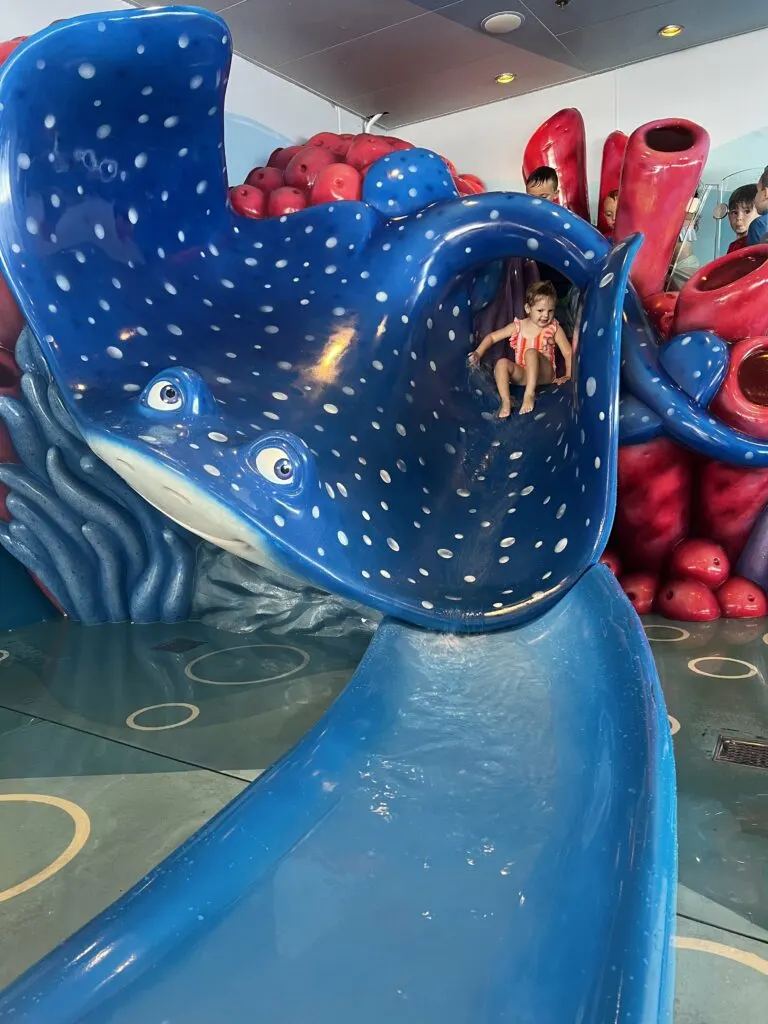 Water Slides
There are 2 bigger slides on the Fantasy – Mickey's slide and the AquaDuck.
Mickey's slide is a yellow tube slide. It's for kids only. You have to be 38″ tall and less than 5'5″. We saw a 12 year old get turned away for being too tall!
There is generally a medium length line here, but my 4 year old did enjoy doing it when the line was shorter.
The second slide is the Aqua Duck. This is the big tube slide that circles the whole ship.
You must be 48″ tall with an adult or 54″ alone and you ride in a tube.
This slide typically had a long line, it was closed due to wind during most of our sea days, and it was very popular when it wasn't.
The shortest line times were definitely at night and when we were at ports.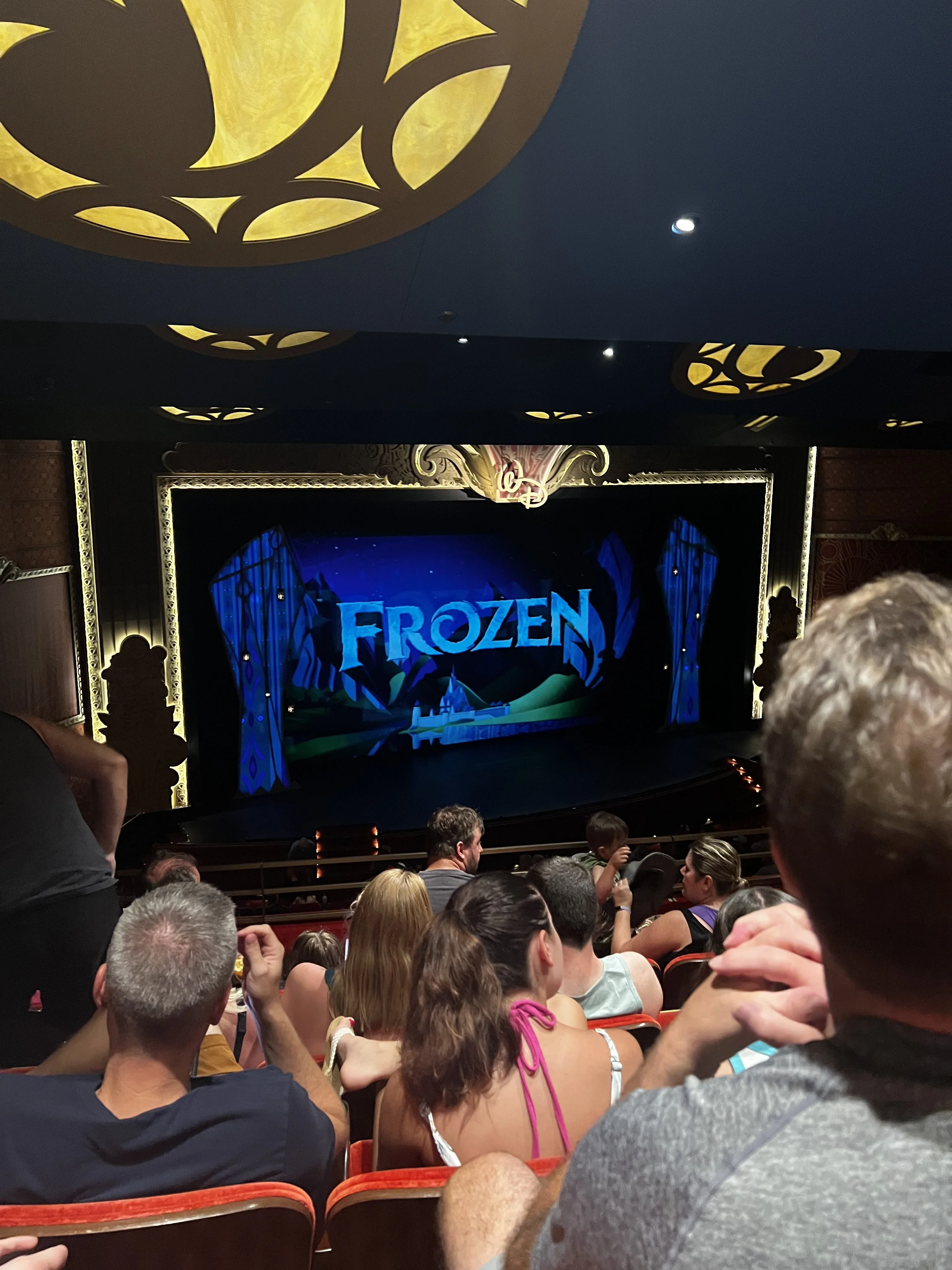 Matinee Performances
One of the unexpected delights on our cruise was that for the two main Broadway-style shows (Aladdin and Frozen), they did a 12:45 afternoon matinee show.
This was perfect for kids who don't like to stay up late – or who might struggle to be well behaved after dinner.
We actually ended up catching the matinee and the 8:30pm show for each of these shows – making it extra fun!
Movie Theater
One thing that I feel like doesn't get much attention is the fact that there is a full movie theater on the ship that shows new movies that are currently in theaters.
We were able to see Elemental this way and the ship was also showing Haunted Mansion, Little Mermaid, Indiana Jones, Peter Pan and Wendy, and a few other movies.
My kids love seeing movies and so this was a huge treat and a great thing to do in the afternoons after a morning of swimming.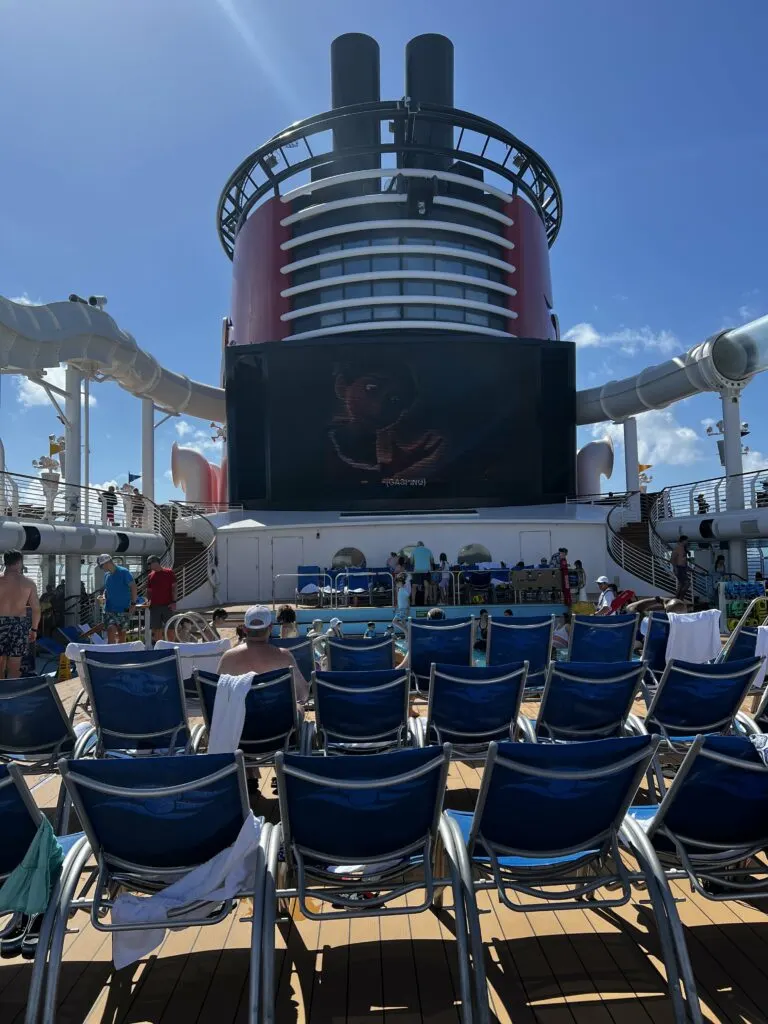 Funnel Vision
Another option for catching a movie is Funnel Vision – the giant screen on the funnel by the pool. Sit in loungers and watch a movie outdoors!
We watched a movie while eating breakfast, in the pool, and just chilling in the sun. We also went up one night after dinner and watched part of a movie!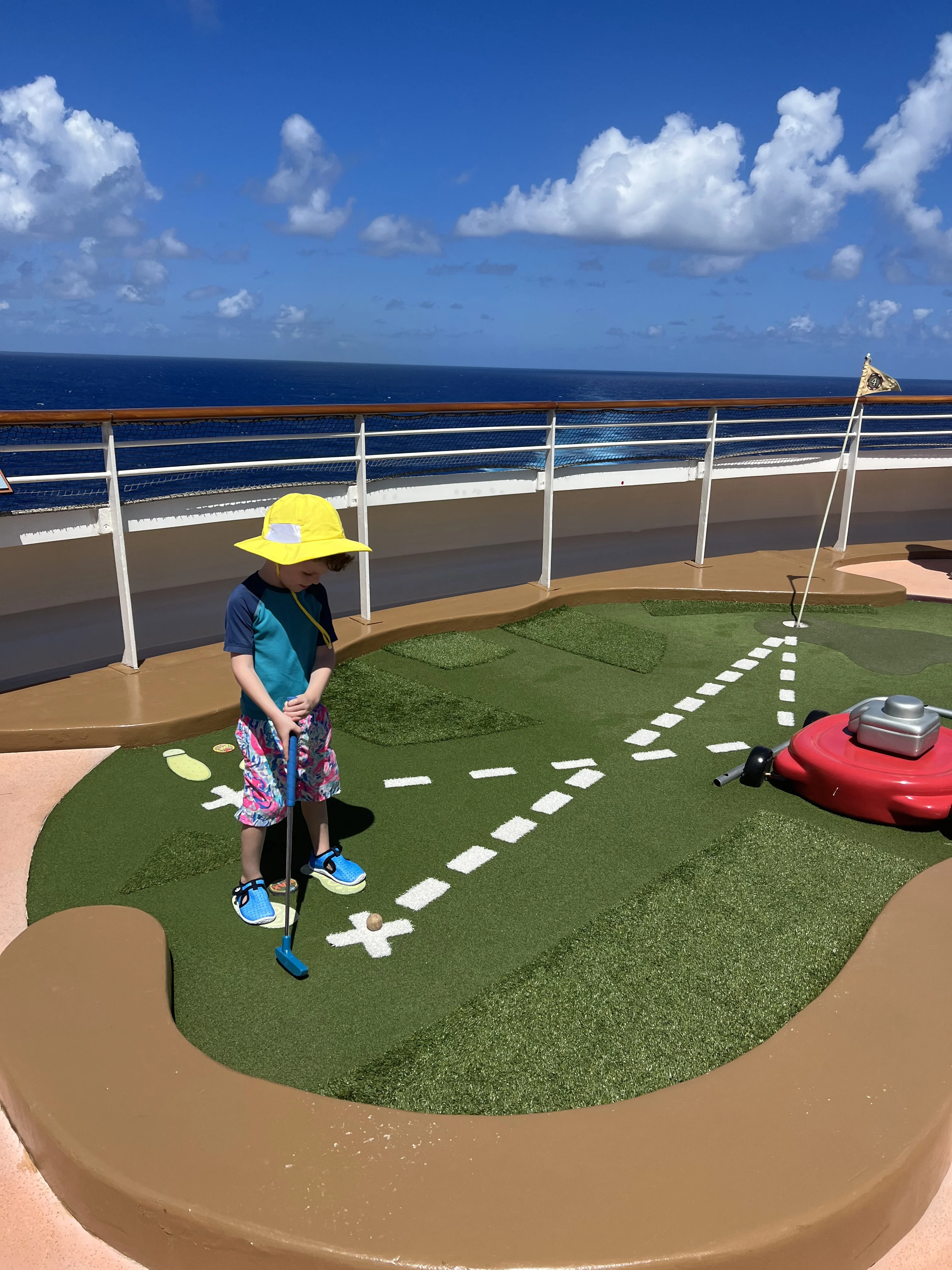 Goofy Golf
Goofy Golf is the 9 hole putt putt course on the Fantasy ship. This is located on the 13th floor – you have to walk up stairs – just above the Aqua Labs.
Putt Putt was a huge hit with my 4 year old and a flop with my 3 year old. Luckily, it's free so there's no loss if your kid wants to bail.
It was very windy and very sunny up on that deck, so dress appropriately.
Sports Simulator
There is also a sports simulator where you can throw balls towards a giant screen and pretend to play soccer, football, golf, and more.
This is a small additional fee and you have to book it in advance of the cruise.
We ended up cancelling our reservation because it was during beach time on Castaway Cay, but people seemed to be having a lot of fun playing! I'd say it's best to book on a sea day!
Deck Parties and Shows
The ship did offer a few deck parties and shows in the evenings. There was a Sail Away party Day 1, two pirate night shows, and a 25th anniversary show. There was also a farewell show the final night.
My kids were not particularly into these and they were mostly after bedtimes, but some older kids seemed to enjoy them.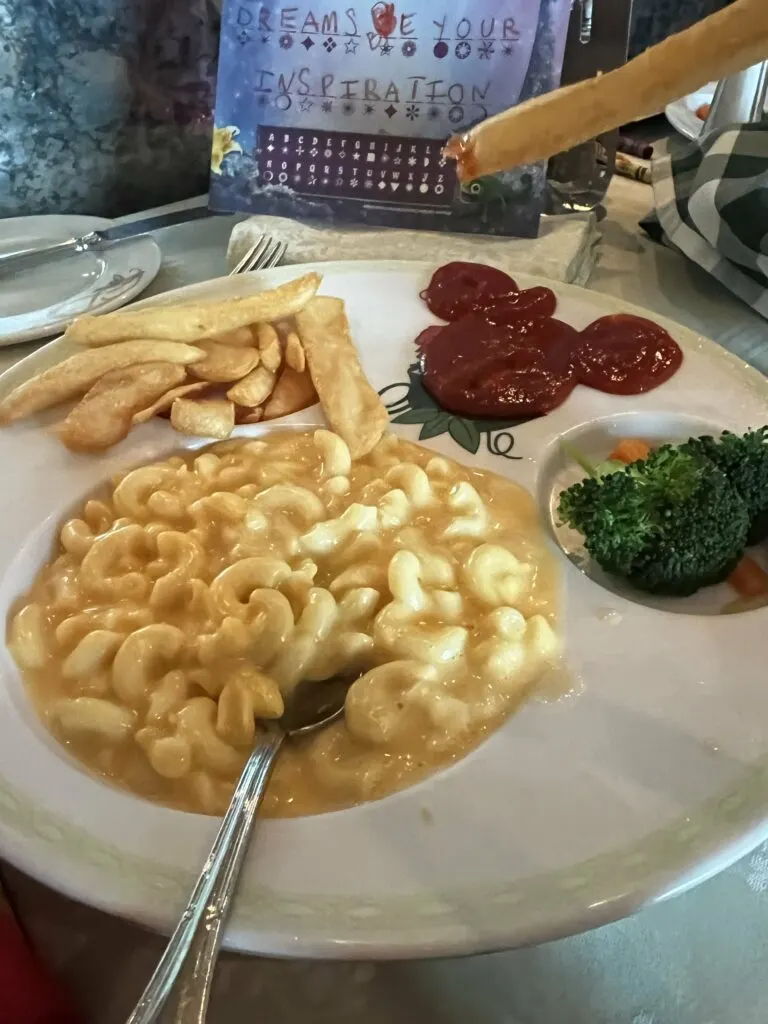 Eating all day
If your kids like to eat, eating all day might be a great selling point. I saw an approximately 12 year old boy with the fullest plate of pizza I've ever seen in my life.
I'd say the buffet – Cabanas – and poolside food – Flo's Cafe – would be the hit for kids around the clock.
My kids also loved ordering (free) room service and thought it was so cool to eat on our balcony!
There are tons of things for kids to do on the Disney Fantasy – and you will not get bored!
Any more questions about the Disney Fantasy cruise?